Halloween can be a weird holiday. Think about it, costumes can range from babies dressed up as bumble bees to the wildly inappropriate and near-nude outfits you might see in late October at a club. If you have little ones around the house and you're hosting a party, you're going to want to ensure it's totally kid-friendly. Well, here's your one-stop guide for doing just that.
Be clear on your invitation. When you send out that mass email (or, hey, there's nothing wrong with mailing out cards!) you should definitely specify that the party is an all-ages event. Let people know that they invited to bring any youngsters in their lives, and that you're excited to see how everyone dresses up! Putting out the info in a clear memo like this is a good way everyone's

Halloween clothes

are totally kid appropriate.

Have a variety of food and beverages. Quiche and Champaign are the only options you bought? Bad move. You're going to want to mix some juice boxes and cheesy crackers in there too. Be sure to have

a healthy set of options

so that no one's kids feel left out or go hungry. And remember, these days there are nut allergies, gluten intolerances, vegans, kosher, and halal kids to consider too. All that is easy to cater to if you know everyone you're inviting, but including a quick questionnaire with your invite is a great way to just be sure.

Have fun Halloween games planned. Games are a great way to get everyone at your party involved at once! Sure, there should be plenty of time for the kids to just be kids together, but having a game prepared for everyone to play adds a really

fun new element

to any Halloween party. There are tons of games you could buy, but even a simpler game like duck-duck-goose – or duck-duck-ghost! – and pin the nose on the witch can be a hit!
Make sure your decorations are on point. Getting your

house Halloween ready

can be one of the most fun parts of planning a party. There's plenty of really fun, kid friendly Halloween décor that you can get for your house these days, and decking out your house in cool spooky stuff will get everyone at your party talking. Just make sure that you don't include anything too horrible and gruesome, as some kids can be really easily scarred by some of the more graphic and gory Halloween decorations out there.


Find an awesome costume. As the host or hostess, it'll be your job to get everyone in the Halloween spirit. Of course, that means getting into

your own awesome Halloween costume

! Make sure that you're creative and fun with your ideas, and try to keep things kid appropriate. Jack the Ripper? Probably a bit out of bounds. A friendly witch? That's more like it. Cats, ghosts, Frankenstein's monsters (as long as they aren't too gory!), mummy's, knights, princesses, or movie characters are all great choices. Tend to your little one's creative side by having them pick out

their own cool costume

!

Find some kid friendly music. Whatever streaming service you use will likely have a healthy selection of Halloween themed music. Just remember to pick one that states that it is kid-friendly, as often times the songs on such playlists can have explicit lyrics or references to very not-kid-friendly topics, like murder. Poke around and make sure you have a couple of solid playlists ready to fit whatever the mood of the party needs!

Give the kids some space to play around. Let's be real: kids get excited, especially when they see themselves and their friends all dressed up in fun and outrageous costumes! Make sure that you give the kids plenty of room to run around and play without bumping into anyone or getting hurt!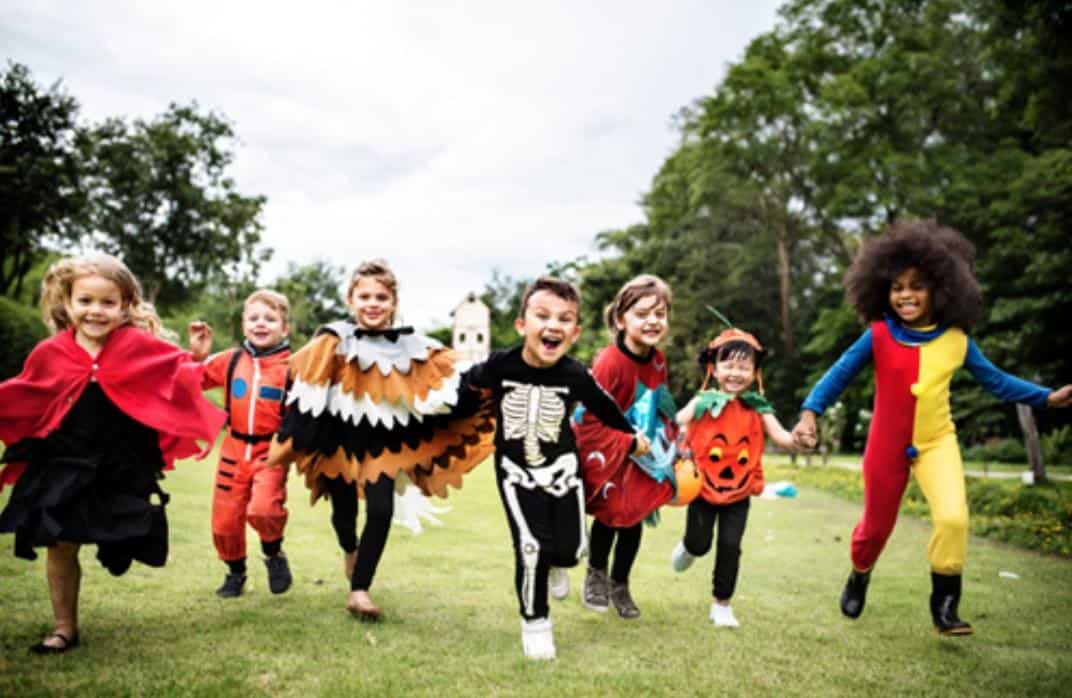 That's it! Just make sure that you follow this checklist and you'll have an absolutely spooky Halloween party, full of thrills and chills!