With winter coming and the highly anticipated wait for Santa, it's time to climb into your attic and bring out all of your holiday decorations. While you dust off your snowman figurines and untangle your Christmas lights, you're probably thinking of new ways you can spruce up your home this season.
Our gift to you this year is providing you with 10 wonderful and easy decoration tips for celebrating the holidays. Take a look!
1. Garland Everywhere!
There are so many things you can do with garland. From weaving it throughout the banister of your staircase to placing it on your mantle with a string of lights and cranberries, the possibilities are truly endless.
2. DIY Advent Calendar
Are you and the kiddos getting ready to count down the days until Christmas? If so, add a personal touch to your home this year with a DIY Advent calendar that you and your children make together. Just grab some construction paper, markers, tape, and other craft materials, and you'll be good to go!
3. Decorate the Tree
No Christmas is complete without a Christmas tree. An easy decoration tip for your tree this year is by thinking of a theme and sticking to it. Looking for a classy and elegant look? Place gold, silver, and metallic ornaments for a cohesive look that screams luxury. Or, do you want a tree that breathes life? Create a floral tree with Christmas blossoms like poinsettias, magnolias, and pinecones.
4. Deck the Halls…With Flowers
Skip the boughs of holly and order Christmas flower delivery to fashion your halls with. Some classic holiday flowers that will brighten up your home include roses, carnations, white cacti, poinsettias, lilies, hypericum berries, and alstroemeria.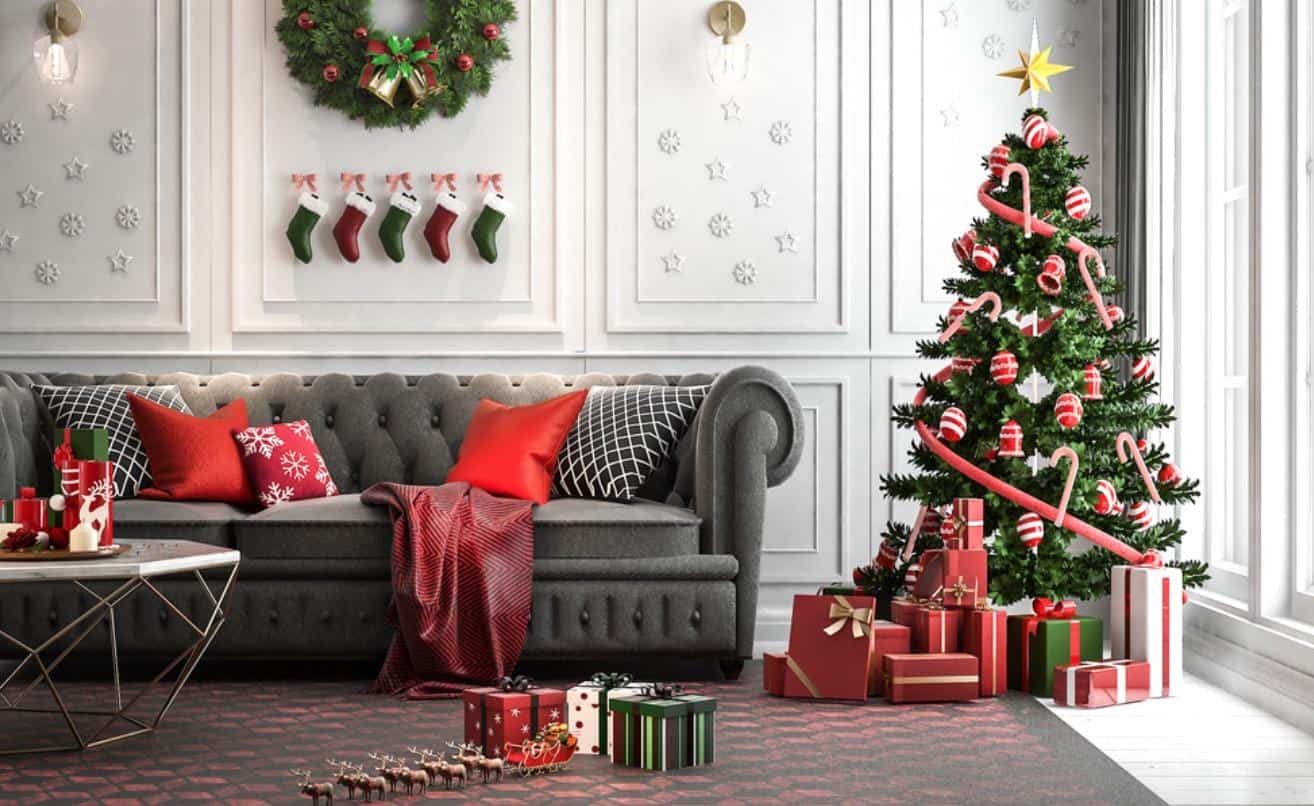 5. Wreaths, Wreaths, Wreaths
You can never have too many wreaths when the holidays come barreling in. You can place wreaths over the outside of your windows, over your mantle, on doors, or above your mantle. To create your own wreath, you'll need some floral wire, shears, pins, and floral tape. Then, you'll have to go and find evergreen boughs or juniper sprigs, along with some accessories such as snowberries and a bow. After that, throw on some holiday music and get to work!
6. Hot Cocoa Bar
One of the best presents in life is seeing your children smile. A hot cocoa bar will make them grin from ear to ear after a long day filled with snowball fights, sledding, and building igloos. Create the ultimate hot cocoa bar with plenty of mugs, napkins, stirrers, whipped cream, and toppings like sprinkles, caramel, and chocolate drizzle. Then, give your family and guests and option of warm beverages to choose from, such as hot cocoa, coffee, or tea, with a ready-to-go Keurig.
7. Fill the Stockings
Stockings are another staple when it comes to decorating your home for the holidays. Grab some stockings, glue, glitter, patches, and pom-poms and gather the family to create your own stockings.
8. Make Your Own Merry and Bright
Create a warm and welcoming ambiance in your home by placing soft candle lights throughout the rooms in your home. For a shimmering glow, string lights through garland, evergreens, wreaths, and pines. You can also place electric light-up candles in your windows that turn on when the sun goes down to create a cozy feel.
9. Utilize Ribbons
Ribbons represent how people should be tied together, which makes them the perfect accessory to use throughout your home to make everyone feel loved and welcome. You can place a white, green, and red checkered ribbon along your staircase, white ribbons on the back of your dining room chairs, and mini ribbons on the arms of your chandelier.
10. Dress Up the Table
Create a unique centerpiece for your table by repurposing ornaments and tinsel. Then, find a holiday-themed tablecloth, napkins, and china, and arrange them on your dining room table. Finish the look with pine-scented candles, flowers, garland (yes, more garland), and some sprigs.
Time to Celebrate
With these tips to Christmas decorating tips, your home will look like a winter wonderland in no time, ready to welcome all of Santa's little helpers and Rudolph himself. Throw in some holiday photos and candy canes, and your home will be good to go.