Ladies, every time you get eyelash extensions, you get extra possessive about it. Don't you? Well, if you're getting them for the first time, you probably have a lot of questions.
Your artificial lashes are an important part of your makeup schedule. Hence, it is essential to choose one that can fit your requirements. Moreover, when you get the new ones, you also need to maintain them the right way.
Supplies from the salon
Spoolie is one of the most common supplies from the salon. The spoolie helps to comb lashes. If you wake up in the morning and find lints on your precious lashes, use a spoolie to comb off the lint. Spoolie is extremely thin and can easily get between the lashes, more than fingers. Spoolie plays a vital role in the maintenance of extensions.
Can I wear makeup with false lashes on?
Well, you surely can.
If your eyelash extensions are in their proper shape, you can always wear makeup. You can very smoothly apply mascara over your wings. However, it is necessary to maintain the makeup tips to easily put on the lashes and make them last a long time.
Go for only oil-free cosmetics
The key to holding these fake extensions on to their place is to avoid water-based products. It is advisable to choose oil-free extensions as they can help to hold the extensions in their place. These extensions have adhesive bonds that can be easily weakened due to the use of oil-free cosmetics.
Don't use waterproof mascara
While waterproof mascaras are perfect for your natural lashes, they may not be useful for your fake ones. After a certain time, you will need to wipe or remove mascara which is extremely difficult in false mascara. Applying waterproof mascara over your eyelashes can damage the extensions if you try to remove them. 
Avoid eyeliner pencils
It would help if you refrained from using eyeliner pencils. Many eye pencils contain oil. Once you draw a lash line along your eyes to create the impact, you will be in huge trouble. Moreover, drawing lashes will also weaken the bond of glue on the extension. Instead of eyeliner pencils, you should consider using liquid liner pencils.
As per makeup experts, oil-free makeup extensions tend to last longer than the usual ones.
What is the cleansing routine?
Lashifyextensions are extremely easy to maintain and tend to last longer. However, make sure to follow the guide to ensure longevity. The extensions aren't general ones and will require longer maintenance.
When you get eyelash extensions, you need to apply proper measures to protect them. Moreover, it is advisable to avoid touching and washing your face while these extensions are on your eyes. Proper cleansing of your extensions can help to extend the life of your false extensions, thereby contributing to an improvement in overall eye health.
Also, irrespective of what you do, you need to make sure that you don't sleep with the eye makeup on. If you wear your extensions and go to sleep, it can increase the chance of blepharitis (inflammation around the eyelids due to bacteria buildup of the skin). Whether you sleep with extensions or makeup on, bacteria can grow around your skin, thereby causing complexities.
Another caring tip for your lashes is to use satin pillows while you go to sleep. Unlike cotton fibres, satin fibres are incredibly smooth and can play an important role in avoiding lashes from catching your skin. Also, when you sleep on a smooth surface, you wake up with better hair quality.
Oil-free makeup remover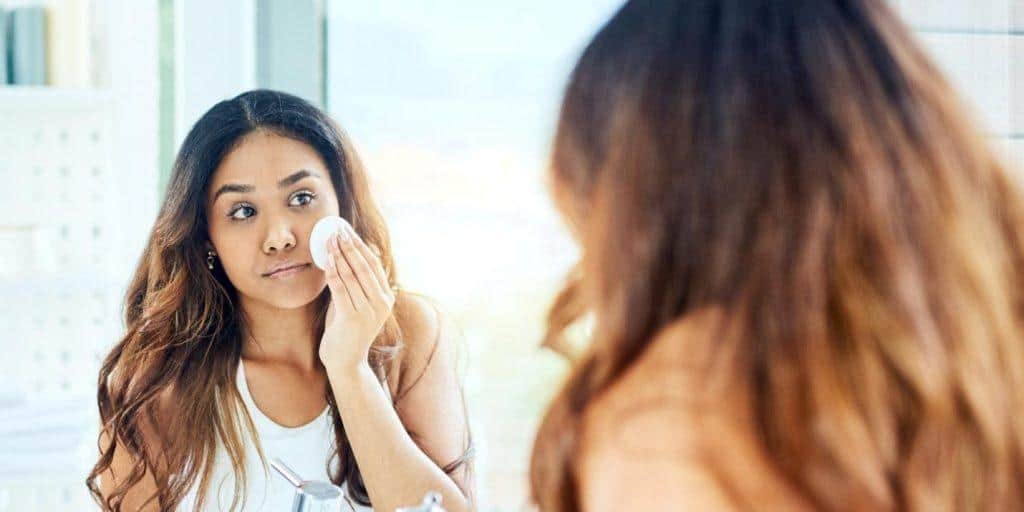 Apart from oil-free cosmetics, it would help if you also had an oil-free remover from your faux lashes. Cotton balls, pads and markup wipes can help clean the eye area but using them too much can also damage extensions.
The oil-free makeup removers contain antimicrobial characteristics, which can easily remove bacteria. It contains the gel-based shampoo formula that can easily get between the lashes and rub off the extensions without pulling them. The water-based formula is indeed safe for fake eyelashes. It would help if you considered using these makeup removers properly to avoid any damages.
Oil-Free Priming Sealant
The oil-free priming sealant is essential to maintain the base coat of the lashes. It is clear and can easily grip the lashes, thereby allowing a comfortable hold on the mascaras.
Oil-free mascara
Using an oil-free mascara can enable a smudge-free look while contributing to the volumized look. This adds an extra charm to your look.
Oil-free liquid liners
Want the perfect cat-eye look? Nothing can beat the charm of liquid liners. These are perfect and can suit your eyes as long as you want them to.
Takeaway
If you want your extensions to last, you need to take care of them. You can get in touch with the beauty and makeup gurus to protect your lashes from damage.