Salvador Dali paintings. They are quite similar to the man who made them, don't you think?. Weird and expressive. Surrealist with a passion for the bizarre and excessive, and probably one of the most brilliant minds of the 20th century.
Dali's artistic vision also included film, sculpture, and photography, but for now, let's look back at his paintings and paintings alone. 10 of the greatest Salvador Dali paintings.
Salvador Dali Paintings – The Man Behind The Paintings
How much of what's been said about Salvador Dali is fiction and how much of it is reality? I don't think that even he knew the answer to that question.
Trust me. I've been to the house in which he was born and I can confirm that he was one odd man. His eccentric manner and attention-grabbing public actions sometimes drew more attention than his artwork. His love life was just as eccentric as his character, and he's probably one of the major figures in the surrealism movement.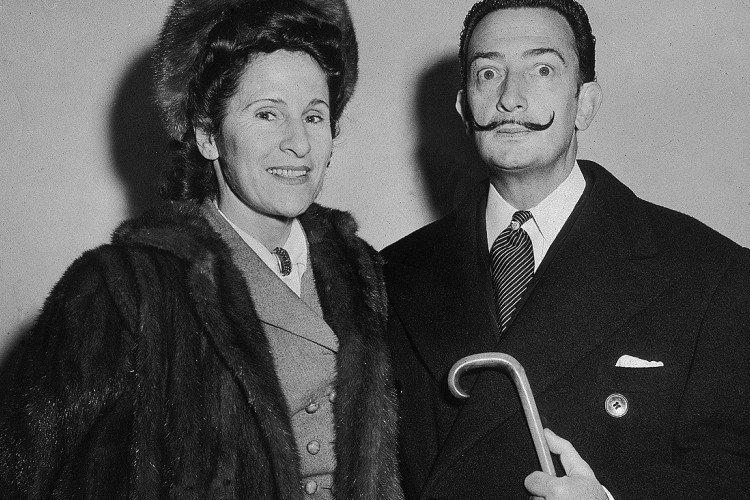 But you can't write about Salvador Dali without mentioning Gala. His muse, his lover and for the better part of his life, his wife. Gala was a frequent model in Dalí's work, often in religious roles such as the Blessed Virgin Mary in the painting The Madonna of Port Lligat.
So, Without further ado…
Salvador Dalis Paintings: 10 Of His Greatest Paintings
The Burning Giraffe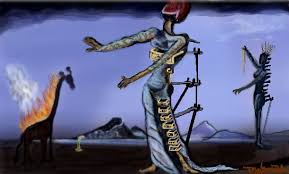 Salvador Dalí described this image as "the masculine cosmic apocalyptic monster." The Burning Giraffe is seen as an expression of the personal struggle of Salvador Dali with the civil war going on in his home country. The painting depicts two feminine figures with undefined phallic shapes protruding from their backs. The hands, forearms and face of the nearest figure are stripped down to the muscular tissue beneath the skin. Prominently, there are opened drawers protruding from the left leg and chest of the figurine. Noteworthy in this painting are the opened drawers in the blue female figure, which Dalí on a later date described as "Femme-coccyx" (tail bone woman), and this is one of the best Salvador Dali paintings out there.
Tuna Fishing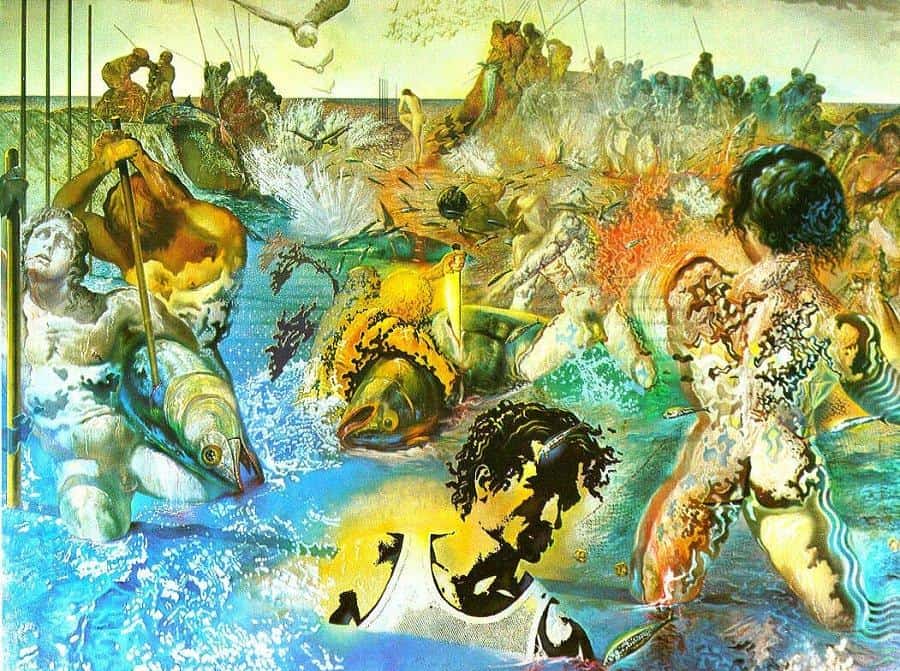 Tuna Fishing (Homage to Meissonier) is seen by many as one of Dali's last masterpieces. This painting is a dedication to Jean-Louis-Ernest Meissonier, a 19th-century French painter who specialized in battle scenes. Dali spent two summers to create the artwork in which, apart from surrealism, he used styles such as action painting, Pop Art, pointillism, geometrical abstraction and psychedelic art. Including images from ancient Greek sculpture to modern cinema, Tuna Fishing depicts violent struggle between men and large fishes as a personification of the limited universe.
Dream Caused by the Flight of a Bee Around a Pomegranate a Second Before Awakening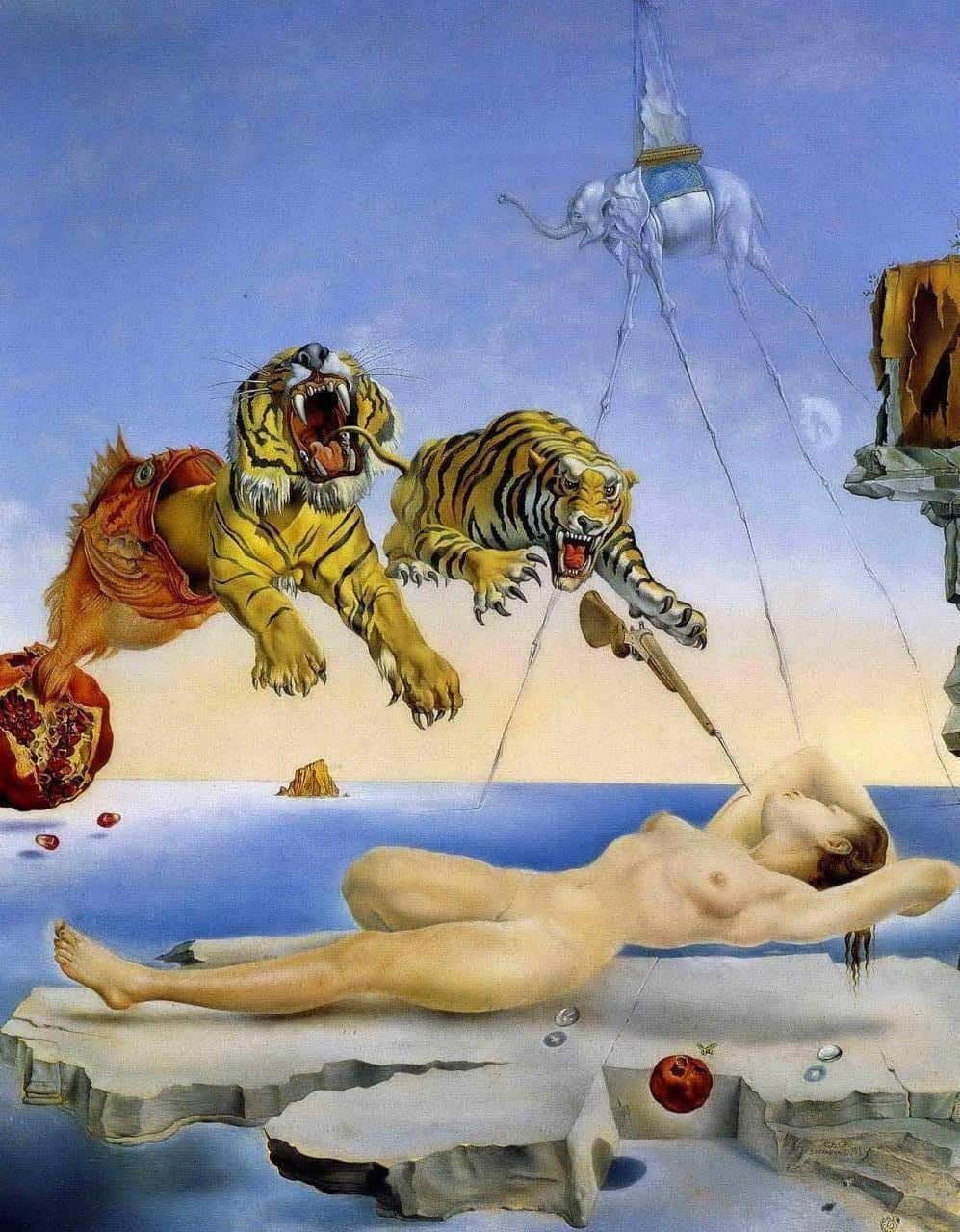 Painted in 1944, while Dalí and his wife, Gala, were living in America. In this "hand-painted dream photograph", as Dalí generally called his paintings, there is a seascape of distant horizons and calm waters, perhaps Port Lligat, amidst which Gala is the subject of the scene. It has also been suggested that the painting is "a surrealist interpretation of the Theory of Evolution, but in 1962, Dalí said this painting was intended "to express for the first time in images Freud's discovery of the typical dream with a lengthy narrative. Truly one of the most exquisite Salvador Dali paintings.
Galatea of the Spheres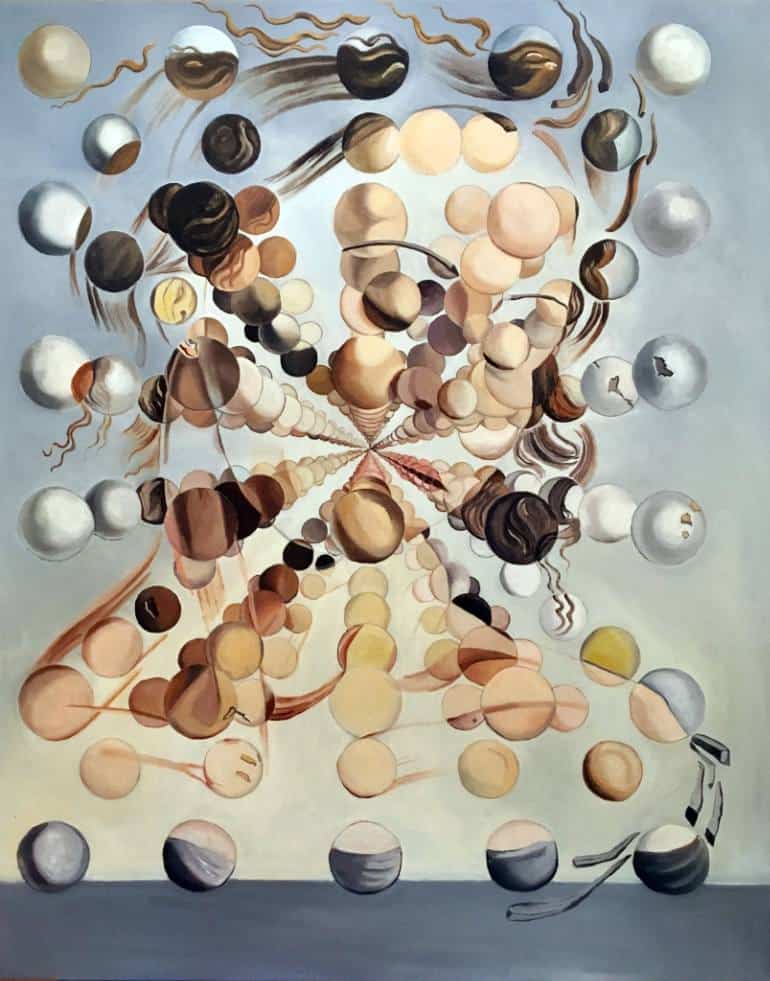 Made in 1952, the painting depicts Gala Dalí, as pieced together through a series of spheres. The name Galatea refers to a sea nymph of Classical mythology renowned for her virtue, and may also refer to the statue beloved by its creator, Pygmalion. Dalí had been greatly interested in nuclear physics since the first atomic bomb explosions of August 1945, and described the atom as his "favorite food for thought". This painting was also symbolic of his attempt to reconcile his renewed faith in Catholicism with nuclear physics.
Soft Construction with Boiled Beans (Premonition of Civil War)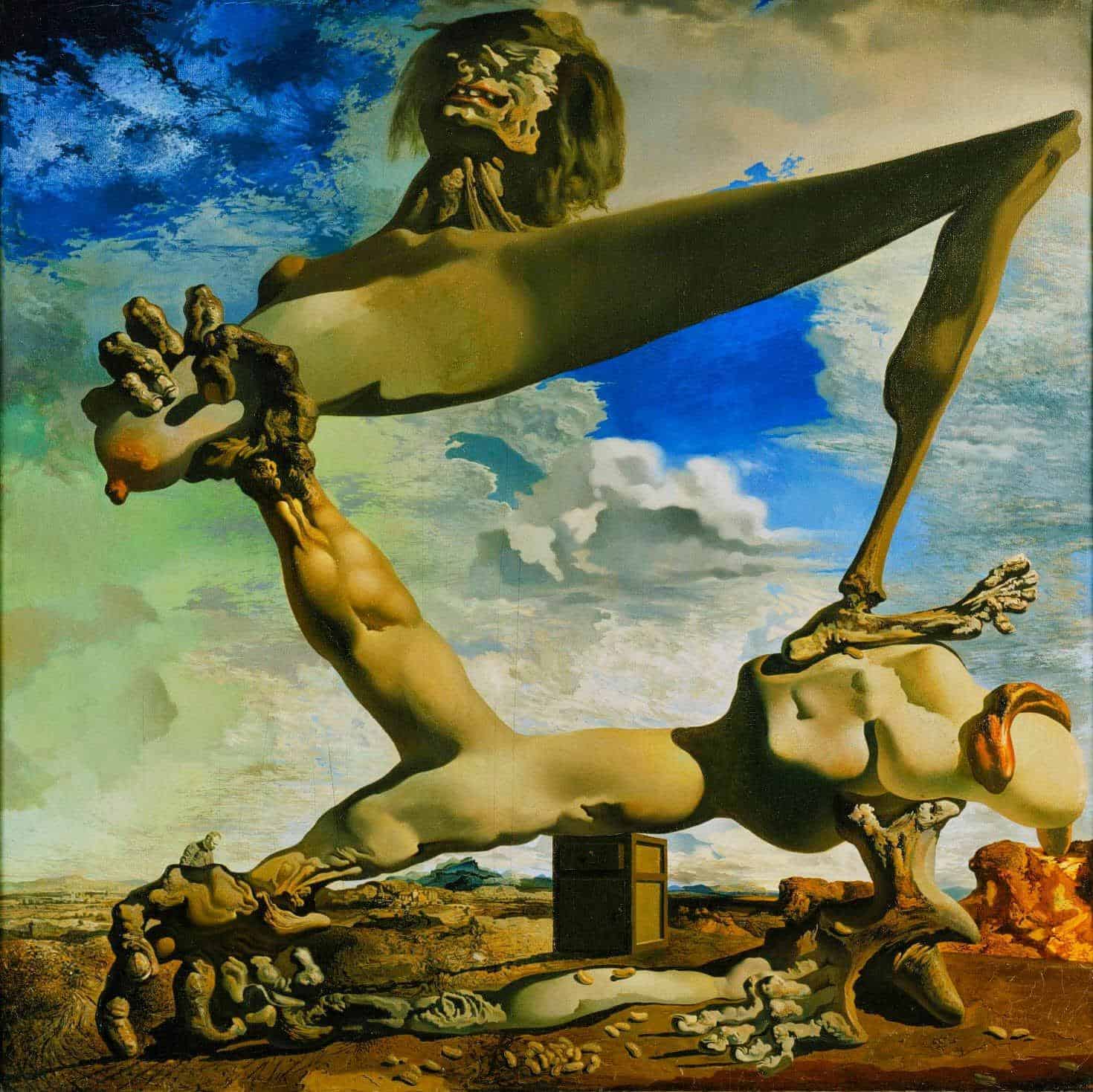 Dali created this piece to represent the horrors of the Spanish Civil War. Painting this work only six months before the Spanish Civil War had begun he claimed he was aware of the war in order to appear to have prophet-like abilities. Dali and his wife, Gala, were trapped in the middle of a general strike and an armed uprising by Catalan separatists in 1934, in Catalonia, and this may have influenced his Spanish Civil War motif. Salvador and Gala escaped to Paris, where they were married. He was also greatly affected because his friend (and presumable lover), Federico García Lorca, was executed in the war and his sister Ana Maria was imprisoned and tortured.
Metamorphosis of Narcissus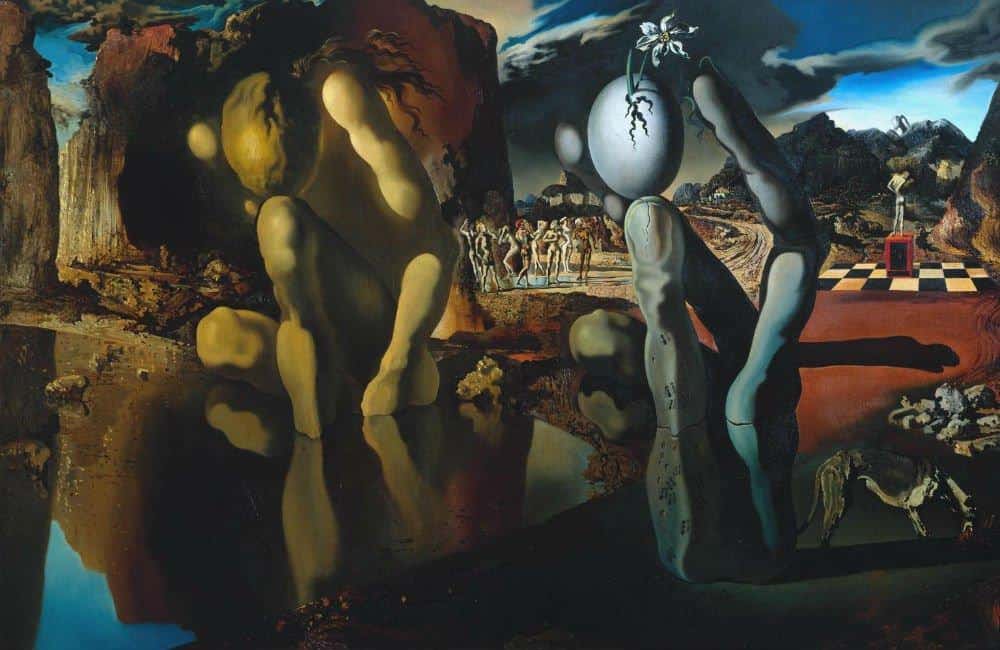 The paranoiac-critical method is a technique in surrealism which was developed by Salvador Dali in the early 1930s, and Dali used it in several of his paintings, especially those involving optical illusions and other multiple images. According to Greek mythology, Narcissus, who was renowned for his beauty, fell in love with his own reflection in water. Dali's interpretation of the Greek myth, this painting shows Narcissus sitting in a pool, gazing down. Metamorphosis of Narcissus was created by Dali during his paranoiac-critical period and is among his most renowned works using the technique. One of the most brilliant Salvador Dali paintings.
Galarina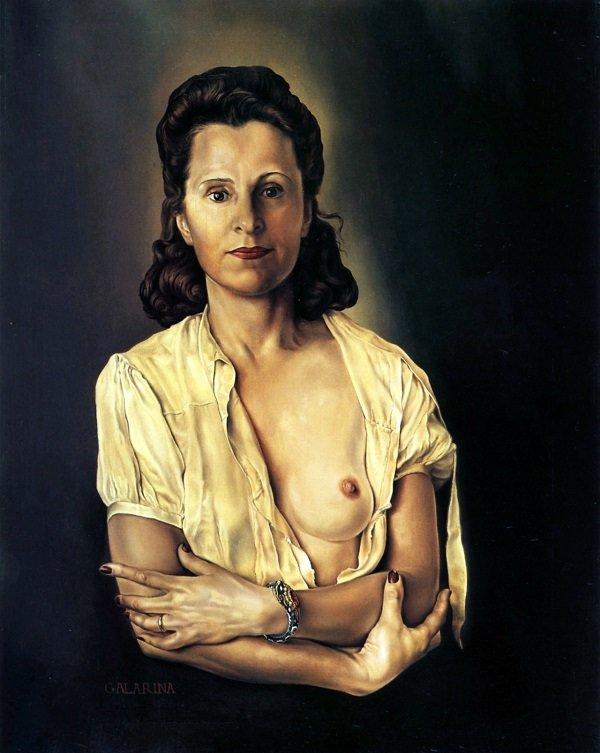 In the catalog for the exhibition in the Bignou Gallery in New York, held from the 20th of November to the 29th of December 1945, Dalí stated: "Begun in 1944, this work was completed in six months, working three hours a day. I called it Galarina because Gala is to me what La Fornarina was to Raphael. And, without any premeditation, here again we have…the bread! A rigorous and keen-eyed analysis will show that Gala's crossed arms are like the interwoven wicker of the breadbasket, and her breast, the crust of bread. I have already painted Gala with two lamb chops on her shoulder, as an expression of my subconscious desire to devour her. That was the age of the imagination's raw meat. Today, now that Gala has risen in the heraldic hierarchy of my nobility, she has become my basket of bread".
Christ of Saint John of the Cross
The painting is known as the Christ of Saint John of the Cross, because its design is based on a drawing by the 16th-century Spanish friar John of the Cross. According to Dali, the inspiration of the painting came to him through a cosmic dream, in which he was convinced that depiction of nails and blood would be more truthful of his portrayal of Christ. Christ of Saint John of the Cross was voted Scotland's favorite painting in a 2006 poll and it is considered by many to be the greatest religious painting of the twentieth century.
Swans Reflecting Elephants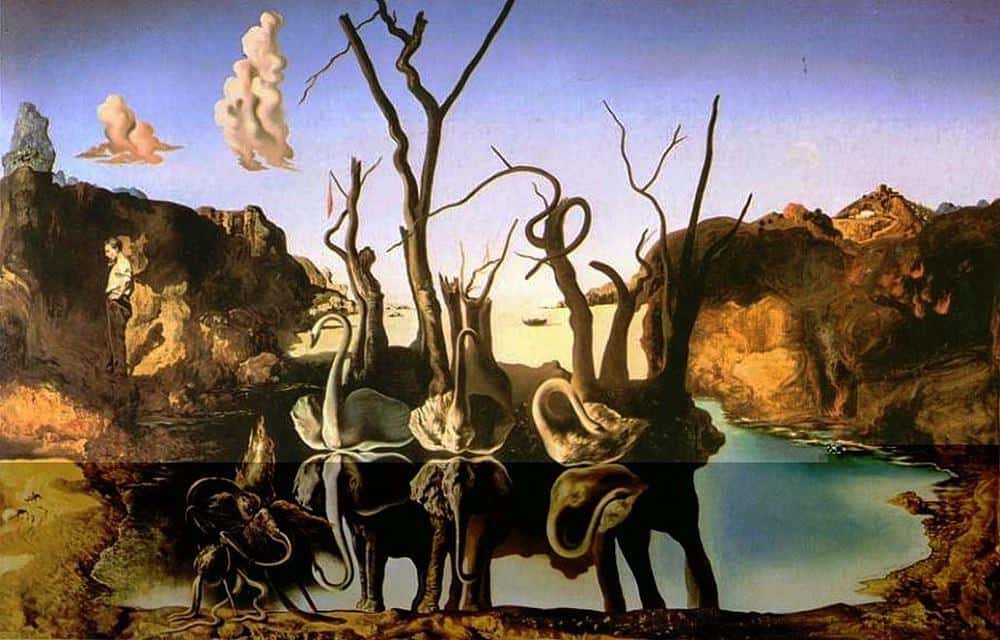 The painting is from Dalí's Paranoiac-critical period, and was one of many art pieces stolen by the Nazis in France and Belgium between 1940 and 1944. Painted using oil on canvas, it contains one of Dalí's famous double images. The double images were a major part of Dalí's "paranoia-critical method", it is his greatest masterpiece using the paranoiac-critical method; and one of the most well-known works in Surrealism.One of the finest Salvador Dali paintings in existence.
The Persistence of Memory
The painting epitomizes Dali's theory of "softness" and "hardness", which was central to his thinking at the time. This interpretation suggests that Dali was incorporating an understanding of the world introduced by Albert Einstein's theory of special relativity. Asked by Ilya Prigogine whether this was in fact the case, Dali replied that the soft watches were not inspired by the theory of relativity, but by the surrealist perception of a Camembert melting in the sun. One of the greatest Salvador Dali paintings.
Did you liked our picks? If you did, make sure to share this post with your friends and loved ones.