No matter how big or small the living space is, decorating it often poses a challenge for every homeowner. With plenty of interior design styles available, it is difficult to choose the one that will best fit into every decor.
However, out of all rooms in the house, one of the easiest to decorate is the dining room. Just like the living room, the dining area is also considered a social center for hosting family and friends. For that reason, it seems only right that this part of the home is just as practical, functional and beautiful as every other room.
So, whether you are looking for a complete makeover or just a few simple and stylish upgrades for your dining room area, you have numerous possibilities to do so. The whole point is to design a unique space that will reflect your personal style while making sure everything is well put together.
In case you need inspiration, take a look at these five interior design tips you can follow to instantly spruce up your dining room.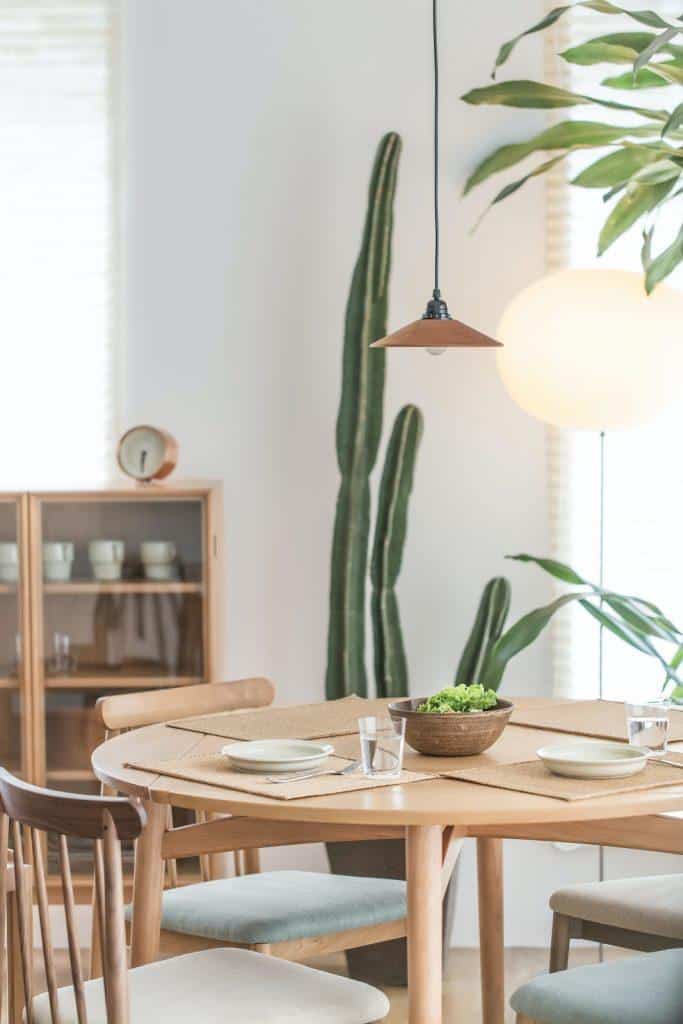 Photo by Thorn Yang from Pexels
Pick a beautiful table and comfy chairs
The main furniture pieces in every dining room are the table and chairs. No matter what style you choose them in, the key is to create a welcoming space that will work both for intimate dinners with your loved ones and get-togethers with your friends.
Some of the most popular dining tables are those with a glass top. This is because glass surfaces provide a clean, sophisticated and streamlined feel that helps create an upscale atmosphere in the space. In fact, they have the ability to instantly enhance the decorative influence of the table's base below.
So, if you are looking for a sleek and undeniably chic dining table, then you should definitely go for a round glass table with a flared base. You can add more glam and comfort to it by opting for a Saarinen chair in a color of your choice to match your dining room interior and preserve the bright atmosphere of the space.
Consider your walls
One aspect of the dining room that many homeowners usually overlook are the walls. This is because they mostly focus on the furniture pieces without realizing that the wall decor can also add style and visual appeal to the entire dining room area.
The good thing is that you have many options you can choose from to decorate the walls. The most obvious way to do so is to repaint the walls. For example, if you want to keep it minimalistic and classy, then you should go for a neutral color palette. In case you want to break away from the monochromatic scheme, then you can add more vibrancy with colorful decorative items such as drapes.
Another popular way of decorating your dining room walls is by adding statement artwork pieces. If you have the available space, then you can hang up canvas prints with images and colors matching the rest of your interior.
Choose the perfect lighting
It is no secret that the lighting can either make or break any design scheme, especially in the dining room area. Therefore, it is important that you look for a statement piece in the form of a lighting fixture to add more visual interest to the entire space.
One of the most popular lighting types is the chandelier. They come in various styles, finishes and sizes making them the perfect option to bring a sparkling glow to your dining table while serving as the focal point in the space. So, if you have your eyes on a dining chandelier, then you should look for the one that matches not only your dining room decor but also your personal taste.
Another common lighting type for the dining area is the pendant. They also come in many styles and finishes that can help achieve a dramatic look while making a decorative statement above your chic table.
Decorate your floors
Another element you should consider when sprucing up your dining room space is the floor. Since this part of the house usually has fewer decorative items, homeowners should rely more on the flooring to define the overall look of the dining area.
Because this room is usually connected to the living room and kitchen, homeowners opt for a wooden flooring type to suit the demands of their entire living space. The great thing about them is that they come in various styles which can fit every home interior design as well as help provide the space with a timeless and beautiful look.
In addition, homeowners also decide to decorate their dining room floor with a stylish rug. For example, natural-fiber rugs are a great choice as they work well in both casual and formal rooms and can easily add depth to the space.
Complete with accessories
Although this is one of the rooms in the house which doesn't usually have many accessories, there are a few things you can add to complete your dining room space. From table centerpieces to serving carts, you have plenty of choices available to spruce up the decor of the dining room area.
The easiest way to complete this room is to add floral centerpieces to the dining table. While most homeowners gather flowers in a vase and simply place them in the middle of the table, others opt for different creative approaches to add a more visual interest to the space.
For example, they choose a brighter hue for their flowers to contrast the overall color palette of the room and scatter them all over the table to break away from the traditional way of displaying flowers. If you want, you can add smaller candles in between to provide a greater decorative impact in the room.
Photo by Mark McCammon from Pexels
Final thoughts
Contrary to common belief, the dining room can also be considered the heart of any home. It is the place where people enjoy delicious meals while spending quality time with their family and friends. Because of that, it seems only appropriate that you put as much effort into designing this part of the home as you do for the rest of your decor.
So, if you are looking for beautiful interior design styles for your dining room, make sure you refer back to this post and use it as a guide to creating a space that will accommodate all your personal needs.
Resource
https://reviewmoose.ca/blog/interior-design-industry-statistics/