Have you ever wondered why you suddenly start getting Instagram ads about something you "googled" recently?
That's because virtually all search engines, including the famous names (who should know better), use your personal information, search history, and search terms to send targeted ads. For big tech companies, it is about the money they make from Ads. They care less about information privacy or internet privacy.
What is Search engine privacy?
There have always been concerns about internet privacy and search engine privacy specifically. Search engine privacy is intended to protect your personal information online and regulate the kind of data search engines can collect.
When you log online, you need to be sure that your personally identifiable information is safe. Nobody is "tracking" you — by collecting your search queries, cookies, IP addresses, and browsing history.
Your privacy is your fundamental human right, and PrivacyWall protects you
The concerns about information and search engine privacy, in particular, have been met with several controversies.
While online visitors or internet users demand that information privacy policies be executed to the letter, search engine makers argue that they need this information (your search history, search terms or queries, and user cookies) to deliver a custom searching experience.
However, the information that big tech collects through search engines can compromise users' privacy when their data is sold to online advertisers.
PrivacyWall offers speed, relevant search results and privacy
Considering the neglect and lack of enforcement of privacy regulations, you have to decide if getting the supposed "better search experience" is worth the risk of your information getting into the wrong hands.
More people are becoming more informed and have realized how exposed, and vulnerable most search engines (including the top dogs) have made them. Popular search engines like AOL, Yahoo, and Google have been slammed with complaints and publicized breach of user search engine privacy.
And since the legal framework for protecting user privacy is almost non-existent, users are now exploring other means of protecting their privacy by using software that keeps their IP and location anonymous.
Without compromising privacy, speed, and relevance of search results, users have turned to privacy-focused search engine like PrivacyWall.
What does PrivacyWall do?
Unlike other search engines out there, PrivacyWall offers unparalleled anti-tracking and ad blocking technology. Rest assured, you no longer have to worry about intrusive ads that invade your screen and obstruct your browsing. PrivacyWall comes with a free in-built ad blocker that blocks over 3000+ invasive trackers (including Facebook, Mozilla Firefox, Google Chrome, Windows 10) from accessing your personal information online.
PrivacyWall combines with your PC firewall to deliver formidable privacy protection that shields you from both software in your computer and trackers cloaked in your browser.
Thankfully, PrivacyWall private search engine also caters to the privacy needs of both corporate and business entities. So, its data protection benefits are not limited to individuals alone. PrivacyWall guarantees your online privacy on all browsers, operating system, and devices.
From secure browsing to providing tracking protection. I could discuss how the PrivacyWall blocks operating system from collecting telemetry data such as your online activities, browsing history, diagnostics, and computer usage. But it will be best if you make time to check out the PrivacyWall Firewall page to learn more about its capabilities.
So, why did I cancel Google for PrivacyWall?
It's an uneasy feeling to find out that you are being "tracked" by unauthorized third parties. And It puts one on edge. After getting tons of ads related to something I searched online earlier in the week, it dawned on me that I needed to get a private search engine to protect my personal information.
It may interest you to know that Google collects virtually all your search terms and keep tabs on your history. They collect information about your IP address, browser, operating system, search date and time, and URLs, among other details.
And that's not all. Because they know that most people don't read privacy policies, they exploit the opportunity to encourage users to entrust them with personal information, which they sell to "trusted" business partners. Underline the word "trusted."
According to Google's privacy policy, they pass your data on to their "trusted" business partners, affiliates, and subsidiaries. Think targeted advertising.
So, how do you protect your personal data?
As I hinted earlier, I have found a couple of reliable methods you can use to increase your privacy.
At the top of my list is switching search engines and using a privacy-focused or privacy-oriented browser. And I did all of that by cancelling Google and choosing PrivacyWall — okay, it's more like dumping Google.
Thankfully PrivacyWall is accessible on all devices, including Mac and Android. It also has extensions for popular browsers like Google Chrome and Firefox. Considering all that PrivacyWall has invested in ensuring user privacy by preventing unauthorized third parties from accessing your data, one can confidently say that PrivacyWall is the best private search engine.
PrivacyWall is accessible to virtually all devices
One feature that endeared the Privacy wall to me is that it was incredibly easy to access on Google play store and their website. All I had to do was to download the extension into my browser, and voila! Everything is up and running.
PrivateView feature for an extra layer of security
Oh! Did I mention that PrivacyWall has a PrivateView function that offers an extra layer of security for your data and personal information? This and many other privacy features onboard PrivacyWall make it the best private search engine.
User-friendly interface
If you thought that Google has the best browsing interface, sorry to burst your bubble because you thought wrong. PrivacyWall doesn't throw annoying ads at you and take up your screen.
The PrivateView feature I mentioned earlier has a button that appears on every link you open. If you share personal information on any site or want to be discrete in your search, all you have to do is click the PrivateView button and go incognito. Downloading PrivacyWall and making it your default browser
Here is how to download PrivacyWall on Mozilla Firefox
As I mentioned earlier, you can access the PrivacyWall private search engine on all platforms and App Store. Regardless of whether you are using Mozilla Firefox or the popular Google Chrome, you can still download PrivacyWall on your device.
Visit https://www.privacywall.org/ to download the Firefox PrivacyWall extension for your browser. Navigate to the "Add-on" area of your browser and type in PrivacyWall in the search box provided at the top right corner of your screen, and hit send/enter.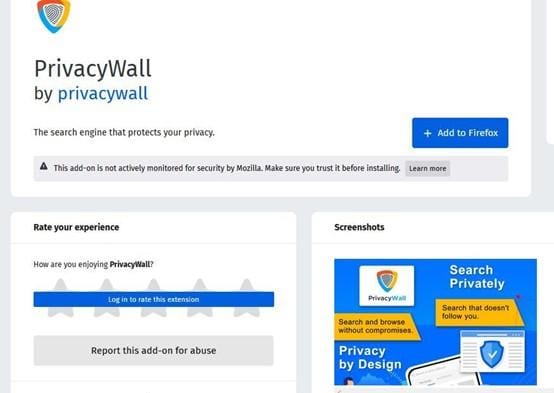 Once the search is completed, you will click on PrivacyWall from the search results and install the extension.
How to download PrivacyWall on Google Chrome
The process of downloading the PrivacyWall extension in Google chrome is similar to that of the Mozilla Firefox browser.
Click on the three dots on the top right-hand corner of your screen and navigate to the "More Tools" option. Click on "More Tools" and hit "Extensions" in the drop menu, and it automatically becomes your search engine.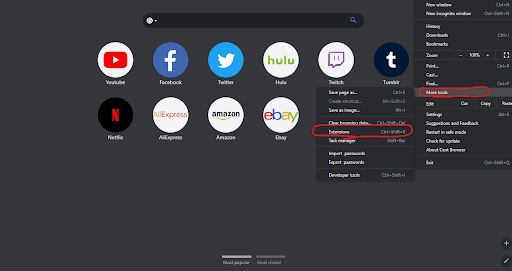 How to download PrivacyWall from the Google Play store
Mobile devices are also not left out. If you are using an Android device, you can download the PrivacyWall app from the Google play store.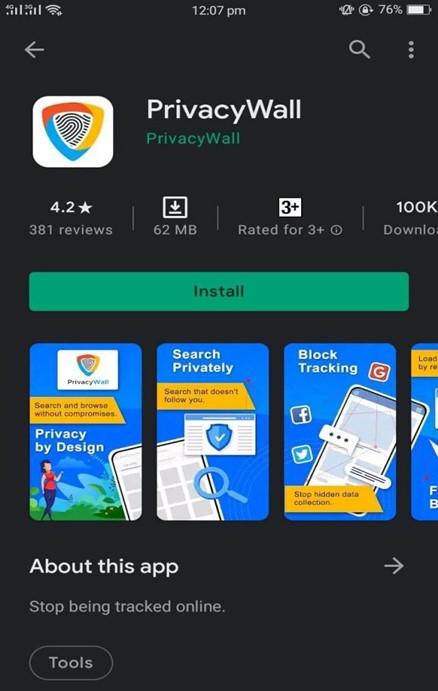 Enter or type "PrivacyWall" into the search bar and install it as you would any other app.
How to install PrivacyWall Mac extension
Arguably the best private search engine on the internet, PrivacyWall also caters to Mac users' privacy concerns. Mac users can download the PrivacyWall Mac extension by launching the Safari browser and navigating to "Preferences" then "Extensions."
Once you touch on extensions and type PrivacyWall in the checkbox/search bar, you will see the Mac extension on your screen. Then you can download and install the extension.
Join the over 100k+ PrivacyWall users community today
Already, there are tens of thousands of people who are already onboard the PrivacyWall platform and will attest to the unparalleled security that this private search engine offers.
That means you have a vast community of users you can interact with and share ideas and your experience on using PrivacyWall. You can also catch up on updates on PrivacyWall social media platforms via Twitter, Instagram, TikTok, Facebook.
I would love for the world to come onboard PrivacyWall and be a part of the private search engine #UnsearchEngine revolution. Feel free to visit www. PrivacyWall.org for more information about this landmark private search engine. Do drop by soon.