I have new neighbors. They moved in yesterday. I was there to welcome them in our neighborhood.
They are an old couple. You should see them. They still call themselves "Love".
"Love, can you please do this, do that? Love, can you please help me with this thing?"
It's a pleasure just to listen to them talking.
The woman is 63-years. The man is 64. The woman is hilarious. She said her husband "fooled" her when she was 18 years old.
He stole her from her parents. They are in love since day one. My heart felt really warm.
She asked me what I do for a living. I said I'm a nutritionist. I help people with weight management and nutrition.
Then, she told me something that really left me speechless. She said that her entire life is based on homemade remedies and solutions.
She still visits the Internet to see if she can find something new and see if it works.
Can you imagine? – It's like God sending these people to me.
This morning she called me for a cup of coffee and cookies. The cookies were made from lemon, oats, nuts and honey. Her favorite recipe.
We shared a few laughs. Then she showed me her tablet so I can see something she found on the Internet.
There was this picture: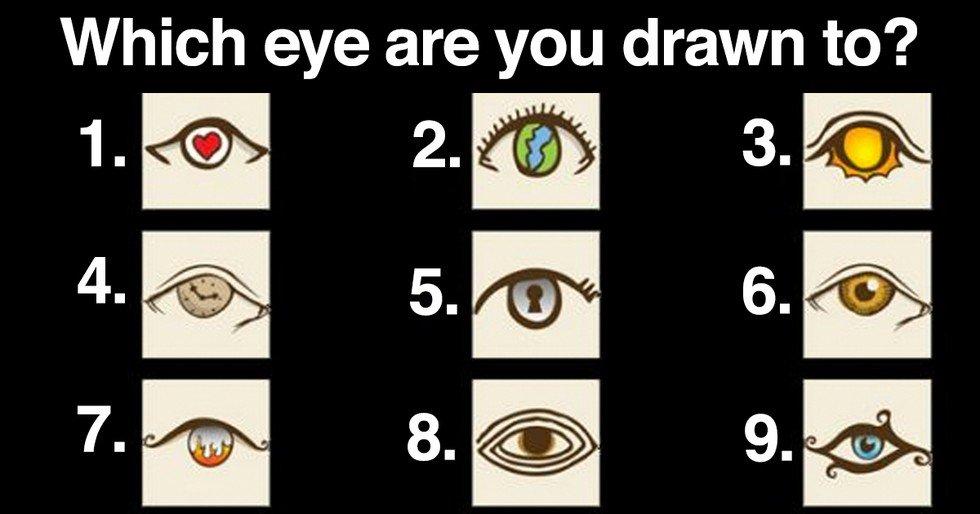 She said – go ahead, pick an eye. Don't be picky. Let it be the first one that will catch your attention.
Then I picked. The one with the heart in it. I'm an all-love person. Of course, I will pick the heart-eye.
After that, she took the tablet and asked me what kind of person I am. I told her and she laughed.
She showed me her tablet again to read something. I couldn't believe what I see.
How, I asked? – She said the Internet is a wonderful place, my dear.
That's why I wanted to share this with you. This is something that will blow your mind. At least it blew mine.
Take a look at the picture again. Pick your eye and see what it says for you below.
Eye No. 1
You are the "open" person with a great and very kind spirit. You are really warm, welcoming everyone in your life.
You often want to take risks than to be cautious and keep yourself outside. It doesn't matter if these risks will hurt you or bring you joy.
To help others is a no.1 priority in your life.
Eye No. 2
You are conscientious. Searching for what's best for you and your community is in your blood.
You are positive about your actions. You believe they make a difference and it doesn't matter how big they are.
Activism will save the planet is your motto.
Eye No. 3
You are a troubled person. Sometimes your past hunts your actions today. You probably still live in your past thinking about your life as a joke.
Despite these things, you are still brave to pick yourself up and find the sun in every situation.
Eye No. 4
In your past life, you were probably a philosopher. You want to find the deeper meaning of everything that surrounds you.
You are confident in your ability to solve everything your life is giving to you.
Your motto? – Everything happens for a reason.
Eye No. 5
You are the mysterious one. Your friends hate you about it. You rarely ask for some help.
You don't give up until you solve something by yourself. Even if that's not how the others would do it.
You won't speak unless you are 100% sure about what you are about to say.
Eye No. 6
You are the sensitive one. Little details make your life amazing. These little things can be really small and pointless.
It's not important. It needs to make you happy. Anyone who is able to reach down inside of you will notice a fragile and emotional person.
But you never show it for the outside world. Your strong intuition is your guardian angel for the actions you want to take.
Eye No. 7
You are the energetic one. Everything you do, you are doing it with an extreme dose of passion. You are a natural born leader.
Eye No. 8
You are the one called, "the crazy one" among your friends. You have very interesting and unusual hobbies and interests.
This is what makes you special. Some people don't understand you, but that's okay.
You are bored with traditional stuff.
Eye No. 9
You are the intuitive one. You understand all people, cultures, and the whole wide world.
Reading people is your hobby and you know when you are lied to.
Your actions are well prepared and measured. Some probably already call you the mastermind of things.
Use it for positive things.
I found this very interesting. It's probably because I picked the right eye for me. It really spoke well for my character.
I hope your option showed your right character. If not, move on and show this to your friends.
This could be really fun when you invite them over for a cup of coffee.
Source: Higher Perspectives