Whether you and your partner are renewing your vows or marrying for the first time, it's always a lovely idea to include your kids at your wedding. When you've decided to get married when you already have kids, you should make them feel included so they won't feel left out. Kids always wanted to be a part of your life, which is why you should always include them, especially in important events.
Some people say that a wedding is an event for adults, but you can always turn it around. With kids, weddings can be more heartfelt and fun. Kids add happiness to one's life, no matter how playful they are.
Since you're already a parent, include your kids at your wedding. The problem is, a wedding is mostly an adult event. However, listed below are some ways on how you can involve your kids at your wedding:
1.Include Them During Decoration
Most kids love anything about art, which is why they'd appreciate it if you let them add and decide on the decoration for your wedding ceremony and reception. For instance, you can have them decide on the flower arrangements for the center table or the wedding ceremony as you walk down the aisle.
Your kids would be happy to see that their decoration choices are present on your big day. It'll surely put a smile on their faces and make them feel that their opinions matter.
2.Let Them Introduce The Bride
Before the bride walks down the aisle, it'll be a heartwarming view when your kids walk down the aisle, holding a banner that says 'here comes the bride.' If you don't like the banner, have them carry flowers, which are available at The Bouqs Co. Doing the latter will add a softer touch to your wedding, and they'd feel proud as they walk down the aisle right before you.
3.Involve Them in Your Invitation
Even if your children's name appears on your wedding invitation as a flower girl or ring bearer, it'll be nice if they get to highlight their roles. Instead of you and your partner inviting your friends and family to your wedding, make the wedding invitation look like your kids are inviting guests.
For example, you can make it "(your children's name) is inviting you to the wedding of their parents, (you and your partner's name)." This will add a special touch to your wedding invitation that your kids would genuinely appreciate.
4.Add a Kids Corner
Since weddings are an event that adults mostly enjoy, it's a smart decision that you add a corner just for kids. Weddings can be boring for kids since it's usually composed of activities that they don't enjoy. With a kids' corner, they'll be able to occupy their selves during the event so they won't be bored.
In the kids' corner, you can place fun activities for them, such as coloring books, board games, Legos, and bubbles, to name a few. Adding a kids' corner should keep them entertained during the wedding proper and allow them to make new friends.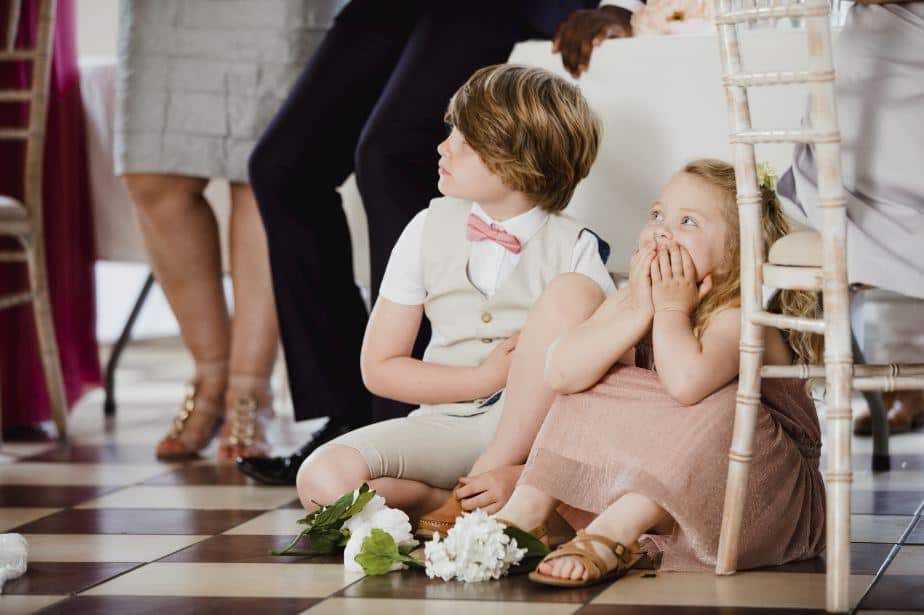 5.Add a Family Topper
Wedding toppers usually include the bride and groom together or a symbol of the union, such as rings or the words 'Mr. & Mrs.' To make your wedding topper a little bit more personal, you could include your children at your wedding topper. Thus, instead of the usual wedding topper, kick it up a notch and make it a family topper.
Your kids would surely enjoy seeing their small cartoon version on top of the cake!
6.Be Introduced as A Family
During the reception, where the wedding host will introduce you as Mr. & Mrs., bring your kids with you as you go out the doors to make an appearance to your guests. It'll make your kids feel included in your wedding as you do most of the meaningful stuff together with them.
To make it more personal and fun, you can have them pick your entrance song that they'll be happy to dance along to.
7.Save a Dance for Them
It's a tradition to have your first dance as a married couple. To make it more family-oriented, save a dance for your kids right after your first dance. If you have more children, you can turn it into a mini-performance that'll allow everyone to dance along with their parents. It'll be a fun activity that you can look into as you grow gray and old.
A family dance number is a great way to entertain your guests during the wedding, which would also be a fun event that everyone will surely remember.
Conclusion
Including kids at your wedding will always be a great idea, especially if they want to be involved or if they don't want to feel left out. When you involve your kids at your wedding, they'll be able to enjoy and cherish the event, making it a fun memory for everyone.
Doing so will ensure that you don't let your children feel left out and remind them that your love will never change but only grows bigger even after the wedding.