Bali, the 'Island of the Gods', is THE travel destination that is on everyone's bucket list. Now that Bali is reopening, what better than to plan a family trip to the island with your kids? Bali is a world away from usual tourist attractions if you know where to look. The emerald rice paddies seem like ocean waves while your kids enjoy the warm weather with some fresh coconut water.
Whether you hit one of many beaches on a sunny day, make your way to the rice fields, or spend a day at the local market, you and your kids will love the Bali that is reserved for families. What's more? There are thousands of family-friendly villas in Bali for private luxury stays near the beaches.
Here are 5 kid-friendly activities you definitely should not miss in Bali:
Sacred Monkey Forest
One of the most popular places in Ubud is the Sacred Monkey Forest. It is home to the endemic species of macaque of which there are over a thousand. In the shadow of the dense canopy and a cool breeze, you can explore the forest which has a cave, main temple, Dragon Bridge, and the Holy Spring Temple. Kids will especially love the intrigue of knowing a macaque could swing by any time! Some necessary precautions include not wearing any loose jewelry, etc.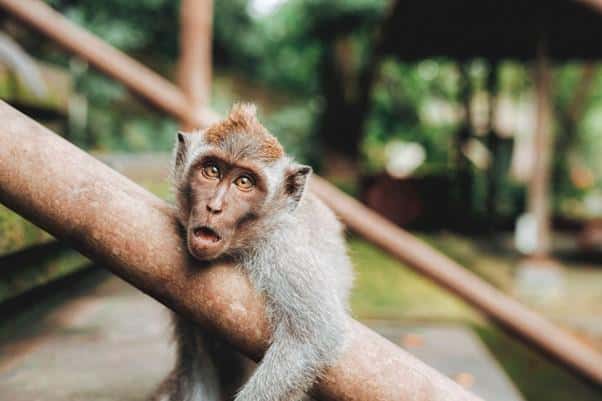 Photo by Jared Rice on Unsplash
Tegalalang Rice Terrace
A picture against the 'I Love Bali' sign in Tegalalang is a must for all Bali visitors. The rice terrace is a wonderful place to visit, definitely one for the books. The terrace follows the traditional irrigation system of subak, something worth experiencing first-hand. You can hike down the slope and it can get pretty muddy, but so much fun it's all worth it.
Sundays Beach Club
Found in Uluwatu, near the stunning cliff-top Uluwatu Temple, Sundays Beach Club is a unique waterfront experience with a private beach where you can indulge in complimentary water activities. You can get a per person free entry with a minimum spend on food and beverage to access the amenities. It's a lovely destination with excellent hospitality, a splendid view, and exciting sports like kayaking, snorkeling, stand-up paddleboarding, and much more.
Campuhan Ridge Walk
Memorable experiences are such because they are immersive, rich, and wholesome. The Campuhan ridge walk offers one such experience to the whole family. It offers spectacular views, especially during sunset, amid a narrow path that meanders through rice paddies on either side. Another great way to explore the field is to rent bicycles and ride along the paddies. Here, you can experience Bali in its element with glorious, natural views.
Surf's Up
What's Bali without a few surfing lessons, hitting the waves at Echo Beach in Canggu, or simply floating on your surfboards and watching the ocean? There are many surf schools for kids and adults alike offering beginner lessons. You can take your little ones for quick sessions and they can experience what it feels like to surf. It will be a fun activity for the entire family where you will, no doubt, make lasting memories.
Bali is the perfect destination for a family trip with loads of activities, places to visit, and things to explore. You can visit the Ubud Market and watch a traditional performance, a beautiful way to learn about Bali's history, or visit the many religious sites and temples for a unique experience. Bali is always a good idea!