If you know a thing or two about watches, you will know that green watches are considered special. A green watch is basically a watch with a green dial. Some may have a green strap, but most just have a green watch face, which is always distinguishable.
People love green emerald watches for many reasons. Regardless of the reason, it is important to buy a green dial watch that is of the right quality. But how do you find such when there are several brands in the market, including inferior ones? You will have to research extensively and probably test some watches.
We understand that most people will not have all the time in the world to research green dial watches before choosing the right one to buy. To help make the process simple, we will recommend three of the best ones straightaway.
Odyssey Two Tone Green Link 2020 Edition Green Dial Watch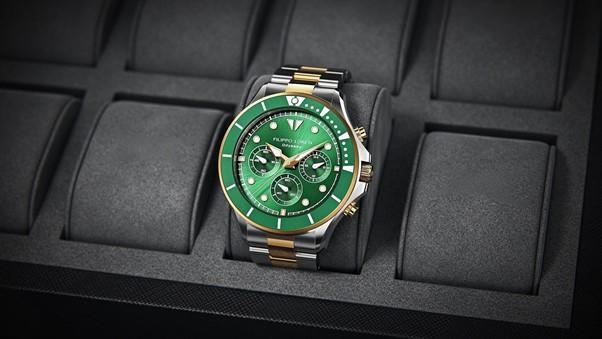 In terms of aesthetic appeal, this is one of the best green watches you will find anywhere. In spite of that, it is one of the most affordable luxury watches in the category. From the way it is made to the functions it offers, you can be sure that buying it will be an incredible investment.
As the name suggests, this watch is a trendy timepiece belonging to a family of top-quality watches for men. Like other watches in the Odyssey series, you can easily tell that it is inspired by Italy. The caseback features an intricate engraving of two regal seahorses.
Coming to the functionality of this watch, you will be impressed with the advanced chronograph. This is also a water-resistant watch (up to 100 meters), with a unidirectional bezel that measures diving time and depth effectively.
Okeanos Green Steel Link Green Dial Watch
This watch may be less fanciful than the one above, but it is great for many reasons. It is also a more affordable watch, but that doesn't mean it is of lower quality. The difference is mostly in the functionality and sophistication.
The Okeanos Green Steel Link is a very simple watch designed for the active user. The green dial looks simple but solid. You won't see any special thing in the green face besides the luminous hands and indexes that make reading time easy in all lighting conditions.
The Okeanos Green Steel Link is built to last. It is made of the best available materials for a watch in its class. The sapphire coated mineral glass is scratch-resistant to ensure that the watch looks great for several years to come.
Okeanos Rose Gold Green Link 2020 Green Dial Watch
If you want a gold and green watch, this is most likely the best for you. As you can tell from the name is an updated version of a truly remarkable watch model. It is still a trendy green dial watch with a few interesting features.
The Okeanos Rose Gold Green Link 2020 will always make the right impression in all circumstances. The inside of the green dial has some gold detailing, and the entire stainless steel link bracelet is painted in Rose Gold. There is a date of the month window that will always keep you on track.
The Okeanos Rose Gold Green Link 2020 is a water-resistant watch that will see you through showers, swims, and related activities. There is also a directional rotating bezel that will measure diving time and depth effectively. The luminous details will also ensure that you read the time easily in different lighting conditions.
Why Always Filippo Loreti Green Dial Watches?
The three watches here are all from the same maker, Filippo Loreti. This is intentional, and we have our reasons. The first important reason for focusing on the brand is that we know how the watches are produced. We also know that the makers do not compromise at all when it comes to quality.
Filippo Loreti watches are also not mass-produced. They are handmade, according to verified orders placed by customers. The implication is that you will most likely get a watch that is specifically made for you when you place an order.
Filippo Loreti watches also do not pass through middlemen. The makers sell directly to customers, removing all the problems associated with middlemen, such as fake watches exorbitant watch prices.
Conclusion
We have recommended three of the best green watches you can find anywhere at the moment. If you want to consider other options before making your final decision, check out Filippo Loreti's collections on their official website.