You've decided that your bathroom could use a bit of a makeover and you've set aside a small budget for some remodeling.
However, before you start you should know that from all the rooms in the house, the kitchen and the bathroom are the most difficult and most expensive to remodel.
The cost of the materials, the fixtures and hiring workers to do the job right can reach up to even 20 or 30 thousand dollars.
Making changes to the bathroom on a limited budget doesn't make the project impossible, only one that requires a bit of creativity.
There are many ways you can go on about this that will leave you satisfied with the new bathroom and won't break your budget.
You can save a lot on making some of the smaller bathroom items yourself or simply smartly choosing the right type of fixtures for your bathroom.
These 12 DIY projects and remodeling tips will certainly come in handy for realizing your project.
Bathroom Cabinets Makeover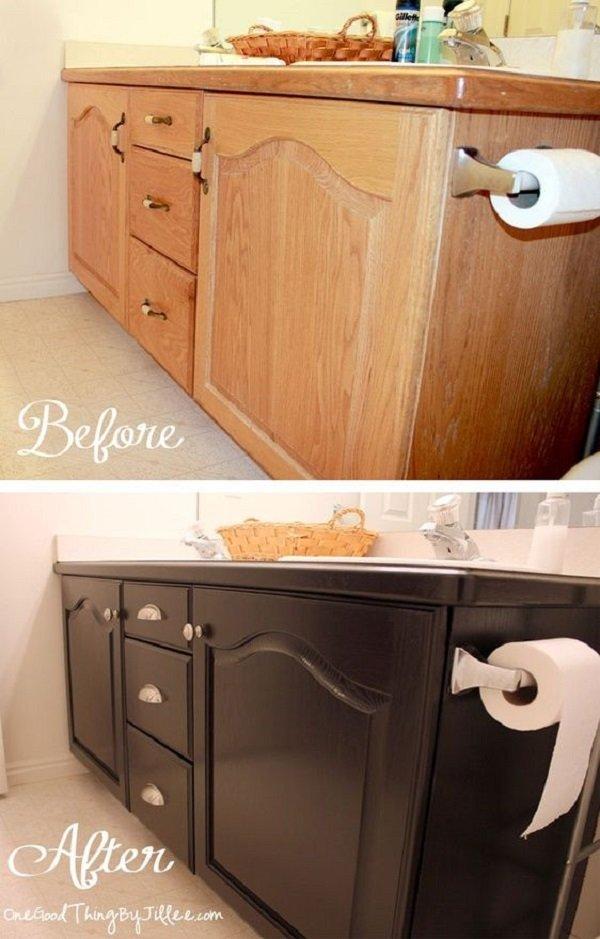 Tutorial via onegoodthingbyjillee.com
This might seem like just a repainting job.
But it is much more than that.
Just look at the before and after picture, and you'll notice how much difference fresh and clean paint makes.
Also, the hooks are more modern, and the new cabinet looks like you've just bought it from a store.
Sometimes, just a little makeover can completely change the look of your home.
How to Build a Custom Tiled Shower Pan
Tutorial via apartmenttherapy.com
One of the new and modern ways to decorate the bathroom is a custom tile shower pan.
This trend has been present in home interior design for the past few years.
But hiring a contractor to do that can cost a small fortune.
Therefore, we strongly suggest you make it on your own.
Following these instructions can help you do that. And it will cost a lot less.
Super cute DIY Floating Shelves

Tutorial via shanty-2-chic.com
You can never have enough shelves in your home.
Shelves add storage space, and that is always a luxury.
Especially with the trend of living in smaller and smaller apartments, storage space becomes a high priced luxury.
Shelves are a cheap way to add some storage room, and these shelves are flexible enough to put them in any room.
And they cost just $15 each.
Bathroom Renovation: A Custom Upgrade on a Budget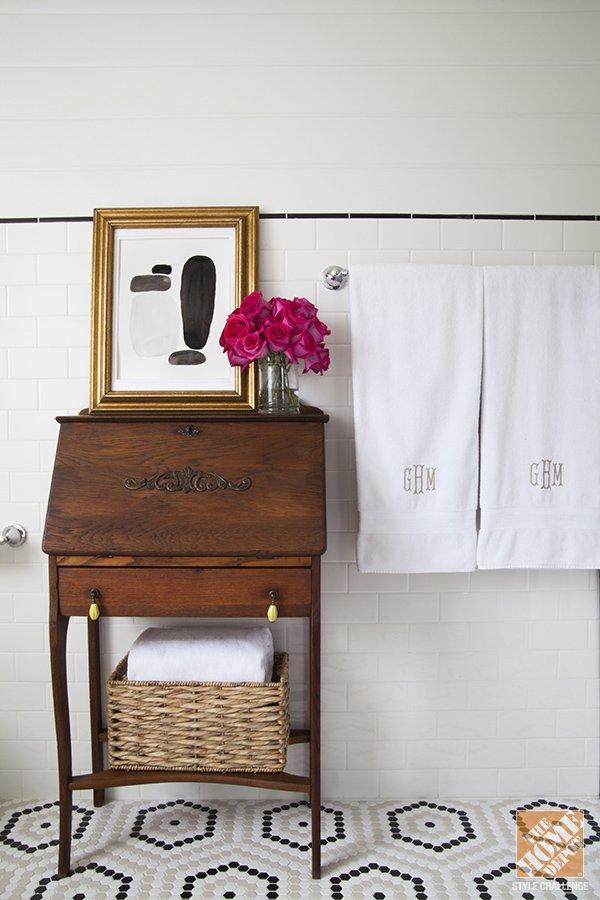 Tutorial via homedepot.com
Remodeling the bathroom is a project a lot of people are afraid of.
The simple reason why?
Price!
Usually, when you hire a contractor to renovate your bathroom, the price is something that will scare you off.
Well, that is why we hope that a change here and there made by you, can make all the difference.
Start this project, and embark on a journey to give new life to your old bathroom.
DIY Wooden Silhouette Toothbrush Holder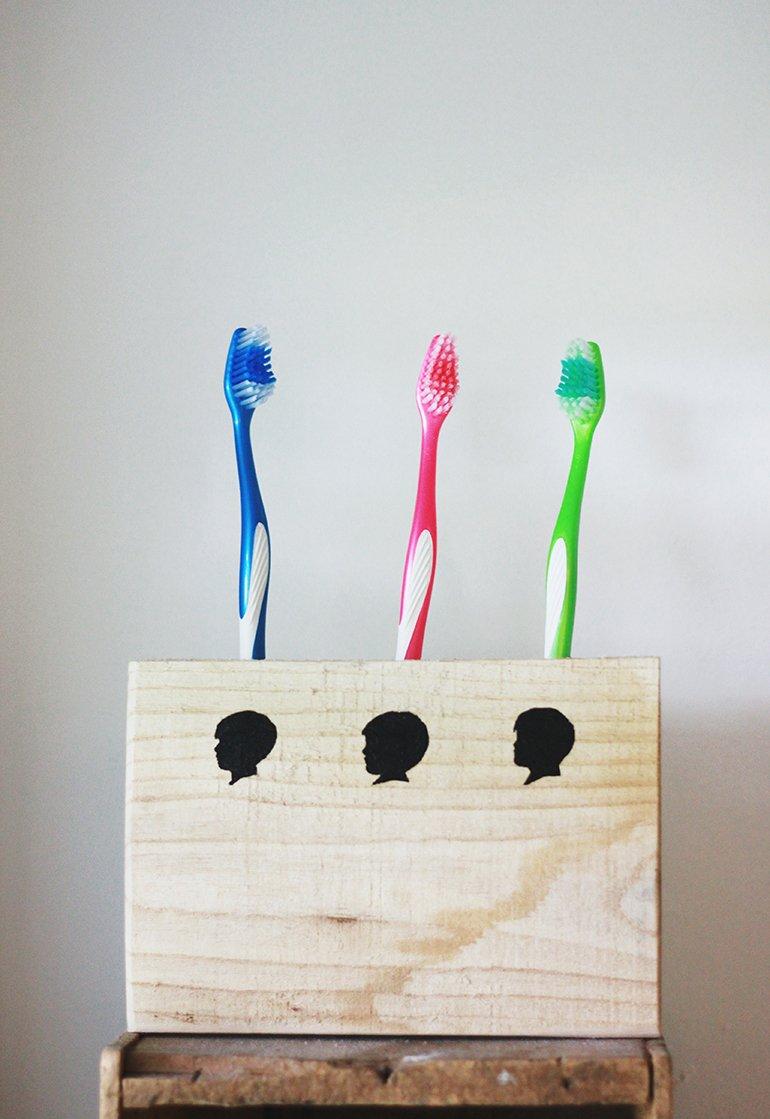 Tutorial via themerrythought.com
As we mentioned previously, sometimes, to change the look of your room, you do not need a complete makeover.
Just a single new accessory here and there will help you.
This toothbrush holder is one those bathroom accessories that look fancy, and give your room a fresh look.
Given that rustic style is also popular, you will be in trend with this wooden made holder.
Martina Bath Wall Storage Shelf With Hooks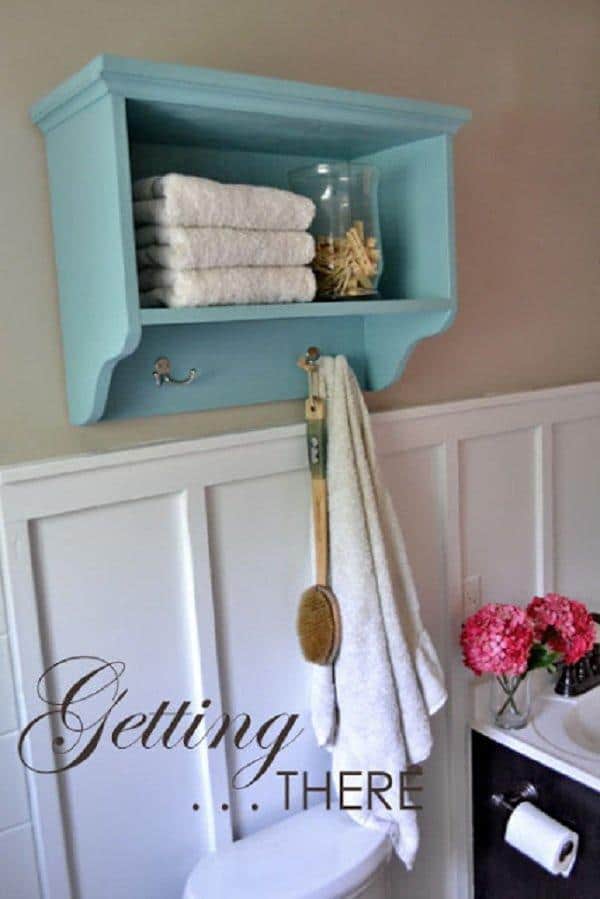 Tutorial via ana-white.com
We love 2 in 1 projects.
You get extra storage space for your towels, all while improving the look of your bathroom.
Now, some might be against keeping the towels in plain sight, but that is just normal.
You are not hiding anything.
Bathroom Vanity from a Wall Cabinet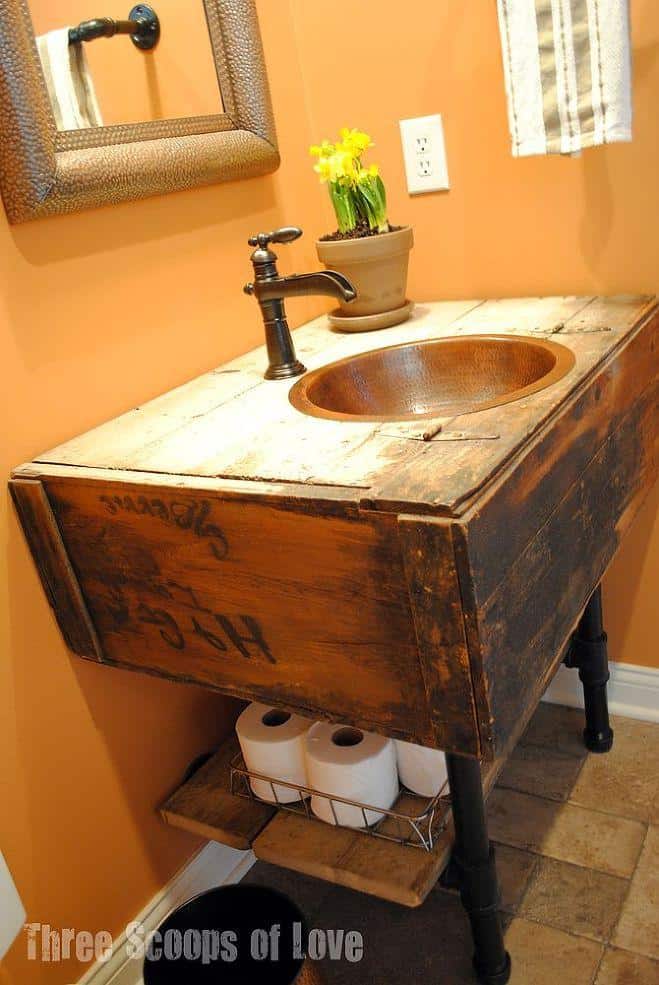 Tutorial via threescoopsoflove.blogspot.com
Whenever you have an old piece of furniture that you have no idea what to do with, go for a DIY project.
Recycling is very important in trying to renovate a bathroom on a budget.
We are sure you have a piece of furniture that is just dusting somewhere.
In this guide, we will show you how can transform an old wall cabinet into a bathroom vanity.
How to Frame a Mirror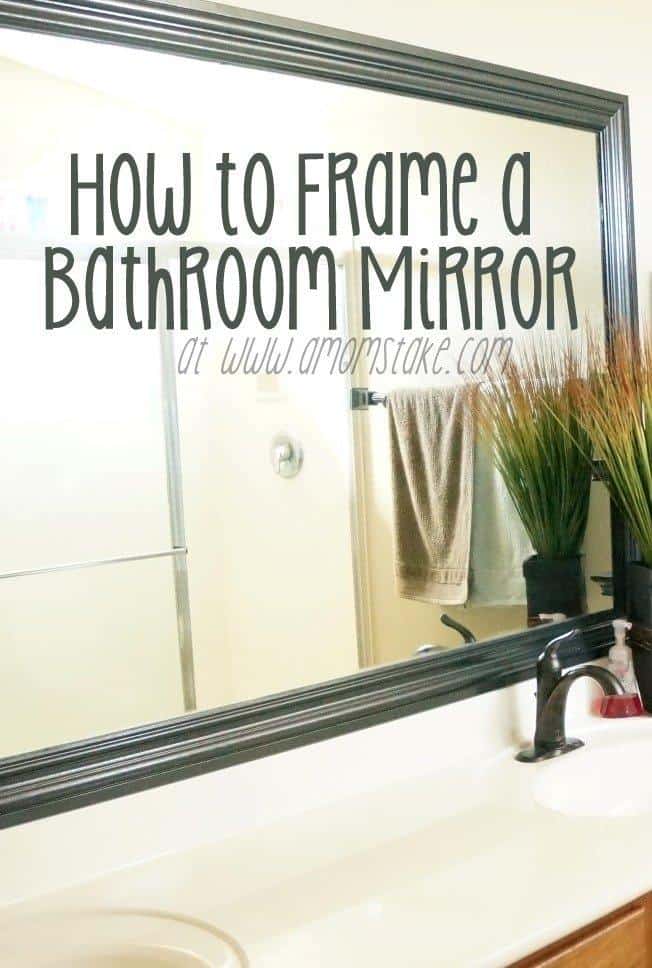 Tutorial via amomstake.com
When we talk about budget ideas for renovating the bathroom, the mirror is always one of the first options.
Why?
Because it costs little to no money to frame a mirror, and completely change the look of the bathroom.
You can choose one of the many ideas, and it all depends on the style you want to follow.
Some frame their mirror with old wood, while others go for metal.
And some people just want something fancy.
Bathroom Remodel Tub to Shower Project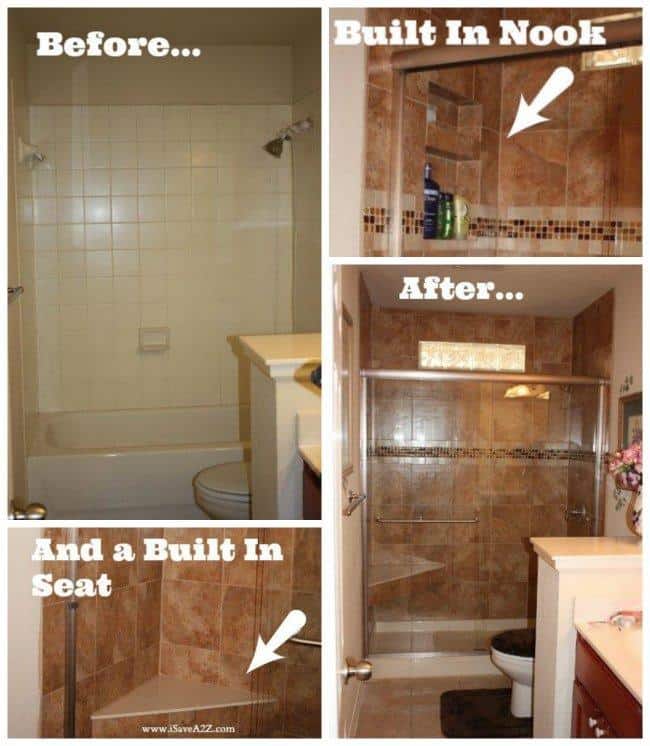 Tutorial via isavea2z.com
Nowadays, you can safely say that we are living in the shower era.
Bathroom tubs are no longer practical.
Simply put, they take up a lot more space.
Showers make your small bathroom feel like a large bathroom.
And in an era where space is limited, you definitely want more of it.
One way to save up on space, and renovate your bathroom on a budget is to change the tub with a shower.
Small Bathroom Remodel Plans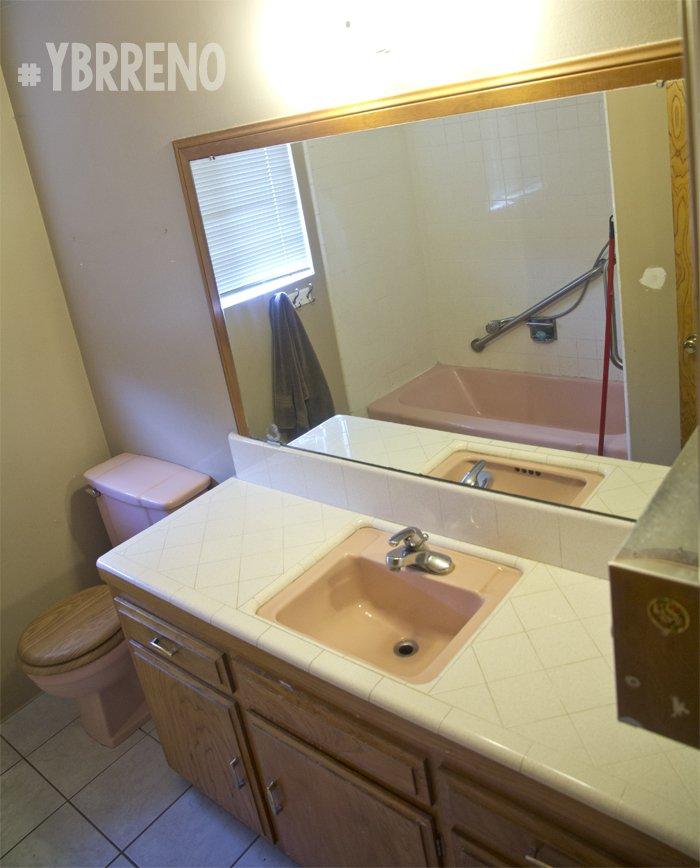 Tutorial via yellowblissroad.com
If you want to hire a contractor to renovate your bathroom, but still keep your budget small, here is an idea you can follow.
Basically, when you hire a contractor, you should try to pay a cheaper price on materials and items used for the renovation.
This lady has a complete guide on how to make that work.
Bathroom makeover on the cheap +$1 start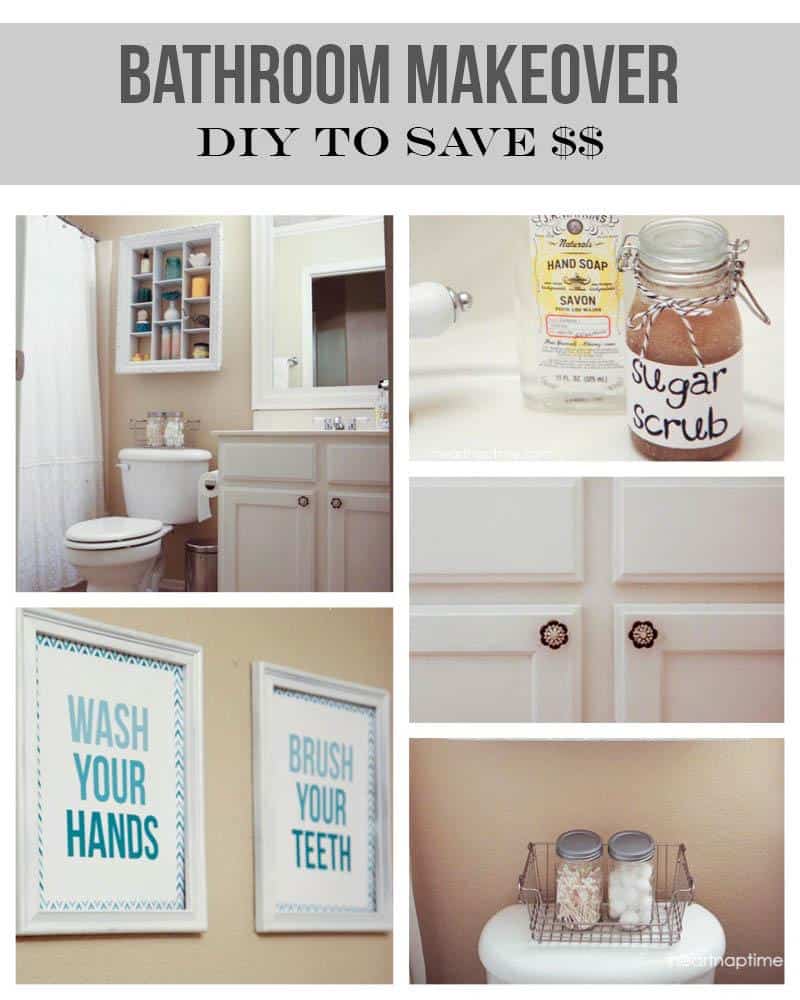 Tutorial via iheartnaptime.net
This is not a simple bathroom makeover.
It is a complete renovation and includes cheap items.
Definitely, something you can make it work, no matter how small your budget is.
Bathroom Decor Makeover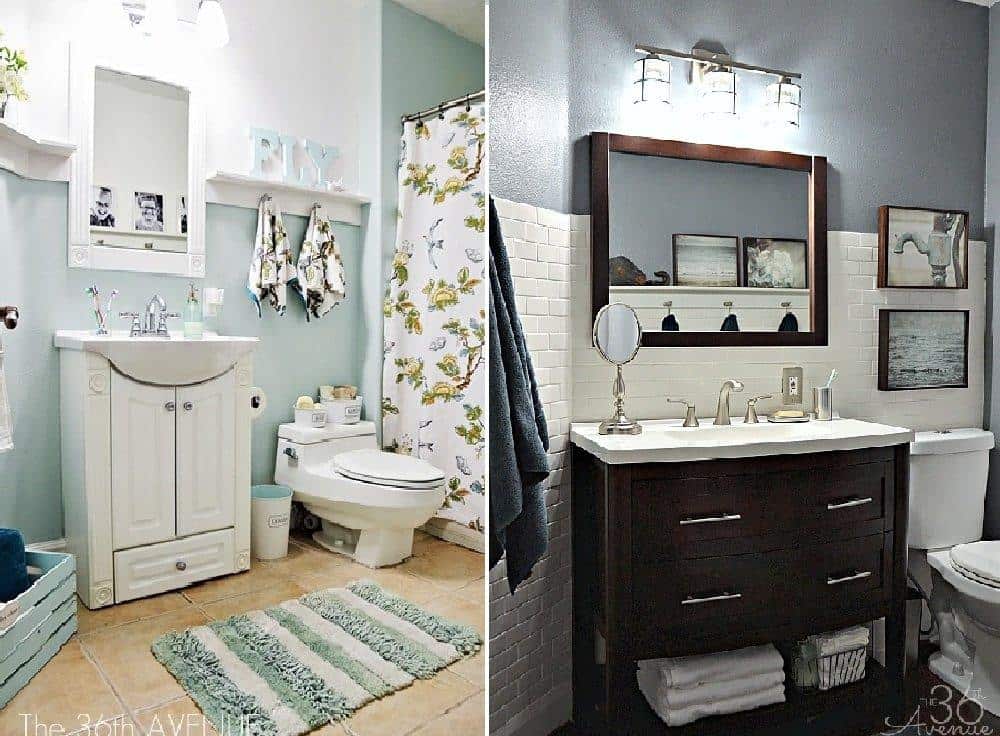 Tutorial via the36thavenue.com
The before and after photos are just amazing. It is a completely new room.
And it looks much more modern and fresh, don't you think?
Sometimes all you need to finish a project that you thought of as impossible are some informative tips and tricks.
We hope our list has given you at least a starting point on your way to remodel our old bathroom and making it a lot better
SEE ALSO: Make Shelves As Lovely As The Items You Put On Them With These 23 Tutorials