There's nothing quite like a bit of childhood nostalgia – especially when it comes to the contents of our toy boxes back in the day. Whether it was mood rings and lava lamps, or the classic Etch-a-Sketch that you were into, those favourite items from way back when are pretty timeless. So much so that parents of today are buying them for children of their own!
Whether you grew up as an 80's kid or you are young enough to have been brought up in the noughties, this roundup will take you right back to your younger days with toys, games, sweets and even TV shows to bring back all the best memories. Toys for a Pound are well-known for these nostalgic throwback toys, and you can pick them up for about £1 in most instances. They have put together these throwbacks to see what you can remember. Take a look!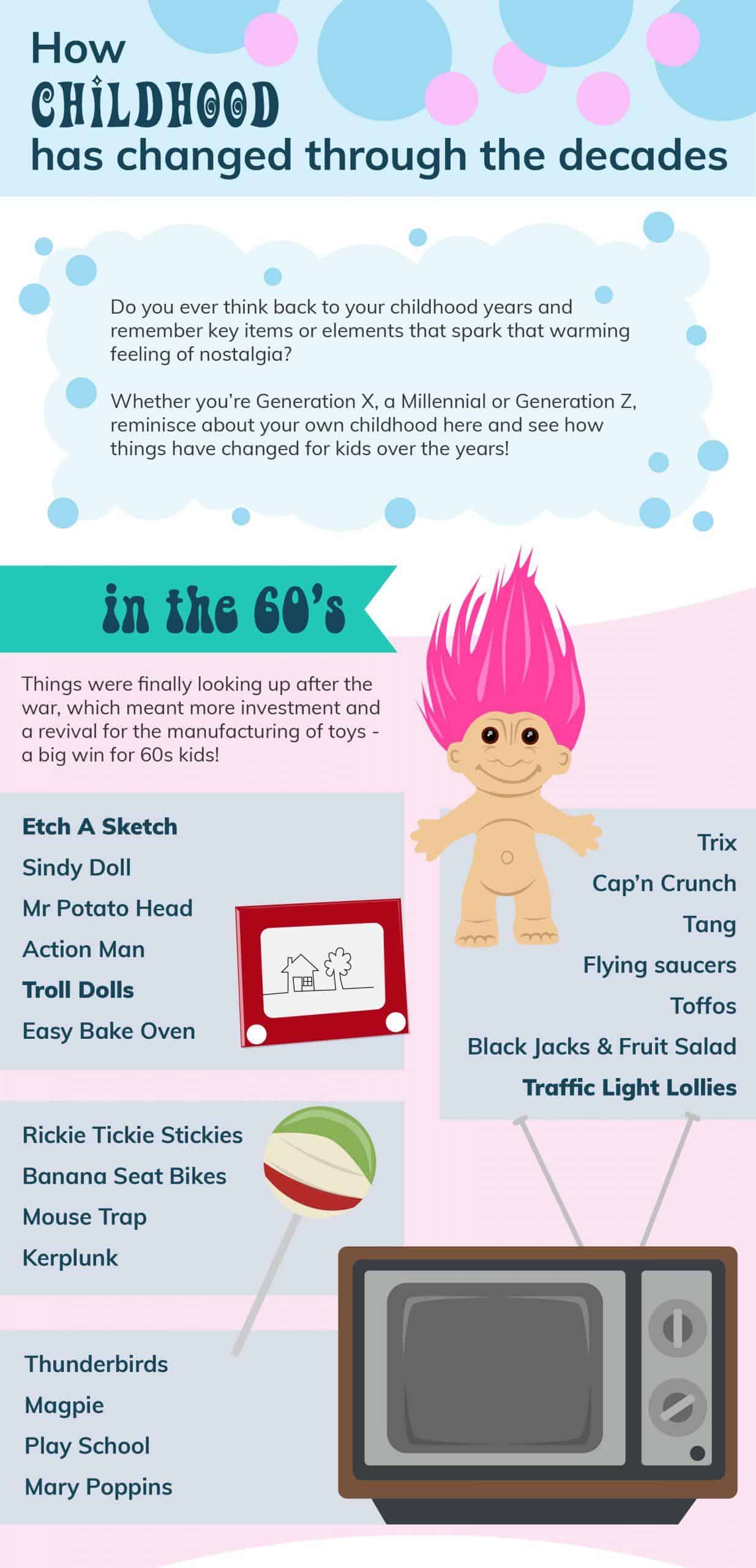 The 60's
The 60's were years to remember for numerous reasons, not least because of the childhood items that were around. The Troll doll had arrived, and the years that followed proved it was staying! It was also the era of Mr Potato Head and Etch-aSketch, both of which were so popular that they were still in the toy boxes of kids from the 70's, 80's and 90's.
As for the sweetshop, who remembers the arrival of Flying Saucers? Black Jacks and Fruit Salad? All the rage during this decade, and lasting for the many years that were to come. You can still buy most of these treats today! It's safe to say that the 60's was a period of long-term trend setting.
Check out these Troll LED stick-on wall lamps, that can be found on the Toys for a Pound website.
The 70's
Hands up who grew up in the 70's! Chances are you'll remember these colourful years by the quirky dress sense and disco music. But you'll also recall the beginnings of mainstream video gaming. Take the Atari 2600 for example – perhaps you were one of the lucky ones to get one of these under the Christmas tree – if you did, you were the coolest kid on the block. As digital gaming was yet to really take off, you could also entertain yourself with pet rocks, yo-yos and the unforgettable space hoppers. If you were a 70's kid, chances are you bounced around on the pavement on one of those!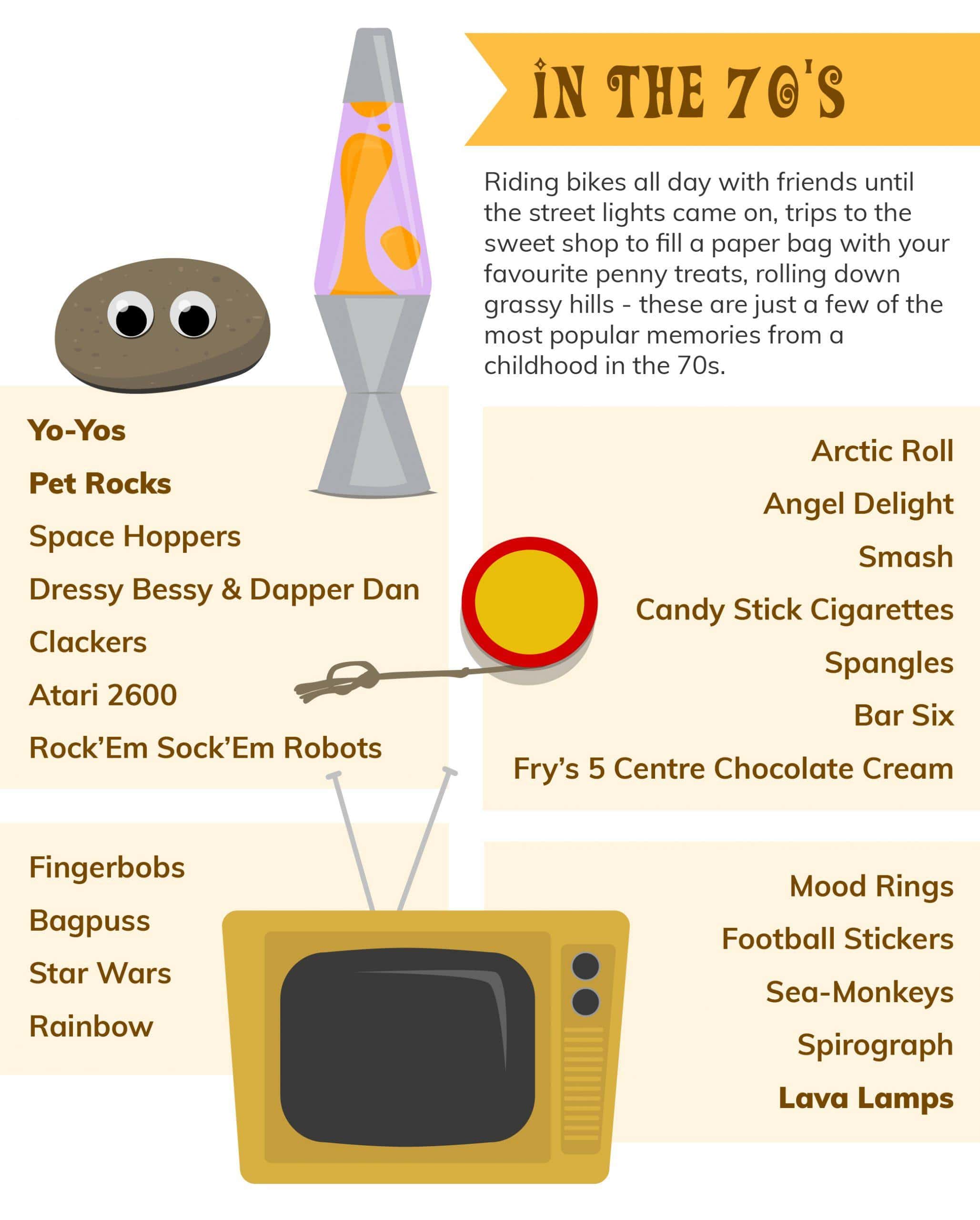 Get a retro yoyo for £1 on the Toys for a Pound website!
The 80's
The 80's was, in many ways, similar to the decade before, in the sense that it was full of colourful new arrivals that would last for the years to follow.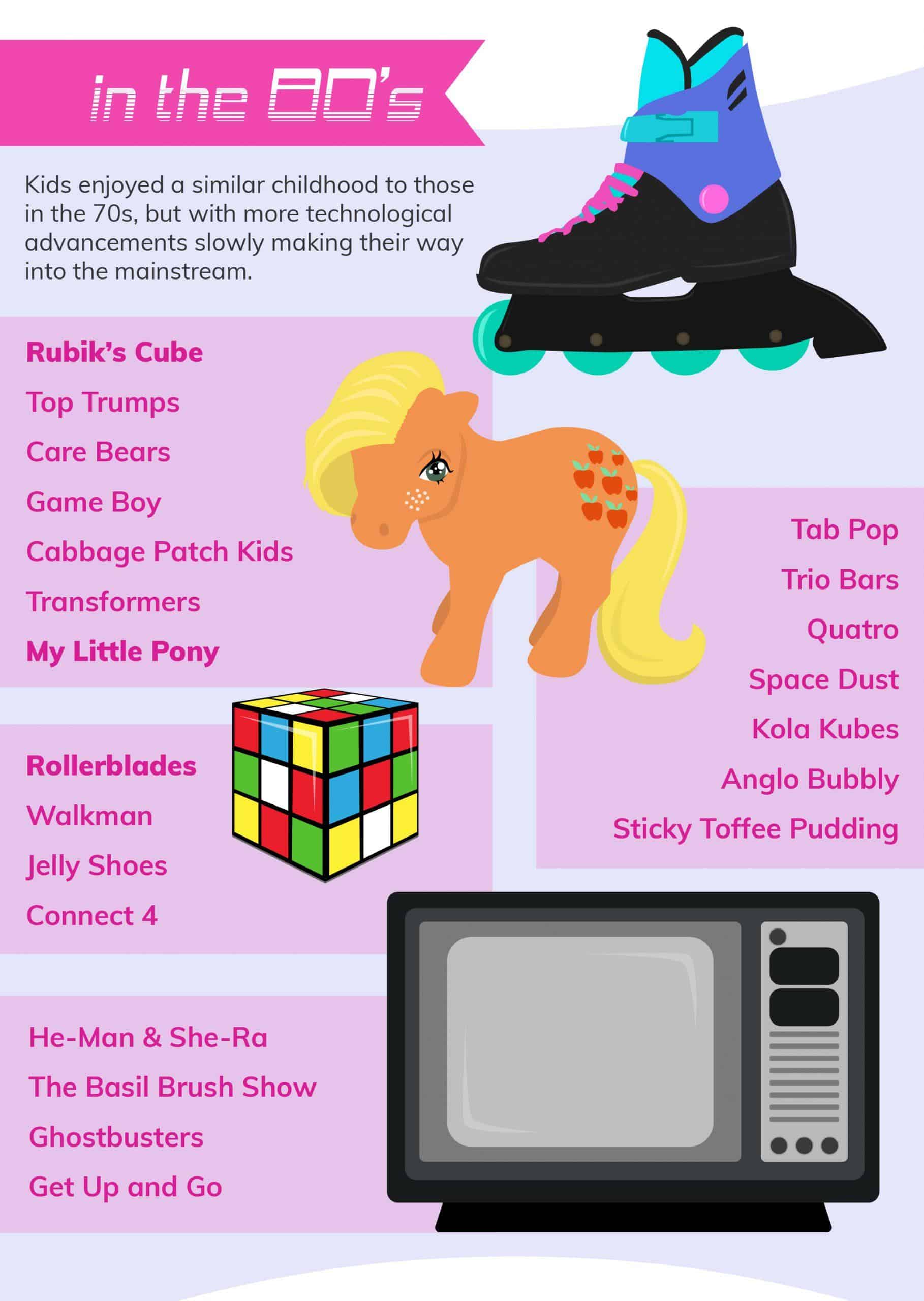 The famous Rubik's Cube was particularly popular during these years, with kids everywhere competing to get the best times to solve the retro puzzle. It was also the era of the original Nintendo GameBoy, rollerblading and, of course, those delicious Kola Kubes which, if you grew up in this time, you probably spent your pocket money on more than once! The girls who were around in the 80's will undoubtedly recall the arrival of My Little Pony, too! You can actually pick these up for as little as £1 these days, from places like Toys for a Pound.
Check out these My Little Pony Mini Figure Blind Bags that they offer. A small price to pay for huge nostalgic fun!
What's better than £1 toys? 10% off your order, that's what! Mamabee readers can enjoy 10% off their orders at Toys for a Pound using the code below.
The 90's
Now this was a decade to remember – and not just because of The Spice Girls! The 90's were a time of excellence when it came to TV entertainment such as Art Attack, The Queen's Nose and Chucklevision. Not to mention Gladiators! The 90's toy box was just as brilliant, not least with the arrival of the Tamagotchi from Japan.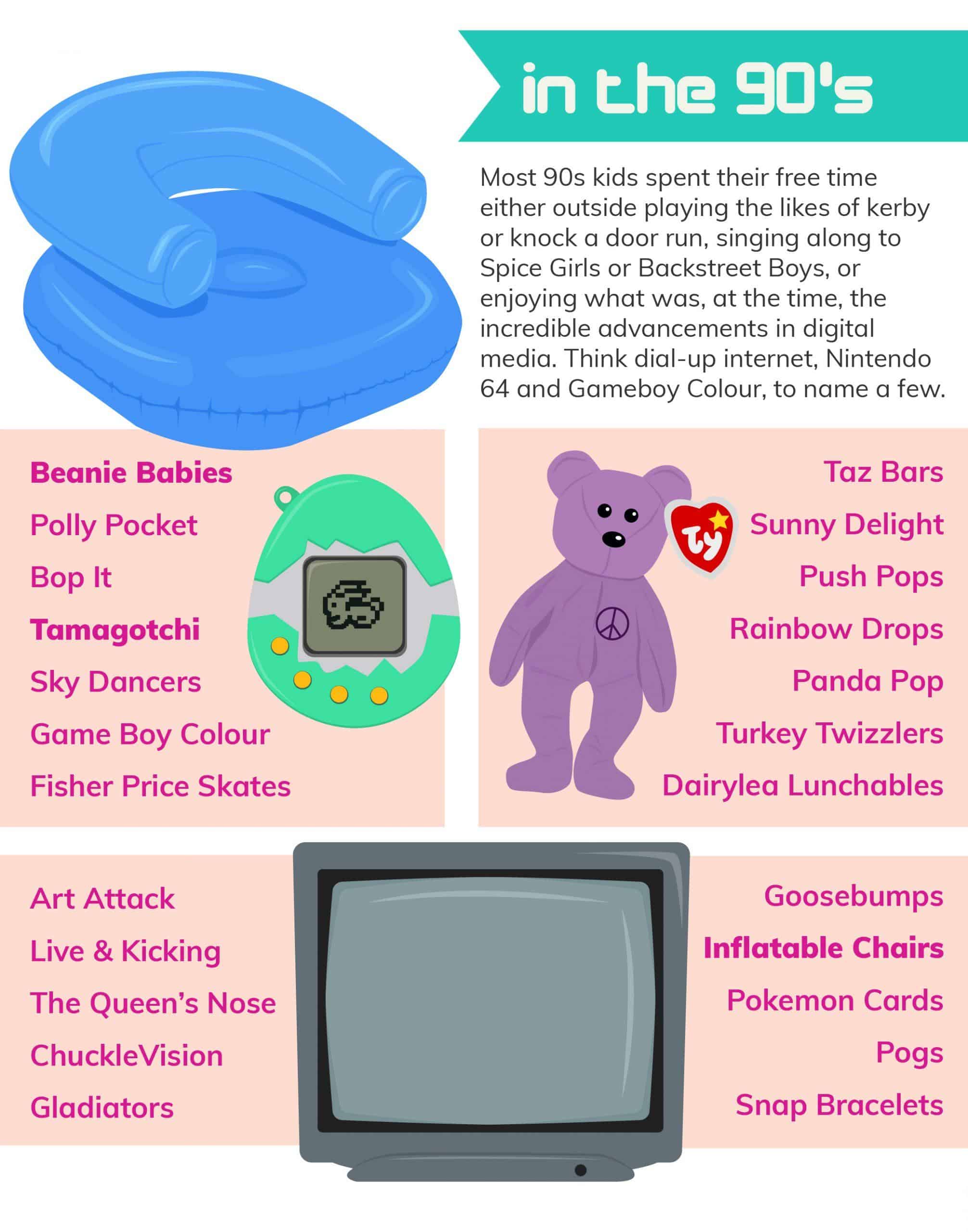 Who remembers letting school friends babysit our beloved digital pets? Looking after them was our main priority in life! Of course, the 90's also brought the unforgettable age of inflatable furniture. If you were a 90's kid, you probably blew one of these up at some point. But did you get the inflatable photo frames?
Who remembers the original Beauty and the Beast release in 1991? Check out this adorable Chip purse.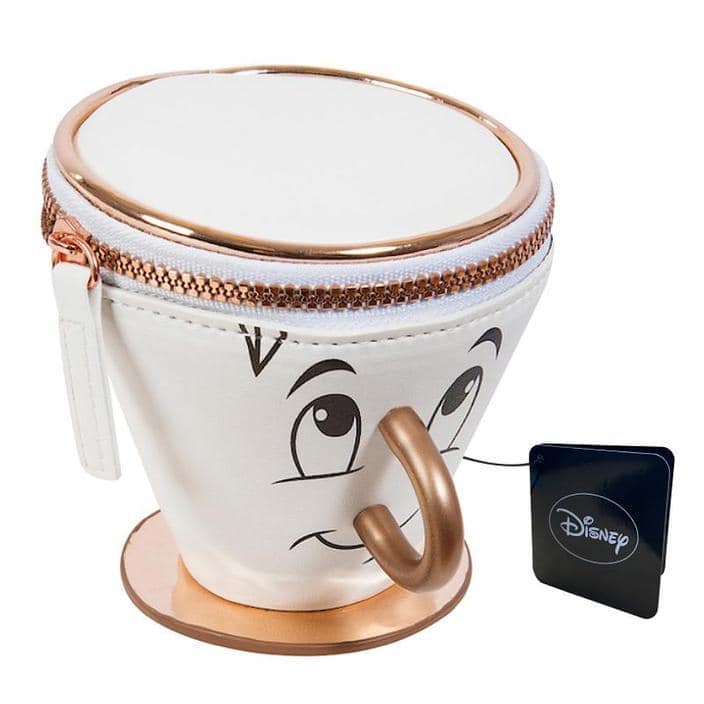 And here are some more wonderful 90's memories
The 00's
And then, there were the noughties – who can forget the iPod shuffle and The Sims? Things may have moved into a more digital era now, but the noughties was also a time of real life toys such as Bratz Dolls and the world-famous Furby. TV was not without its great shows either, with cartoons such as the Powerpuff Girls and Dexter's Lab. But perhaps if you are a noughties child, you were one of the many who loved Harry Potter. Not surprisingly, anything around in the noughties is still around for the children of 2020 – which is a good thing as they were so fabulous!
Who remembers Fingerlings? This adorable baby sloth is available on the Toys for a Pound website.
Nostalgia for a Pound?
Why not let your own kids enjoy the wonders of your own childhood? Keeping those decades alive. Check out the Toys for a Pound toy generator a try to match toys with your child's gender, age and personality, and see what you can find from your earlier years!