India is a country rich in culture, tradition, and fashion. Indian people love to celebrate any festive occasion with a lot of pomp and show. Every state or region has its own way of celebrating with different rituals, cuisines, clothes, and so much more. Among all the Indian attire, the saree is the most beautiful Indian clothing. The saree redefines a woman's beauty with its elegance and charm when worn at any occasion.
The nine-yard strip of fabric is a package of elegance decorated with different designs, patterns, and embellishment is the preferred attire for many festive occasions. To most women, a saree is more than just a piece of cloth. It's a reminder of a shared bond between a mother and daughter and their heritage.
Every state in India has its own unique saree with its own artwork that reflects the different cultures, religions, and customs of the people.
Here are sarees from different states in the country that every woman should have in their closet.
Paithani silk saree from Maharashtra
This is a hand woven silk saree named after a small village in Aurangabad, Maharashtra. The Paithani saree is a beautiful blend of nature and design. It has oblique square designs on its borders and peacock designs on the pallu. This Indian traditional saree is woven with pure silk threads and vibrant colours with a touch of pure gold make this saree perfect to wear to a wedding.
Leheriya saree from Rajasthan
Leheriya saree is another form of Bandhani saree, but it has characteristic waves and stripes formed by using the tie n dye technique. The saree is a daily wear saree in Rajasthani. This saree has beautiful bright colours that you can wear on a hot summer day.
Sambalpuri Ikat saree for Odisha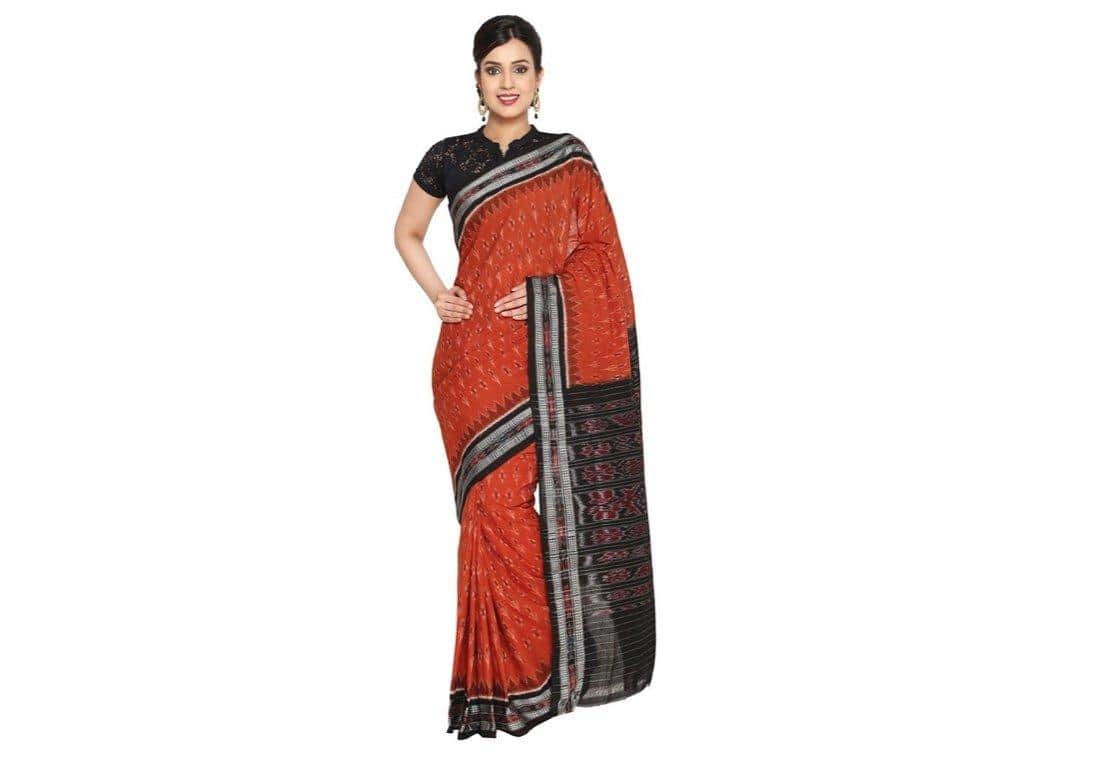 This is a traditional hand-woven saree that is made from cotton and silk fabric embroidered with beautiful patterns all over. To make this beautiful saree, the threads are first dyed then woven into the fabric which gives the saree a unique print with a rich colour. Paired with Terracotta jewellery, you can wear this amazing saree to festivals or as casual wear.
Pochampally saree from Telangana
Pochampally sarees are from Boodhan in Andhra Pradesh which is famous for its Pochampally silk. These sarees are made with geometric ikat designs, intricate motifs using the ikat style of dyeing. These unique sarees are made from a blend of silk and fine cotton to give you a beautiful and unique rich colour of sarees you would want to wear for a family gathering.
Phulkari saree from Punjab
Phulkari means 'flower work' and that is what this saree is made with. This saree has geometric patterns and bright coloured flowers woven using thread work on cotton or khadi fabric. This form of embroidery is popular in the form of dupattas.
Chikankari saree from Lucknow
Chikankari is not just art in Lucknow it's a culture. Chinkan actually means embroidery. The embroidery on these Chinkankari sarees is traditionally done on muslin cloth to give you elegance at its finest. This beautiful embroidery can now be done on other kinds of fabric that you can find at stylecaret online stores.
Konrad saree from Tamil Nadu
Konrad saree is also called the Temple saree which is a South Indian saree from Tamil Nadu. This saree was originally woven for the temple deities. Konrad saree has checked or stripped wide borders that have animal motifs of elephants, peacocks, and natural elements like flowers and ferns done all over the length of the saree.
Kasavusaree from Kerala
Kasavu saree is also called the Settu saree which was traditionally a dhoti with a blouse and a stole that was draped across the blouse which many older generation women still wear. This contemporary saree has thick golden borders woven with threads of real gold. It can also be found in modern colours with artificial threads. This simple and elegant saree is perfect for a day event.
Bandhini saree from Gujarat
This saree derives its name from the word 'Bandhan' meaning ties. This is a tie n dye saree that has small dots and spots created by the resist-dying method that creates beautiful patterns on the saree. They are mainly made in Chiffon but can also be found in georgette, crepe, cotton, and cotton-silk blend fabric.
Muga silk saree from Assam
The Muga silk saree is made from a special kind of silk which makes it very durable and popular because of its natural sheen with a touch of the golden colour. The saree is embellished with red, black, bright orange or green motifs that give a good contrast to the golden colour. The golden threads that make this stunning saree can only be found in Assam.
Bomkai sarees from Odisha
They are also known as Sonepuri sarees made by the Bhulia community in Odisha. This saree is woven with ikat artwork, intricate thread work and embroidery to make an exquisite saree. Bomkai saree is one of the finest ikat saree there is today.
Tant saree from West Bengal
This traditional Bengal saree is one of the most loved sarees by many Indian women. Tant translates to 'made on the loom' which is how this beautiful saree is made. Made from cotton fabric, this saree is lightweight with a crisp smooth finish, a thick border, and beautiful colours and patterns. This is the perfect saree for you to wear during the hot summer days.
Benarasi silk saree from Uttar Pradesh
Benarasi silk saree is hand woven in Varanasi and a must-have saree. This famous saree is known for its silver and gold zari designs and motifs. These sarees were originally made with real gold and silver threads for royalty. The blend of vibrant colours, sheen, and texture of these sarees make them irresistible. The intricate fringe-like pattern on the edge of the saree's borders is a signature design found on the Benarasi silk sarees.
Conclusion
Indian states have a rich culture and heritage that is seen in their sarees. Choose any of these unique sarees for that special day.