You will find a lot of reasons to visit the beautiful Aegean island but these are the most common ones among the travelers. Mykonos is a wonderful island – day and night.
So many amazing beaches to visit
Mykonos has around 30 beaches most of which are sandy with shallow waters. The sea surrounding the island is crystal clear and the weather is just perfect for swimming and sunbathing.
The southern beaches are protected from the winds which can be sometimes really strong in Mykonos. Among them, you will find some very popular ones – like the 4 party beaches Psarou, Paranga, Paradise and Super Paradise. These can be very crowded during the peak season but on the other hand, they have a lot of facilities and a variety of beach bars and restaurants you can choose from.
The northern beaches are usually more serene. It would be better not to visit them on a windy day. Some of them are very popular with windsurfers, as the waves are perfect for similar water sports.
As Mykonos is an open-minded island, you will easily find nudist friendly and gay-friendly beaches.
All the luxury you desire in accommodation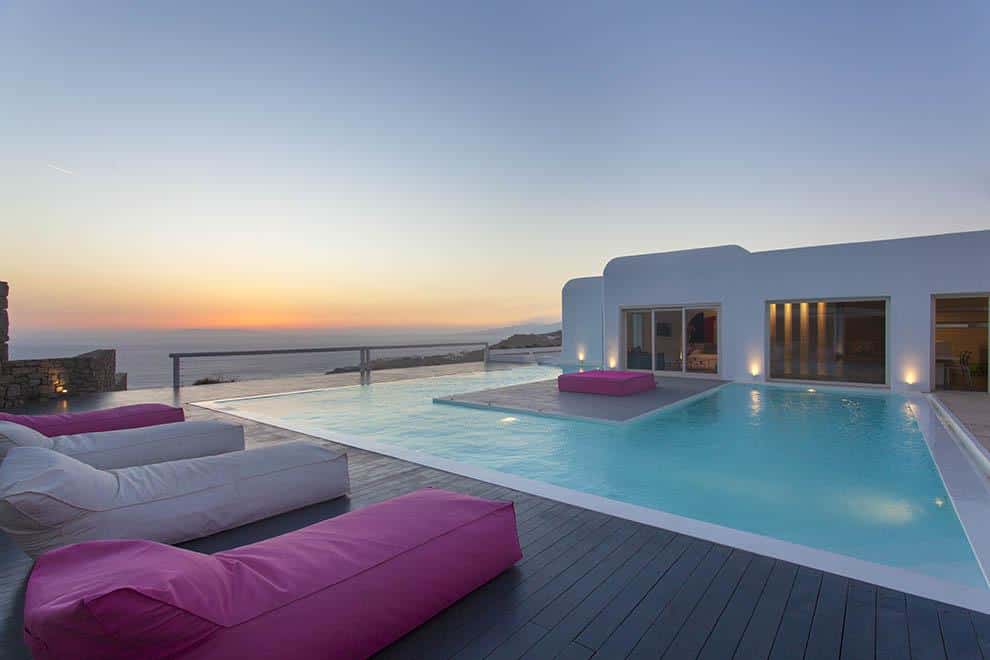 If you are planning to experience total luxury on your vacations, you should choose  Mykonos Villas by MLV for your accommodation. Mykonos Luxury Villas can offer you a dreamy environment and top quality services to relax and enjoy your trip.
Although there is a great variety of Mykonos Villas by MLV available for rent, you should start looking and book the one you like early. The demand is high, especially during July and August, and the best villas are reserved early.
Another option for luxurious vacations is a 5-star hotel or resort. You will find amazing big hotels with a lot of facilities and services and elegant rooms or suites. Some guests prefer 5-star hotels as they have everything you may need – gourmet restaurants, spas, their private beach and luxury transportation – all at your feet.
Endless choices for entertainment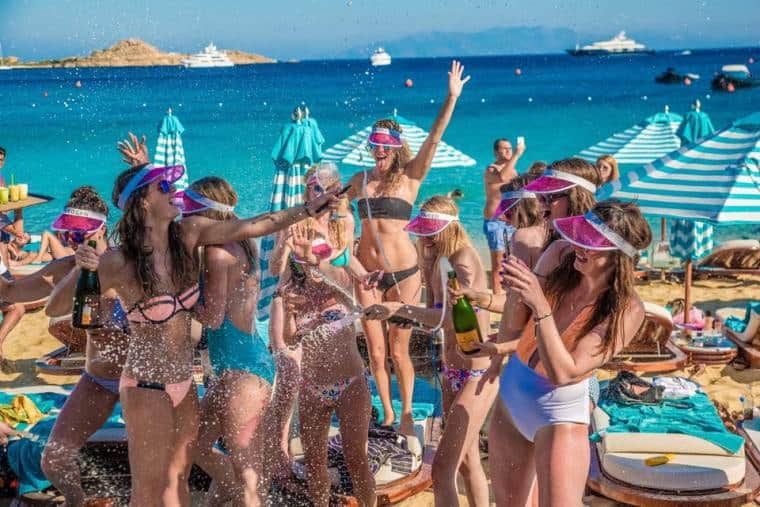 You have already heard enough about entertainment in Mykonos, the endless wild parties and the big clubs where guests stay until the morning. You will have endless choices for having fun both during day and night time.
You can start your day by visiting one of the party beaches. You can relax on a comfortable sun lounger and order refreshments or cocktails from the beach bars. You may have lunch at a nearby restaurant or order a light meal from the bar. Dive into the refreshing sea whenever you feel hot. In the afternoon you will notice the music gets louder and faster and some of the guests start to move to the rhythm. This is when the party begins and it will last until the next morning.
Mykonos Town also offers a lot of spots for entertainment. Visit Little Venice and its cute cafes to enjoy signature cocktails and wonderful views of the sea and the city's seaside. You can go to a beach for swimming and relaxing until the evening and return to the city for a delicious meal at one of the various good restaurants. At night Mykonos Town gets more vibrant with lots of guests in or outside the small bars and the big night clubs.
The best food you can have
Fresh ingredients and a good cook is all it needs to have a great meal. In Mykonos, you will find them both. The sea provides excellent fish and seafood and the local market offers fresh fruits, vegetables, and meat as well as quality cheese and wine.
You will mainly find two types of restaurants where you can have the best food. First is the gourmet restaurant where usually a famous chef prepares an eclectic menu for his clients. Their cuisine can be Asian, European, Mediterranean or even more specific like Japanese or French. Most of them have their own cellars and the chef can always suggest good wines or champagnes.
The second type is the traditional Greek tavern with fresh fish or meat dishes. They also serve some traditional cooked food like mousakas or staffed vegetables. They are usually located on the seaside and they offer a relaxing, friendly atmosphere. You can accompany your meal with some tsipouro or a bottle of local wine.