Makkah is the holiest city in Islam, and every Muslim dreams of visiting this place with their family to feel peace in their hearts. Every year millions of Muslims visit Makkah as pilgrims to perform Umrah and Hajj.
The sight of Kaaba is nothing but cool to the eyes, but tourists usually get worried about affordable accommodations. Before catching a flight, if you all think about affordable Makkah hotels to stay with your family, here we are to help you.
As Makkah is one of the sacred places for Muslims, we want you to utilize spiritual purification as much as possible without worrying about the place to stay. We have filtered some of the best affordable hotels in Makkah to make your journey to this beautiful place memorable.
Save Big on Accommodations and Discover the Best Makkah Hotels
1. Makkah al Aziziah
This five-star hotel in Makkah is one of the best places to stay with family due to family rooms. The room offers an attached terrace to entertain guests with stunning views and comfort. Makkah Al Aziziah is only 3.1 miles away from Masjid Al-Haram and offers every luxury you expect to utilize while being there.
The property amenities include a swimming pool, high-speed internet, a fitness center, a 24-hour front desk, and laundry services.
The Holy Kaaba is located 2.2 miles away from the hotel, and within the same radius, you can also visit the Black stone and Great Mosque of Makkah. You can visit popular food franchises located nearby with family to enjoy.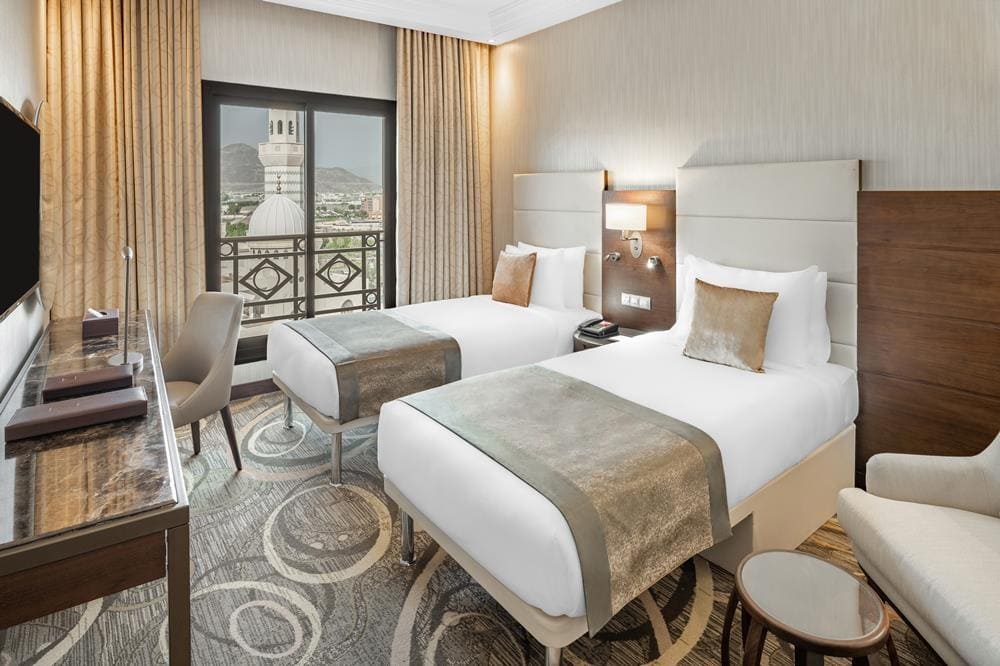 Millennium Makkah Al Naseem is adjacent to the second biggest Mosque of Makkah, "Al-Rajhi Masjid." When families plan to stay in Makkah, they prefer to visit other sacred sites such as Arafat, Mina, and Mozdalifa.
If you stay in Millennium Makkah Al Naseem, you can visit all these places without traveling too far.
Besides spending time praying, you can utilize this hotel's recreational activities, such as free parking, a bar lounge, a fitness center, airport transportation, housekeeping, and blackout curtains. There are several nearby attractions and restaurants to visit to enjoy variety.
3. Novotel Thakher Makkah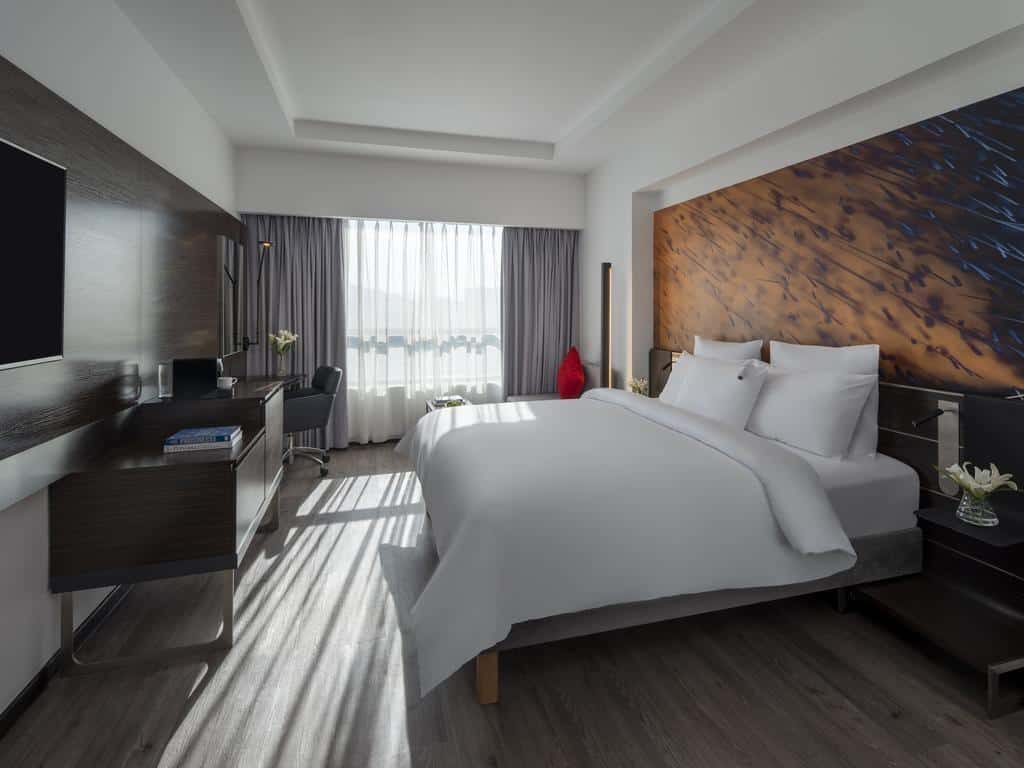 After a long trip to Makkah, pilgrims want to stay in hotels with spacious and comfortable rooms. Novotel Thakher Makkah is one of the reliable Makkah hotels to choose when you want to stay on a budget but can't compromise on the comfort of your family.
The hotel is not too far away from Masjid Al-Haram, and you can reach there through a bus shuttle service.
The property amenities include a coffee shop, hiking, shuttle services, blackout curtains, a soundproof room, and more. Within a radius of 3 miles, you can visit popular tourist attractions and restaurants without walking too far.
4. Dar Al Bayan Hotel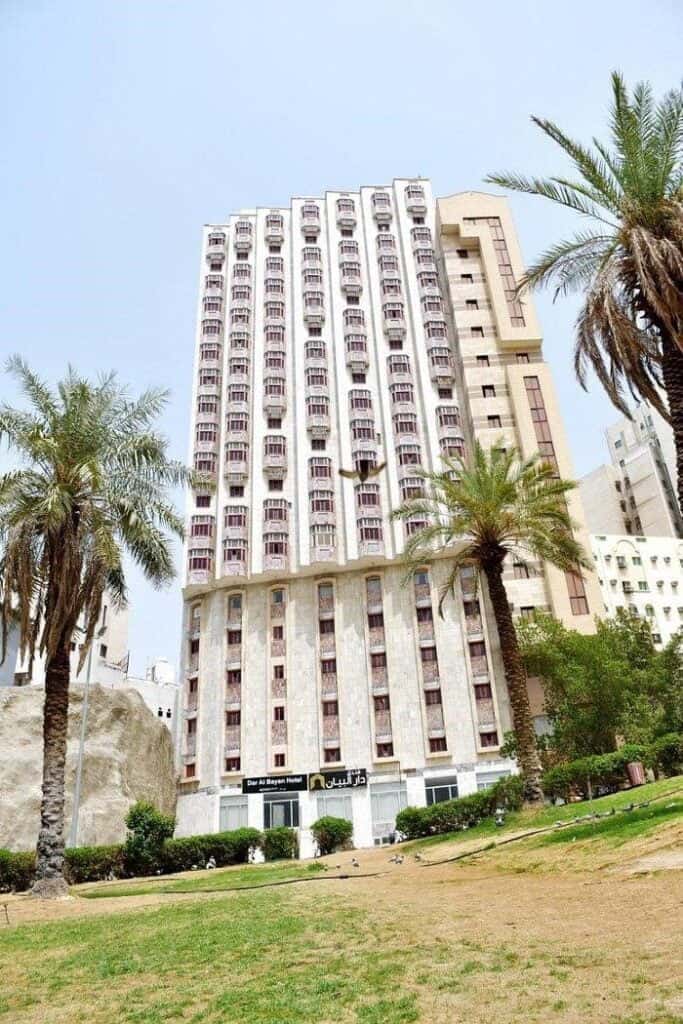 If you can't afford to book an expensive hotel for your family in Makkah, you should go for the Dar Al Bayan hotel in a heartbeat. Without being tough on your pocket, you can enjoy comfortable accommodation and other amenities they offer.
The hotel is located only 1.1 km away from Masjid Al-Haram, and you can always visit the Mosque on walking. Within a radius of 0.75 miles of this hotel, you can visit 42 restaurants and seven tourist attractions with your family.
In this hotel, you will get access to every facility your family needs to stay comfortable in their rooms.
5. Rekaz Aparthotel
It's almost next to impossible to feel at home while being in the hotel because you often don't get facilities like home. Rekaz Aparthotel is your place to stay in Makkah if you want your family to stay comfortable and easy throughout the trip.
The hotel offers a garden, restaurant, and room service to facilitate you with everything. They offer allergy-free and soundproof rooms, which makes them suitable for staying with kids going through health issues.
Along with impressive property amenities, you can visit Pizza hut near the hotel to enjoy food after a day.
6. Four Points by Sheraton Makkah Al Naseem
One of the best ways to utilize your trip to Makkah is to stay in luxurious hotels with a view of the Mosque or Kaaba. Four Points by Sheraton Makkah Al Naseem comprises luxurious hotel rooms and suites to facilitate every guest with the best.
The beautiful and luxurious hotel offers several amenities to guests, such as free parking, high internet speed, a restaurant, a kids club, and a safe and complimentary shuttle service to Masjid Al Haram.
Within a 5-mile radius, you can visit Hardees, Al-Baik, Kaaba, Black stone, and more.
7. Forsan Elsalam Buildings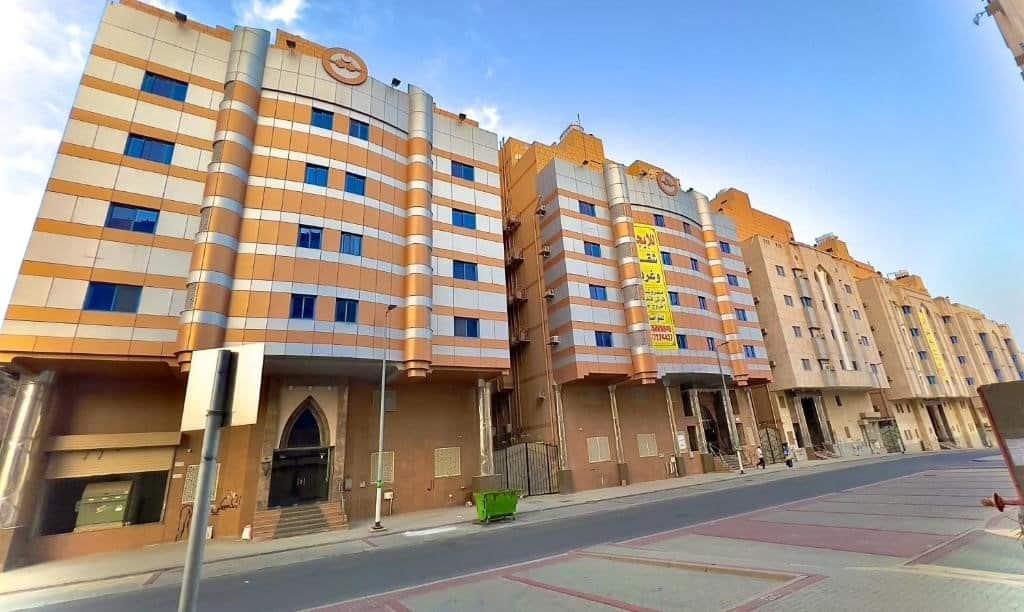 If you want to stay in one of the well-reputed Makkah hotels at affordable rates, you should go for Forsan Elsalam buildings. You might not find them as luxurious as other five-star hotels, but they offer the same facilities as others.
The rates of spacious rooms are affordable, and the beds are comfy enough to help you sleep without discomfort. They offer different room types and provide facilities to keep families secure and satisfied with their services.
8. Al Rawda Umm Al Qura Hotel
We all dream of living and re-visiting Makkah repeatedly, but once you are there with your family, make sure to stay in hotels that make a trip memorable.
The elegantly equipped rooms are comfortable and sophisticated enough to facilitate your family with everything they require within a room.
Masjid Al-Haram is only five minutes from this hotel, and you can visit local restaurants within the hotel if you don't want to travel far. The property amenities include a coffee shop, banquet, free parking, 24-hour front desk, and more.
Wrapping Up
If you are traveling to Makkah in a peak season, it would be hard for you to book hotels right away at affordable rates. When traveling with a family, you must complete all your hotel bookings before entering the city.
We exclusively prepared this guide to save you from additional research before traveling. We hope our guide must have helped you finalize the affordable Makkah hotels to stay in for a while being in Makkah to witness the most beautiful scenery in the world!