This is for all of you who want to make something different, something your kids will love.
If they enjoy in the beauty of snow and decorations this is something that will amaze them.
We got you covered with this step-by-step tutorial. You won't have any difficulty to deal with the process of making these snowflake cupcakes.
Enjoy these snowflake cupcakes in this snowy weather. Bring the sweet snowflake on the table.
You will love them.
What you need?
Cupcakes baked with vanilla icing
White Fondant
Snowflake plunger cutter
Piping Gel
Blue disco dust
Course Sugar crystals
Take a surface covered with powdered sugar, roll out a fondant about 1/8'' thick. Press the cutter into this made fondant in order to cut out the snowflake. Press the plunger gently and make that stamped impression.
Lift the plunger and push out the snowflake into your hand.
Let these snowflakes dry on a parchment for one or two days.
Once they are dry, squeeze piping gel where you would want the glitter to adhere and shake disco dust over the surface of this snowflake.
Lift up the snowflakes in order to shake off any disco dust that didn't stick on the snowflake.
Return the disco dust back into the jar.
Place these snowflakes on the iced cupcakes, sprinkle additional coarse sugar crystals around them adding them extra texture and sparkle.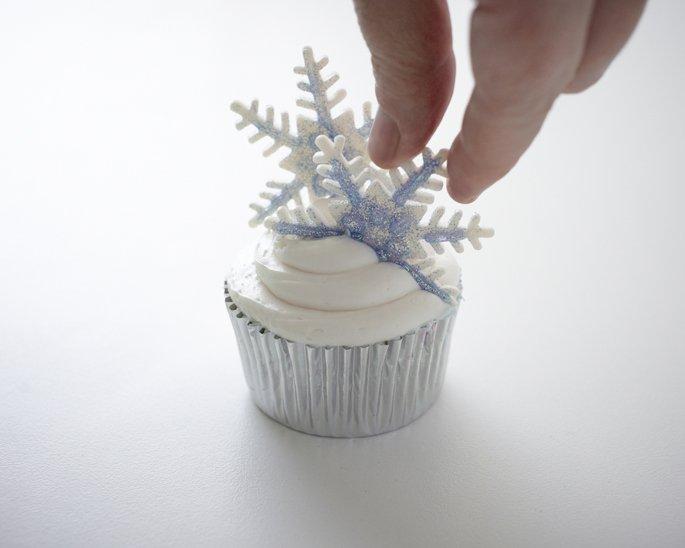 Enjoy!
Share this post with your friends using the sharing buttons below.
Thank You!