What are little girls made of? Sugar and spice, and everything nice-that's what little girls are made of. Dress her up to look as sweet as she is! If you're wondering about how to put together some cute baby girl outfits of 2019, read on so you know about some of the top items you should put on your shopping list in this new year.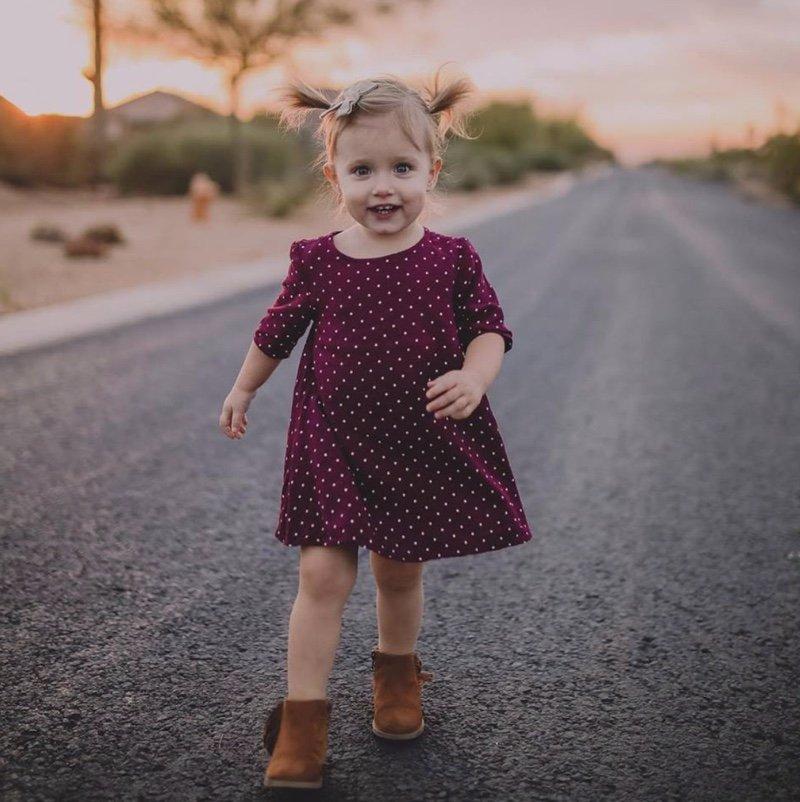 Belted Sweater Dresses
How adorable will she look when wearing a belted sweater dress? Great for creating cute baby girl outfits, this ensemble is a cinch to put together. Simply select a solid toned knit sweater tunic and wrap a printed or solid toned belt in a contrasting color around her waist. Voila! The texture, cut, and belted accessory will create the cutest shape and style for her to sport to school, on play dates, or anytime! Add a denim jacket and leggings during cold weather months for an additional layer and some cute coverage.
Pom Pom Lined Romper
Pom poms have been a popular embellishment on baby clothes for a few years. They are still going strong in 2019. Play them up with picking out cute baby girl outfits this year. Shop for pom pom lined rompers. They line the legs and give your little girl's look some movement and texture. Ultra-fun, they jazz up any romper, not only making them fun to play in but also ultra-fashionable. Don't forget to accessorize with a bow embellished headband wrap!
Two Piece Set
Just in time for summer, a flower embellished two piece set will make for some of your cute baby girl outfits. Cut in a cropped style, her little tummy will show some skin! The top can have spaghetti straps and an off the shoulder ruffle which can be worn up, down, or asymmetrical-how fashion forward! Perfect for a resort-wear or pool side option, the bottoms are big enough to cover a diaper and are also fully ruffled. A pair of sunglasses or little straw hat will accessorize the sassy summer look with ease.
Matching Head Wrap and Skirt
Whether you pair them with an chambray top, sleeveless knit, or fluttery sleeved onesie, one thing is for sure-you need to purchase a matching head wrap and skirt for your little sweetheart. Great for spring and summer months, you can create some cute baby girl outfits from just a skirt and stretchy accessory. Opt for a popular pattern, like leopard print or black and white stripes.
Graphic Printed Active Wear
Babies need to be comfortable while looking stylish. If you need some of these cute baby girl outfits, consider purchasing a cozy pair of cotton blend separates. Stretchy and colorful, shop for fun prints like a bunny face on top and its cotton tail on the back of your baby's bottoms. A zip up hoodie set also embroidered in a cute graphic or saying is also a must in 2019.
Tulle Skirts
Whether you dress your baby in a tutu, or put a longer tulle skirt on your toddler, these fashion items help to make cute baby girl outfits this year. Festive for spring and summer months, these light weight and layered skirts are the definition of light hearted fashion.
Denim Joggers
Jogger pants aren't just for the boys! Little girls will look awesome when wearing denim joggers. Stretchy and adjustable, the gathered leg pants are easy to pair with any kind of shoe. They can be dressed down with an active top, or dressed up with a striped top or ruffly onesie. Helping you create cute baby girl outfits this year, denim joggers can be worn across the season and can be worn full length or rolled up to reflect the weather and temperature.
Fur Vests
Sometimes, creating cute baby girl outfits is all about accessorizing! One important item to have is a fur vest. Easy to pair with formal dresses for church or other special events; it can also dress up casual outfits. Pair one with a striped or floral printed top with jeans to create an ultra-chic, textured look for your baby, toddler, or pre-schooler!
If you want to be one fashion savvy parent, be sure to keep your eyes peeled for these major items in 2019. Sure to help you create cute baby girl outfits, these items can be used across season and can be mixed and matched with other items you already own with ease.