The tasty golden garlic bread will leave everyone speechless. If you have a gathering in nearest future, this is the starter they would want to try.
It's something a table should have. The golden crust of the bread will lure the guests right away. The smell will open up their senses and don't be surprised if lots of your family and friends ask you for more.
I have made many of these appetizers. But this bread should be right there on the top. Maybe it's because I enjoy the great taste of the pesto.
Plus, there is a surprising twist here. This tasty golden garlic bread is made from a vegetable.
You will find out from the ingredients.
With this information, you don't have to worry about gaining weight or giving unhealthy food to your friends.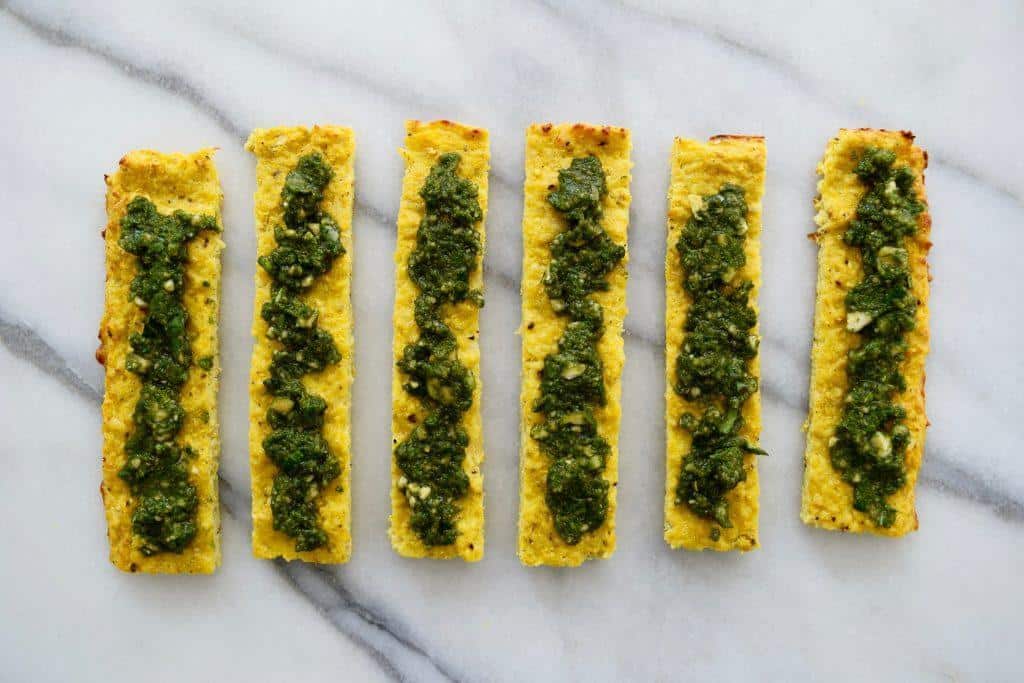 Are you ready now for that awesome recipe?
This tasty golden garlic bread requires:
Ingredients:
Golden Garlic Bread
1 Head cauliflower (chopped)
1 cup almond flour
Two large cloves garlic (minced)
3 tbsp. nutritional yeast (optional)
½ tsp. turmeric
½ tsp. pink salt
One tsp. black pepper
4 eggs
Cashew Basil Pesto
Two cloves garlic
2 cups tightly packed fresh basil
1 cup cashews (soak them overnight and drain them before use)
¼ tsp. salt
1/3 cup olive oil
Instructions:
Preheat the oven to 400 degrees F.
Take a food processor and pulse the cauliflower until you get some rice-like consistency
Set it aside in a large bowl
Add almond flour, garlic, salt, turmeric, and pepper and mix well. Make a well in the center of the cauliflower mixture and add the eggs. Whisk well until they fully combine before mixing it with the other ingredients.
On a baking sheet, spread the mixture out flat. No more than ¼ of an inch think. Bake the bread for 25 minutes or until you get a nice golden color.
In the meantime, make the cashew basil pesto. Put garlic in a food processor and pulse it until finely chopped. Add the basil and pulse again until it's broken to a pesto-like tiny pieces
Add cashews and salt. Process on low speed to allow the cashews break down into small pieces.
Finally, while the processor is running on low, drizzle the olive oil until the mixture fully combines.
When the golden cauliflower bread is ready, remove it from the oven, slice into sticks and top it with the pesto.
Your tasty golden garlic bread brings your family to the yard.
READ NEXT: How To Make a "Zero-Carb" Bread by Using 4 Ingredients
Don't forget to share this with all of your friends. They will love it.
Source: David Wolfe