In every home, cleanliness and organization are crucial aspects for you and your family's comfort. However, you cannot clean and organize everything on your own, especially if you're a working mom. That's why it's important to hire maid services; get professional help from the hands of a trusted and dependable cleaning expert.
Maids are interchangeably called house cleaners or housekeepers, who are professional individuals working alone or independently while adhering to strict managers and report to their detail-oriented time managers. They're highly knowledgeable and trained about using various types of cleaning agents and accessories to remove stains and dirt.
Whether you'll be out of home or not when they're performing their duties, it's important to do a thorough background check when hiring maids. You can do this by asking the open-ended questions below. Doing so will encourage job candidates to express themselves or speak about their work experience.
What Are Your Responsibilities as a House Cleaner or Housekeeper?
It's important to ask this question to gauge if the maid is aware of house cleaning duties and responsibilities. Maids or cleaners can work both in residential or commercial establishments, like offices and hotels, so expect to hire one who is knowledgeable about different cleaning methods and techniques.
Here are the common responsibilities and duties of maids or housekeepers:
Dusting and Sweeping Floors and Surfaces: Maids are expected to keep all surfaces and floors free of dust, stains, and debris or clean and tidy. Also, they dust bookcases, TV consoles, ceiling fans, and shelving.
Cleaning Bathrooms and Kitchens: House cleaners also scrub showers, clean kitchen counters, toilets, and similar surfaces. Maids apply cleaning agents to remove mold and soap scum on shower tiles.
Also, they clean mirrors, clean refrigerators, and ovens wipe down kitchen appliances and equipment, and mop tiled floors.
Vacuuming and Washing Carpets:

Carpet cleaning

performed by maids include vacuuming and shampooing all types of carpets, as well as applying deodorizer to keep them fresh and smelling good. Housekeepers are experts in different shampoos to be used for varying situations, like removing stains and odors.
Replacing Towels, Linens, and Other Items: Maids collect dirty linens and towels and replace them. Also, they replace soaps and replace empty bottles of shampoos and conditioners.
What Are the Challenges You Face When Housekeeping?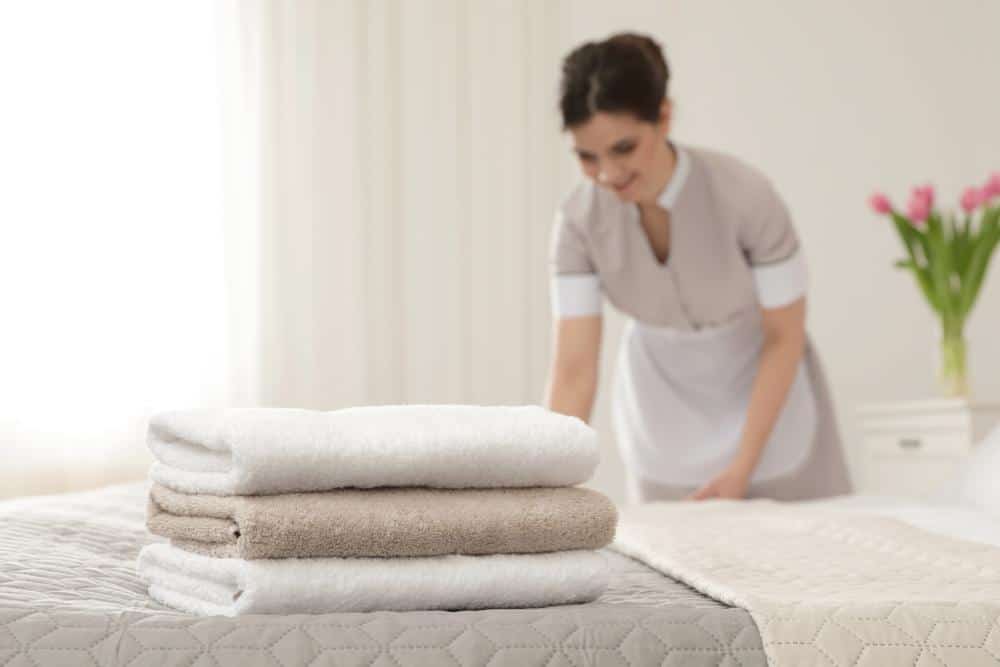 Housecleaning is not an easy job. It's actually a tough job that would require hard work and patience. Asking this open-ended question will allow you to gauge the work ethic, skills, and personality of a prospective maid. Of course, you want someone who can adapt to various cleaning situations, most especially the messy and complex ones.
While you'll expect great answers when asking this question, you can ask follow-up questions to fully assess the skills, attitude, and personality of a house cleaner.
What Training Have You Undergone to Become a Professional Maid?
While formal education is not required to become a professional maid, it's important to hire one who has experience on-the-job training in larger venues, like office buildings, hotels, and maid service companies. Always ask for documentation of previous work experience to ensure you're dealing with a trusted and reputable home cleaner.
In addition to their training, here are the essential skills and qualifications you need to look for when hiring a maid:
Physical Capabilities: Maid services would require frequent stooping, lifting, bending, standing, and carrying. That's why this job is physically demanding. Choose one who's in a healthy physical condition to best fulfill maid or cleaning obligations.
Cleaning Skills: More than dusting and sweeping, maids should be knowledgeable and skilled in different cleaning methods, such as grout cleaning,

upholstery cleaning

, and floor waxing.
Organizational Skills: When it comes to organization, maids see to it that they adhere to an organized list of cleaning tasks. All of these should be completed on any work shift. Maids also keep, maintain, and have a proper inventory of cleaning supplies and equipment.
Self-management Skills: House cleaners work with minimal supervision or independently.
Multitasking Skills: Because maids are asked to complete several cleaning tasks in a relatively short amount of time, hire someone who can multitask to ensure everything is clean and organized once you get home.
How Much Do You Expect to Get Paid?
Maids earn an average salary of $22,860, with 25 percent who were lowest-paid made $19,580, and another 25 percent who were best paid made $27,470 in 2017. Maids can work part-time or full time or specific shifts, like mornings or evenings.
Conclusion
Now you're ready to hire your next housekeeper or maid by asking the questions above. You can always ask questions about relevant job experience, work schedules, cleaning tasks, and extra services, like gardening or watering your plants. In that way, you can hire the best maid for your cleaning needs.