Makeup tips for brown eyes are easy to apply and they look gorgeous regardless of the shape of your eyes.
Yes, the foundation of this tone features more earthy tones, but with the right mixing and applying the best tips for brown eyes, everyone can pull it off.
Makeup tips for brown eyes slightly vary from those about the green or blue eyes, but the style and the effective result remain the same.
Gorgeous look achieved with the few makeup tips for brown eyes.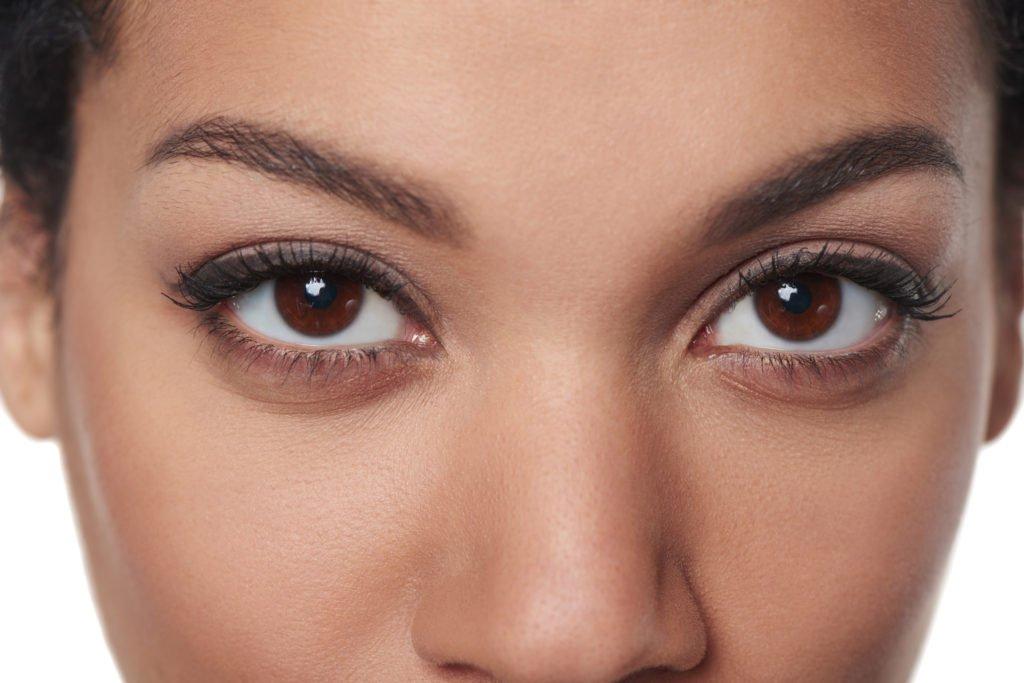 But what do you need to know about brown eyes?
Brown eyes are more common worldwide than any other eye color. But the prevalence of brown eyes varies significantly with geography. But the high prevalence doesn't mean all brown eyes look the same.
There is plenty of variation in the appearance from person to person, and there are even health advantages to having brown eyes.
If you have brown eyes, you'll be happy to know that researchers have found the higher melanin content in your eyes is associated with a number of health benefits. People with brown eyes may be less vulnerable to certain diseases.
For example, people with brown eyes appear less likely to develop age-related macular degeneration than people with light-colored eyes.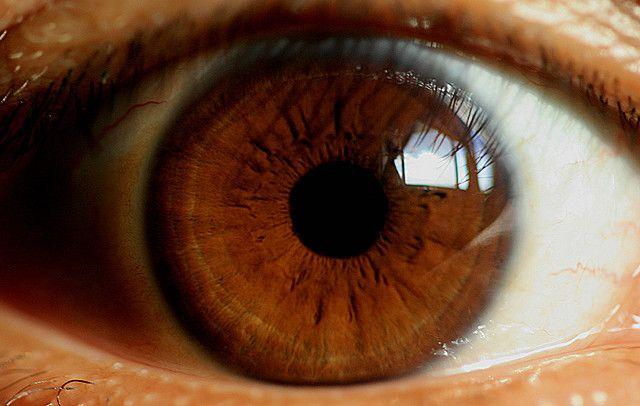 Possessing brown eyes is normal and it means that you belong to the majority in the world that has the most common characteristics. That helps you integrate into the world easily. Certainly, you will be confident enough to differentiate brown eyes with other eye colors with the information in this article. Besides, it will be far easier for you to guess the characteristics of someone who has this eye color.
Makeup tips for brown eyes
Brown eyes have a warm feel to them and look demure and innocent. No matter where you fall on the brown spectrum, from light chestnut to dark chocolate, the world is your oyster when it comes to your makeup bag.
Brown eyes have their own drama and effects like other eye colors, and they can be accentuated with the correct natural makeup.
For the brown-eyed gals out there, there are so many choices when it comes down to creating the perfect eye makeup look. Because brown doesn't have a complementary or opposite color on the color wheel, just about any eye makeup color will pair well with brown eyes.
Good thing about brown eyes is that they look good with just about any eye shadow color, from light to dark. Depending on your shade of brown, there are certain colors that will complement your look better than others. So that's neat.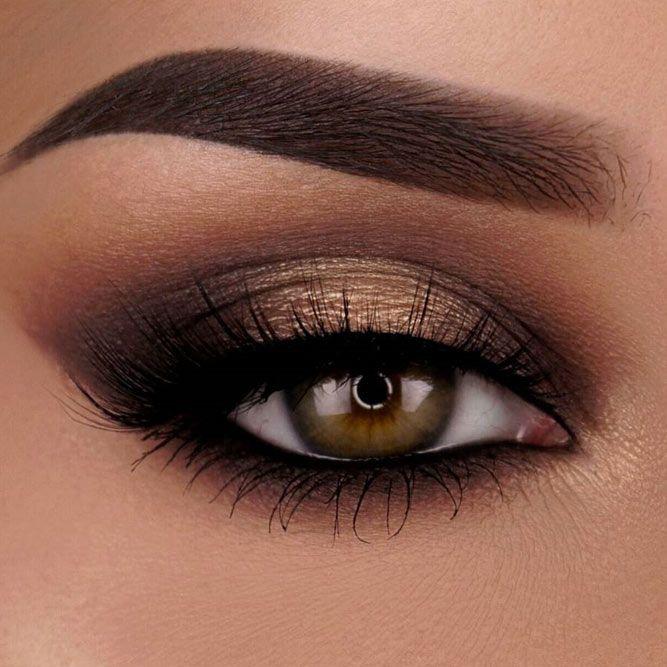 The perfect eye makeup for brown eyes consists of deep shades of brown, plum and purple, dark blues, gold and champagne, green, mint, moss, vanilla and peach.
Shades that are darker than the color of your eyes will help achieve a dramatic look, and eyeshadow shades lighter than the eyes help create a natural look for any day occasions.
The darker levels of brown eyes look better with darker colors like gray, browns, purple or navy. However, choose a makeup technique that doesn't rely on harsh lines and always blend the chosen hues with lighter ones.
Detect flecks of color in your eyes that seem lighter and match them to your base color. Work from that into a sexy smokey eyes with darker tones.
The medium browns allow great variety with makeup, as all the colors mentioned above can be worn without hesitation. Do a subtle eye makeup for brown eyes using lighter shades of brown, taupes, camel, vanilla or peach or intensify the look with stronger tones of chocolate, plum, purple, navy or metallic tones of gold, cooper and bronze.
Keep experimenting with the various shades that will suit your eyes, and the makeup will do wonders.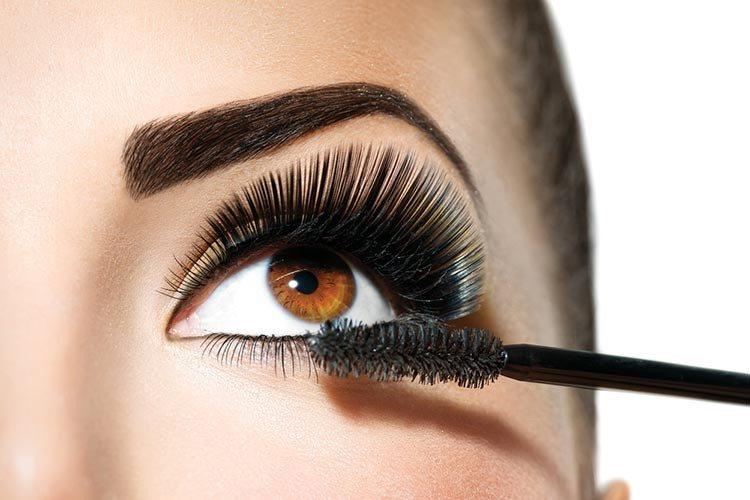 Avoid shades that overpower your natural spark and limit the darker shadows to the crease, to amplify the look. Also remember to avoid highlighting using white in your inner corners or onto the waterline, because it almost never compliments the skin tone. Professional makeup artists use a beige pencil in order to make brown eyes look bigger.
So…. Without further ado…. Here are some of the best makeup tips for brown eyes. Hope you like them and apply them for your next night out or your next big event.
Silver and Black Cut Crease Makeup Look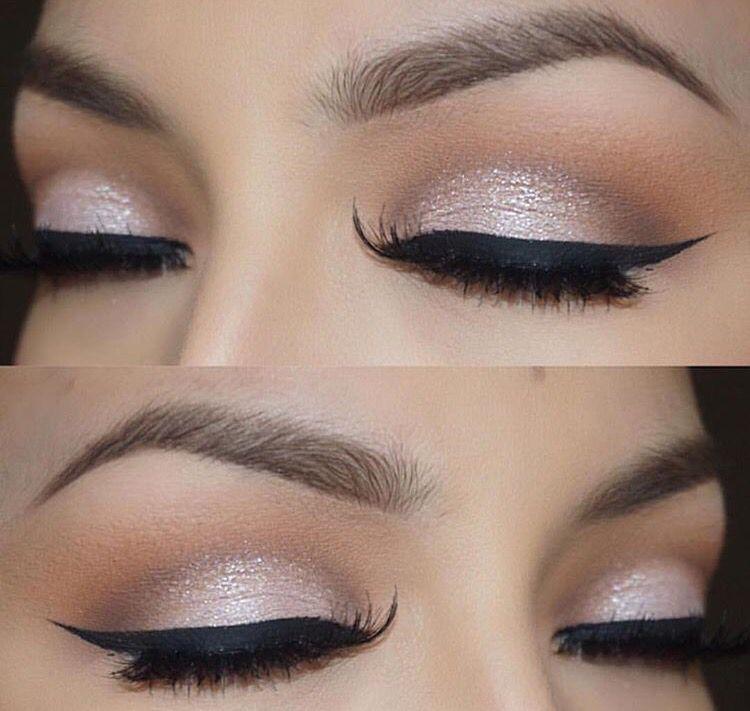 Brown eyes look good with just about any eyeshadow color. If you want to create a high-drama eye effect, opt for cut crease look.
This look definitely takes a little practice and some blending skills. The black is timeless and classy color, while the silver delivers a glam finish that is both exciting and festive.
Gold Smokey Eye Makeup
Brown eyes and gold eyeshadow are a perfect compliment. The gold eyeshadow will emphasize and make your brown eyes shine.
Gold is a great eyeshadow for hazel brown eyes because this color helps the yellow tint in your eyes pop out but a full-gold eyeshadow isn't the way to go. So if you're looking for something simpler, just mix in some copper or bronze color.
Seductive Black Smokey Eye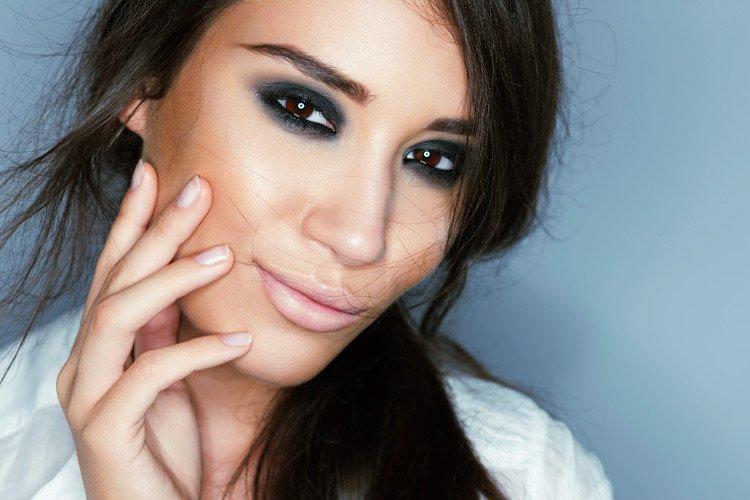 When it comes down to creating the perfect black smokey eye, there are some many choices and ways. We opted for this gorgeous black, matte look with a pop of gold in the inner corners of eyes.
Prior to applying the black eyeshadow, it's important to apply an eyeshadow base first. Base color will create a smooth surface and ease the blending process.
Green Glitter Eye Look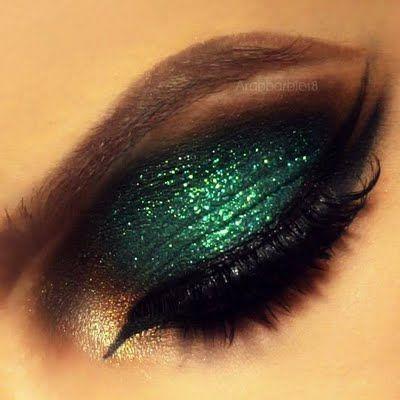 Green is another eyeshadow color that looks amazing on brown eyes. If you have hazel eyes, it makes them appear more green. Green looks vibrant on brown eyes.
Greens aren't the most common eyeshadow choice among brown-eyed women because they seem 'too much'. Women sometimes need a nudge to try something new, and they're often surprised by the finished result afterwards.
Purple Eye Makeup Blue Waterline Look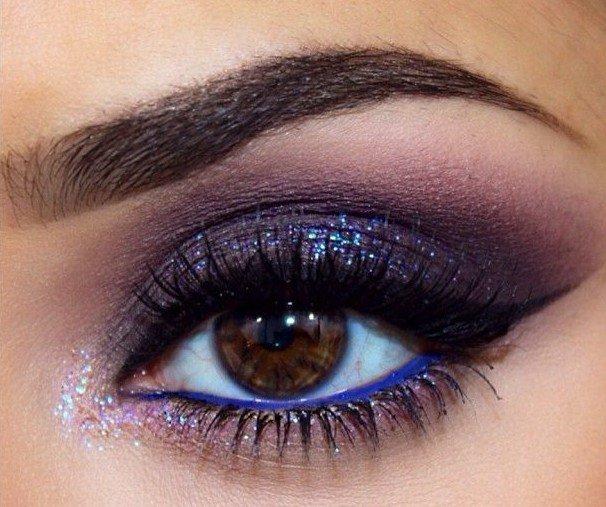 Purple is another color that works great on brown eyes, especially if you pair it with blue waterline. Choose this look when you want to add dimension and depth to your eyes.
Don't forget to highlight the inner corner of your eye with a shimmery eyeshadow. This step will make your eyes appear brighter and larger.
Dark Blue Eyes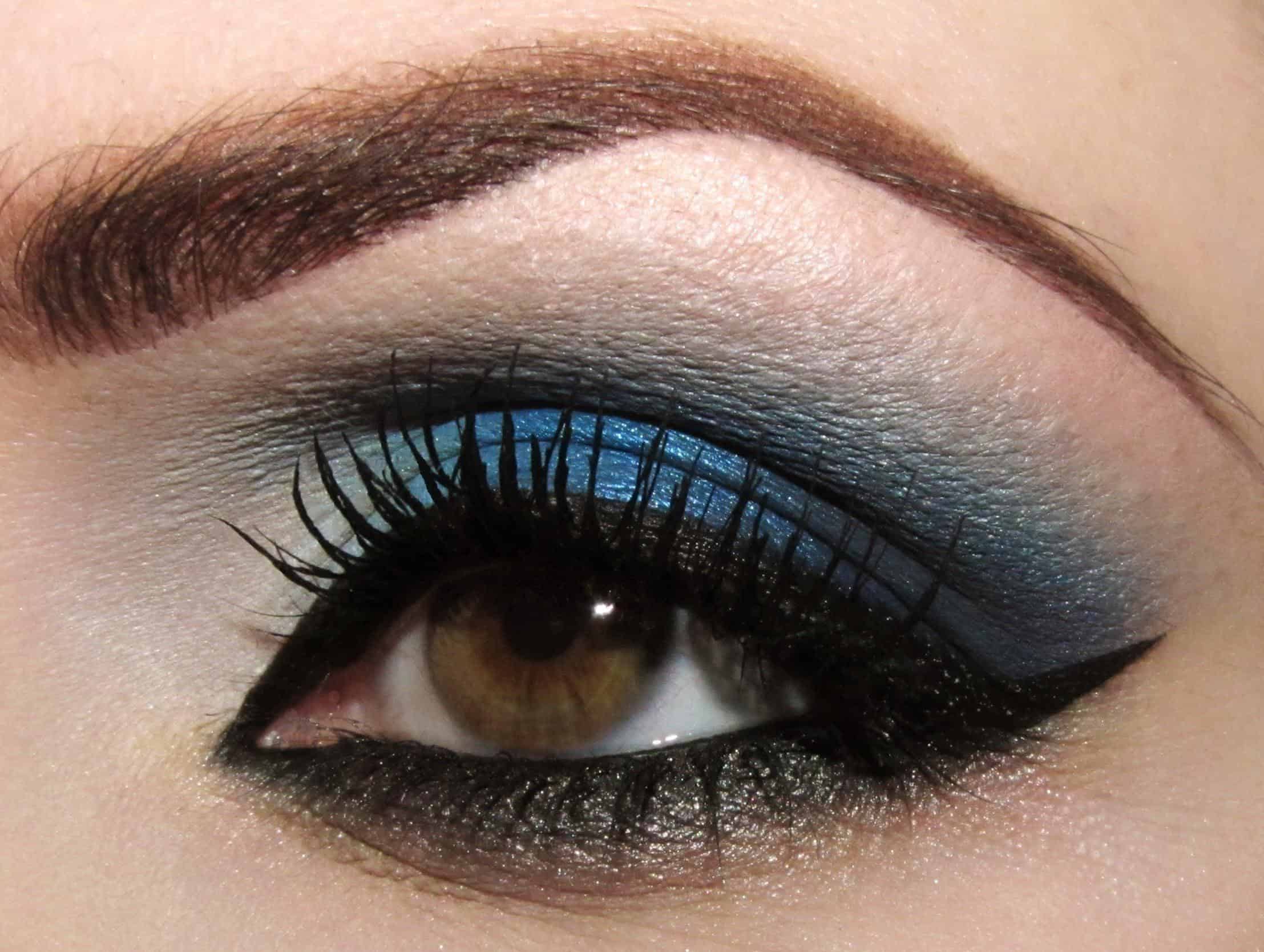 This look features bold, dark blue eyeshadow that really flatters brown eyes. The coolness of the blue provides a beautiful contrast against the warmth of brown eyes.
Turquoise, glitter highlight in the inner corner makes this look even more unique and special. Featuring bold and dark blue eyeshadow, this look makes your brown eyes pop.
Blue is a perfect contrast to brown. Blue is a "cool" color, while brown is a "warm" color. You can add turquoise glitter to highlight the inner corner to make the look even more unique.
Brown Eye Makeup with Brown Lips Look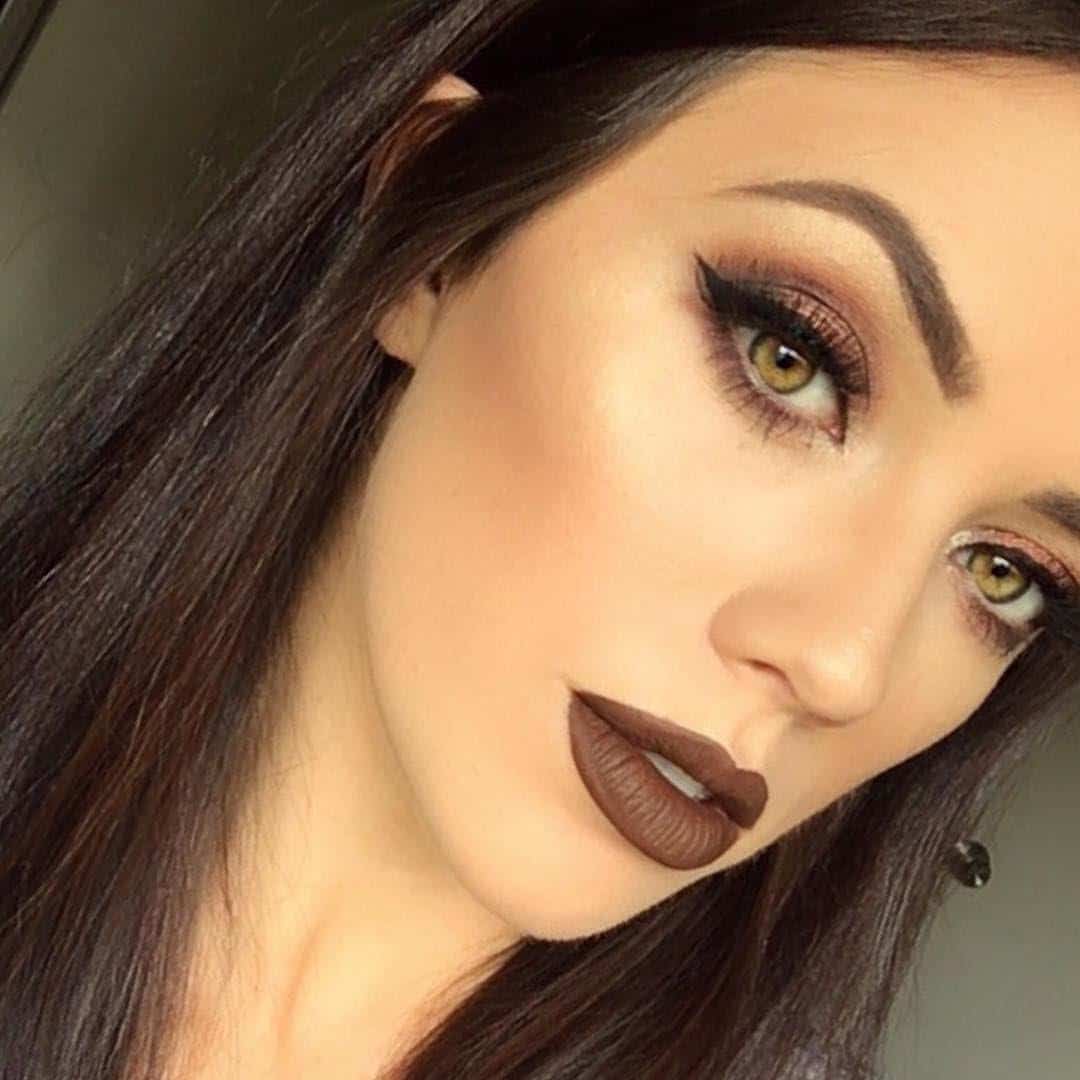 Right eye shadow color and technique can help enhance the brown color of your eyes and the brown eye and lip coordination is the key for that.
Matte lips are definitely this season's hottest beauty trend. Lipsticks and lip liners pencils with matte finish look incredibly stunning and elegant. Make sure your lips are healthy and moisturized before applying the lipstick.
Black and Green Eye Makeup Look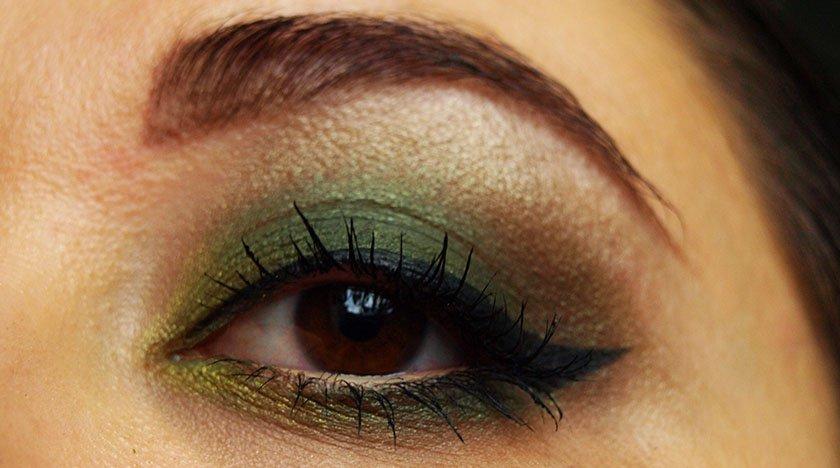 To make your eyes pop a bit, wear a bit of green (or teal and purple) under your lower lash-line. The easiest way to apply the green eyeshadow is by using a pencil brush.
Choose a nude lipstick for flirty and feminine lips. Don't be afraid by this color. We promise you won't look like Uma Thurman in Batman And Robin. You'll look amazing.
Did you liked my suggestions of the best makeup tips for brown eyes? If you did, make sure to share it with your friends and loved ones.