Makeup tips for blue eyes seem easy and straightforward right? Just keep the make up on the lighter tones and you'll be fine?
Well, the best makeup tips for blue eyes are little more complex and versatile than that. There are many makeup tips for blue eyes, and it's up to you to find the best one.
Here are some of my best makeup tips for blue eyes out there.
According to an article on Tech Insider, once research showed that all blue-eyed people share a common ancestor who lived between 6,000 and 10,000 years ago? This person exhibited a gene mutation that causes blue eyes make.
However, the mutation literally turns off the gene that tells our bodies to produce melanin in our irises, leaving just the blue. And everyone who has blue eyes is a descendant from the one person who first displayed the mutation — and exhibits the mutation themselves.
Fascinating isn't it?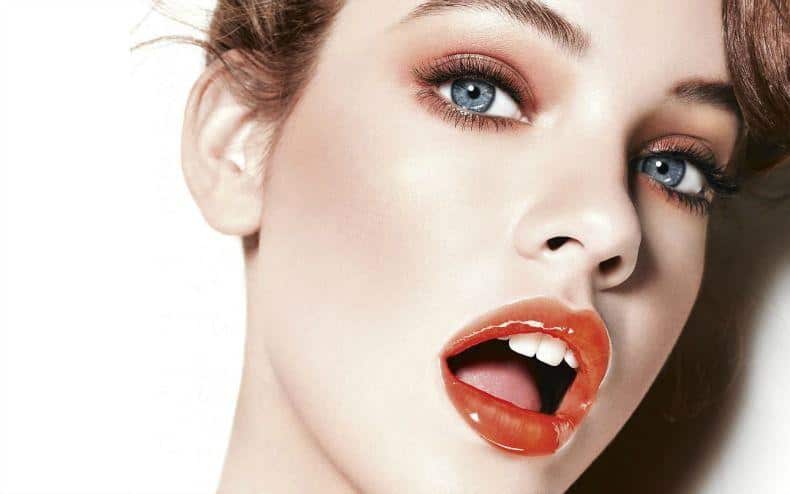 So…. It's no secret that blue eyes are one of the most popular shades ever, yet there are several makeup tips for blue eyes that you can use to make them even more magnetic.
Makeup Ideas for blue eyes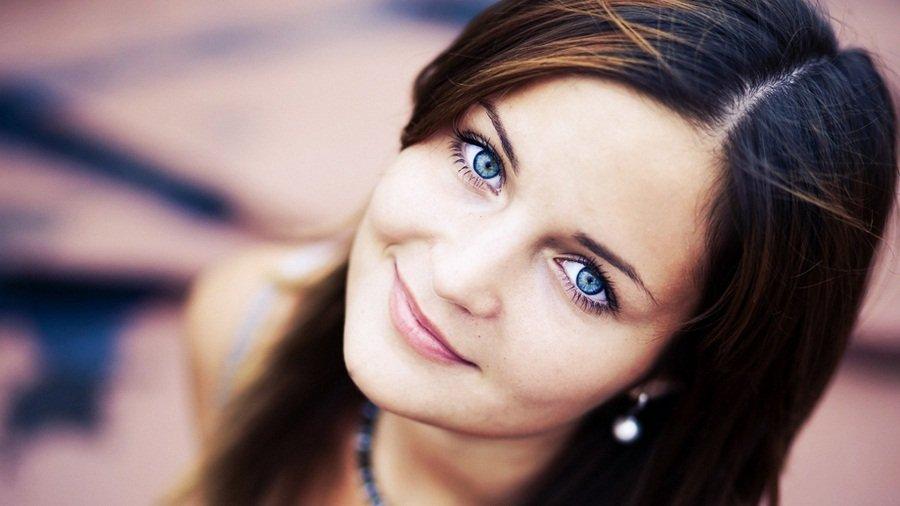 Shades that will contrast with your eye color will work best. Apply tones of brown, gray, camel, taupe, heather, sable, slate, ash, dark browns, blacks, charcoal, copper, pink, lilac, silver or gold to the lid, according to your mood, occasion or taste.
Remember that you are still conditioned by your natural eye color, so experiment and see what looks best on you. Have fun with the color pallets and don't sweat it if you make a mistake. We've all been there.
But generally make up tips for blue eyes are the most forgiving if you're a beginner, so don't be afraid. Just experiment with the tones, colors and even glitter, and you'll see the best results. Just follow our makeup tips for blue eyes.
As a general rule, intense blue eye color looks best with light shades, that cause impact (like taupe, sable, ash, gray, camel, gold), while gray-blue eyes are complimented by dark tones of blue (like teal, midnight blue) charcoal, cooper, lilac and silver. A mid-blue eyed girl should go for browns, heather, moss, camel, charcoal, black and cooper.
Best Makeup Tips for Blue Eyes
You can use a hue that's lighter or darker than your eye color to make the eyes stand out, but using the exact same tone dulls the effect.
Creams, beige or tans, as well as silvers and grays can be used as a base shadow. Use the light tones in combination with other, darker hues to define that hypnotic gaze and make your eyes look bigger.
Any hue of brown is guaranteed to make a statement blue eyes makeup. Use a combination of light and dark browns, such as taupe and chocolate and select the makeup technique based on your shape.
Wide-Set Eyes: To bring the eyes closer together, place a dark color on the inside inner corner of the eye.
Deep-Set Eyes: to bring them out, place a lighter-color shadow on the upper lids. Use medium colors in the eye crease, and not dark colors in the crease. Less is more with this eye shape.
Large Eyes: To make the eye appear smaller, use dark colors on the eyelid and eye crease.
Round Eyes: Place your eye-shadow color on the eyelid, blending up at the outside corners. You can also place a dark color on the outer top corner.
Small Eyes: To give the illusion of a larger eye, use a light color on the eyelid, and medium color in the eye crease. Again, less is more.
But without further ado… The best makeup tips for blue eyes.
Gold Glitter Eyes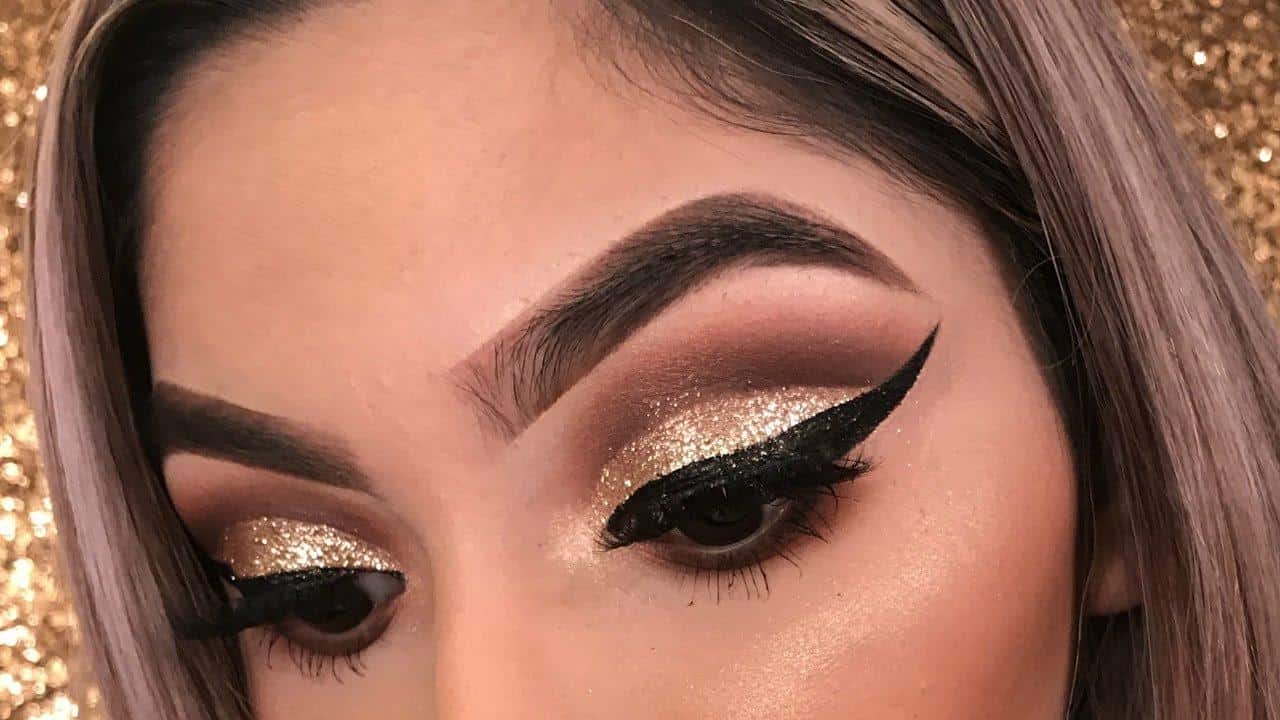 Gold glitter eyeshadow works so well with blue eyes. Gold teamed with glitter is amazing. Bring the sparkle to your eyes, with this gorgeous gold sparkle color eyeshadow.
The one used in the photo is a lighter shade of gold. This will really show off your piercing blue eyes. As this is quite heavy on the eyelids, try to tone down your lip color to keep the emphasis on your eyes.
Gold and peach eye look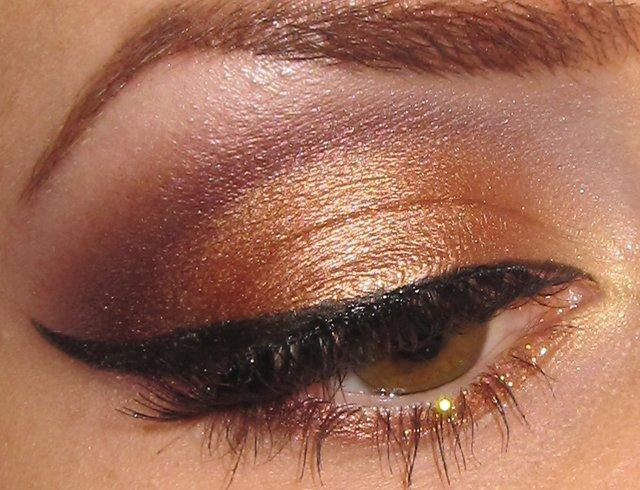 Gold and peach has a lovely delicate appearance for blue eyes. This is a perfect way to open up your eyes. Go along your waterline with a peach colour eyeliner pencil. Then add a peach color eyeshadow to your eyelids.
The tone used in the photo, is a pinky/peach tone which is based more on the pink side, rather than the orange side.
Neutral eye makeup tutorial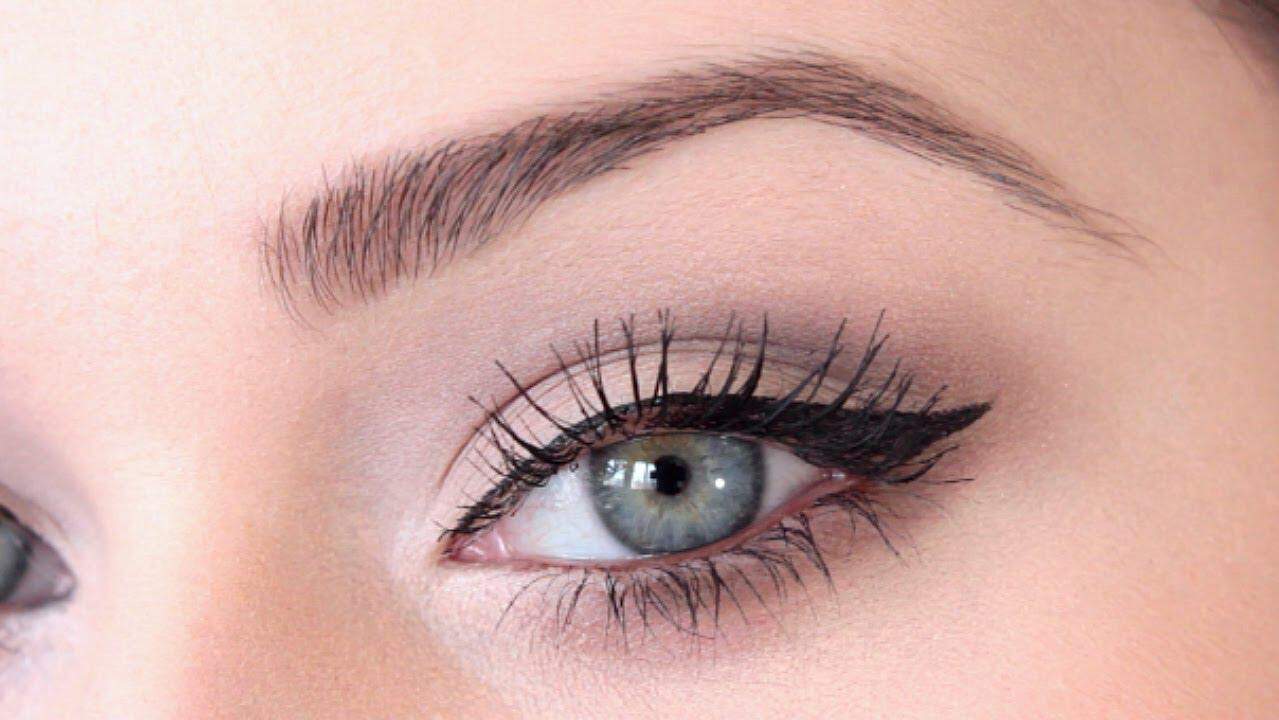 If you have bright blue eyes, neutral tones look stunning. There is no need to go heavy with the bright colors to show off your sparkly eyes. Earthy and neutral tones are striking and beautiful.
If you do want to wear vibrant colors, you can add a luscious red lipstick, which will brighten up your appearance. Don't be fooled by the basic color of the eyeshadow, trust us and try it. You will be surprised and you will love the natural look.
Rose gold glitter eyes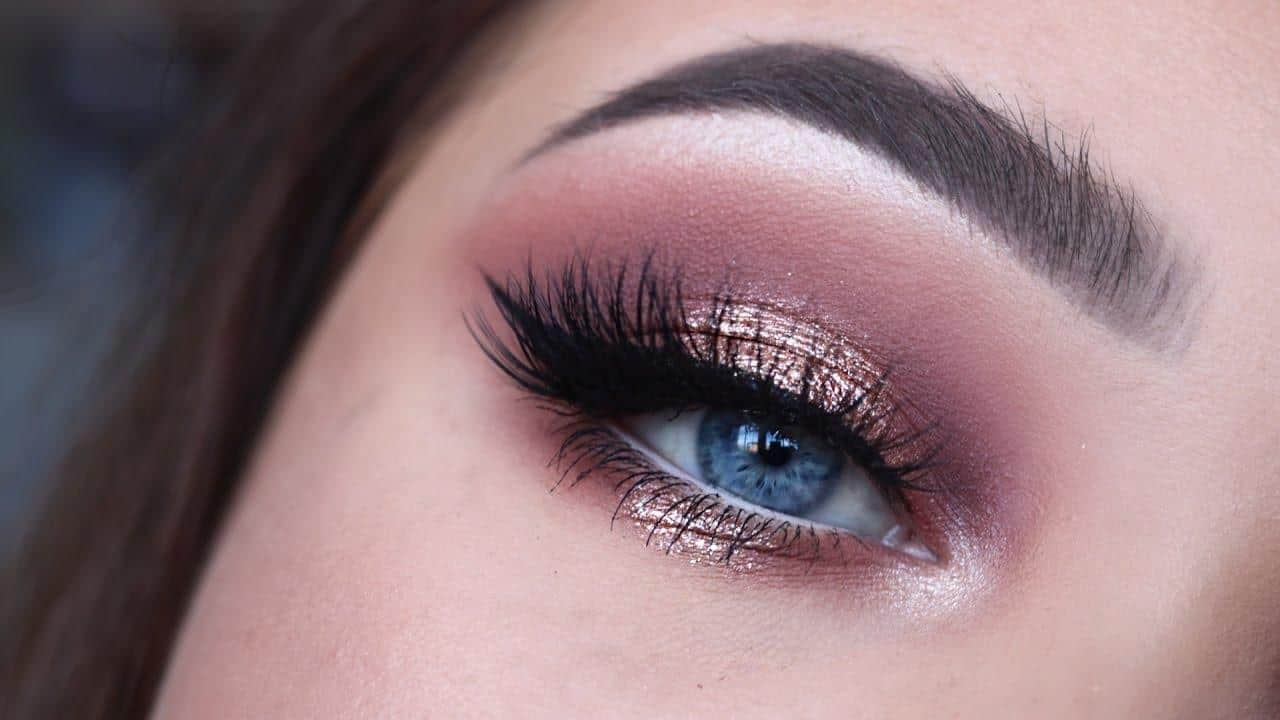 Rose gold has been trending for absolutely everything and it's not going away. This color is so pretty and girly. You can see why this color matches so well with blue eyes, and it's most recommended for a night time look.
Take those rose gold pumps that you've been hiding in your closet for years now, put some little black dress and some rose gold glitter on your pretty blue eyes and you have yourself a night out fit for a princess.
Blue and purple smokey eye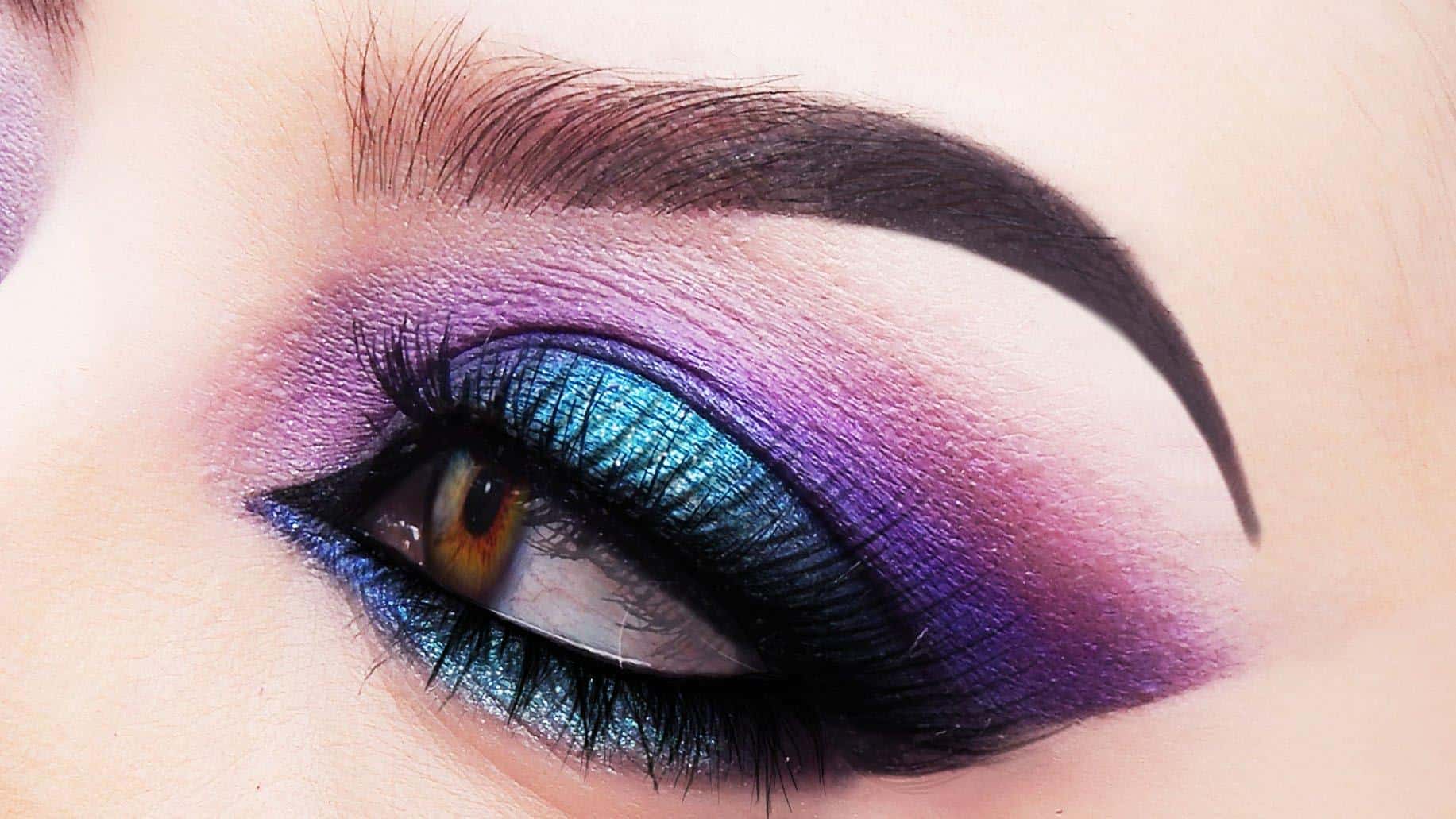 If you want colorful and summer eyes, look no further. Surprisingly, blue eyes work well with blue and purple colors.
But the rule is to smudge the colors to make them smokey eyes! This looks so good and it's easily a day-to-night look!
Black smokey eye look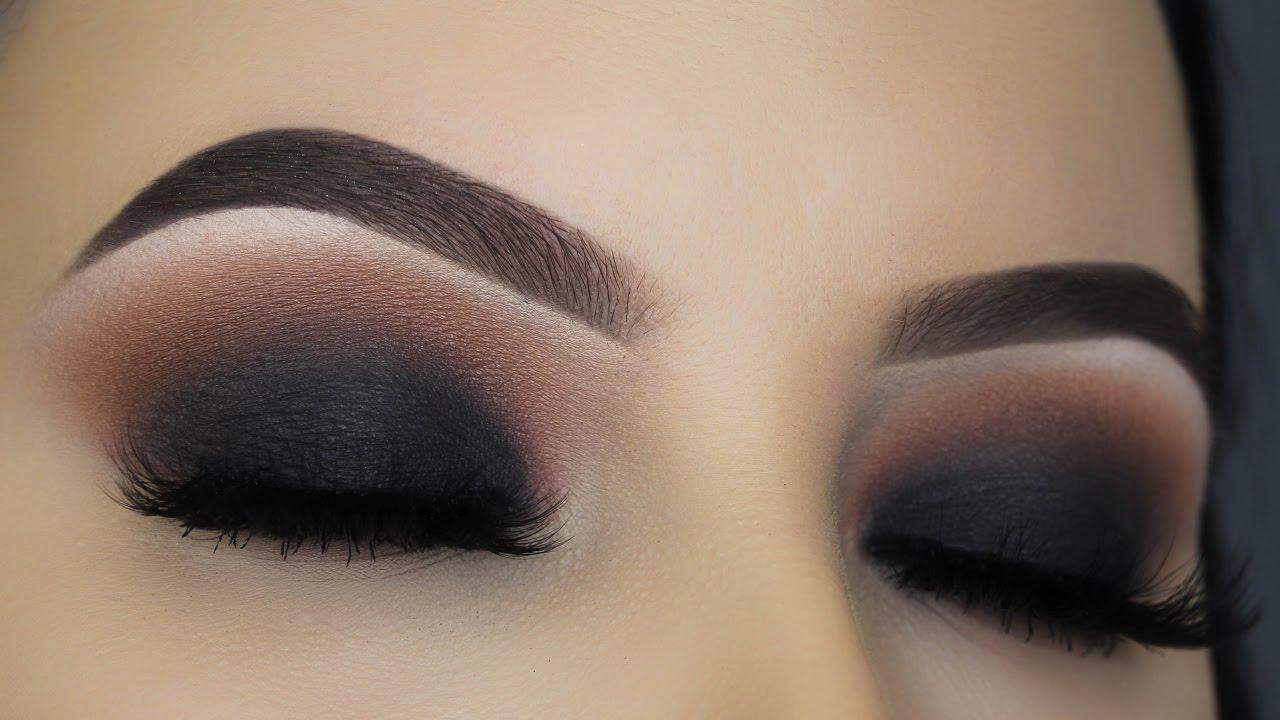 We all know that black works well with any color eyes, especially blue eyes! Black eyeshadow looks dark and mysterious, showing off your sexy blue eyes.
This is a gorgeous black smokey look with a hint of glitter. It's very glamorous and beautiful!
Copper smokey eye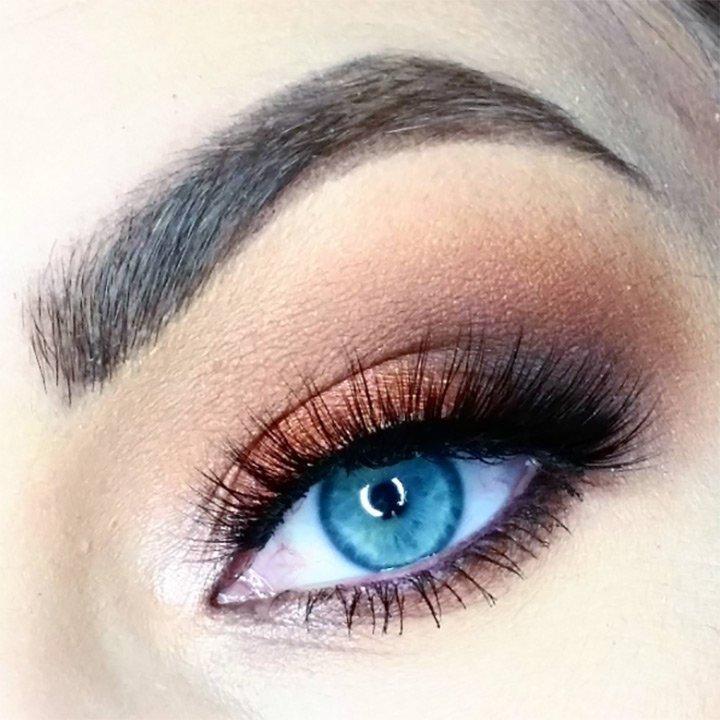 As well as rose gold, copper color has also been trending and becoming increasing popular over the years. Blue eyes mixed with a stunning shimmering copper color eyeshadow looks unbelievable.
It works perfectly. The copper color instantly adds shine to your eyes and brings out the blue.
Black and white eye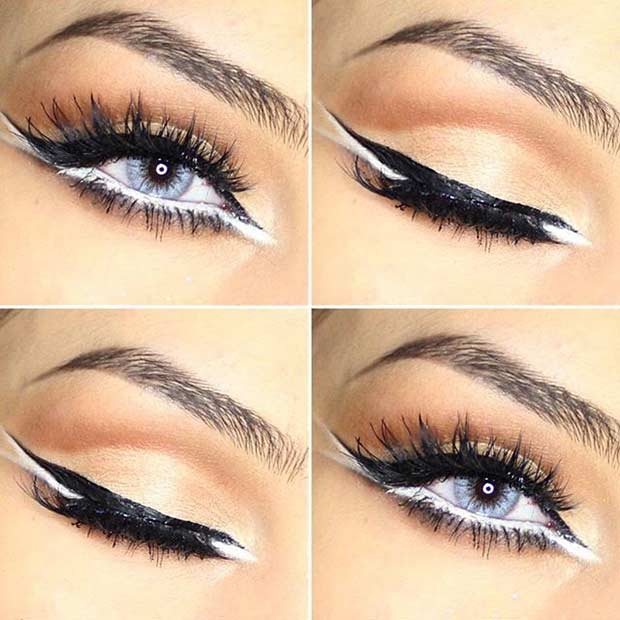 It is wedding season and summer, so no doubt you will be invited to many parties. If you are looking for something different and striking for blue eyes, take a look at this look.
By teaming black and white eyeliners, you will create a day-to-evening look that will look amazing throughout the day. Make sure you add the white eyeliner to your bottom waterline to open up your eyes. This is even a great look for festivals and just chilling on the beach!
Silver metallic eyes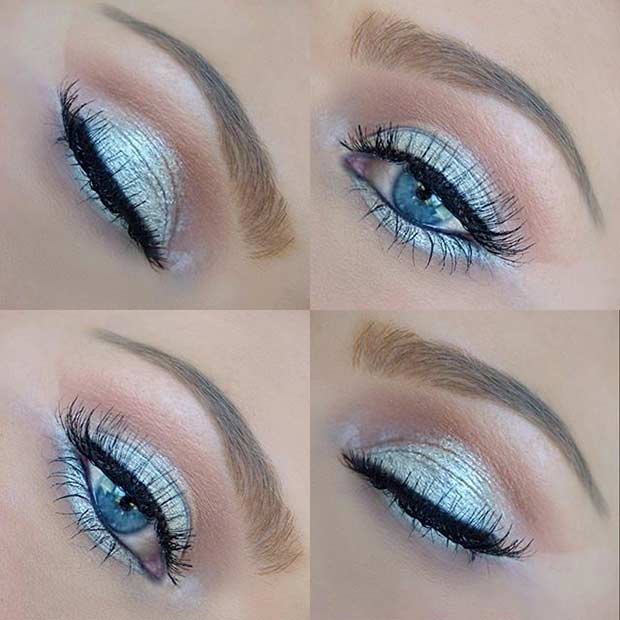 Silver works just as well as the neutral and copper colors. The only difference is that the eyeshadow is already light in color so it will highlight your eyes but will not give the dark and mysterious look.
This is a great party eyeshadow. Also, it is a great look for chilling in the sun. When the sun shines down, this will sparkle all day!
Dark green glitter eyes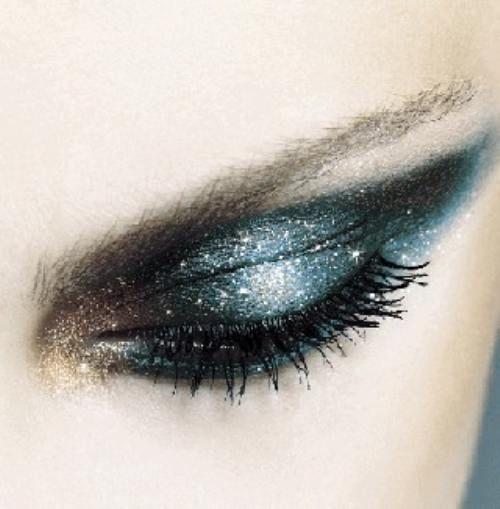 Dark colors are perfect for light blue eyes. This dark green glitter combination will enhance your blue eyes and add a touch of glam.
To create a dark but wide-eyed look, make sure you add a touch of white to the corner of your eyes. This will break the darkness up a little. The colors blend so well together. Team with a light colour lipstick.