Lockdown has meant that many people are unable to see their hair stylists, even for a trim. Once the salons in your area reopen, you may still be hesitant to receive a haircut right away, as the risk of contracting COVID-19 is still high. Unfortunately, this will mean your hair may look less than its best by the time you do leave the house. The good news is there are plenty of ways to maintain your haircut at home.
1. Brush Your Hair Regularly, But Not Too Often
It's important to brush your hair at least twice a day. Even if you won't be seeing anyone, brushing your hair needs to be part of your personal care routine in the morning. Then, brush your hair again before you go to sleep. This will minimize tangles in the night and make it easier to style your hair the next day.
Depending on the type and length of your hair, it may need brushing one or two more times during the day. However, avoid brushing more than this — brushing too often is just as damaging as not brushing at all.
2. Tie Your Hair Back
It may be easy to maintain loose hair when you're spending all day indoors, but it's still better to tie your hair back at home. This will keep your hair from getting dirty with the contaminants that circulate in the air (it's particularly important to tie hair back when you're cooking). In addition, keeping your hair tied back will stop it from becoming frizzy.
The best hairstyle for maintaining hair is a tidy bun. Just don't make it too tight — you don't want your hair pulling your scalp. If your hair is too short for a bun, a small ponytail is fine.
3. Wash Your Hair with a Mild Shampoo
Most people need to wash their hair between two and four times a week. If your hair is particularly prone to becoming greasy, you may need to wash it more frequently. Definitely don't wash it less than twice a week, or you'll start seeing a buildup of grime in your hair and on your scalp.
Make sure to choose a mild shampoo that won't strip your hair of its natural oils. Follow with a conditioner to strengthen and soften your hair.
4. Treat Your Hair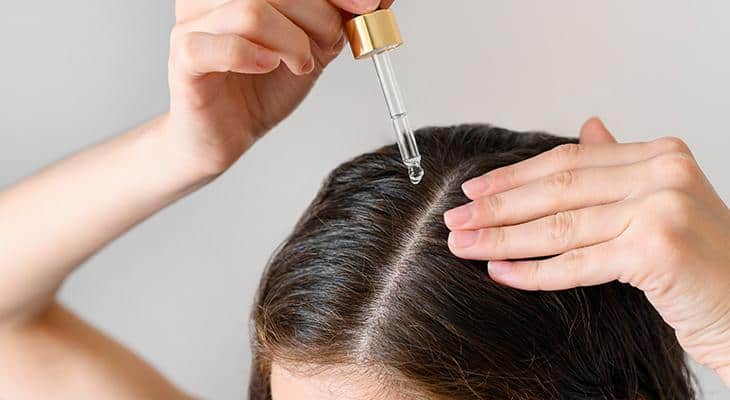 At least once a week (more often if your hair is especially dry or damaged), treat your hair with oil or a hair mask.
The best oil products are made from coconut, almond, or extra-virgin olive oil. Smooth the oil along the length of your hair and massage it into your scalp to promote better blood flow — this will make your hair grow faster. Leave the oil in for 20 to 30 minutes or even overnight.
Hair masks can work in less time than hair oils: just three to five minutes. However, if your hair is very dry, leave the hair mask in for the same amount of time as an oil.
5. Use Extensions
Give your haircut shape, life, and volume by using extensions. Although many extensions require professional installation (such as tape-ins and sew-ins), there are some types that you can apply yourself — for instance, clip-in hair extensions and Halo extensions.
6. Improve Your Diet
A balanced diet is beneficial to just about every aspect of your health — including your hair! After all, you are what you eat.
Junk food can inhibit your body's capability to grow new hair follicles, which can lead to hair loss. However, a diet rich in proteins, fiber, and carbohydrates may even cause your hair to grow faster.
During lockdown, you should be able to dedicate more time to meal preparation. Try to include these foods on a regular basis for optimal hair health:
Eggs
Oily fish like salmon and mackerel
Spinach
Seeds and nuts
Sweet potatoes
Berries, including strawberries, blueberries, raspberries, and blackberries
There are countless ways to maintain your hair at home. All of them will make it seem as if you just received a haircut — but you'll never need to reach for the scissors! In fact, since your hair will be free of outdoor pollutants, the right care could mean you leave lockdown with hair in better condition than ever before.