In the fashion industry it is very common to use the word "silhouette" to describe how a certain apparel makes one's body appear. Even while filing through an array of magazines and blogs to find 'The Dress', the use of such words that are commonly used in the industry might throw off some people who are merely beginners in this area. It is quite challenging to find the perfect fit when you can barely comprehend what is being guided. Therefore this blog is created just for you to get acquainted with  one of the significant words that describe the dress that you desire.
Silhouette pays emphasis on the presentation of outline and shape of a person's body when wearing a specific style or type of clothing. In women's clothing particularly different silhouettes are paid a lot of scrutiny. The fashion connoisseurs associate certain silhouettes to be fit for specific body types. Some basic silhouettes for evening gowns are explained in this blog. So tighten your seatbelts because after this mini fashion lesson you will become an expert in picking the best evening gowns every single time.
Ball gown silhouette
The most classic fairytale dress that has been in vogue since we knew fashion – is a ball gown. It a dress that is generally worn in formal and evening events. A fitted bodice fashioned upon poofed skirts is the statement style that every lady wants to find themselves in. In simpler terms a ball gown is the classic princess dress. It has the superpower of looking good on almost every body type. Especially women with heavier upper body  or plus size ladies find themselves most comfortable in a ball gown since it balances the heavy bosom with its full skirt. They generally come with a sleeveless ensemble to show a contrast between flowy skirt and graceful petite arms. Be it a wedding, prom, or any evening party, this dress will always be at your rescue.
Trumpet Silhouette
This fit and flare beauty is styled upon a motive of creating a perfect hourglass figure. It comes with a fitted bodice which instantly flares into an A-line skirt from mid thigh. It accentuates a small waist and prominent curves. Basically it is a mixology of A-line and mermaid silhouette. You see these long gowns as wedding dresses and in formal parties. This trumpet silhouette gown from MNM Couture is a unique piece with an outstanding personality. It comes with a fitted bodice and pleated fabric drapes from the waist. The asymmetric neckline makes all the difference here.
Mermaid Silhouette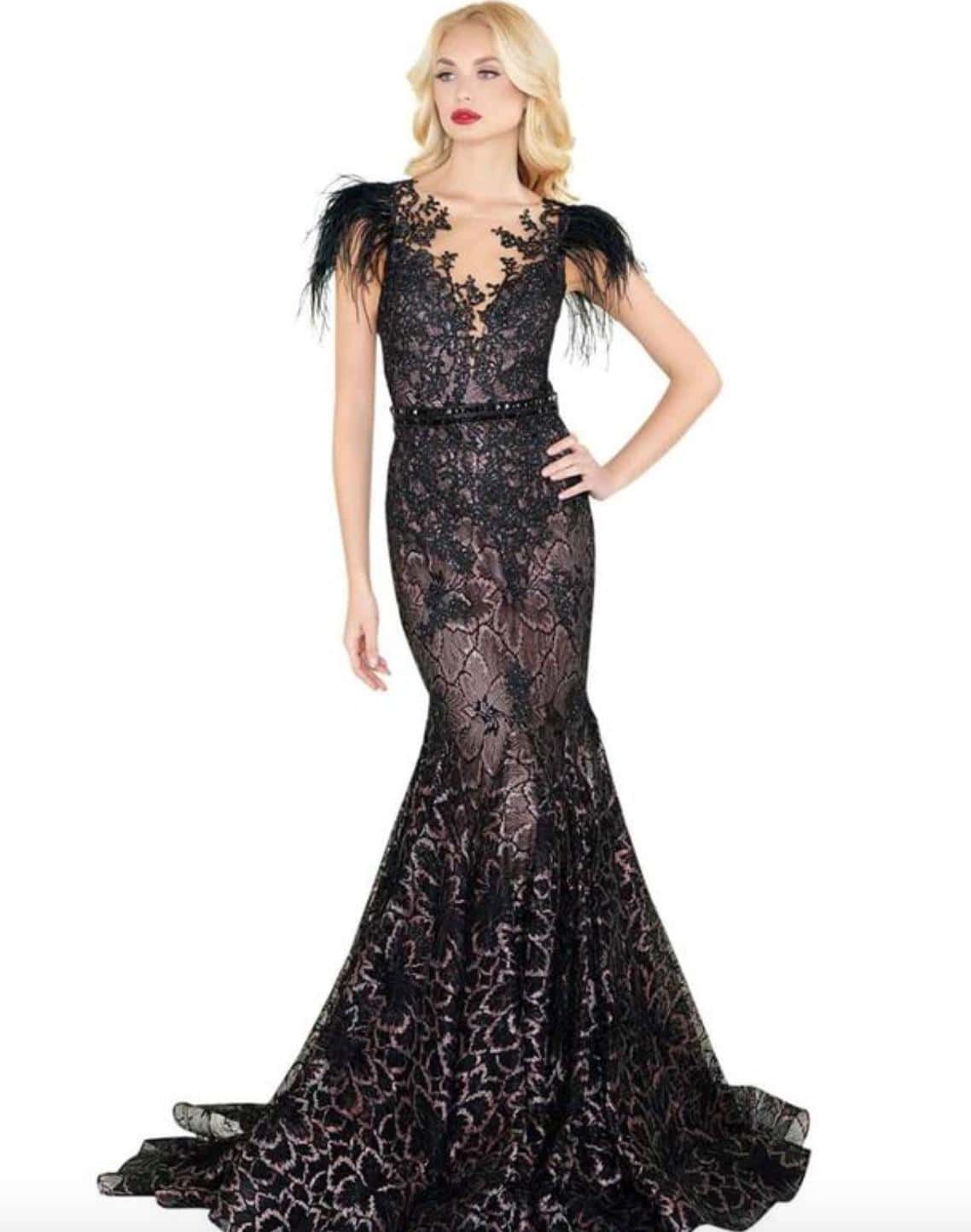 Sleek, sexy and glamorous is what this fitted gown portrays. It endeavors to show off that curvaceous body by highlighting a petite waist while complementing upper and lower curves or the wearer. It is a very commonly used silhouette in wedding dresses. Basically it is a fitted bodice from top to knees and then it flares into a flowing skirt. The only difference between trumpet and mermaid silhouette is the emerging point of the flare. While trumpet flare starts from mid thigh, the mermaid flare starts from the knees. The skirts are usually of floor length, while some end in a sweep train for more grandeur and dramatic effect. This Mac Duggal mermaid gown does just that with its iridescent nude lining with black lace and a sheer neckline. This elegant gown will illustrate you as a work of art.
A-Line Silhouette
This is the easiest term to understand since the explanation is in the name. The A-line silhouette outlines the figure of capital letter A through the skirt of a dress. It comes with a fitted bodice from neck to waist. From the waist the skirt flares down skimming from the hips and ending in a form wider than the waist. This is a one for all type – meaning that it fits all the body types and enhances their feminine features. The Mac Duggal A-line dress here starts with a sweetheart neckline that shows off your arms and shoulders. It starts with fitted bodice and from mid-waist flows into a knee length A-line skirt. The best part – it has pockets! Whenever in doubt, simply pick the A-line dress.
Jumpsuit Silhouette
A one-piece sensation with the bottoms falling into trousers is a jumpsuit. Jumpsuits have been considered to be more casual apparel but they have blurred the boundaries. Now they are also available for evening and formal parties if you really want to stand out. Like this Jovani jumpsuit rocking a V-neck and sheer sleeves. The most gorgeous feature of this dress is the oversized bow accenting the waist that comes down to the straight pant legs of this jumpsuit. This silhouette is so versatile that you can find varied designs and styles in it for literally every occasion.