Perhaps we all agree that hanging up and decorating the evergreen tree is one of the happiest things in the Christmas holidays. Some of us might get used to storing the old decorations used in the previous season and putting them up again in the next year like an economical habit.
Well, this time, for such a special year 2020, let's change that habit and make a "the end" celebration in a special way. Don't worry, what I'm going to introduce will not burden your wallet much!
Decorating Xmas tree with ornaments
Christmas ornaments and Christmas bulbs are decorations commonly used to make a X-mas tree festive. They come in many different forms like glass, metal, or wooden Christmas ornament, from a traditional round ball to an artistic design. Usually, they are reused every year rather than bought annually.
The collection of ornaments found in each family is often a combination of commercial ones and DIY craft by family members. From year to year, those collections are passed on and augmented.
Aside from the traditional ornaments such as balls, Christmas stars, Santa Claus, snowmen, snowflakes, or angels, people also have more interesting images to choose from, like candy canes, fruits, or animals. But this quarantine ornament commemorative 2020 is nowhere to be found in previous Christmas seasons ever.
This quarantine ornament is a great addition to your X-mas tree this year. We all know what happened in this chaotic year and this ornament helps to commemorate those experiences for years later.
Whatever ornaments you choose, remember the rule of adding them to have better decorations.
First, place your favorite ornaments in prime positions of the tree.

Second, hang large ornaments and space them equally around the tree. If you have one color ball ornaments, the larger should be hung at the bottom and the smaller should be at the top. This creates continuity for the entire tree.

Third, hang the medium and small ornaments around the larger. To create interest, put some ornaments close to the trunk as they will sparkle the tree from the inside.

Finally, put on a simple topper and a tree skirt (if you want).
Decorating X-mass tree with lights
All X-mas trees need lights to sparkle at night.
Typically, lights come in green or white wire, but there are also black versions as well for those who intend to make a black tree. Normally, the color of the light wire strand matches the tree so that the wire can be hidden. By doing so, the tree will be illuminated from the inside and then give a dynamic outside look.
If you have never paid attention to this thumb rule before, then change it this year! This is such a cost-effective method to do, so give it go right away.
Moreover, when you put light wires on a tree, start at the trunk base and work up to the top. Don't forget to put lights on major branches by wrapping from the trunk to the tip and backward. Here are some stunning types of Christmas lights for you to choose from.
Traditional incandescent lights
This is the most popular type of string lights which can be used both indoors and outdoors. When wrapped around an indoor X-mas tree, it can even release the scent of pine.
Led lights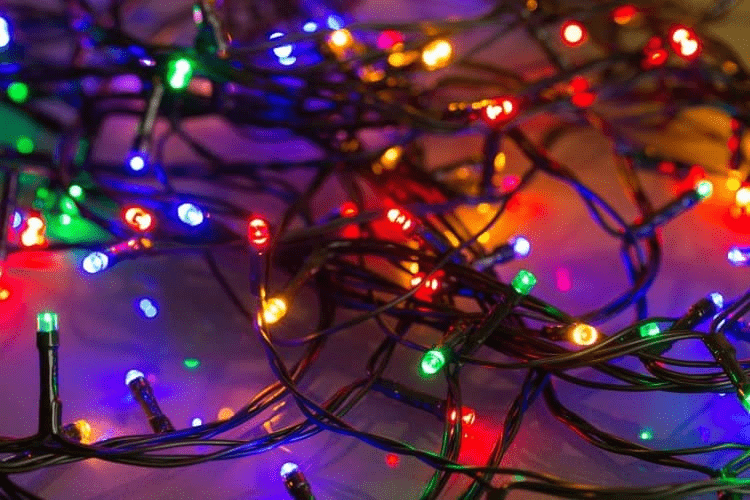 This is a newer version of the traditional incandescent but produces no heat. What is more, this type is flameproof and fireproof so totally safe to put on a tree, even a dry one. The only disadvantage is its price, which is often higher than the others.
Globe lights
As said in its name, this type of light is round-shaped. If hung on a tree, they look like many colorful balls that are brightened up. Despite their softer glow, they still produce enough light to cover a large area around the tree.
Bubble lights
This is another beautiful type of light to consider. Unlike the previous ones, bubble lights can stand straight up on the tree's limbs. Once the liquid tube gets enough heat to warm up, bubbles will float up and down inside it making it look like a lava lamp.
If you often decorate your X-mas tree with one of the four types above, this year, try mixing and matching with other types. It will be a great idea to do. You can also take a look at the tips and tutorials from Decorator's Warehouse: decoratorswarehouse.com
Decorating X-mass tree with garlands
Garlands are another popular decoration for the X-mas trees. Unlike the tree lights and ornaments, there are no thumb rules for applying them to trees.
However, to prevent the branches from bulging because of tightly cinched strands, remember to start the job from the top of the tree. Then, as you work down to the branches, slowly enlarge the amount of garland for each wave. For each vertical foot of the tree, it is best to apply 2 garland strands.
You can decorate your tree with different types of garlands, from plain to fancy ones to avoid a busy-looking tree. For example, you can use thin garlands to hang on branches, while the thicker or foil garlands to be wrapped loosely around the whole tree.
If you are looking for a cheaper alternative, try with the ribbon. Patterned ribbons also work great if wrapped loosely and wide around the tree in horizontal directions. You can also make big bows from those ribbons to decorate your tree. Ribbon bows work best for the branches.
There are tons of ways to create a festive look for your X-mas tree. Adding new ornaments and garlands, mixing up different lights, or simply just changing the way you hung the decorations can also lead to a brand new look for this holiday season. And, one more thing, be satisfied with your decorations because it's all good!
Read Next: Tips for Baking the Perfect Christmas Cookie (mamabee.com)