Summer might be winding down, but until the snow starts to fall, it's still grilling season! In addition to the fact that it's a ton of fun, there are also many health benefits of grilling.
However, if you don't have a lot of experience, you might find yourself asking: "How do you cook a steak on the grill?"
Don't worry, grilling a steak is easier than you might think. Here's a step-by-step guide to cooking steak on the grill perfectly every time.
Choose the Right Cut
If you're going to grill a steak, the cut you choose matters. Some of your best options are strips, tenderloins, and rib-eyes. To ensure they're juicy and tender, check for a good amount of marbling.
Ideally, your steak should be about 1.5 to 2 inches thick. This will allow you to get a nice char without overcooking the meat.
Prepare Your Steak
If your steak retains too much moisture it won't sear properly. This could also cause flare-ups and smoke.
To prevent this, place the steaks on paper towels and pat the top dry with another paper towel. Follow this process with marinaded steaks as well.
Once the steaks are dry, let them sit out for about 20 minutes so they reach room temperature. This will help with even cooking.
Prepare the Grill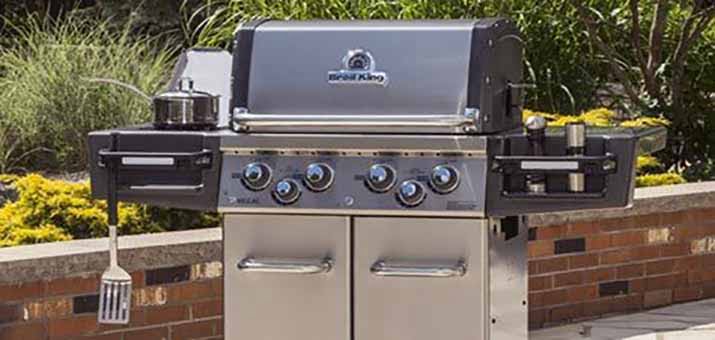 Whether you're using charcoal, a gas grill, or a flat-top griddle, like a Blackstone Grill, you'll need to prepare it before you start to cook. First, make sure all food residue is gone. Then, use a bunched-up paper towel to spread a small amount of olive oil on the grill grates or flat-top.
A little oil will go a long way, so be careful not to use too much.
Set Up Your Grilling Zones
Generally, you'll want a hot zone, which you'll use for searing and charring, and a cooler zone, which is for gentle cooking. If you're using a gas grill, turn one side up high and the other lower. On a charcoal grill, you can achieve the same effect by moving the hot coals over to one side.
Next, cover the grill and let it heat up for about 15 minutes until it reaches 500 degrees Fahrenheit.
Season and Cook
While you're waiting, season your steaks on both sides and put them on the hot side of the grill. Leave the lid open and cook about 3 minutes on each side, until they have nice grill marks. If you prefer your steak a bit more well done, move them to the cool side to finish cooking.
Take the steak off right before it reaches the desired doneness. The steak will continue to heat about 5 degrees higher after it's removed from the grill. Let the steak rest for 10 minutes and enjoy!
How Do You Cook a Steak on The Grill? Now You Know
If you've been wondering, "How do you cook a steak on the grill?" you've probably felt a bit intimidated. Now that you see just how easy it is, you'll be able to try it confidently. Trust us, you'll feel like a grill master in no time!
Next, you'll want to learn how to make some delicious side dishes with your perfectly cooked steak. Scroll through a few more of our blog posts for some inspiration.
Read Next: Choose right grill for BBQ