I made a strange face when one of my friends asked me if there are any healthy Starbucks drinks that she can try.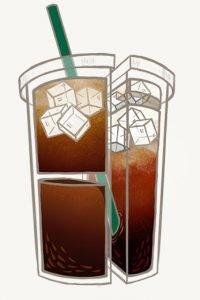 I said "healthy?" Who goes to Starbucks to drink something healthy?
But doing the research for this article, I see that  I was wrong. Apparently, there is a whole menu of healthy and sugar-free Starbucks drinks that were hiding under my nose. A Starbucks nutrition field if you like. (Or healthy variations of the standard Starbucks drinks to be precise.)
Also, when I'm writing this article, I'm trying to lose weight. So now I have a broad range of Starbucks coffee ideas to choose from, and can even put them in my own Starbucks tumbler!
(Even if you don't like Starbucks and prefer to make your own coffee on your the best Keurig machine,  you can still use the ideas below as an inspiration)
So here's what you're going to see below:
I. The complete list of healthy Starbucks drinks;
II. A brief and handy manual on how to order them;
III. A "calculator" that will show you the calories you are about to "inhale" with your Venti unicorn frappuccino.
Let's start with No. I!
I. Low-Calorie Starbucks Drinks
What you'll see below is the complete list that we've promised.
Please have in mind that there are many tweaks that can be done to any of the healthy Starbucks drinks below.
Use them as ideas, not as rules for ordering the healthiest items at Starbucks.
Take one and tweak it as much as you can.
Now without further ado, let's see the first one.
Grande Unsweetened Passion Tango Tea with Coconut Milk (0-70 calories)
If you need a delicious lift in your busy afternoon then this is the real treat. Ordering it with coconut milk leads to 1.5 Fat, 2 Carb, and 2 Protein. But, you can also order it without the milk and it will go down to 0 calories.
Grande Iced Coffee with Coconut Milk (30 calories)
You can add this to your low-fat and low-carb list of drinks. I think this can become your everyday coffee to go. When we look at the macronutrients, you get 1.5 Fat, 1.5 Carb and 0.5 grams of protein.
Grande Cappuccino with Almond Milk (100 calories)
This is a frothy classic. The almond milk is a twist that many people don't like but I think your diet will benefit from it. Let's look at the macronutrient breakdown. With this drink, you get 6 Fat, 9 Carb and 3 grams of protein.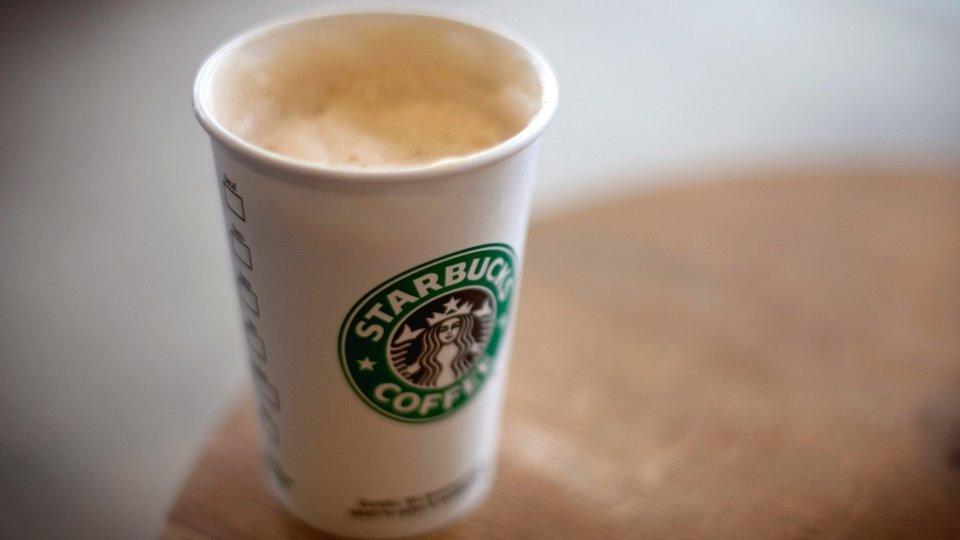 Caffè Americano (10-15 calories)
With 225 mg. of caffeine, this is one of the best low-calorie Starbucks drinks.
You have two options. If you need a warm kick in the morning, then you order the regular, unsweeten option. If you pick grande, then you're getting 15 calories in your system, decorated with a layer of crema. The tall version has only 10 calories.
The second option is the cold or Iced Caffè Americano. It gives you 10 calories and as the regular option, it consists a shot of espresso topped with water.
If we look at the macronutrient table, you're getting 0 Fat, 3 Carb and 1 gram of protein.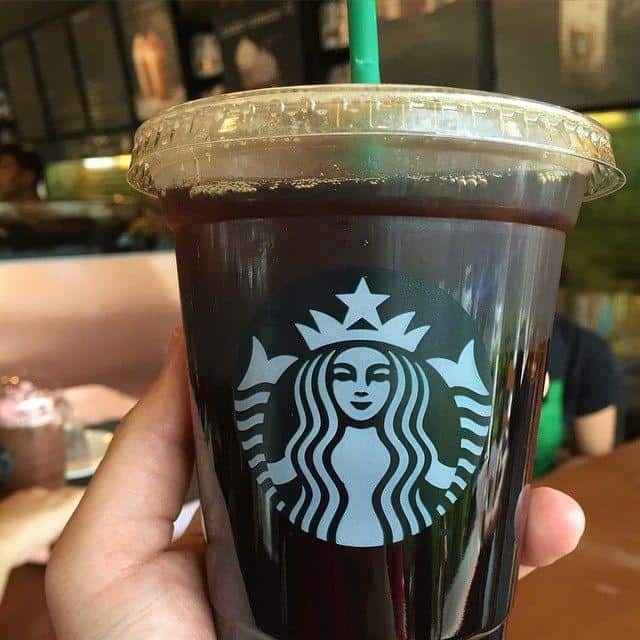 Unsweetened Iced Green Tea Lemonade (50 calories)
This is not only light but also healthy drink since it is rich and full of antioxidants. The green tea does the healthy magic and you should enjoy it as much as you can. Let's look at the macronutrient table. You have 0 Fat, 12 Carb and 0 grams of protein.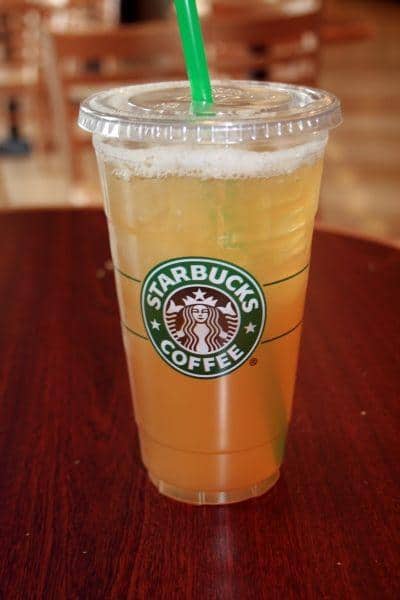 Grande Iced Skinny Caramel Macchiato (130 calories)
I loooove a good Macchiato. But my waistline hated it until I found this iced skinny caramel macchiato. And it has whopping 10 grams of protein. Just look at this macronutrient breakdown: 1 fat, 18 carbs, 10 grams of protein.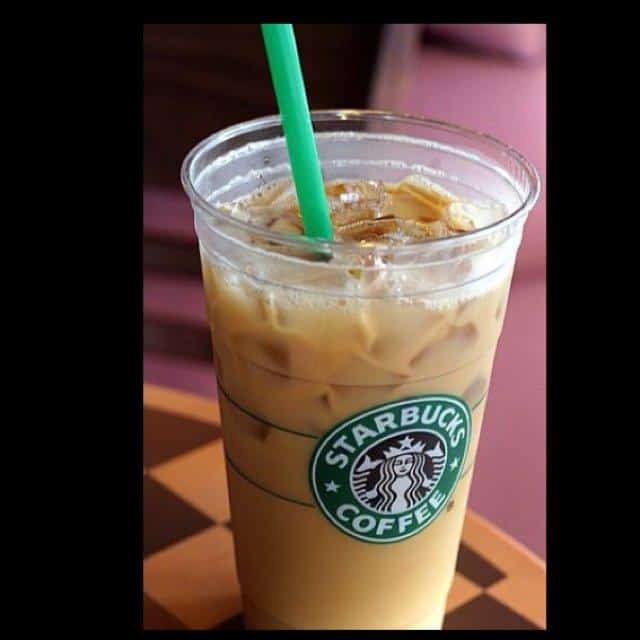 Grande Iced Skinny Vanilla Latte (100 calories)
Ever wondered what a skinny means? Great. Here's your answer. It means all the sweetness minus half the carbs. Great right? Here's the macronutrient table to back up this fact: 0 Fat, 12 Carbs, and 7 Protein. Pro Tip: Order a tall size with a nonfat steamed milk and you'll go down to just 100 calories.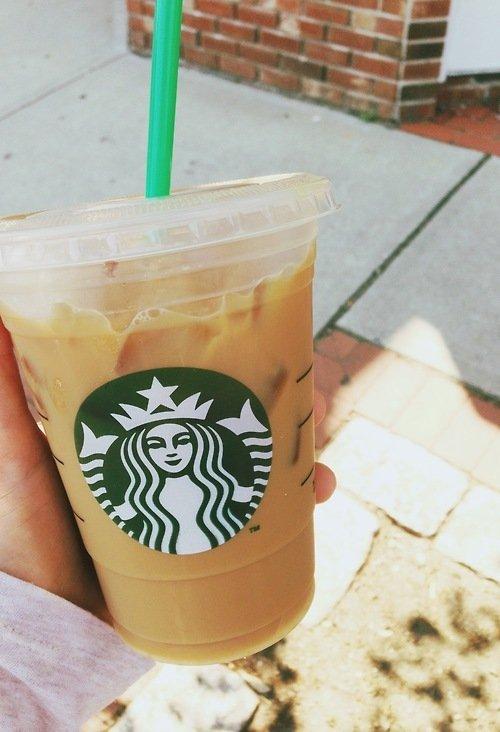 Grande Flat White with Almond Milk (100 calories)
I've started drinking flat white recently. Haven't tried it with an Almond milk tho'. But I did and I must say that it adds a good twist to this creamy drink. Here is the macronutrient breakdown: 6 Fat, 9 Carb, 3 Protein.
Grande Iced Skinny Mocha (90 calories)
Fan of the mocha flavors? Great. Then you need to try this iced skinny mocha version. It is a little bit high in carbs but I think it will be a great drink for workout days. Here's the macronutrients math: 1.5 Fat, 17 Carb, 9 Protein.
You can also go for a regular Iced Skinny Mocha. You get the bittersweet sauce, espresso and non-fat milk served over ice. With this, you'll be around 90 calories and 7 grams of sugar.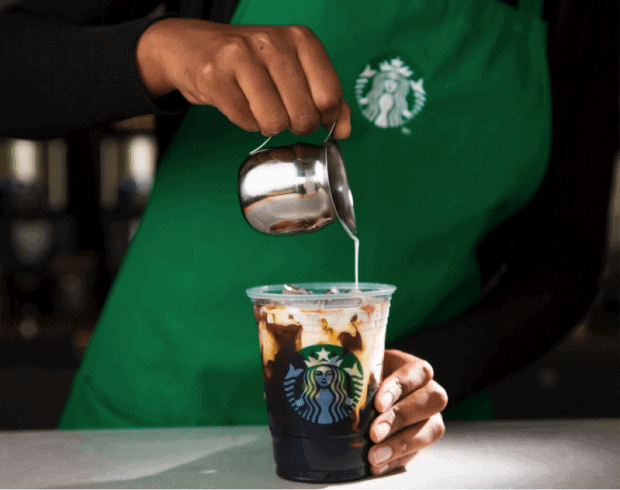 Grande Unsweetened Iced Black Tea Lemonade (50 calories)
Fan of lemonade? Then this will be a treat for you if you want to keep it healthy. The macronutrient breakdown looks like this: 0 Fat, 12 Carb, 0 Protein. Walk to the nearest Starbucks so you can burn those extra carbs 🙂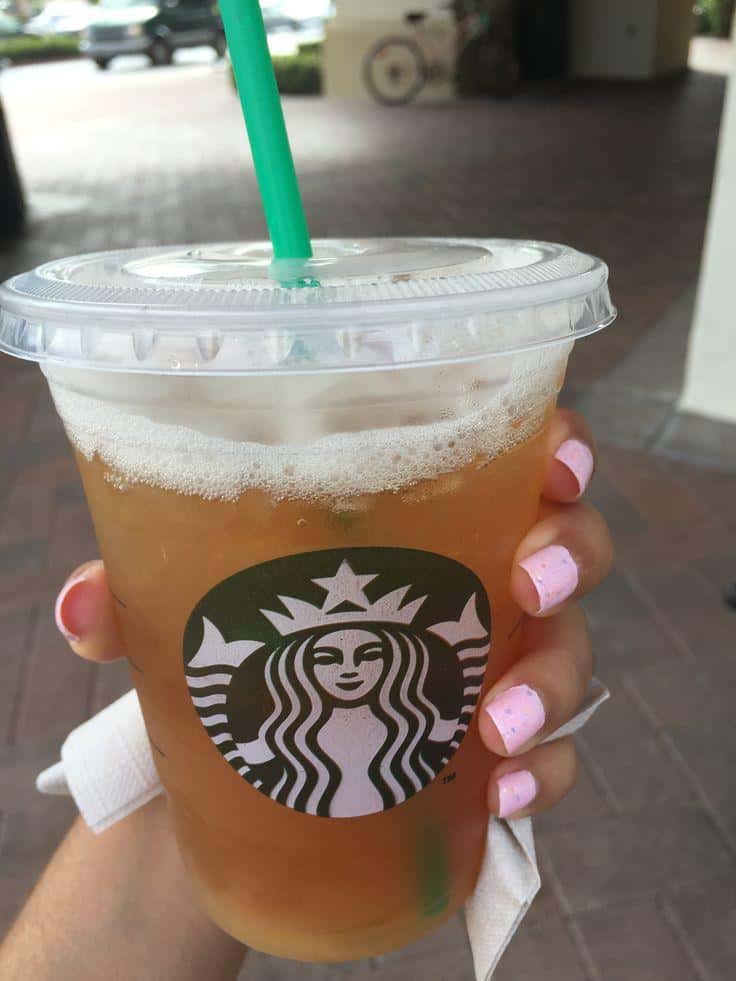 Iced Skinny Cinnamon Dolce Latte (60 calories)
Make sure that you get the sugar-free cinnamon dolce syrup when you order this iced skinny cinnamon dolce latte. Besides the syrup, you get the nonfat milk and the delicious espresso shot. The best part? It has 6 grams of protein. Also, check out the best latte machine.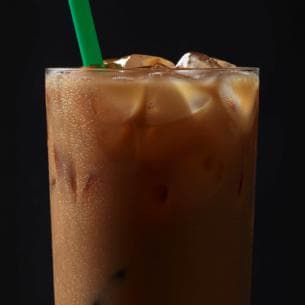 Nariño 70 Cold Brew (0 calories) or Nitro Cold Brew (5 calories)
These are for coffee lovers only. You know their "secret" right?  First, these flavors of coffee are sweetened and have no sugar. The Nariño gets the name from the Nariño region in Colombia. The beans used for this drink are grown in Colombia and East Africa. The secret of the taste is that they are slow-steeped in cool water for 20 hours before further treatment. The Nitro Brew, on the other hand, is made with a naturally sweet flavor. You'll also love the velvety crema. If I needed to vote, maybe this would be one of my top 3 healthy Starbucks drinks.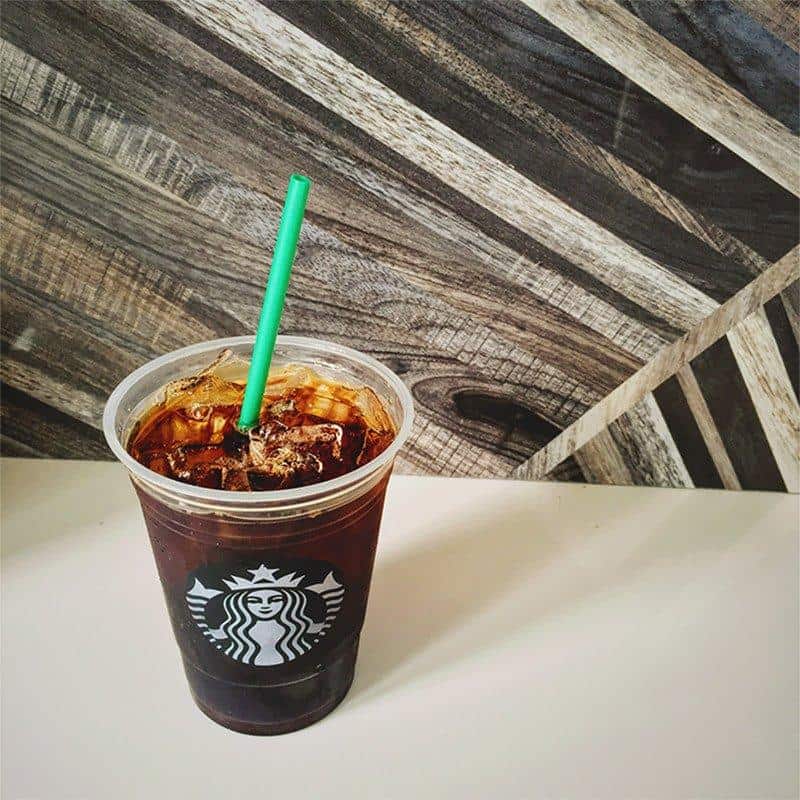 Cool Lime Refresher (45 calories)
If you need something that has less caffeine apart from being healthy, then you have to try this lime drink. It has mint, lime and only 11 grams of sugar.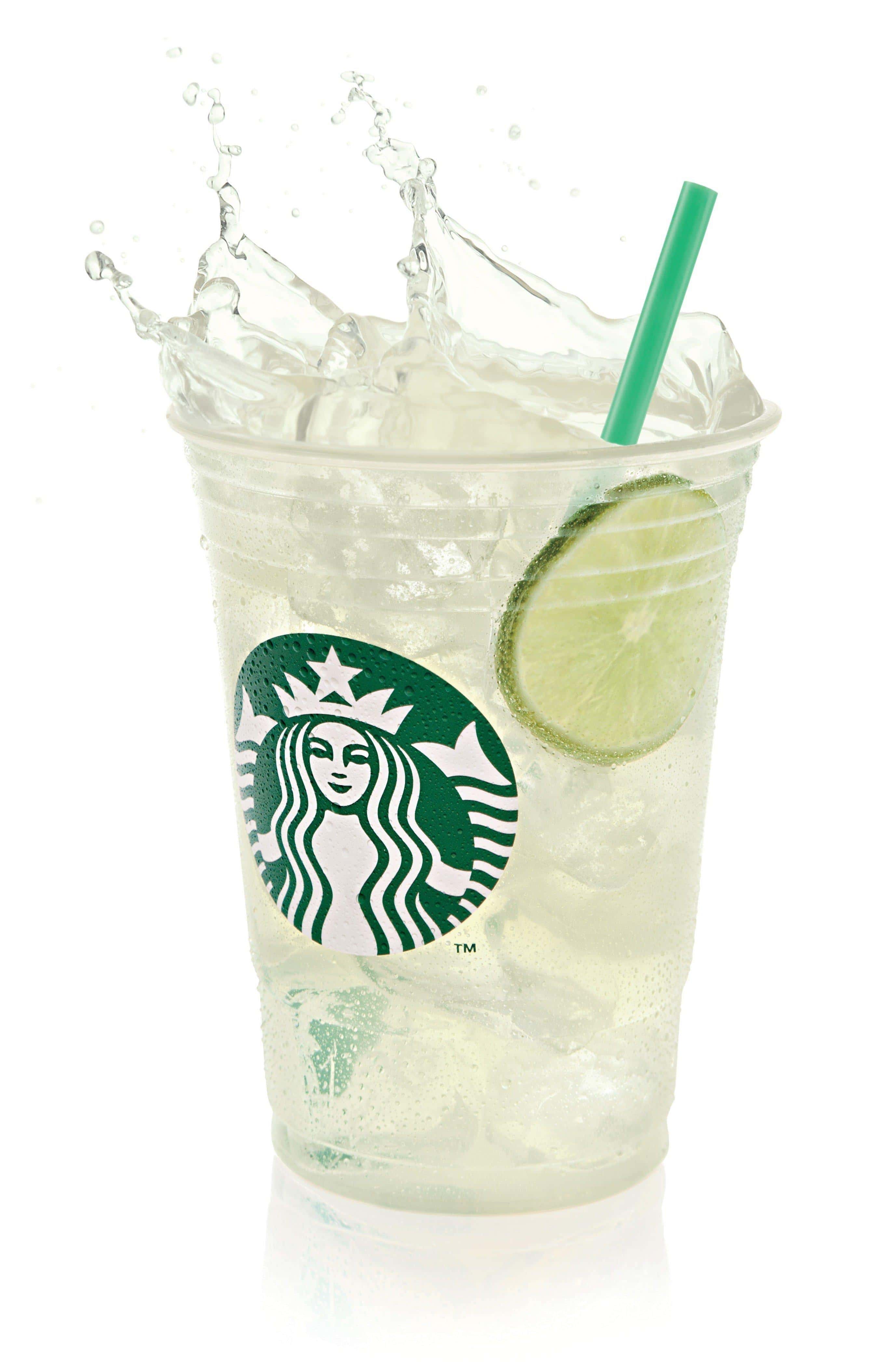 Teavana Shaken Tea or Tea Infusion (30-60 calories)
This is maybe one of the best healthy Starbucks drinks. You can choose between a fruity flavor (strawberry, mango, pineapple, peach or passion) and a plain black or green tea. Depending on your choice, typically you can expect 8-12 grams of sugar with them.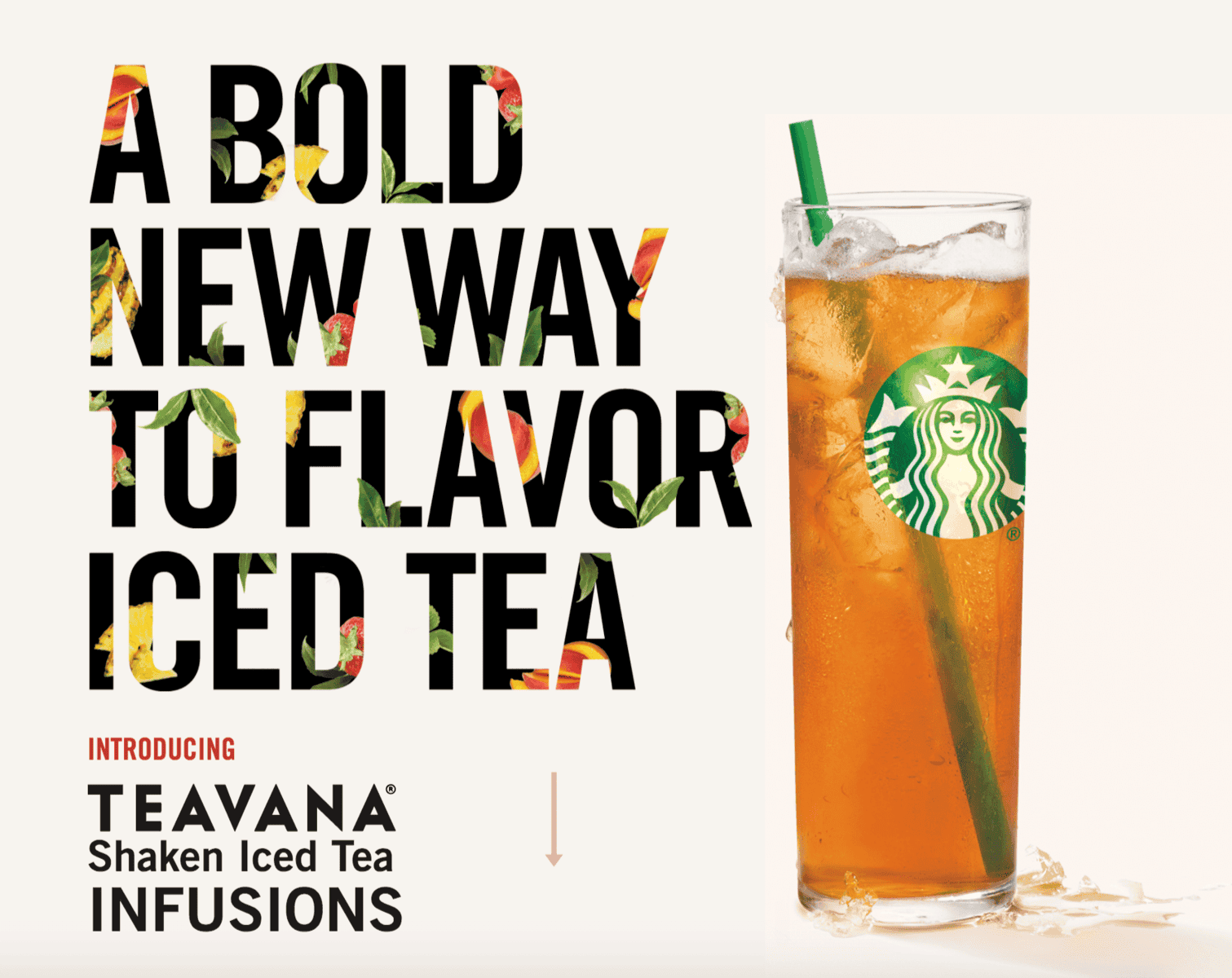 Nonfat Green Tea Latte (210 calories)
Made with creamy matcha and nonfat steamed milk, this will be a perfect kick-start for a busy day. The tall size of the cup will give you a more-than-a-coffee enjoyment of 210 calories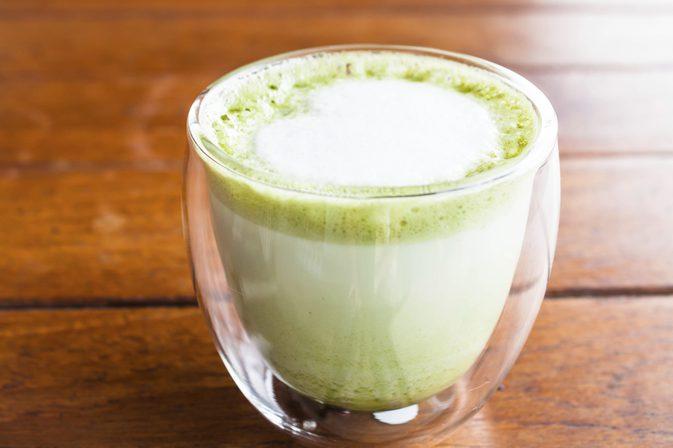 Nonfat Cappuccino (60-80 calories)
If you are a person that sticks to the classics but you want to stay on the "safe" side when it comes to cutting back on calories…this nonfat cappuccino is for you. With the "tall" cup size you'll get 60 calories made with rich espresso and thick foam. The "grande" cup will treat you with a 150 mg. of caffeine and 80 calories.
Soy Chai Tea Latte (180 calories)
With only 2 grams of fat and only 180 calories in the "tall" cup size, this is maybe one of the best Starbucks drinks when you can't have the other rick and calorie-heavy drink.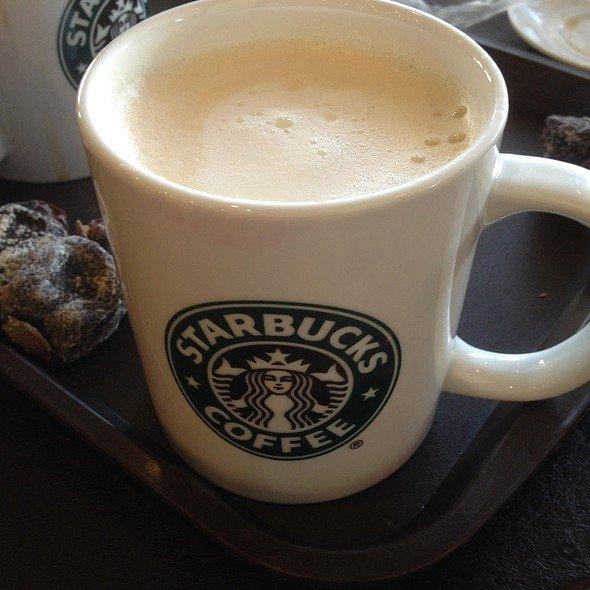 Grande Unsweetened Black Hot or Iced Coffee (5 calories)
Another one for the people that stick to the classics. If you're a person that wants to enjoy ONLY coffee without extra add-ons then this is for you. Just pick from Dark Roast or Pike Place Roast and you're set. If you decide to add some nonfat milk then from 5 you'll go to 20 calories which is still good and "safe". This is also the lowest calorie Starbucks drink (speaking of coffee)
Doppio Unsweetened Espresso Macchiato With Whole Milk (15 calories)
Feeling a little bit European today? Try this: Ask for two shots of espresso with the slightest bit of steamed milk. This is how you get a Starbucks drink packed with 150 mg. of caffeine and only 15 calories.
Grande Toasted Coconut Cold Brew (50 calories)
Want to experiment with different healthy Starbucks drinks? Try this delicious coconut-flavored drink packed with 185 mg. of caffeine.
Tall Unsweetened Coffee Light Frappuccino w/ Nonfat Milk (90 calories)
What do you get when you blend coffee, Ice, and nonfat milk? This delicious frappuccino packed with 90 mg of caffeine 🙂 If you had a workout today, then try the caramel version. (It will add 10 calories extra)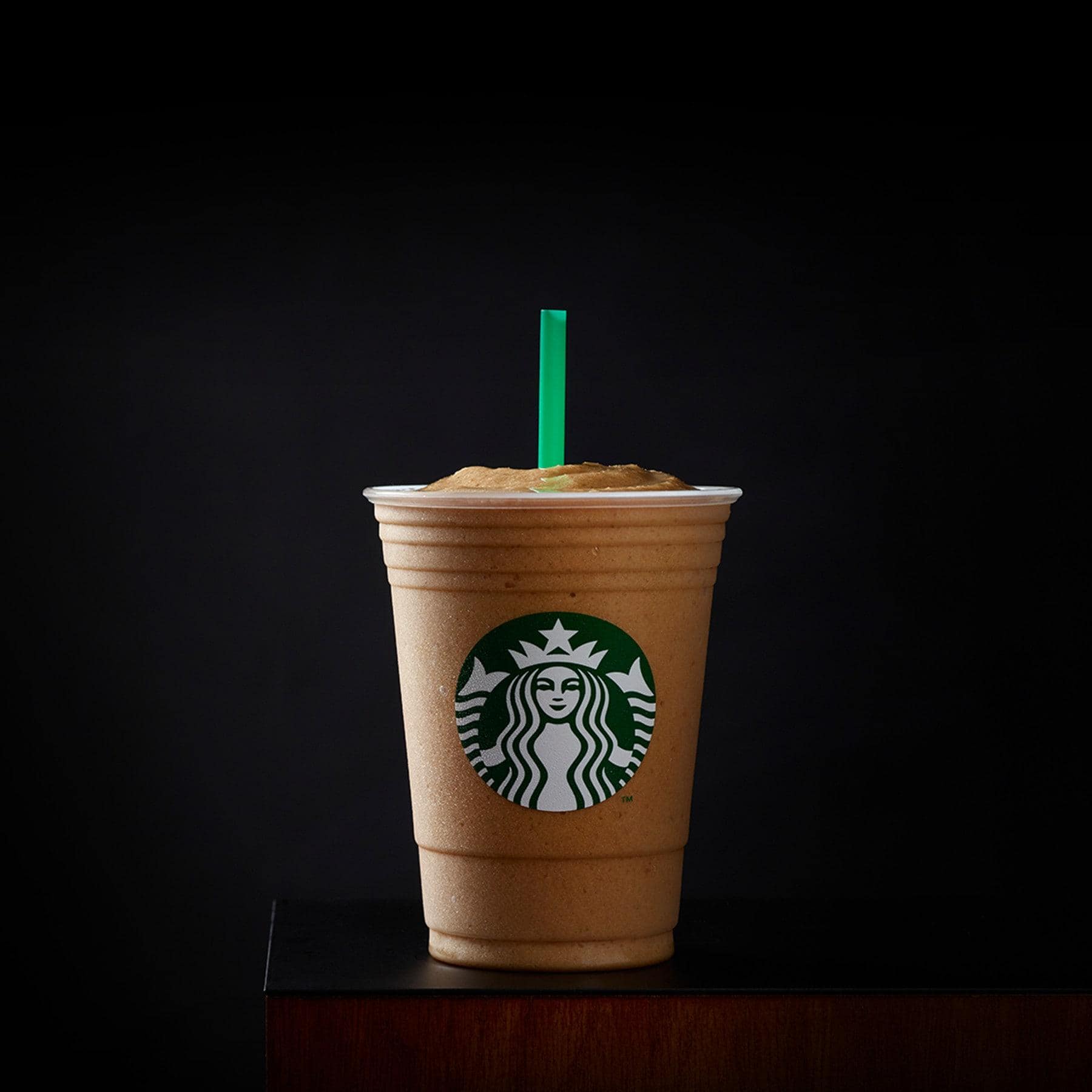 Eggnog Light Frappuccino Blended Beverage (140 calories)
"The secret" of this Starbucks drink is coffee blended with eggnog then topped off with nutmeg. With only 140 calories it is a winter delight for your stomach. Would you try it?
Gingerbread Light Frappuccino Blended Beverage (110 calories)
I think the perfection of this drink is the nutmeg. Flavored with the famous gingerbread syrup and only 110 calories, I know you'll love it.
Chestnut Praline Latte With Almond Milk & No Whip (150 calories)
Mmmmmm….caramelized chestnuts! The smooth espresso and the almond milk makes this drink so delicious. The caramelized chestnuts take care of the "sweetness factor".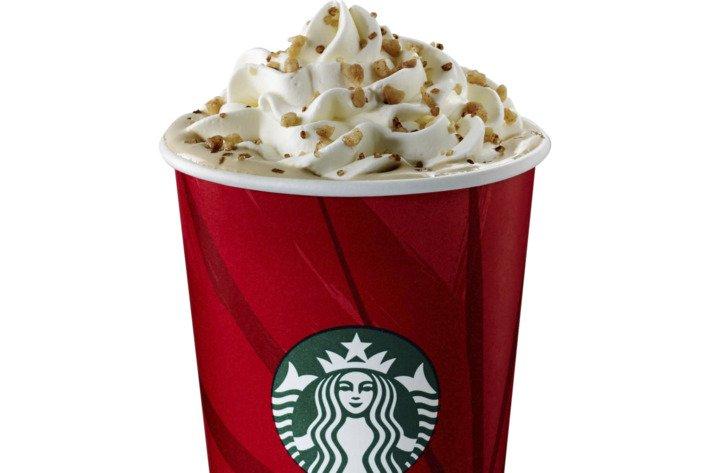 Caramel Brulée Light Frappuccino Blended Beverage (150 calories)
I don't like this one but it has 150 calories which makes it a good winter drink. If you end up trying it let me know what you think.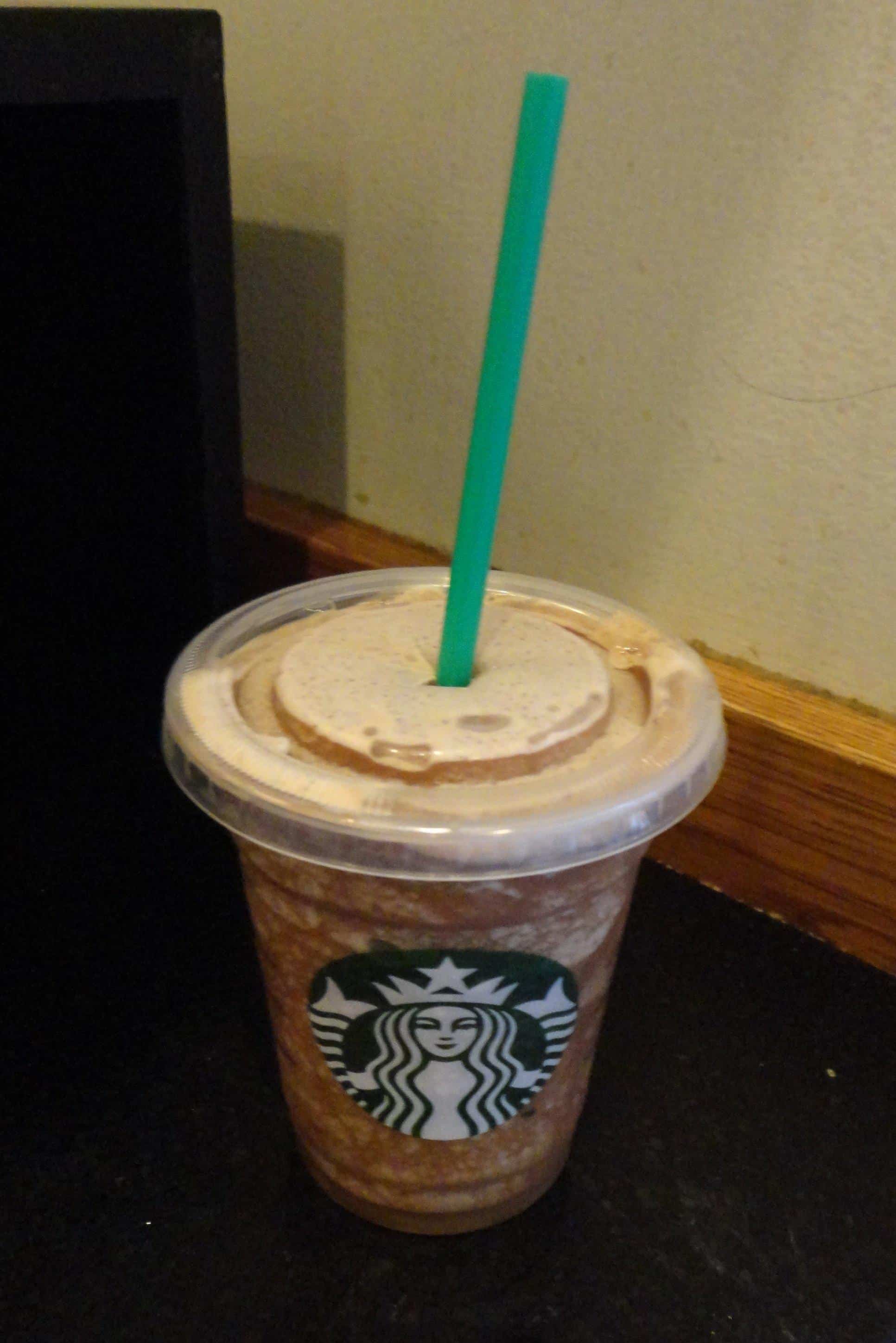 Skinny Peppermint Hot Chocolate (120 calories)
I like peppermint chocolate. But, I have some kind of a mental barrier when it comes to DRINKING a melted mint chocolate. If you don't have the same problem, then great 🙂 I'm sure you'll like this drink since it comes with mocha syrup and sugar-free peppermint.
Cold Brew Coffee (less than 5 calories)
The secret behind this Starbucks smooth small-batch cold coffee is the fact that it is slow-steeped for 20 hours With 0 grams of sugar it is a great way to enjoy your cup of Joe. If you want to see the creamy side of it add a splash of 2% milk. With this, you'll go up to 25 calories and 2 grams of sugar but it's ok.
Starbucks Doubleshot on Ice (70 calories)
I enjoy this drink a lot. The richness of the espresso, light sweetness and 2% of milk makes it the perfect "pick me up" drink. Depending on your macros it can be a little tough with the 11g of sugar but…you'll manage.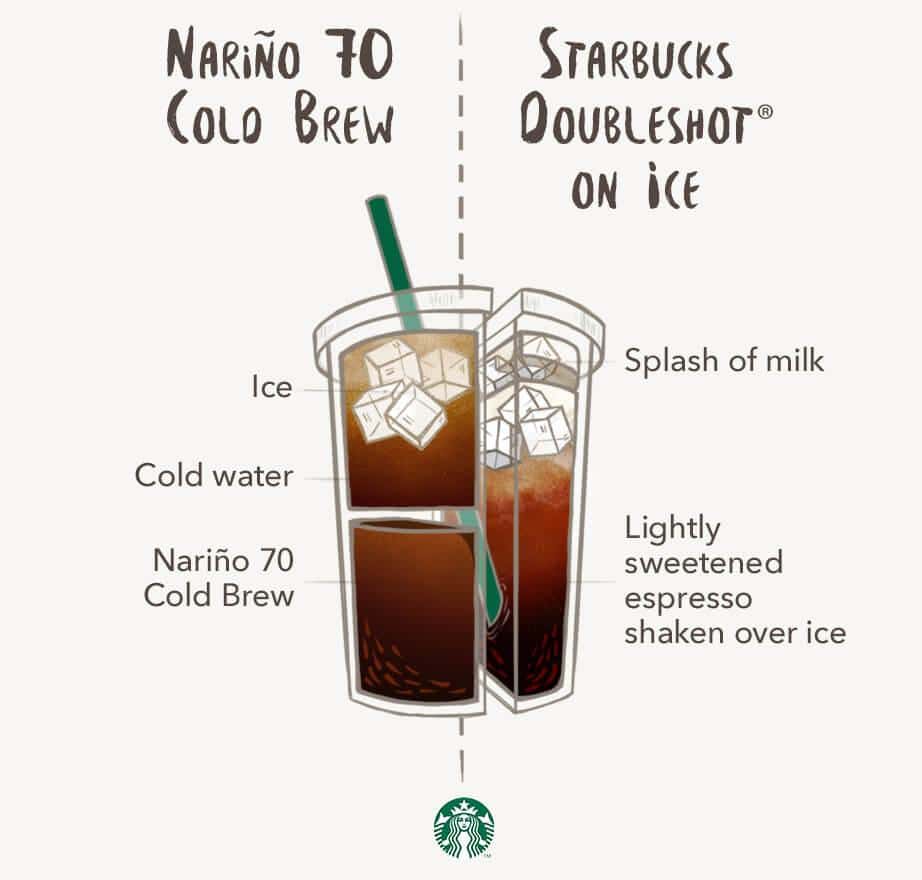 Very Berry Hibiscus  (60 calories)
This is one of the Starbucks originals. What I like the most is the good touch of caffeine from a green coffee extract and the real fruit juice. It has 12 grams of sugar. Great add-on to your healthy Starbucks drinks menu.
Strawberry Acai (80 calories)
Same as the Very Berry this drink is caffeinated with the power of green coffee extract. They use real fruit juice in this one too and it has 16 grams of sugar in it.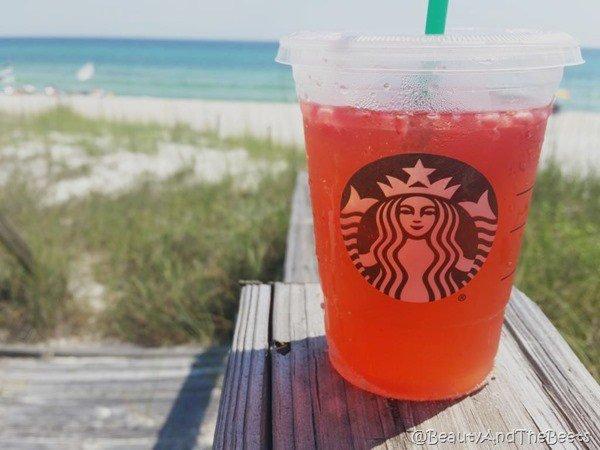 Espresso Light Frappuccino® Blended Coffee (80 calories)
Here's what you need to know about this drink. You get a perfect blend of ice, shot of espresso, nonfat milk and frappuccino roast coffee. The total is 80 calories and 16 grams of sugar.
Evolution Fresh™ Sweet Greens and Lemon (100 calories)
If you don't want to drink coffee but you need an energy boost then you should order an Evolution Fresh.
This is a brand of cold-pressed juice owned by Starbucks. To get the right vitamins and also stay on the low with calories, we recommend the Sweet Greens and Lemon drink.
It contains celery, apple, cucumber, spinach, romaine lettuce, kale, lime, lemon, and parsley.
The 16-ounce bottle gives you 100 calories and…
32% of the Daily Value (DV) for potassium;
16% of the DV for vitamin A;
12% of the DV for vitamin C.
Iced Or Hot Tall Caffè Latte With Almond Milk (50-80 calories)
I'm going to get a little bit technical on you right now. Let's start with the iced version.
It contains 75 mg of caffeine, 5g. of carbs, 3g. of fat, and 1g. of protein. Based on these macros, you get 50 calories with the iced version.
When it comes to the hot version, it contains 75 mg of caffeine, 7g. of carbs, 5g. of fat, and 2g. of protein. This totals 80 calories. In summary, both of them are under the healthy Starbucks drinks category. I usually go with the iced version.
Short (8 Oz.) Steamed Apple Juice (120 calories)
Let's say you're with friends and you don't want to drink coffee or tea. Then I think you'll like this sugar free apple drink. It is 100% natural. PRO TIP: Sprinkle in cinnamon, nutmeg and warm up sans caffeine. This totals 120 calories.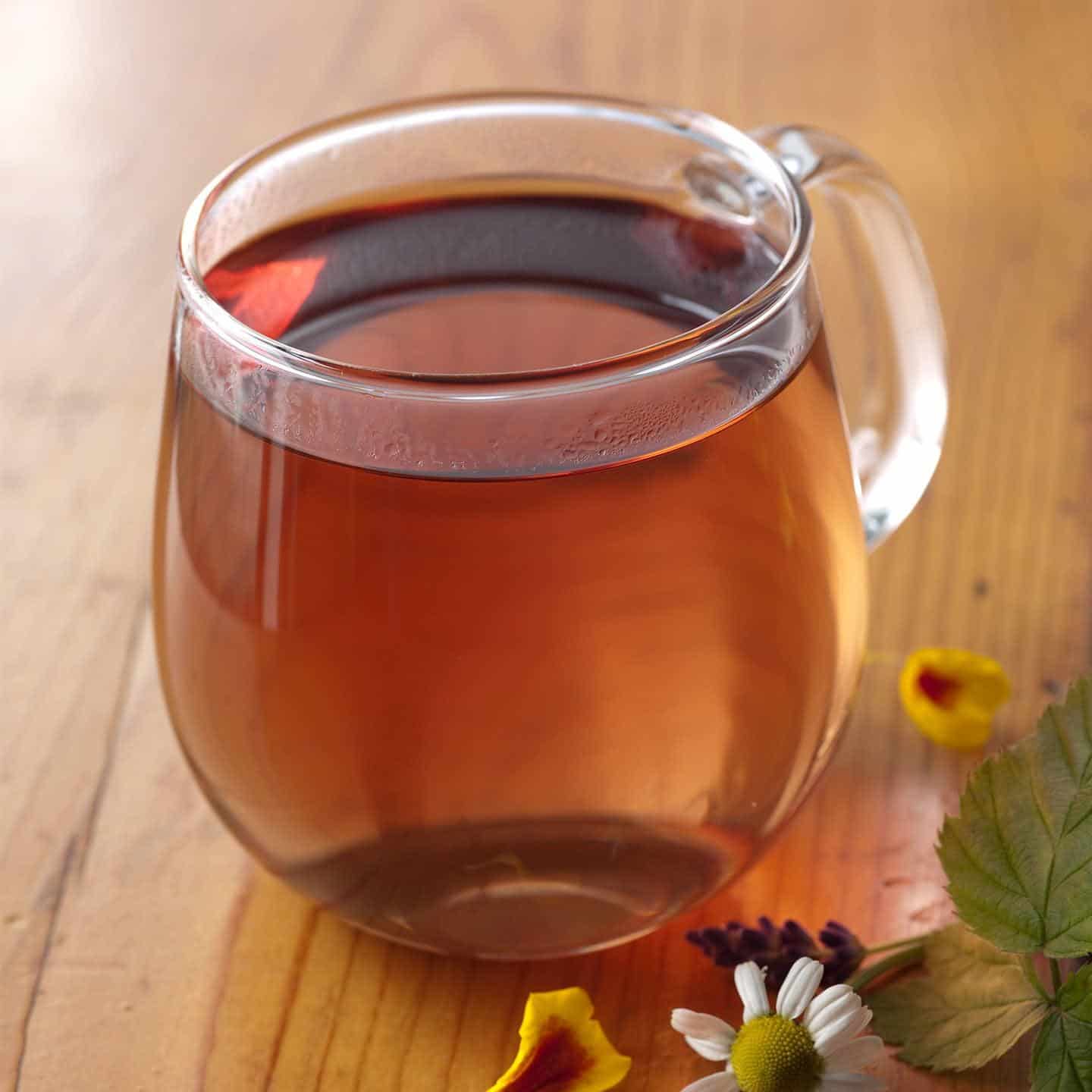 Caffè Misto (60 calories)
If you want to get the classic Misto, go with "tall" cup size and half steamed 2% milk. This will bring you to 60 calories.
Also, you can opt-in for a "latte-like" version you'll get a top layer of foamed milk which will bring you to 110 calories. (if this is too much for you ask for a non-fat milk)
Café Au Lait (20 calories)
If you're a fan of frothy milk and you're favorite drink is latte then you should try this. It has fewer calories and with extra cinnamon on top will give you an extra zing. The tall version has only 20 calories.
Mint Majesty Hot Tea (0 calories)
You already know about the calories in tea. An additional bonus is the fact that the tea has a lot of antioxidants and it is beneficial for your gut GI system.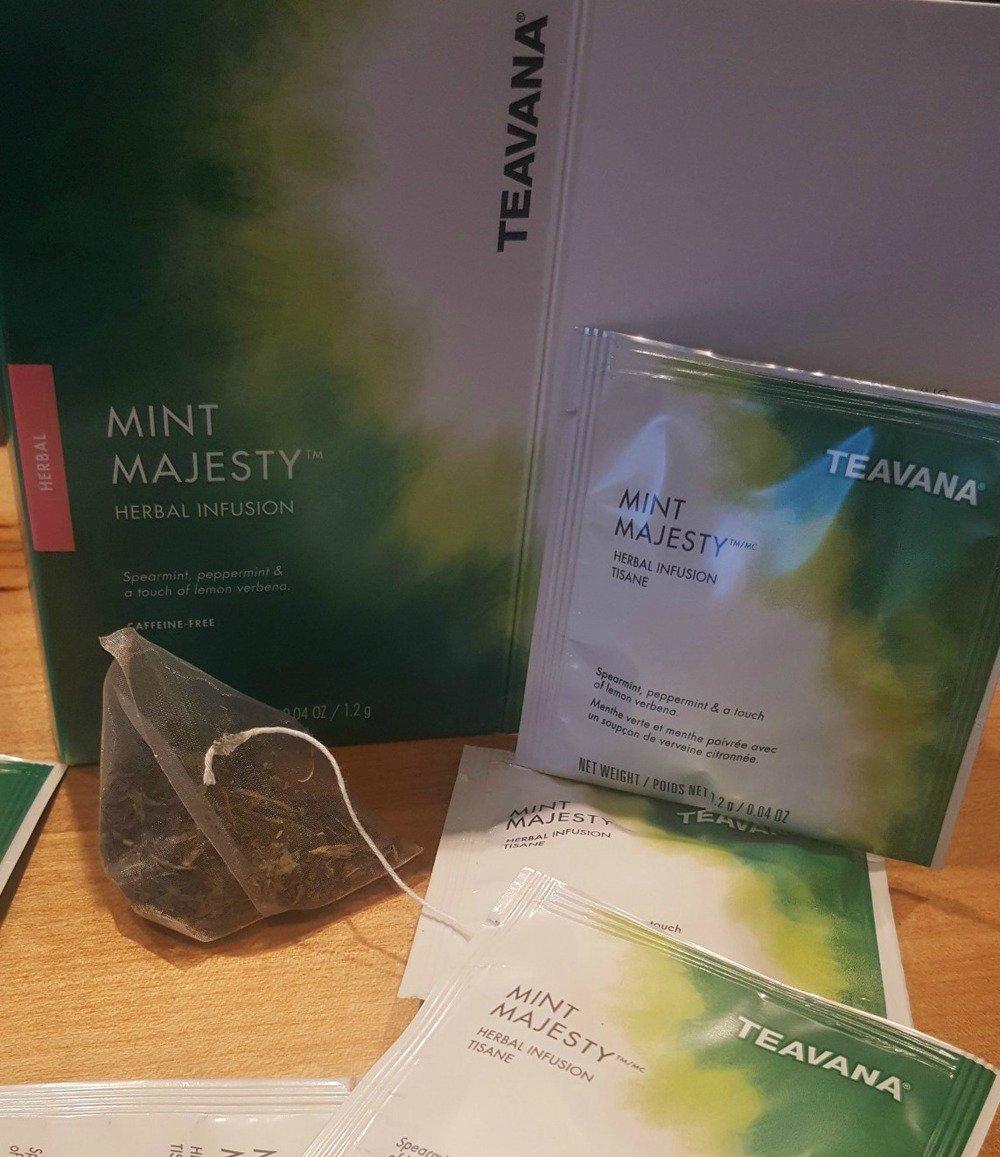 Brewed Chai Tea With A Splash Of Steamed Milk (30 calories)
Wait wait…I know that a tall Chai Tea Latté is an enemy if you want to cut back on calories. (It has 42 g of sugar, 240 calories and 45 g of carbs). To make it a member of the healthy Starbucks drinks you should ask for brewed hot chai tea and steamed skim milk.
Unsweetened Iced Green Tea (0 Calories)
Refreshing and great metabolism booster. Want to make it sweeter? Try adding some honey first or artificial sweetener before you reach for the sugar.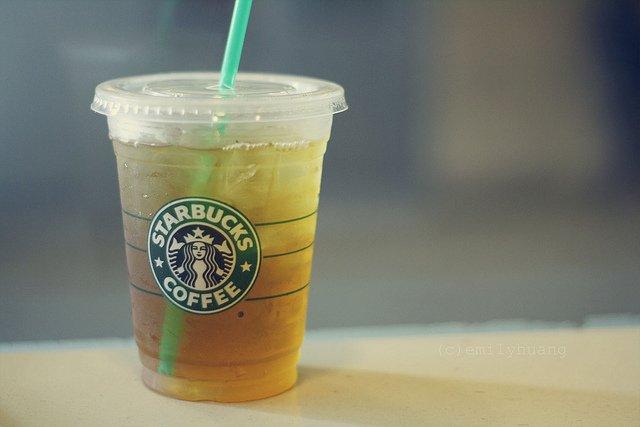 Caramel Frappuccino 'Light' (100 Calories)
Yes. Almost all frappuccinos are sugar bombs. This is why you can order a light version and stay in the 100 calories range.
II. How To Order Healthy Starbucks Drinks
Your House Fitness recommends instead of having regular milk switch it up for almond milk. Fewer calories and more protein, leaving you satisfied for longer.
Ok if you come this far you want to "learn how to fish". Above, I gave you so many healthy Starbucks drinks options but now, I will share "the tools" you should use when you want to order on the fly.
Or, you can treat them as a guiding principle for ordering at Starbucks when you're trying to stay healthy.
Here's the guiding thought. Fat is not the problem.
The carbs are.
Yes, you can cut back on the syrup or ask for no extra added sugar but there are hidden carbs in the milk and also in the other add-ons.
So here's how to order healthy Starbucks drinks:
1. Just order black, regular coffee.
The coffee beans that Starbucks uses + their coffee machines and baristas is enough to enjoy a delicious cup of coffee.
2. Tell Them To Add Ice
First, this will help with the "slow hydration" of your body and also it takes place in your cup. So, there will be less room for milk.
3. Ask For Fresh Fruit
It depends on what you order but I've discovered that Starbucks typically offers fresh strawberries and lime all the time. This will add sweetness to your drink.
4. Go From Venti To Tall
If you are a "venti" or a "grande" coffee lover then the easiest way to cut back on calories is to go to "tall" and order the same amount/shots of coffee. With this, you'll have the same amount of coffee with less milk.
5. Ask For The Zero-Calorie Natural Sweetener
Apparently, Starbucks has a Stevia-based sweetener on the menu. So, to keep things sweet, the next time your order, ask for this substitute and have it as a must-have on your healthy Starbucks drinks (personal) menu.
6. Choose Light Or Skim
Want to shave off as much as 80 calories off a drink? Swap regular milk for skim.
7. Switch To A Sugar-Free Syrups
This is not the healthiest option. But, If you want to treat yourself once in awhile then do this. Here are the rules. Ask for only one pump of vanilla, caramel, cinnamon dolce, hazelnut, and peppermint (seasonal). These are the only sugar-free syrups on the menu. But although they are sugar-free, they are made from artificial sweeteners, which can be bad for your health.
8. Say No To The Whip
The truth is that whipped cream can quickly add 50-100 calories per drink. This is unacceptable for some diets so please be cautious and say no to the whipped cream.
9. Say No To The Fraps Too
A regular Starbucks Frappuccino can have more sugar than you think. Some people say that it is like eating two sneakers bars. So, go for the iced skinny vanilla latte above and have the same sweet caffeine fix with much fewer calories.
III. Starbucks Menu Nutrition Calculator
Now, as you can see I want to overdeliver with this article. Phew, I'm stuck with it for a few days and I feel that all I can talk about are healthy Starbucks drinks.
But how do you know if a drink is healthy or not?
Well, this handy Starbucks "catalog" will help you out.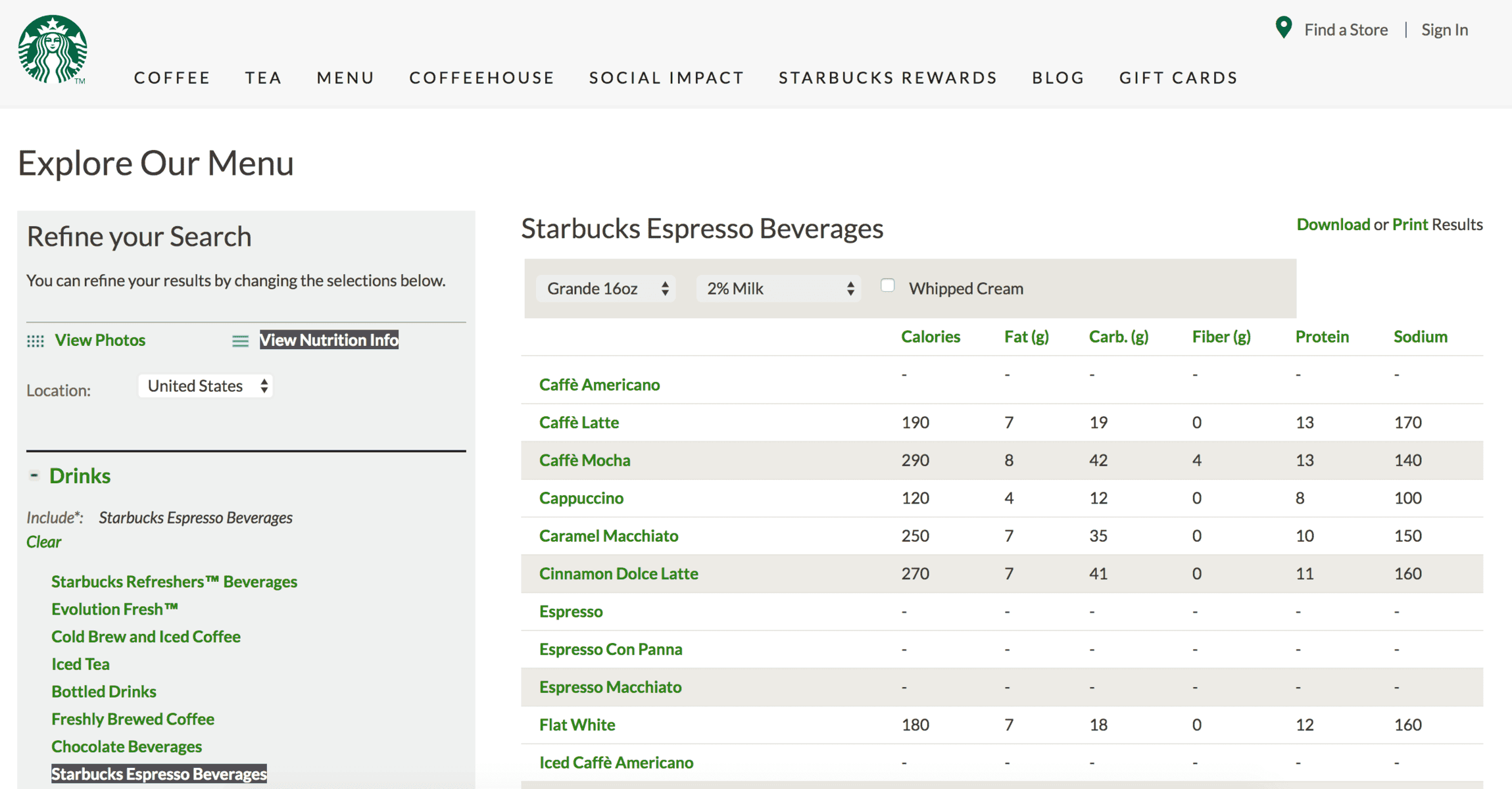 From what I can see, you can easily find out how many calories, fat, carbs, and proteins a drink contains.
Additionally, you can learn about the amount of fiber and sodium.
This is great.
I imagine using this when I stand in line and I want something that will fit my macros.
Check it out and let me know what you think.
Conclusion
In this article, you've been able to see the complete list of healthy Starbucks drinks.
Also, now you know the principles of ordering a drink that will not break your diet.
In the end, I've shared the handy Starbucks calories calculator (it is not a real calculator but kinda looks like one) that you can use to be precise about your diet.
In summary, I would like to add that you should respect your decision to live a healthy life.
I'm saying this everytime you say to yourself "this one doesn't count"
Everything counts. So please stay healthy by making healthy choices and loving your body.
Sources:
https://www.hercampus.com/school/george-mason/10-healthiest-drinks-you-can-order-starbucks

https://www.simplemost.com/healthy-starbucks-drinks-wont-ruin-diet/

https://news.starbucks.com/news/starbucks-10-beverages-100-calories

http://www.health.com/nutrition/starbucks-nutrition

https://www.popsugar.com/fitness/Healthy-Starbucks-Drinks-Caffeine-44515707

https://www.popsugar.com/fitness/Healthy-Hot-Drinks-Starbucks-44508079

https://spoonuniversity.com/healthier/the-healthiest-starbucks-drinks-according-to-fat-carb-and-protein-content

https://www.popsugar.com/fitness/Healthy-Iced-Drinks-Starbucks-44507715

https://communitytable.parade.com/621307/mayakrampf/healthy-low-carb-starbucks-drinks-food-tips-to-order-15-recipes/

https://www.rd.com/health/diet-weight-loss/starbucks-menu-hacks/