Expensive Things in Dubai
Dubai is famous for Burj Khalifa and various other expensive things as well. Today we will talk about the most expensive and attractive stuff you can find in Dubai, which can cost tons. We know Dubai is famous for its modern infrastructure, vibrant culture, huge malls, aquariums, and Burj Khalifa. But it is also renowned for its richness, the expensive things it possesses which give you the luxury experience of modern life.
Like, ultra-fast cars, it is one of the most expensive and innovative things you will find in Dubai. Like these, there are other attractions available in Dubai. Dubai has always been creative with its advanced living standards, ideas, constructions, etc. Because Dubai offers this luxury and extravagant modernity, many star vacationers consider Dubai their favourite go-to place for vacations. Let's learn about what expensive things Dubai has to offer.
Top expensive things to do in Dubai
Let's talk about the top luxury things you can do in Dubai. Who does not like the luxury, right? Dubai offers you awestruck infrastructure, magnificent malls, vast aquariums, and an innovative experience for car lovers. Following are the lifeline's most expensive pleasures one can find in Dubai.
Lamborghini cop cars
Yes, it is correct. As the name suggests, the cops in Dubai use expensive cars, and Lamborghini Aventador is one of them. Produced by the Lamborghini brand, which costs up to $545,000.
Not only Lamborghini, but you can also find cops driving Ferrari and Bugatti-like vehicles around the city. It can easily go from 0-100 mph in 3 seconds, and it has a top speed of 350 kmph. There is no chance for drivers in Dubai to outrun the law, with the cops on high-capacity vehicles chasing around.
Water Cars
The first commercial water car was launched in 2013 by an American company called Water car. This company was founded in 1999 by Dave March and specialized in manufacturing luxury cars.
It can transit from land vehicle to sea-fairy in fifteen seconds and can cost up to $135,000. Once the transition is completed, it can reach a speed of more than 60mph.
It changed into a boat when the wheels were raised in water, and electric motor energy was produced to run the car on water. Dubai's crown prince owns six of the water cars himself, and other famous higher-class people are also buying the most expensive water cars in Dubai.
Undersea Hotels – One of The Most Expensive Things in Dubai
Dubai has the most beautiful building, malls, and hotels well known for their infrastructure, interior, and designs. Still, less do we know that Dubai has offered its people the most amazing underseas hotels.
It costs up to $7000 per night and goes up to $25000 if you look for more luxury; this includes airport transportation, in-room dining, and Suba diving in the aquarium if one wants to swim with animals' face.
This kind of experience one would like to have once in a lifetime as it offers a luxury stay, high-quality maintenance, and a royal ambience. The most well-known undersea hotel is located at Atlantis, the Palm. The hotel suits have glass windows from floor to ceiling, which offer you the view of sixty-five thousand seawater creatures. Hence, if you plan to stay in an underwater hotel, be prepared to spend cash rest assured, you will surely experience one of the best stays of your life.
Helicopter Taxi
It is another expensive thing you can find in Dubai, launched in 2017 by a German startup company. These helicopter taxi services are for car transport; yes, it is one of the solutions to avoid grinding in the traffic for hours. It is a common concern among automobile drivers when they are stuck in bumper-to-bumper traffic. People who live near Burj Khalifa can see the flying helicopter taxis in the Dubai sky transporting the cars at $144 per person, which is not cheap.
Hydro flying Boots
Water sports lovers and enthusiasts have endless options to spend free time on weekends. Flying board boots launched by Flying board is the new craze among the tourists and people living in Dubai. It's like a new toy in the city for which people are ready to spend $5000, an expensive toy, right. It takes you up to 70 feet above sea level, which can be risky for the not water-friendly people. The rider stands on board, connected by a pipe to the watercraft. Water is forced to the boots having jet nozzles underneath; this provides thrust for the rider to fly up to 22 m in the air above sea level. This is how it works.
Man-Made "The Worlds" Island
Creative Kingdom Dubai launched an artificial island called "The worlds." While other countries were building airports and other big architectural projects, Dubai planned to create a whole new world for its citizens. Property developers have always been creative and work towards raising the bar of living standards with the excellent thought process and use of technology.
The islands look like a map of the world; when seen from an aerial view, it takes approximately 3.5 to 5.6 miles. It consists of seven islands, and each set represents one of the seven continents. Islands range from 15,000 sq ft to 45,000 sq ft, and the estimated cost is $16 billion to $20 billion.
This man-made artificial island is rich in beauty, showcasing royalty and luxury.
Indoor Skiing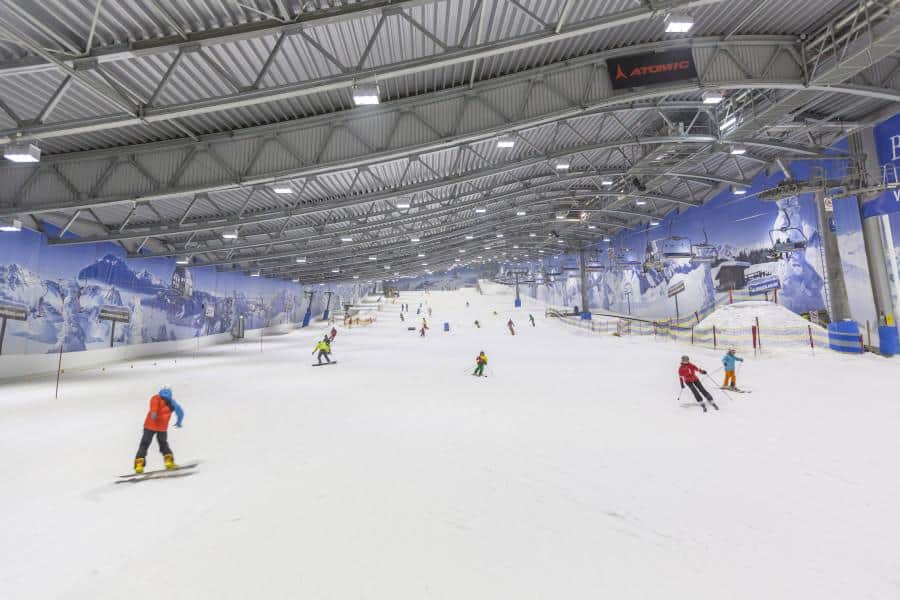 Majid Al Futtaim group opened the sky Dubai in 2005, located within the mall of the emirates. Sky Dubai offers you a 30,000 sq ft snow part where you do skiing, snowboarding, etc. It consists of the ice cave, ice slide, and snowball fighting. You can enjoy the snow experience at the cost of a $75/day pass with which you can do all the snow-related activities in Sky Dubai. People who are ready to spend and enjoy their weekend in snow can go for it.
Penguin Petting Zoo
In 2005, The Mall of Emirates became the largest mall in the world. After a few years of sky Dubai, they launched another surprising element, giving their citizens first-ever the penguin experience. It is opened inside the sky Dubai, allowing understanding and learning about king and gentoo penguins.
The visitor tickets range from $40 to $140. It depends upon the ticket you purchase and how much you will spend time with penguins and pet them, and an expensive ticket will allow you to pet and interact with penguins under supervision.
Conclusion
Apart from the spots mentioned above, Dubai has many more things that are way expensive and offer more significance than life experience. Dubai is a city that shows its development every decade and surprises the world with its creativity and standard of living. And due to its achievements, it has ranked 42nd place among the most expensive city in the world.