Everyone loves fine jewelry. However, when it comes to buying such luxury items, very few people can afford to spend their money on such things without having the opportunity to thoroughly examine them before-hand. This is exactly what you can achieve, now, thanks to Nikola Valenti, the jewelry subscription service that sends subscribers new jewelry pieces for evaluation.
Here is How Nikola Valenti MAKES it Work…
Once you are a subscriber to this service, you receive a new jewelry item every seven weeks. For each of these items, you have a 25-day window to evaluate and decide whether you want to keep it or send it back. Should you wish to keep any of these jewelry pieces, all you need to do is to pay the $24.99 price. If you don't like any of these items, you only need to send them back to the company and your credit card won't be charged.
Nikola Valenti Trustpilot Reviews are Exploding, right now!
With close to 1000+ 5-Star Reviews from Customers.
One of the things worth mentioning here is that all new subscribers get to choose a free piece of jewelry. They can keep this item even if they decide to cancel their subscription at some point in the future. This complimentary piece will be yours for good, regardless of the period you decide to keep your membership active. These free jewelry pieces aren't cheap. They are worth $99 each, so you can see that you'll get great value in exchange for your subscription to this free jewelry service. One of these free items you can choose from is a white gold plated necklace, the second one is a sterling silver plated bracelet, and the third one is a pair of white gold plated earrings. They all belong to the Nikola Valenti Inspired Collection.
Nikola Valenti has an INSANE amount of Social Proof…
This collection is trending BIG-TIME, right now, on the Nikola Valenti Shopper Approved Reviews page.
They have over 40,000 5-Star averaged Reviews from Real Customers.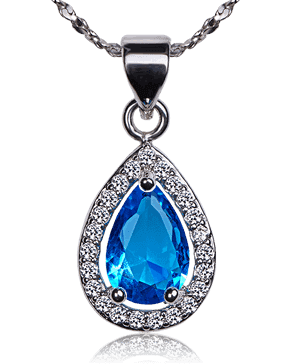 Their "Inspired Collections" necklace features a very beautiful sapphire drop surrounded by tiny brilliants. It is the perfect piece of jewelry to wear at cocktail parties, special celebrations, and even wedding ceremonies. The bracelet features a stylish square link pattern that gives it a special charm. You can wear this bracelet at work or wherever you want. It is one of the everyday jewelry items you fall in love with at first sight. Last but not least, the earrings can be the perfect choice for a romantic dinner, but also for a special ceremony or a cocktail party.
In addition to this free jewelry piece, you'll also receive two more jewelry items to evaluate. You can wear them and enjoy them for 25 days. Once this period is over, you have two options. The first option is to keep them and pay their price. The second option is to return them without any obligation from your side. You'll receive new ones for evaluation for as long as you choose to stay a member.

Nikola Valenti is Here to Stay…
Be sure to check-out the Nikola Valenti Pinterest page for more pictures of their surprisingly high-quality jewelry.
They offer some truly stunning pieces of jewelry, for being so well-priced.
As you can see, you don't need to spend a small fortune to wear exquisite jewelry.
This opportunity to evaluate different items and keep only the ones you fall in love with is a great way to always look your best without having to be a rich person.