The garden with its many plants and flowers is wonderful all on itself, but there is always room for improvement.
A clever and unimposing way to add a bit of flare to your garden is by creating a colorful path by using homemade artistic stepping stones.
Lace-like Stepping Stones
If you've recently replaced the stepping stones in your garden, here is the simplest way to give them a little flair.
With some spray paint and some of your old granny doilies, you can turn your plain, boring stepping stones into new fun lace-like stepping.
And for that poorly lit garden, you can use glowing spray paint.
Handprint In Cement Stepping Stones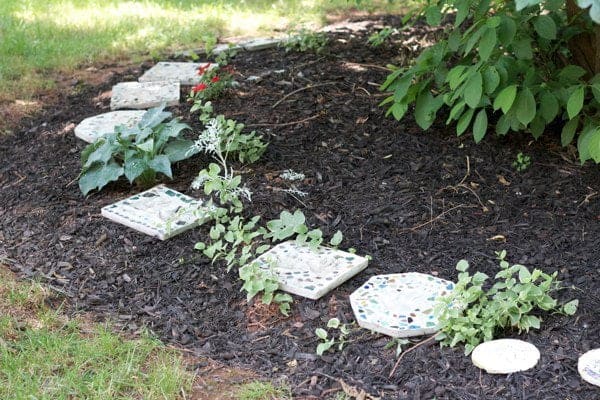 The easiest way to immortalize a moment in your child's life is by making a cast from his or hers handprint.
To make sure that that cast never breaks, make it in cement and while you're at it, you can add some interesting colorful object around the handprint and turn all that into a stepping stone.
Just think about it: you can add a stepping stone every year with a new imprint from your child.
Brick Heart Stepping Stones
You can bring some fun and love to your garden with the help from these heart shaped stepping stones.
Although they might look like they're made from brick, they are actually ordinary concrete stepping stones that are then colored to look like stacked bricks.
The end result is fun and realistic looking brick hearts.
Rhubarb Leaf Stepping Stones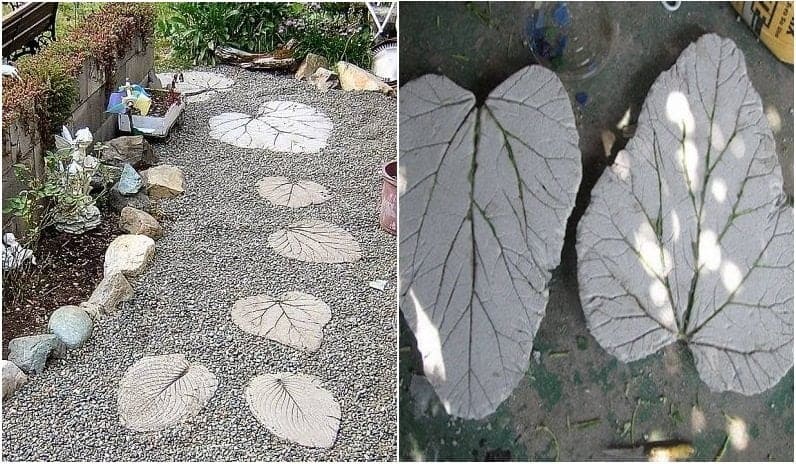 There is an almost magical feeling about stepping on giant leaves, like a little fairy.
Also, the lifelike leaves for stepping stones blend so perfectly with all the greenery around that the cold concrete becomes nearly unnoticeable, especially if the garden path is covered with gravel.
Leave Imprint Stepping Stones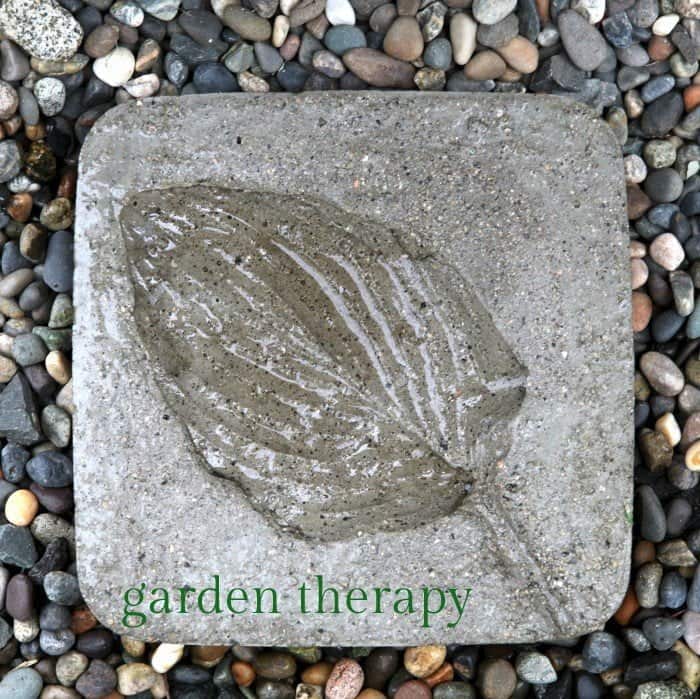 The idea of having big concrete leaves as stepping stones is a step in the right direction, but is still not quite what you're looking for. Perhaps this DIY project is a bit more up you alley.
Imprinting leaves with different shapes and sizes will give you a nice touch to your garden and may even serve as markers for what plant you can expect up the path.
Concrete Mosaic Stepping Stone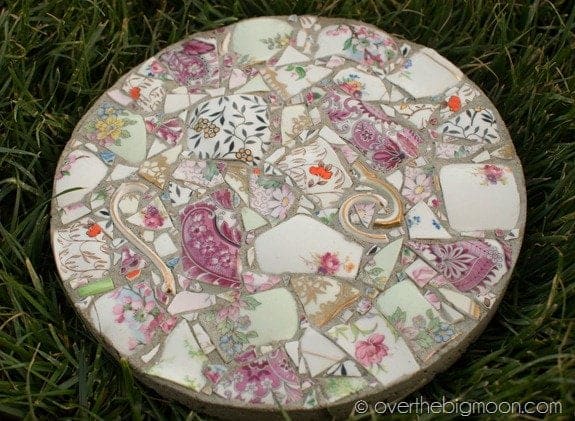 After many clumsy accidents in the kitchen, you are now left with a lot of broken china, but now you have a chance to use instead of throwing the pieces away.
Take your broken china, bits of glass, some pebbles, marbles or even some other items, like toys and buttons and you either place them strategically or throw them in the concrete mold randomly and you get a lovely mosaic stepping stone.
Grout Mosaic Stepping Stone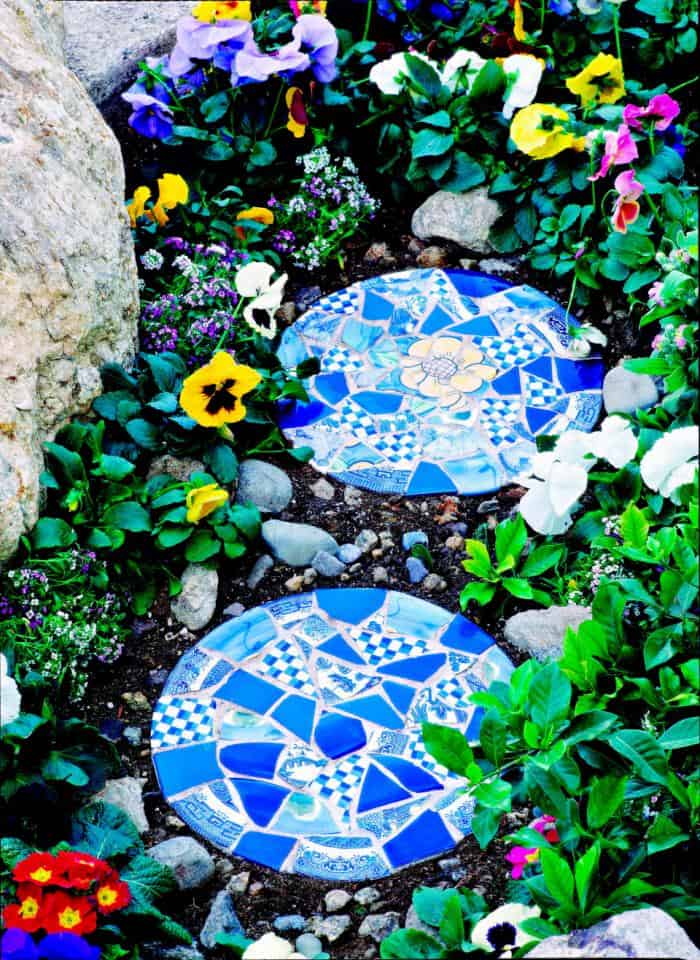 This mosaic stepping stone tutorial will show you how to turn your existing plain stepping stones into tiny works of art.
You simply take the blank concrete and by using whatever materials you desire and some grout, you can easily make a colorful mosaic.
It is perhaps a better if not quicker alternative to making a mosaic stepping stone from scratch.
 Stenciled Garden Stepping Stones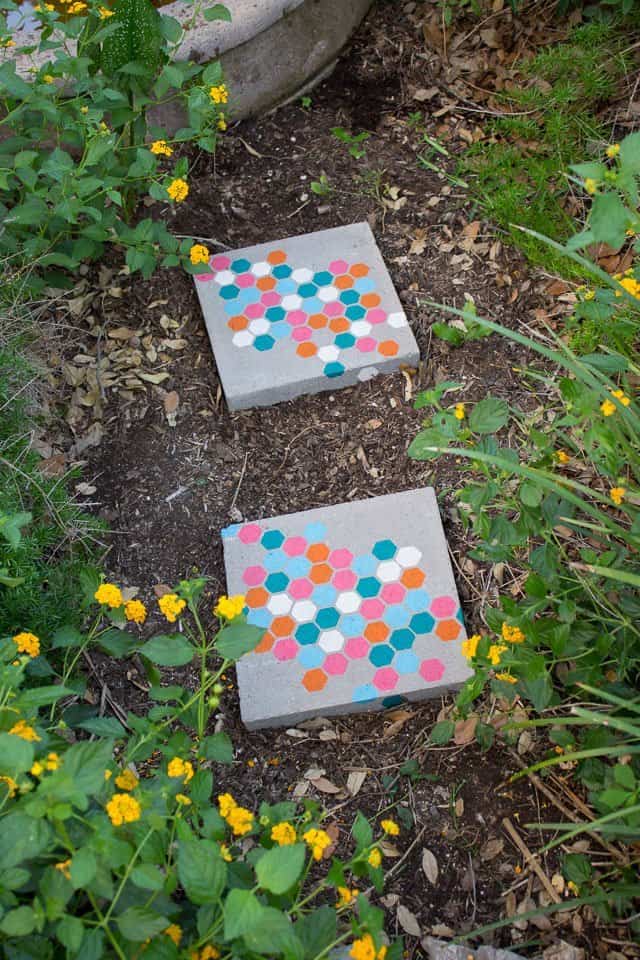 Stencils are an excellent way to quickly paint a particular shape or even a whole picture onto a surface without the fear of messing it up.
And if you wish to add some color to your stepping stones, here is one way you can do it.
The multi-colored honeycomb pattern is an excellent example of the fun you can have with stencils, but feel free to choose your own stencil and simply color away.