The healthiest cheesecake is in front of you, and now you can enjoy this excellent piece of cake without thinking about getting fat.
To quit cakes and other sweets are tough. No, It's the hardest thing ever when you try healthy lifestyle.
My guilty pleasure and finding the right balance between satisfying my sweet tooth and not ruining my lifestyle is ice cream.
However, I'm ready to make some changes because I can't eat ice cream forever. I will get bored from by the taste of it, and there is a big chance I'm going to be sick of it in the near future.
The healthiest cheesecake you are going to see below might change all that. It's time to incorporate cakes in our lives. This should be a great start going further.
For all those who were tough enough to quit cakes, I have something for you.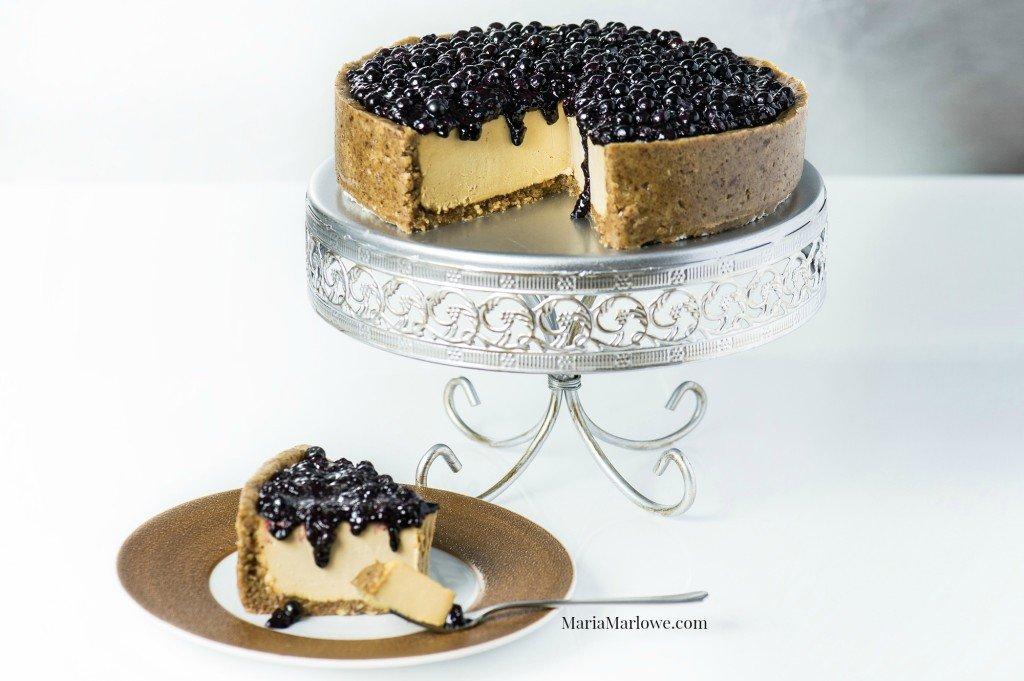 Let's proceed with the recipe of the healthiest cheesecake you will ever make:
Ingredients:
For the Crust:
3 Cups Walnuts
1 Cup Dates
Pinch of Salt
¼ dried, shredded coconut
For the Cheesecake Filling:
2 ½ cups raw cashews (soaked in water for at least 4 hours)
¾ cups lemon juice
¾ cup liquid coconut oil
½ cup liquid coconut nectar
One tbs. vanilla extract
Water (as needed)
For the Blueberry Jam Topping:
2 cups frozen organic blueberries
½ cup water
½ cup coconut sugar (granules)
Two tablespoons fresh lemon juice
¼ cup chia seed
½ tsp. vanilla extract
Instructions:
Crust:
Put the walnuts in a high-speed blender
Blend until they become a powder
Add dates and salt and repeat the process until combined
Line the bottom of a 6-inch cheesecake pan with shredded coconut
Use fingers to set the walnut mixture to the bottom of the pan and up the sides of the crust
Make sure they are 1 cm thick
Filling:
Drain the cashews
Throw in all ingredients into the blender and process on high for about 2-3 minutes (until smooth)
Add water if necessary to blend and create creamy texture
Pour the mixture on top of your crust
Place your healthiest cheesecake in the freezer for about 1-2 hours
Blueberry Topping:
Take a saucepan and put it on a medium heat
Combine the blueberries, coconut sugar, water, and lemon juice in there
Stir frequently and bring it to boil
Slowly stir the chia seeds into the blueberries
The berries will break down and form a gel
Simmer until the jam is perfect to coat the back of a metal spoon
Remove from heat
Stir in the vanilla gently
You can add additional frozen berries on top of the jam to get even better texture
Serves: 12
There you have it. You are going to feel amazing while eating it.
READ NEXT: Satisfy Your "Sweet Tooth" with this Healthy Choc-Peanut Butter Protein Pie
Don't forget to share this with all of your friends.
Source: David Wolfe