Maternity fashion has evolved so much in the past decade. Styles available now are runway-inspired, and many pieces are meant to last through pregnancy and beyond. Modern moms want high quality, trendy style maternity summer dresses that proudly show off their baby bump. There have never been so many style options for new moms-to-be, and navigating the latest trends can sometimes seem daunting.
Maternity designers are taking a cue from fashion magazines and interpreting the clothing for expectant moms. The top emerging trends for 2020 include a mix of updated classic designs and edgy, "I can't believe it's maternity," styles.
Maternity bikinis
Maternity bikinis are meant to show off the bump and are gaining in popularity for pregnant moms.
The most popular styles feature wide waistbands that can be pulled up or down to show more or less of the belly and halter style summer bikini tops, which offer support for a growing bust-line. More comfortable to fit than a standard maillot and way sexier than a maternity tankini, maternity bikinis are all the rage. This trend can be attributed to a large number of celebrities being photographed by paparazzi on vacation, proudly showing their growing bellies and looking great.
Strapless maxi dresses
Strapless maxi dresses from AmyandRose that are comfortable and flowing are a big trend for the warmer months. Also, dresses with ruffled hemlines, that take a cue from the romantic spring looks shown on the runways, are right on-trend. For colder weather, wrap cardigans are perfect to pair with these breezy dresses.
Pregnancy Denim
Denim is always a mainstay, and skinny jeans that stretch are here to stay because they make perfect layering pieces for tunics and long tanks. The newest silhouette to emerge in pregnancy denim is wide-legged jeans and sailor-style jeans that perfectly enhance a to-be-mom's shape. The wide flared legs balance out a growing belly for a super flattering look.
Prints
Tribal, exotic, and tie-dyed prints are big for 2020. Whether done in a flowing tunic or a patterned dress, these will add unexpected flair to a maternity wardrobe. Animal prints are also significant and look great paired with brown, tan or camel for an updated safari look.
More and more women are shunning the standard-issue hospital gowns and bringing their chic dresses to deliver in. The newest delivery gowns come in beautiful colors and prints and are made for nursing, as well. The gowns are designed to be hospital and birthing center friendly with openings for monitors, epidurals and IV cords.
The colors
Delivery gowns are all the rage. Aquatic and oceanic colors, including silvery pale grays, light Aquas, seafoam greens as well as vibrant corals, are big this year. These colors look amazing on summer dresses, light as air halter tops, and sheer tunic tops. These colors pair beautifully with white and cream for an ethereal look.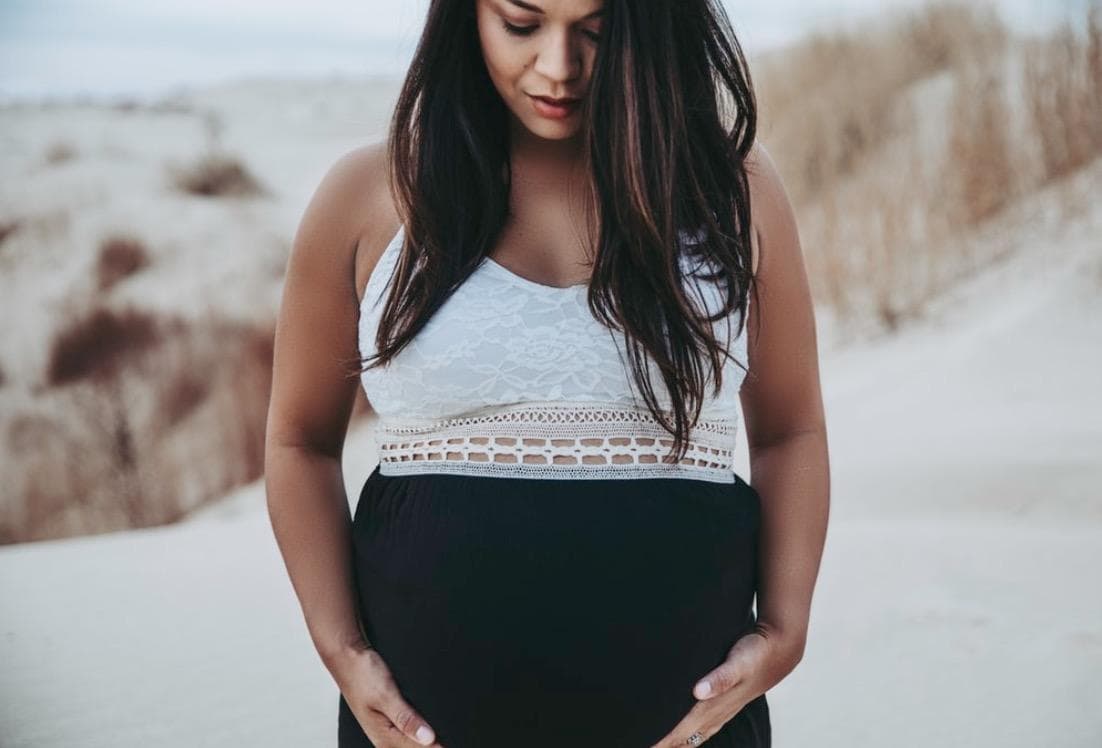 Black is always a staple color in any woman's maternity wardrobe for its slimming effects. You should read the blog about how to choose the perfect black maternity dress at AmyandRose's nursing blog. This year rock-n-roll and punk influences add an edge to basic black. Grommets, studs, and edgy graphics are updating tees and dresses for a fun and funky new look. Tattoo inspired prints will also continue to be significant with younger moms.
Graphic pregnancy tees
Graphic and novelty tees will continue to be favorites. 70's style graphics look new and fresh, paired with the trendy wide-leg jeans and wedges for spring and summer. Novelty tees are fun to wear, affordable, and make great gifts. Styles that are meant to be worn while pregnant and after for nursing will continue to gain popularity.
These designs offer great value for new moms-to-be. Women appreciate the versatility and long term wearability of these before and after styles. The latest designs feature hidden nursing openings and fabrics that stretch with a growing tummy, but also retain their shape for post-pregnancy wear. More and more women are breastfeeding, and clothes that allow them to do it in style and comfort are in high demand.
Choosing the Fabric
Eco-friendly fabrics continue to be a big seller, with organic cotton and bamboo fabrics coming a long way.
Now available in a range of colors, besides the usual oatmeal, these fabrics give eco-conscious moms-to-be maternity and baby clothing options that are stylish while also being great for the environment.
Nowadays, women are not willing to forgo their sense of fashion while pregnant. With all of the fashionable trendy maternity clothes available now, they don't have to. The newest maternity styles echo trends straight off the runway while also remaining flattering to a pregnant woman's shape. Women want to feel pretty, sexy, and stylish during their pregnancy. I believe that women want to celebrate this particular time in their life and the newest trends in maternity clothing help them to feel unique and beautiful.
Amy Rose has 19 years of parenting experience, with a teenager and a preschooler under her wings. She runs AmyandRose blog, which aims at simplifying the life of pregnant women parents.
Follow AmyandRose on
Instagram
Facebook
Pinterest