Teenagers always like to learn new things. They are more passionate about music than anything else. It speaks within their heart. As a teen or a parent of a teen, it may be difficult for you to decide where to start.
Simply put, choosing the right guitar is the first step to develop their interest in playing music. The right guitar could help a teen to become a musician that they want to be. But, how to choose the right guitar for teen-agers?
Well, there is a range of options available for teenagers. They are also physically capable of holding a full-sized guitar. Thus, there is a huge chance to explore their creativity and blaze their own trails.
As you've taken charge of picking the best guitar for your teen child, here we are to guide you. We've put together a couple of things that you should consider before making any decision. We hope it will help to make a sound decision within your budget.
Choosing the Right Guitar for Teenagers: (A Detailed Guides)
Treats you as a beginner, here we'll describe how to choose the right guitar for teen-agers. Consider the following things while buying a guitar for your teen child. Also, check our essential tips to make your guitar purchase easier.
Before You Buy, Choose a Type
If you've never bought a guitar before, you certainly don't know much about the guitar. The first thing that could narrow down your choices is knowing the types of guitar. Among the many types of guitar, there are four types suitable for teenagers.
These types are acoustic, electric, classical, and acoustic-electric guitar. Amongst these, acoustic guitar and electric guitar is excellent as a starter instrument. It is essential to know which guitar your child likes. If you don't know, notice what kind of music your child is listening to.
However, if your child likes to rock, get them an electric guitar. You can get kids electric guitar suggestions from here.  If they prefer songs of Ed Sheeran or Taylor Swift, an acoustic or classical could be your option.
In general, picking the right type is the most crucial aspect of getting the right guitar. You cannot buy an acoustic guitar for your potential electric guitarist. It will do nothing but make them demotivated.
Choose the Right Size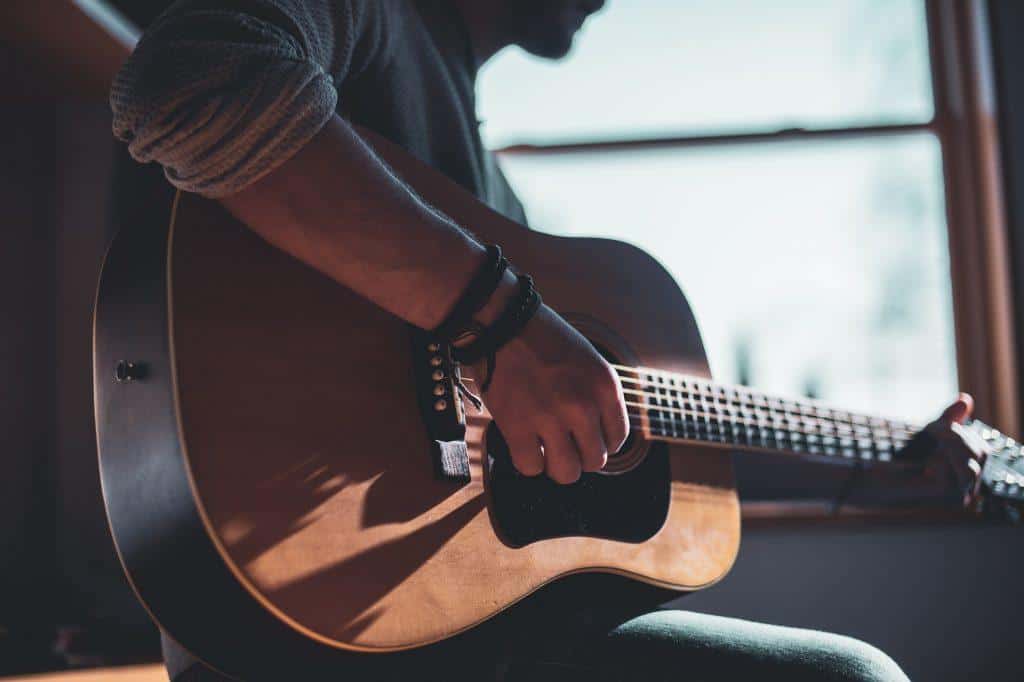 Picking the right size will take you one step forward toward getting the right guitar. It is not about what other parents buy for their children. Instead, it's about what is right for your child.
So, you should choose according to their height and hand size. If the guitar is too big, your child cannot handle it with both hands. Besides, it becomes difficult for them to raise their arm as high as the shoulder.
If their muscles are stretched a lot, they cannot move their finger on the fingerboard. However, teenagers can use a full-size guitar. A standard full-size is around 40".
If your child is tall, you could consider 41" Dreadnought size guitar. Elsewise, if your child is small by the physique, you can choose a 40″ concert-size or smaller guitar.
Ease of Playability
One of the most essential yet overlooked features in choosing the right guitar is easy playability. Your child can quickly learn to play a high-quality and accurate guitar instrument. Practicing on a poorly-adjusted guitar can discourage them.
The poor control and less accuracy will make the guitar learning session unproductive. As a result, your child cannot comfortably play their favorite tones. Unadjusted guitars may have the strings on too high above the fingerboard.
It requires extra force to push the strings against the frets. So, you should check if the guitar is adjusted well. A properly adjusted guitar helps you explore more on a playable guitar.
Consider Your Budget
Lastly, buy the guitar that you can afford. That doesn't mean you'll choose a poor-quality guitar at a low price. There should be a balance between quality and price. Beginner guitars are not as expensive as professional ones.
So, you may find a decent-quality guitar at around 100 dollars. Anything less than $75 isn't worth buying as these will produce poor sound. In the case of purchasing a guitar, you should choose the reputed brands.
Some of the notable brands are Fender, Gibson, Yamaha, Taylor, etc. If you are looking for a budget-friendly option, you can search for a used guitar from a reputed brand.
Accessories
No matter what the best-quality guitar you choose, it is worthless without the right accessories. Also, your purchase will not be complete without it. Some manufacturer provides most accessories with the guitar.
Or, sometimes, you may have to buy them separately. It is essential to make sure that your child starts learning with a complete guitar set. What type of accessories you need depends on the kind of guitar you are buying.
Below are some guitar accessories you may need;
Guitar picks
Extra strings set
Guitar bag or case
Guitar strap
A guitar tuner
An amp
A cable for an electric guitar
Additional Buying Tips
Don't buy a decorated or glossy guitar for your teen child. The additional paint can dull the sound of an acoustic guitar. You can choose an acoustic guitar made of solid wood. In the case of an electric guitar, it is okay to buy a decorated guitar.
If possible, let your child hold the guitar. Ask them if they can reach all the strings and how they feel.
Electric guitars are somewhat easier to play than acoustic guitars. It is better to start playing with an electric guitar.
Choose a guitar that is fully adjusted for comfortable playing experience.
To Sum Up!
And voila! This is how to choose the right guitar for teen-agers. Ultimately, it should be your child's choice. Ask them what they like to play. And, then, your job is to find the right guitar for your teen child.