The city that never sleeps and where dreams are made. The Big Apple. These are just some of the phrases many uses to describe New York.
Visiting New York is a bucket list goal for many. The desire to watch a Broadway show and see the iconic skyscrapers and historical monuments within the city. One thing that many will note about a trip to New York is the costs.
Seeing New York can be costly, but fortunately, it does not have to be. Looking for ways to see and experience that is New York without breaking the bank is possible. Here are a few helpful tips that could help you find cheap ways to see New York for all its glory.
Cheap Flights To JFK New York
Before you can begin to look for cheap ways to see New York, getting to New York is the top priority. Booking a flight will likely be one of the most significant trip and accommodation expenses. Different variables will influence the cost of a flight.
For instance, where you are flying from initially. If you were flying from another state, the price of flights would be more affordable than those from another country. Additionally, the time of year you wish to fly will also impact the cost of a ticket to New York.
When looking for a flight to JFK, compare different airlines. Each airline will likely have different prices and flight times, but you could find cheap flights to JFK New York. The process of comparing flight options is time-consuming. However, you will likely find a flight to JFK that will not damage your bank account.
Consider Location Of Accommodation
The accommodation costs in New York can add up, especially if you plan to stay for an extended time. Like with the flights, the time of year you choose to visit New York will also impact the cost of accommodation. Christmas and New Year in New York will likely be flooded with tourists wanting to experience the city during such a magical time of the year. Additionally, the summer break will be inundated with families choosing to visit the Big Apple for their family vacation getaway.
If you have no preference for the time of year you visit, consider visiting New York when it is not peak season for tourists. The city will undoubtedly be brimming with tourists, but at least the accommodation cost might be more affordable.
Choosing where to stay, you might need to look for accommodation in Manhattan. Although Manhattan has a lot to offer, the cost of accommodation can easily consume most of your budget. Consider looking at neighbouring boroughs for places to stay. Like Williamsburg, parts of Brooklyn still hold some of the great qualities of New York. There are stunning parks to visit and great bars and restaurants to sample the local cuisine. The main difference is the prices you will be paying for the accommodation. Looking at an alternative neighbourhood to Manhattan means you will likely find more affordable accommodation to stay at.
Choosing Places To Visit
New York is filled with endless possibilities. A vast variety of restaurants to try where you can sample numerous cuisines from around the world. There are many delicacies that you must try when you visit New York, regardless of whether it is your first time or fifth. If you love architecture, the city's landscape will be a treat for the eyes as you see some of the world's most iconic buildings standing tall before you.
You may have an idea about what you want to do in New York. If so, you might already understand the costs that could be involved, for instance, the entry fee or cost of a ticket for a Broadway show. Fortunately, not every attraction in New York comes with a cost.
A walk through the legendary Central Park or the High Line is free for visitors to see. It offers endless photo opportunities to showcase on your Instagram page. Alternatively, if you are an admirer of folk arts, you will be delighted to know that the American Folk Art Museum is free to visit. You do not need to book a specific time slot or visit during out of peak hours for free entry to the museum. You can visit during its opening hours and immerse yourself into the world of folk art and how it established its place in the US. Visiting this museum, or any museum with free entry, is the perfect way to spend a rainy day in New York. It provides you with an opportunity to learn something new without getting caught in the rain.
Another attraction that is free to visit is Coney Island. Of course, you will have to pay fees for rides and food, but the atmosphere is worth soaking up and experiencing. Seeing the different boroughs of New York is a simple way to immerse yourself in the city, discovering hidden gems you will not have found in the tourist areas. Additionally, you will find new restaurants that offer delicious food without the tourist price tag.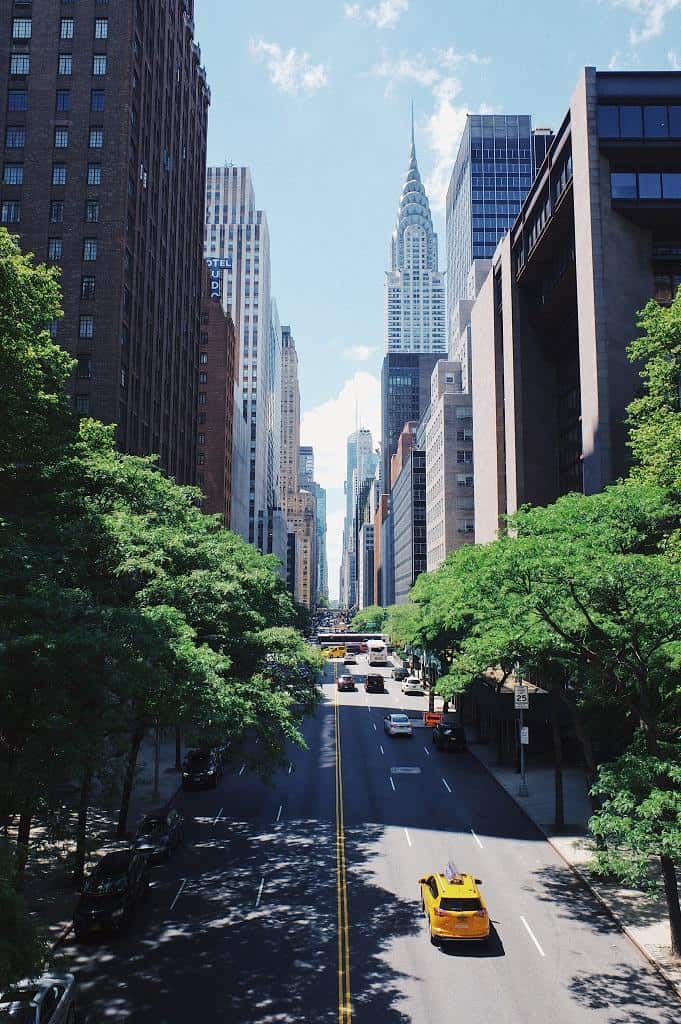 Transport Around The City
After arriving in New York, consider taking a train from the airport to where your accommodation is. Taxi fares in the Big Apple can be costly, whilst a train ticket could see you paying a fraction of the price. An additional bonus is that you will likely get to your accommodation quicker as you will bypass the wonder that is New York traffic.
Whether you are staying for a week or a few days, knowing how to navigate your way around New York is crucial. Plan what you want to see and do during your stay. You can look to see where everything is and how far it is from where you are staying. It can help you determine how to get to the places and create an itinerary about what to do.
If you want to find cheap ways to see New York, taxi rides are not the best route. As mentioned, taxi fares can add up quickly, and the chances are high that you will likely spend most of the time sitting waiting in traffic. Consider utilizing the subway system that connects the city. It is an easy way to help you get around the city without spending too much. A single journey on the subway could cost you less than $3 sometimes, which is hardly anything compared to the cost of taxi journeys.
Of course, there will be thefts when taking the subway like in any major city that is highly popular with tourists. Ensuring that you are well prepared before entering the subway will work in your favour. Spend time reading about subway crime prevention tips to help ensure that you and your belongings are safe when taking the subway. Doing this will enable you to use the subway system to get to the places you need to visit and with time to spare.
Enjoy Your Trip
Utilizing some of the tips mentioned above will help you make the most out of your time in New York without worrying about putting yourself in a difficult financial situation. Instead, you can focus on making memories in the Big Apple, which you will reflect on fondly in the years to come.
Read Next: California Road trip essentials
Photo by Robert Bye