The blouse is an indispensable ethnic component for Indian lehengas and saris which have undergone numerous transformations over the years. The bodice was worn as an essential part of the ensemble either with a dupatta or the sari pallu. Now, the modern woman has stepped out of her comfort zone and has started experimenting with blouse designs. More than the blouse is a simple and functional element, the blouse has now been turned into the deciding factor of the overall look, and the impact of the blouse is absolutely indisputable! Bridal blouse designs are supposed to make a statement and accentuate the whole look.
This season's fashion predictions signal an amalgamation of eras which means there's something for everybody's tastes and style preferences. Here's a curated list of blouse designs that will lead you on to looking your best for the festive season:
 1. Cutout blouse
With mellowed down boldness, cutouts in wedding blouses have become a popular detail for the festive season this year. The key-hole necklines with long sleeves and an open back window design keep the Indian modesty in check with carefully dimensioned showing off the skin. If you feel that the diversion from the conservative choice of designs is not for you, you can opt for this style.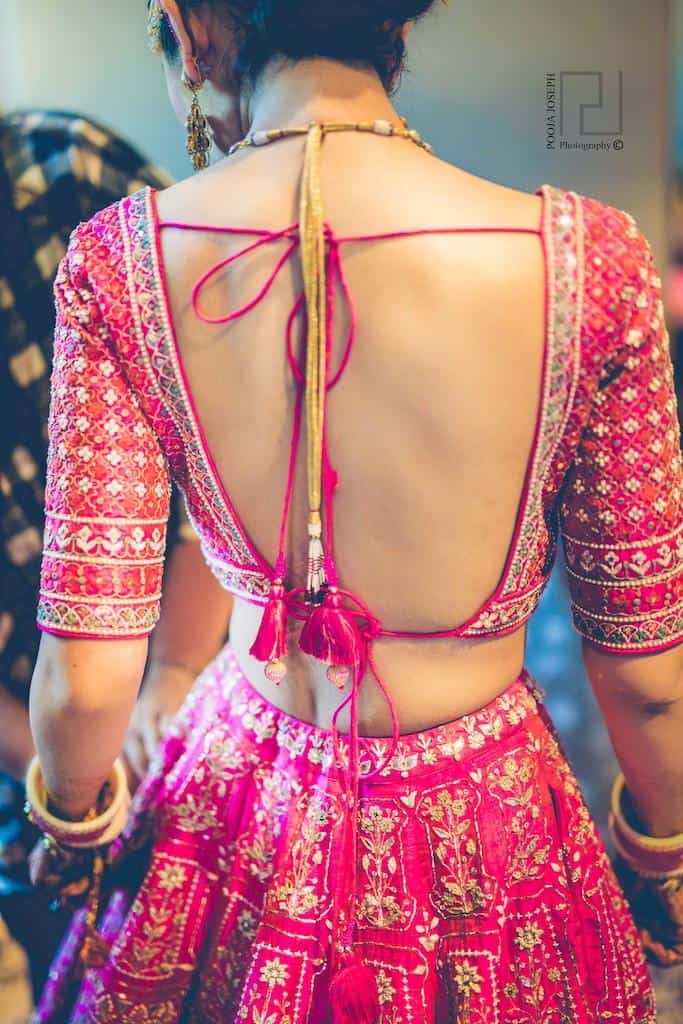 2. Super low plunging necklines
The plunging necklines in blouses are not new, but it has been refreshed and given a new avatar with an impeccable bead-work or stitched with beautifully embroidered fabric. It has been especially popular amongst the new age brides as it accentuates the curve and shows off their bridal jewellery that much more. Leading fashion designers like Sabyasachi Mukherjee and Manish Malhotra have thoroughly embraced the idea of incorporation of deep-necked blouses for their bridal couture and the "evening wear" collections.
3. Off-shoulder designs
An off-shoulder blouse is sure to elevate the youthfulness of the women adorning it. The collarbone highlighting blouse style made a comeback during the last decade and is a true statement of modern elegance. Whilst making a bold statement, off-shoulder sleeves have a super chic feel. It is charming enough to raise the style quotient, especially when styled with a magnificent choker.
4. Ruffles, ruffles and more ruffles!
Another trend that is here to stay this year is- ruffles, frills, and tiers. These add volume with a whimsical feel. So if you are looking to add volume to your silhouette, ruffles and frills in multiple tiers are the way to go! This zestful style has become the pivotal point of experimentation for various designers.
5. Back to basics
If you are the sort of bride that wants to wear something that would never date, keep it classic and elegant. It will never go out of style! A simple yet intricately embroidered choli and a half or a cut-sleeved blouse in a glamorous fabric will surely work well for the occasions you want to play safe with your styling or when you want the mesmerising sari or lehenga to do all the talking.
A well-tailored blouse can instantly amp your look. So whilst you search high and low for the most beautiful lehenga, a brilliantly hued dupatta, and a gorgeous designer saree, make sure you pay enough attention in favor of the bridal blouse. It is bound to be a game changer.