The best maternity jeans exist and they're comfy and cute at the same time. But, the best maternity jeans are not that easy to find.
However, when you're pregnant, few things matter more than comfort, and the best maternity jeans are a lifesaver. Between itchy, stretching skin, hip and back pain, and loosening joints, you don't want your clothes to cause you additional trouble.
And you know you truly need to invest in the best maternity jeans when you can no longer do the button of your favorite regular jeans.
Trust me, you'll love these best maternity jeans and for the few months, you'll wear them all the time, as they're designed to accommodate your growing bump comfortably.
Covering the basics with the best maternity jeans
Hey, let's be realistic…your pregnancy lasts for nine good months. Your baby bump starts showing when you hit the 2-3 months mark; meaning you'll start wearing maternity jeans in the early months of your pregnancy.
That being said, it only makes sense that you can't survive with one pair of maternity jeans. Even if you buy the best of the best quality pair, you'll need to wash it constantly and wearing it every day.
If you want an easy pregnancy life, follow my advice: arm yourself with several pregnancy jeans pairs- with different styles, colors, etc. Additionally, ensure you pick pairs that you can wear to every occasion, whether formal or casual.
What are the different styles of maternity jeans?
Before you go shopping, you'll want to be familiar with the different types of jeans available to you (source).
While there are lots of different options and the "best" one is primarily a matter of personal preference, some styles do tend to work better with certain body types than others.
Skinny jeans: They are designed to fit your legs comfortably and run down till your ankle. Skinny jeans offer a snug fit and let you show off your curves while giving you a taller look. They also provide layering when worn under long tops.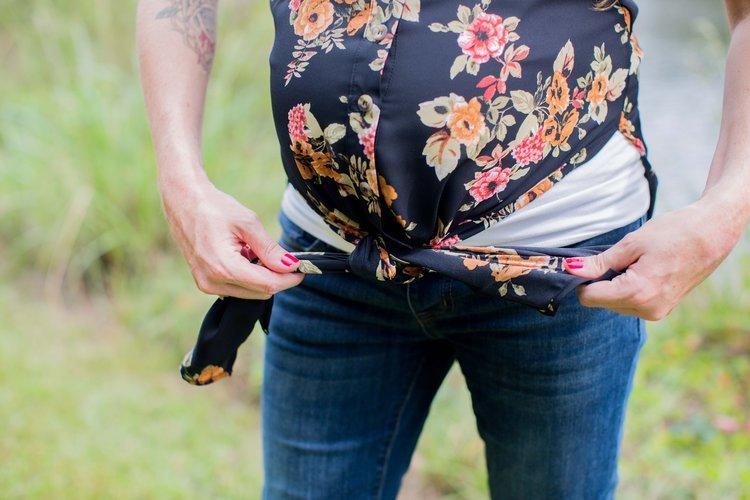 Straight-legged jeans: These are a bit lose around the thighs and the ankle. A versatile style perfect for all body types, straight-legged maternity jeans can have a slimming effect on you.
Bootcut jeans: These jeans remain straight at the thighs and flare out from below the knees or the middle of the calf. They offer a stylish, retro-like look when paired with heels. The extent of flaring can vary at the ankle, and they make an excellent option for taller women.
Jeggings: These are leggings made from a fabric dyed in denim color, to give them a jeans-like look. The material is stretchy and thinner than the denim. Jeggings can be paired with tunics, dresses, and long sweaters, and a pair of high boots for that perfect look.
Capri jeans: These styles are more popular and offer you various choices. They are more comfortable than the traditional jeans.
Low cut jeans: These stretchable, skinny jeans runs down from the thighs till a little above the ankle. They are suitable for wearing all the time, especially during summer as they make you feel cooler.
Under Bump Or Over Bump Maternity Jeans
The best maternity jeans are designed with extra panels to support the growing belly. They are available in two different styles:
Under bump: They are fabricated with a soft elasticized waistband, which fits comfortably under the belly. A belly band, as an add-on, can firmly hold the jeans. These are best suited to wear during the later stages of pregnancy and help you avoid the itchiness of the skin.
Over bump: As the name suggests, these jeans come with a stretchable band that is adaptable to the growing belly and perfectly covers it.
If you are in the early months of pregnancy, there may not be any discomfort wearing the over-the-bump jeans. However, towards the end of pregnancy, the elastic material of the belly band may not be very comfortable as the itchiness of skin may irritate you.
Bonus tips for choosing and maintaining the best maternity jeans
For the petite size ladies: If you are between 4'11" and 5'4" in height, then a petite size is recommended for you. It offers a slimmer and taller look.
For the taller ladies: If you are 5'8" or taller, then a tall size suits you better as it gives your figure a shrunken look.
Pick a size that you would be comfortable in. They should not be too tight or too loose.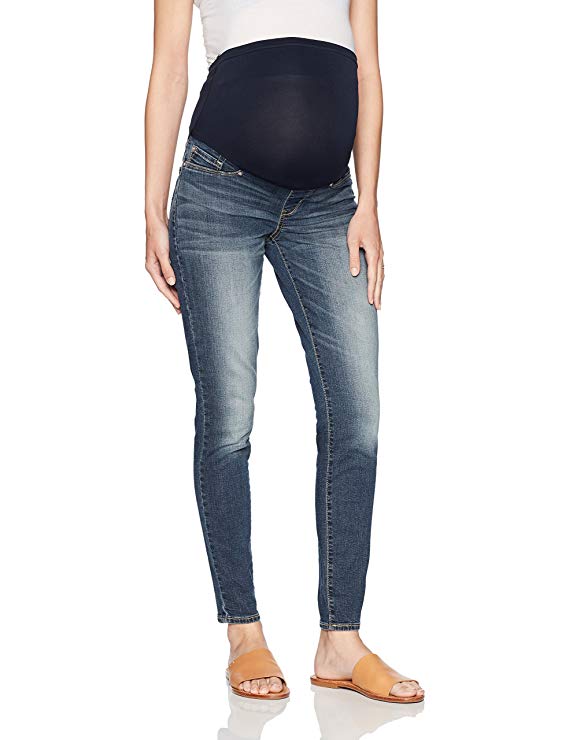 Before buying the jeans, carefully read the wash instructions on the tag and follow them. Some may require machine wash and some may need dry-cleaning or a hand wash.
Do not wash jeans in hot water as it can deteriorate the elastic fibers. For dark color, use specific detergents that can retain the color longer. Always dry the clothes in the shade.
Look for dark colored jeans to wear to the office. For casual wear go with lighter shades.
Try jeans with different cuts and look for the comfort options before buying. It will help you retain the product for future pregnancies too.
Always try the jeans before purchasing them to ensure that they fit you correctly, and opt for a style that goes well with your body type and lifestyle.
Great Expectations Petite Full-Panel Skinny Jeans
These jeans have a full over-the-belly panel to keep your pants as secure as possible, along with fully functional pockets to stash all your extras.
They're made for the petite woman so you won't have to roll up your pants or worry about them dragging, and since they're a slim design, they'll add visual height to your frame, making you appear taller than you are.
Motherhood Plus Size Secret Fit Jegging
These figure-hugging jeggings let you show off all your curves. They're made of cotton and spandex for maximum comfort, and are designed for the woman who has a little more body to love.
Pair them with a long sweater or tunic, and you'll be ready to turn heads without feeling constricted.
Maternal America California Skinny Jeans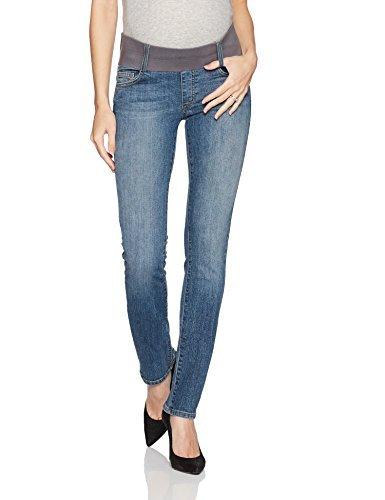 The wide, underbelly waistline on these jeans is perfect for early pregnancy since it will gently cradle your belly and expand with you. They're constructed of cotton like traditional jeans, with just a hint of spandex to allow the fabric some "give."
Round it out with the skinny silhouette and casual medium wash, and these just might become your favorite weekend pair.
Three Seasons Maternity Skinny Jeans
The dark wash on these skinny jeans make them easy to dress up or down, and the neutral-colored belly band won't show through your top.
The pockets are well-designed to flatter your rear, and the polyester/rayon/cotton construction will help give these jeans a little "give" when you move.
PAIGE Verdugo Ultra Skinny
Instead of a traditional belly band, these jeans have elastic insets in the waist, so they better resemble a pair of pre-pregnancy jeans.
The ultra-skinny silhouette is on trend, and the rayon/cotton/polyester/spandex blend material will allow you to wear them without feeling constricted.
J Brand Maternity Skinny Jeans
These jeans have what most maternity jeans don't – a button waist! But don't worry – it's just a visual detail for show. The elastic inserts do all the work to keep your pants up.
The under-the-belly design works well for moms who find their belly panels stretch out quickly, and the dark wash + skinny silhouette will keep you stylin' through your whole pregnancy.
Jessica Simpson Plus Size Maternity Jeans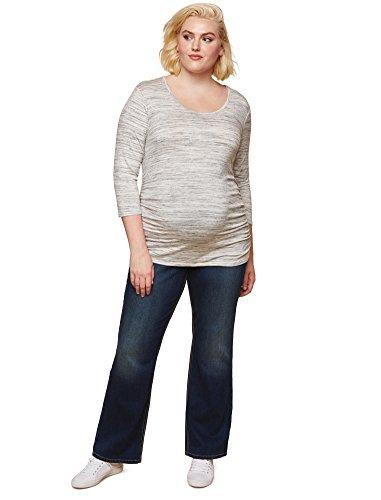 These pants designed for the plus size pregnant body come in a slimming dark wash and flattering boot-cut silhouette.
There is plenty of room through the hips and thighs so you won't feel constricted, and the cotton/spandex material will make sure that your jeans still have some stretch in them.
PinkBlush Straight Leg Jeans
This straight-leg style will look good on a number of different body types, as will the dark wash.
They're made from 98% cotton so they'll feel just like your pre-pregnancy jeans, and the 5-pocket design makes them look like them, too. The only difference is the mid-belly elastic waistband so they'll fit comfortably on your bump.