The birth of a new life allows you to enjoy more happiness while giving you more responsibility. Choosing a good baby stroller is one of your important decisions as a novice mom. Here are a few prams for your reference. We hope that the following strollers are your ideal type.
High-view Baby Strollers
As a high-view stroller, comfort and smoothness are the biggest features.
In terms of comfort, this stroller's shock absorption technology is called a mobile baby room, and the four-wheel spring suspension makes the baby feel almost no vibration. It uses solid rubber tires that are elastic and prevent punctures. In addition, the backrest and pedal of the stroller seat can be adjusted at multiple angles, and even can be adjusted to lie flat, always allowing the baby to have a comfortable riding position, which can be used by babies 0-3 years old; The most important thing is that it comes with a five-point harness with a shoulder pad is also provided for added comfort and added safety.
3 in 1 High-view Baby Strollers
This kind of stroller is designed for friends who are looking for good quality. It's fully functional, easy to use, and comprised of high-quality, durable materials. The prams came with the bassinet, car seat and more important is that it can accompany your babies until they grow up.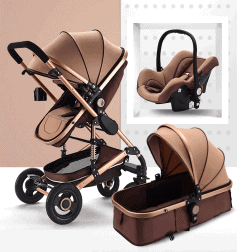 Multifunctional 3 in 1 Baby Stroller
5 color to choose
Khaki  Pink  Green  Red  Gray
Luxury PU Baby Stroller 3 in 1 Travel System
$359
10 color to choose
Multicolour
Leather 3 In 1 Toddler Prams With Car Seat
$579
4 color to choose
White  Black  Pink  Brown
Lightweight Stroller
Infant lightweight portable travel stroller. Lightweight, convenient and easy to carry. Folded into a trolley case, perfect for a busy family on-the-go. Small enough to be taken onboard a flight.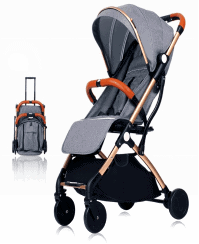 Baby Lightweight Stroller
$189
light weight about 7 kg
9 color to choose
Multicolour
Double Strollers
Parents with multiple babies are undoubtedly select double stroller or triple stroller is more suitable. There are three types of double strollers: Side-by-side, Inline, and Face-to-face.
Double Jogging Stroller
$288
5 color to choose
Green  Red  Pink  Gray  Blue
Twin baby double jogging stroller
$439
4 color to choose
Blue  Gray  Pink  Green
Umbrella Stroller
The umbrella stroller is an upgraded version of the traditional stroller. They are made to be easy to carry around. Most umbrellas are designed for a baby over 6 months old who can sit down on their own. These features make the umbrella ideal for families on the go.
Baby Lightweight Umbrella Stroller
$169
light weight around 6.9 kg
4 color to choose
Blue  Red Yellow  Purple
Learn more at Newbabywish.com