Despite being one of the oldest communication channels, email continues to be the most preferred communication channel with 73% of the respondents ranking it as 'excellent' or 'good'.  
However, email accounted for a meagre of 13% of company marketing spend on average in 2019.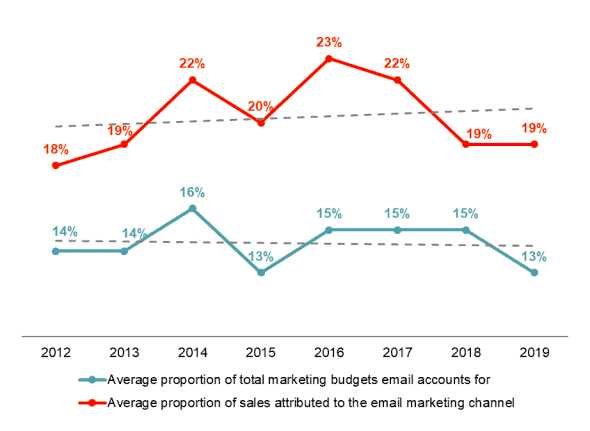 As email is regularly used by your prospects and customers alike, you ought to use it if you want to boost your business. 
To make things easy for you, here are five easy-to-implement email marketing best practices that will accelerate your business growth and profitability. 
Have a healthy and engaged list
The key to effective email marketing is sending out emails to the right people. Therefore, maintaining a healthy list with the most qualified leads is of utmost importance. Incorporate a double opt-in strategy and send out subscription confirmation emails to make sure that your leads are genuinely interested in hearing from you.
See how Chipotle does it and sets one of the best email template examples..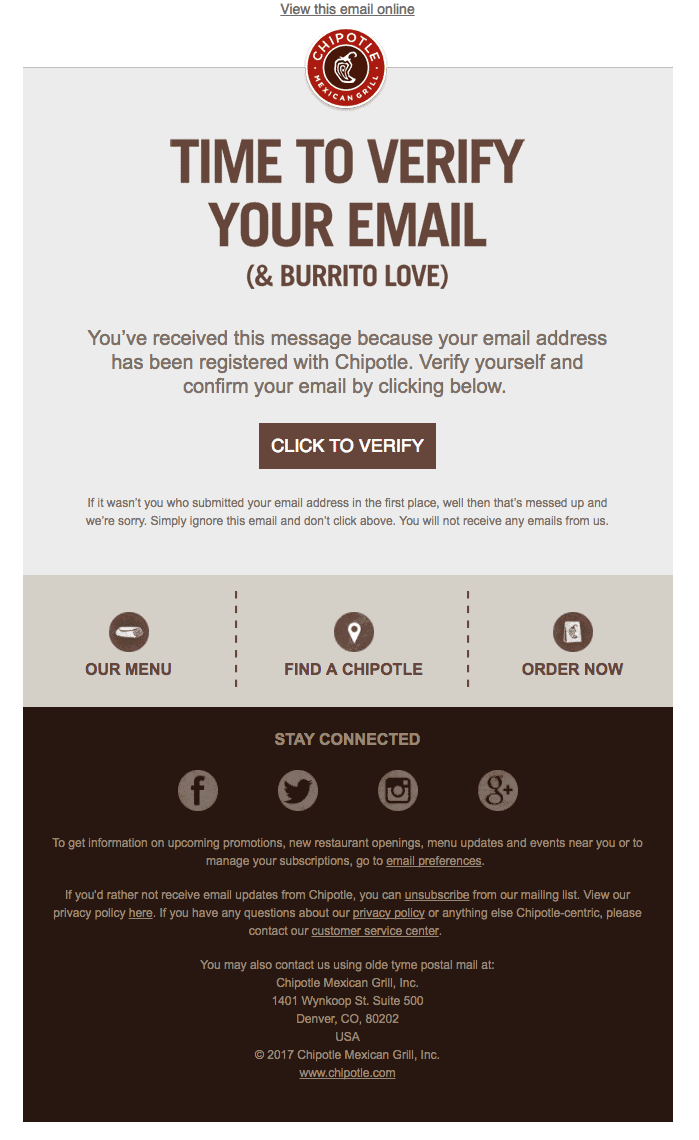 Keep an eye on the metrics such as hard bounces and remove those email addresses from your list. Regular list cleaning is the key to successful email marketing. Also, if a lead has not engaged with you for more than 90 days, it is a good idea to ask them if they want to unsubscribe. If they do not respond, you know that it is time to remove them from the list. 
Deliver value through your emails
The first thing that comes to my mind when someone says "email marketing best practices" is that your email should have valuable information for the subscriber. 
Always ask yourself two questions:
Why am I sending this email

What will the subscriber get out of it
Send out the email only if you get meaningful answers to these questions. 
You can definitely send an email if you want to promote a discount offer or launch a new product. Avoid sending emails just because your competitors are doing so or you have a target of email sends to achieve. 
Here's a nice email by Google in which they have explained the recipient of the effective usage of Google Assistant. 
Automate your email marketing
Rather than spending your time on mechanical tasks like scheduling emails every day, you can automate the entire strategy and set certain workflows that would trigger an email as and when the subscriber takes the action. 
For example: You should send out a welcome email as soon as the subscriber signs up. 
The next email should be an introduction email that makes them familiar with your brand and shares your products or services. 
If you are in the content marketing industry, you can send out weekly newsletters promoting the latest blogs. 
Once a subscriber purchases from you, you must send relevant product recommendations based on past purchases. 
If a subscriber has not logged on or purchased from you, you can send a re-engagement email to encourage them to make a purchase yet again. 
As important as it is to have an engaging subject line and an interesting copy for your emails, it is equally important to send them at the right time when the subscriber is most likely to open them. Based on your industry and buyer's persona, you must determine the ideal time to send out the emails. 
For instance, if you are in the eCommerce or retail industry, Tuesdays and Thursdays can work the best for you. 
The timing of your email also depends on the action you want them to take. Carry out A/B testing to figure out when you get the maximum open and click-through rate so that you can yield the conversions and ROI you want to achieve. 
Have an actionable and clearly visible CTA button
Your subscribers will take the next action by clicking on the CTA button. That's why you should make sure that it has an actionable copy and is clearly visible. It should have a contrasting color scheme so that it draws the subscriber's attention and entices them to click through. 
Moreover, you must use the first person narrative to get better conversions, as suggested by a study carried out by Content Verve. 
Bonus Tips:
Using visuals is the best way of garnering your subscriber's attention. Try adding relevant images, GIFs, cinemagraphs, and videos in your emails with a suitable Alt-text to go with it. 

Rather than getting a new email created from scratch every time,

you can use free email templates

or

editable custom Mailchimp templates

to make things easy for you. It will not only save time but also help to reduce expenses. 
Wrapping Up
In addition to using a credible sender name and email address, responsive email layout, and sending the emails in the right frequency, you must make sure that your email marketing follows all these best practices to enhance your business and get a minimum unsubscribes.