Late-night diaper changes will happen, but they're not always easy. Use these tips to make changes easier for everyone in the family. They'll help you create a straightforward and serene diaper changing routine. With these pointers, you'll encourage a better night's sleep.
1. Dress Your Baby in Comfy, Convenient Clothing
Some baby's buttons and zippers can be tricky to maneuver, especially when you're half asleep. Make nighttime changes easier when you dress your child in comfy baby girl or baby boy clothes. Some of the cutest and coziest pajamas for easy overnights include:
Baby Bodysuits
The Gerber® Onesies® bodysuit is always a favorite, even when your baby wears it at nighttime. These stylish baby bodysuits feel cozy and are made with cotton. While they come in long sleeve and short sleeve styles for all seasons, they also look adorable on baby girls and baby boys.
High-positioned bottom snaps make it simpler to change diapers in the dark. An expandable lap shoulder neckline will help if you need to remove the entire garment. Toss it in the hamper so you can machine wash and tumble dry in the morning.
Footed Pajamas
Another excellent choice in baby boy or baby girl clothes is one-piece footed pajamas. They're cozy and adorable, with plenty of convenient features. The smooth front zippers are easy to maneuver, while the safety tabs help protect your child's chin.
Soft fabric from head to toe promotes peaceful sleep. Shop a variety of sweet prints and fun colors. They're so comfortable that your baby can keep wearing them all morning.
Two-Piece Pajama Sets
Many families like the fun and easy style of baby pajama sets. Snug-fit pajama sets with a cotton top and shorts help keep your baby comfortable in the spring and summer. In addition, a convenient two-piece design lets you change your baby's diaper without fuss.
You'll also like two-piece sets with leggings and long sleeve shirts. Like footed pajamas, they come in different prints and patterns. Discover everything from stripes or dinosaurs for baby boys to florals and fruit for baby girls.
Baby Gowns
One-piece baby gowns are helpful for diaper changes. They're also handy for families with newborns. Late-night diaper changes often happen during this time, so you'll love that these convenient garments have open bottoms. While they feel comfy, they also look cute.
Many families first use this style as a take-me-home outfit. They're so durable and easy to wash that you'll be able to wear them on repeat. Have a few on hand to mix and match throughout the week.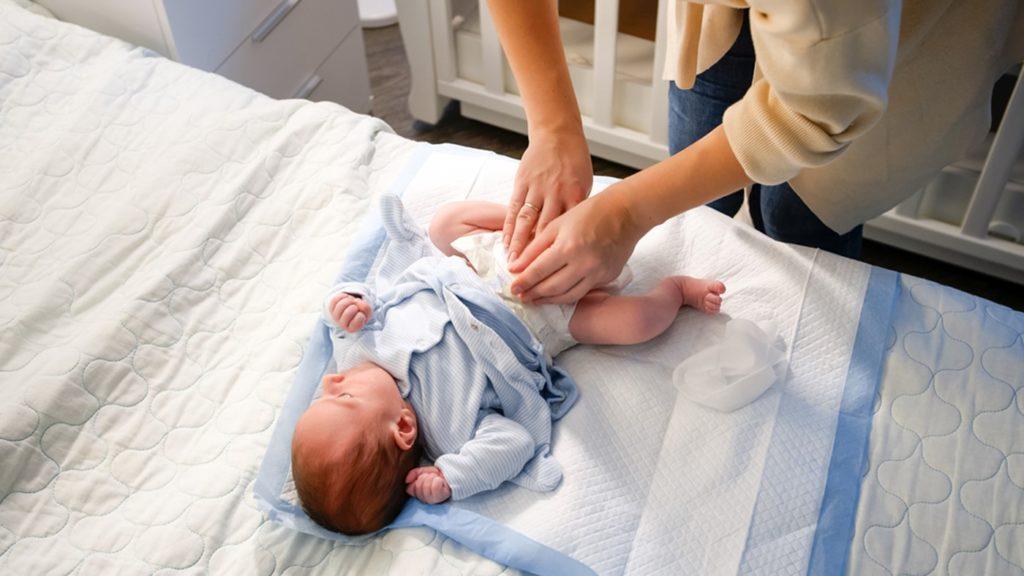 2. Keep Baby's Room Dim and Quiet
If your child has a dirty diaper, you'll want to change it and then put them back to bed as soon as possible. You'll encourage a restful environment by keeping the nursery dim and quiet. A nightlight prevents the room from becoming too bright. Consider plugging it in next to the baby's bed or changing table.
Keep the changing process cozy but brief. If you take too long, your baby may think it's time to wake up again. It's beneficial to keep things quick if your newborn doesn't know the difference between day and night. A fast, quiet change will remind them it's time to sleep.
3. Have Your Changing Supplies Close
When your baby supplies are close, it's easier to make late-night diaper changes. Keep things even simpler by having essential changing supplies like baby wipes or cloth diapers next to your changing area. You may also want items like diaper rash ointment and a spare change of baby clothing.
Some cribs and changing tables have shelves to hold things like diapers and cream. If you need more storage space, use a rolling storage caddy. These organizers have multiple shelves for all your baby supplies. As a bonus, you can move it with you throughout the day.
4. Use Quality, Absorbent Baby Diapers
Quality baby diapers will help to keep your infant comfy and dry overnight. They may also buy you more time to sleep a little longer before the next diaper change. Call your pediatrician with questions about the best products.
There are some items you can try for those diapering with cloth baby diapers. Prefold cloth diapers help make changes hassle-free, while built-in absorbent pads enhance the effectiveness of the diapers. They machine wash and tumble dry for convenience, but they'll also feel soft and comfy on your baby's skin.
There are so many options for infants of all ages and nighttime needs. Look into waterproof pants, which come in multipacks for convenience. There are also gauze heavyweight diapers and premium cloth diapers available. Gauze diapers with center panels are tightly woven to create an exceptionally durable garment. They're so versatile and absorbent that you can use them as a changing pad or a cleaning cloth in the dark.
A Better Diaper Changing Experience
Every family with a new baby appreciates a simple and convenient routine. A regimen is especially appreciated when it comes to late nights. If you have the right baby clothes and supplies with you in the evening, you'll spend less time changing diapers and more time resting.
Thankfully, some of the most beloved baby clothes are an excellent choice for pajamas. If you're having a baby shower or are creating a gift registry, ask your loved ones for clothing like footed pajamas and baby bodysuits. These types of baby clothing will simplify your nighttime routine while helping to create stylish daytime outfits for your child.
It's never too early to brainstorm about your nursery or diapering. When you're prepared with your baby supplies, every task will feel more effortless. During the first few months, it's essential to care for yourself and your baby. A more straightforward late-night routine will help everyone get the rest they deserve. Eventually, overnight diaper changes will be a thing of the past. Looking back, you'll be grateful you made your newborn's routine easy!