It doesn't matter whether you're a competitive athlete or you consider running to be your favorite hobby, you'll definitely want to continue doing it after you have your baby. Once your OB-GYN says you can resume regular exercise, you can begin to use a jogging stroller. Start by walking with your baby each day. Soon enough, you'll build stamina and be able to return to full speed.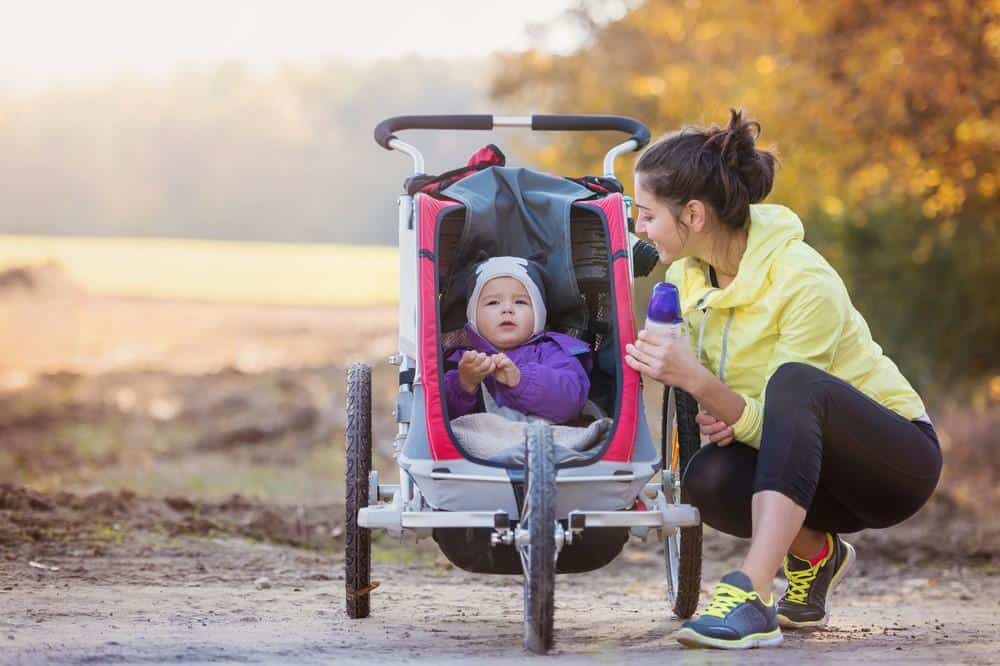 New moms love putting jogging strollers on their baby registry because they're durable and versatile. They also offer plenty of additional benefits for mothers that you may have never thought of before. Learn more below about why running enthusiasts should consider jogging along with their child. When you're done discovering the many advantages of this popular baby product, you'll be inspired by your brand new workout routine.
1. Running More Often 
If you're a new mom, you'll probably be surprised at how little time you have. No one is fully prepared for the hours spent feeding, changing and encouraging their baby to rest. While your newborn is on top of your priority list, you'll still need to take care of yourself.
A jogging stroller is an excellent way to run more often. Instead of waiting until your partner gets home or you have a babysitter, you can run, walk or jog throughout the day. It's also a fun and healthy family activity on the evenings and weekends. Take your baby around the block after one of their morning or afternoon naps. You can even travel to the park to jog, play and refuel by enjoying a nutritious lunch or snack together.
2. Adding Extra Resistance
When you jog with your baby, you may find yourself pacing slower than usual. You may also have to stop if your baby's fussy or cut sessions short because of a nap or feeding. The weight of your jogging stroller and your little one will add extra resistance to your workout, which can help you achieve your fitness goals.
As Everyday Health mentions, the benefits of resistance exercises, such as strength and weight training, including toning your muscles, achieving a healthy body mass index (BMI) after pregnancy and boosting your mood and energy level. While you'll feel better about your body, you'll also get a strength workout and be able to handle your responsibilities better throughout the day.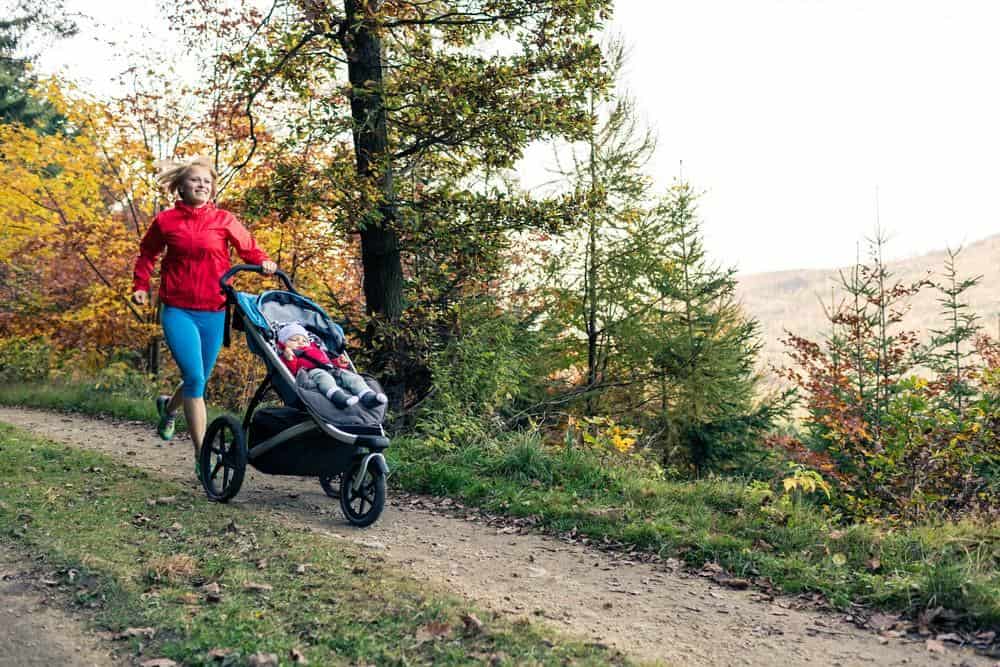 3. Bonding with Baby
Jogging with your baby is a bonding activity. Together, you'll visit new places, enjoy time out of the house and increase their exposure to language. The memories you make will serve as heartfelt stories when your child gets older. You'll also teach them the importance of exercise and wellness at every stage of their life.
Maximize your time outdoors with your baby by keeping them relaxed and happy. Pack your diaper bag full of plenty of diapers, wipes and feeding supplies. If they're eating solid foods, consider packing a few snacks. Treats such as bananas or whole wheat crackers are delicious and nutritious for you and your child. Just be sure to talk to your pediatrician before introducing any new foods for the first time.
You can also stay out longer by dressing your child in the most comfortable baby clothes. Bodysuits match both shorts and pants and can be dressed up or down as the weather changes. Don't forget moisture-wicking socks, as well as shoes or booties. Unisex baby shoes and socks match every outfit, but there are also plenty of feminine and masculine options. If you'll be in the sun, you may also need sunscreen, a hat or sunglasses for your little one.
4. Getting Fresh Air
During the first few months of your newborn's life, you'll spend a lot of time indoors. After all, baby naps and feeds every couple of hours. Getting outside can help improve your physical and emotional health. According to WebMD, doing your exercise outdoors can decrease feelings of stress and anxiety, gets you out and about with other people and helps to enhance your sleep by regulating your body's natural clock.
Your child will also receive the many benefits of being outside. Since breast milk doesn't have vitamin D, the Centers for Disease Control and Prevention (CDC) say that breastfed babies can spend time outdoors to receive their daily dose. They'll also improve their sensory skills and be able to enhance their immunity.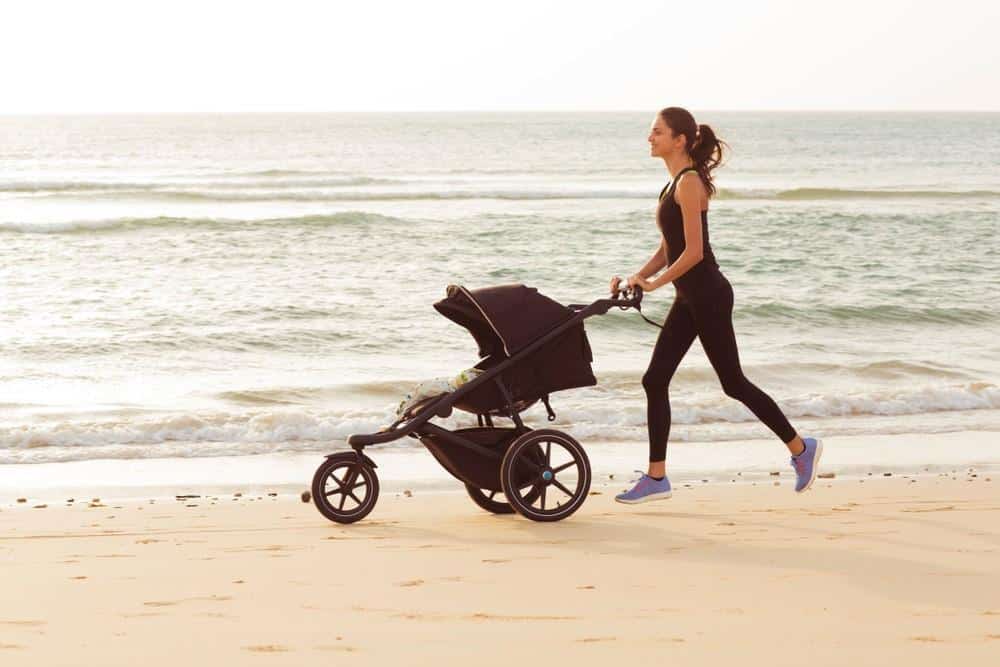 Jogging Strollers Are Great for Mom and Baby
Jogging strollers aren't only an ideal registry gift for the athletic mom. They're also a wonderful tool for improving your health and baby's happiness. When it's time to search for the right stroller for your needs, decide whether you'd like a standalone product or a travel system. Travel systems include both the jogger and a newborn car seat. Other features to look out for include three large, sturdy wheels, breathable material and an ample canopy to shield your baby's face and body from the sun.
When making your final decision, read online reviews or consult with a professional at the baby supply store. If you have friends who are fellow joggers, you can ask them about the brand and model they use for their child. Thankfully, most jogging strollers on the market are easy to use and work on various types of terrain. Review the stroller's manual before assembly and use for the safest experience. You're about to embark on a healthy and fun new adventure with your baby.