Every kitchen has at least one aluminium foil, and what do we usually use it for? Mainly storing food in the refrigerator or wrapping food to keep it fresh when going on picnics. But, do you know the full potential of the aluminium foil?
You will be surprised of just how much uses there are for the aluminium foil around the house. It is impermeable to oxygen and water, it is a good insulator and it has a bright reflective surface, all properties that make aluminium foil useful for many household tas From cleaning to preservation and time saving tricks, the aluminum foil can do it all.
Check out these ways that aluminum foil could make your life so much easier.
Polish Silverware
Protect Steel Wool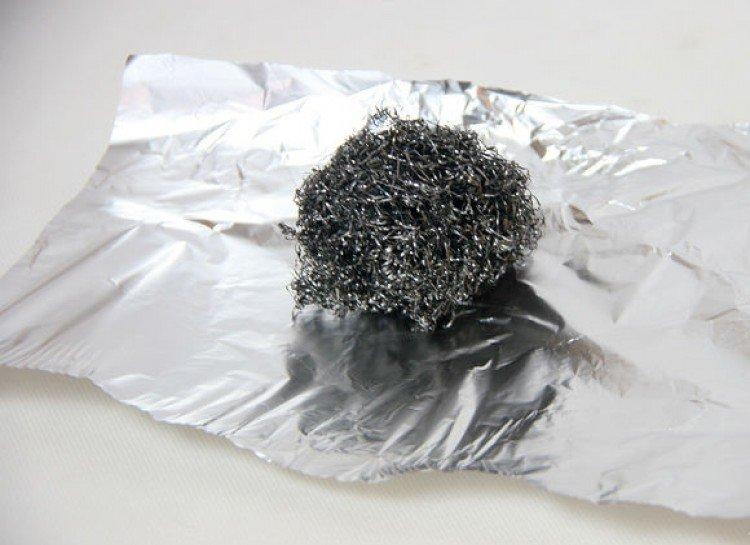 Clean Pots And Pans
Shine Jewelry
Keep Oven Clean
Make A Flame Tamer
Make The Perfect Pie Or Burn Free Chicken
Make Roasting Rack for Tastier, Healthier Bacon
Create a roasting rack by crimping a folded-over sheet of heavy-duty aluminum foil or several sheets of ordinary aluminium foil..
Enhance Radiator Heat
Take a piece of plywood and wrap it around with a sheet of tinfoil. Place it carefully behind your radiator and it will reflect heat directly into the middle of the room.
Remove Rust From Metal

Rip a piece of foil in squares, dip in water rub the rust away.
Protect Your Child's Mattress
If you have a child potty training, just place some sheets of aluminum foil under the mattress pad. This can help stains from soaking into the mattress.
Soften Brown Sugar
Seal Plastic Bags
Just iron the aluminium foil over the opening of the bag to keep food from spoiling.
Clean Your Grill

Ball up a sheet of aluminum foil, and use your tongs to scrape off the char.
Keep Bananas Fresh Longer
Wrap aluminum foil around the stems of your bananas to keep them from ripening right away.
Protect Fruit Trees
Hang up strips of twisted foil in the branches. The reflection of light and the sound them make blowing in the breeze will scare of the birds off.
Curl Pin-Straight Hair With Aluminium Foil And Flat iron

The foil will help heat the hair and keep it curled longer.
Sharpen Your Scissors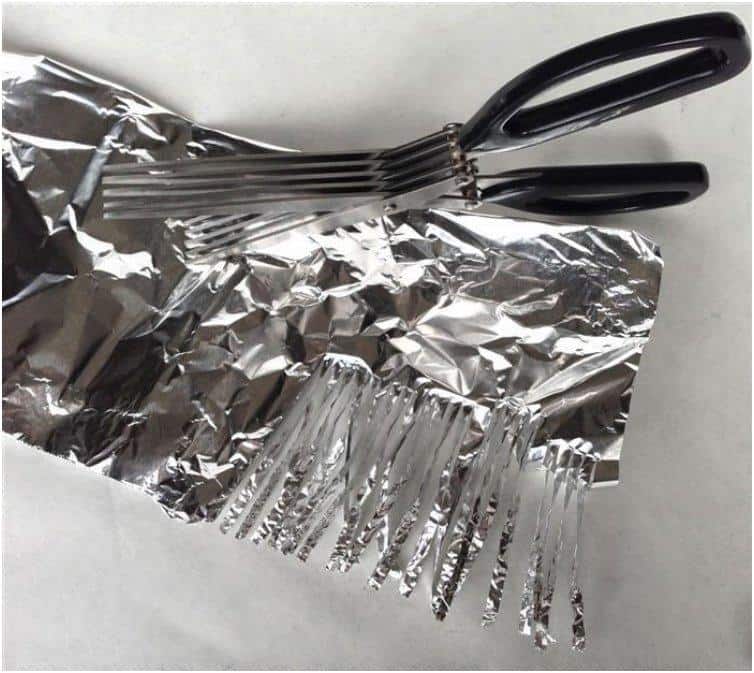 Cutting into a sheet of aluminum foil will sharpen you dull scissors.
Move Heavy Furniture

Slide aluminum foil under the corners of your furniture and it should be able to slide with ease.
Cut Your Ironing Time In Half

Because of the foil's heat absorbing properties, by placing a long strip of aluminum foil on your ironing board under the cover you'll be able to iron both the front and the back of your garment in one go.
Make A Funnel

In a pinch, aluminum foil can be rolled up into a usable funnel.
Glue Loose Vinyl Tile
Place a sheet of tinfoil over loose vinyl tile and press it down with a hot iron. This will melt the glue which will then stick again and glue the tile back down without the iron damaging the tile.
Save Soap
Place foil on your soap dish to keep the soap from sitting in water and quickly wearing away.
Aluminum Foil Dryer Balls
When you run out of dryer sheets, ball up two feet of aluminum foil into a ball. The aluminum foil will keep the static cling out of your clothes, and a bonus is that it will not leave any scent.
Hide Worn Spots In Mirrors
Disguise small flaws on a mirror's reflective surface by putting a piece of aluminum foil, shiny side facing out, on the back of the glass. To hold the foil in place, attach it to the backing behind the mirror or to the frame with masking tape. Don't tape it to the mirror itself.
WiFi Booster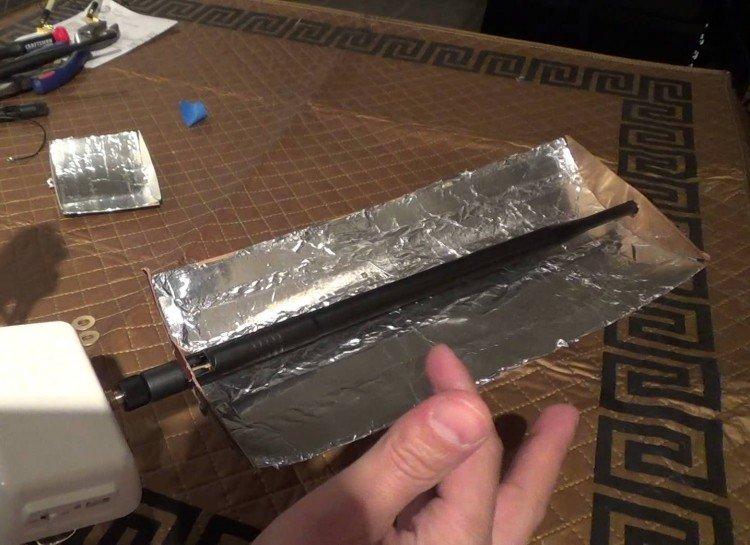 Get a stronger connection on your WiFi by bending a piece of aluminum foil into a curve and placing it behind your router.
Make Your Plants Happy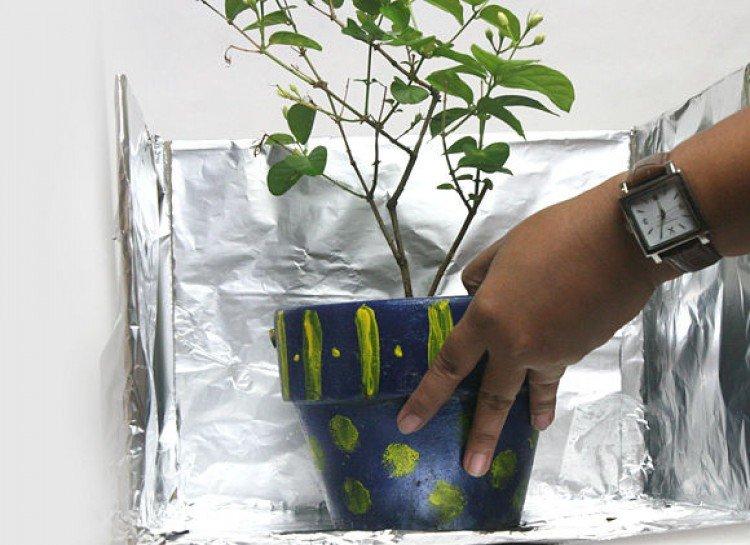 Create an Emergency Ice Tray
Line the bottom portions smoothly with foil. You can use the tops for lids if you want, but they'll only be good for one use.
Artist's Palette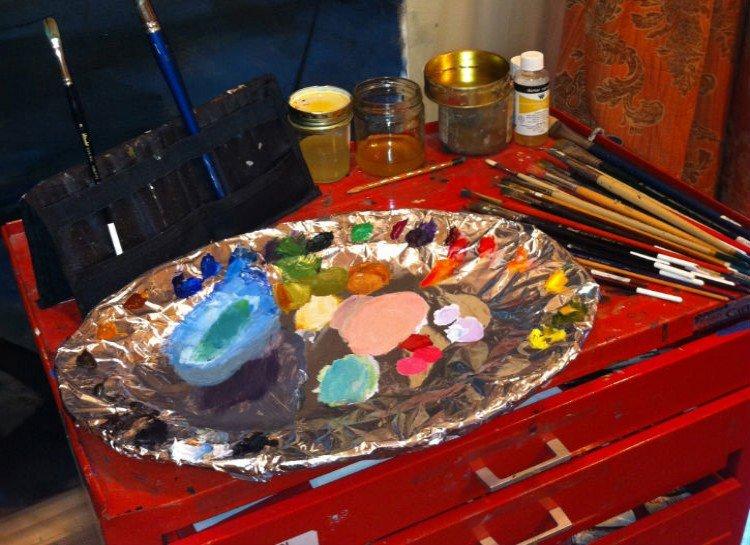 Frosting Dispenser
Make Cookie Cutters & Custom-Shaped Cake Pans
Fold over aluminum foil until it's the proper thickness, shape the foil by tracing it over a drawn pattern of the shape you like and staple it together.
Makeshift Utensils
Solve Battery Problems
Run out of AA batteries? Use AAA batteries and a bit of aluminum foil
Protect Door Handles While Painting
Wrap aluminum foil around your door handle to keep it free from splatter and accidental painting.
Landscape Lighting