Women often show their bravery to spare the others from concerning too much even when it comes to deadly cancer signs.
I don't know why we are like that, but the mindset of not letting anything to break us sometimes could small back and hit us on the head like a boomerang.
When it comes to cancer, everyone should focus on doing everything in their power to prevent any potential alarm.
Before I proceed and show you these signs, I want to tell you something.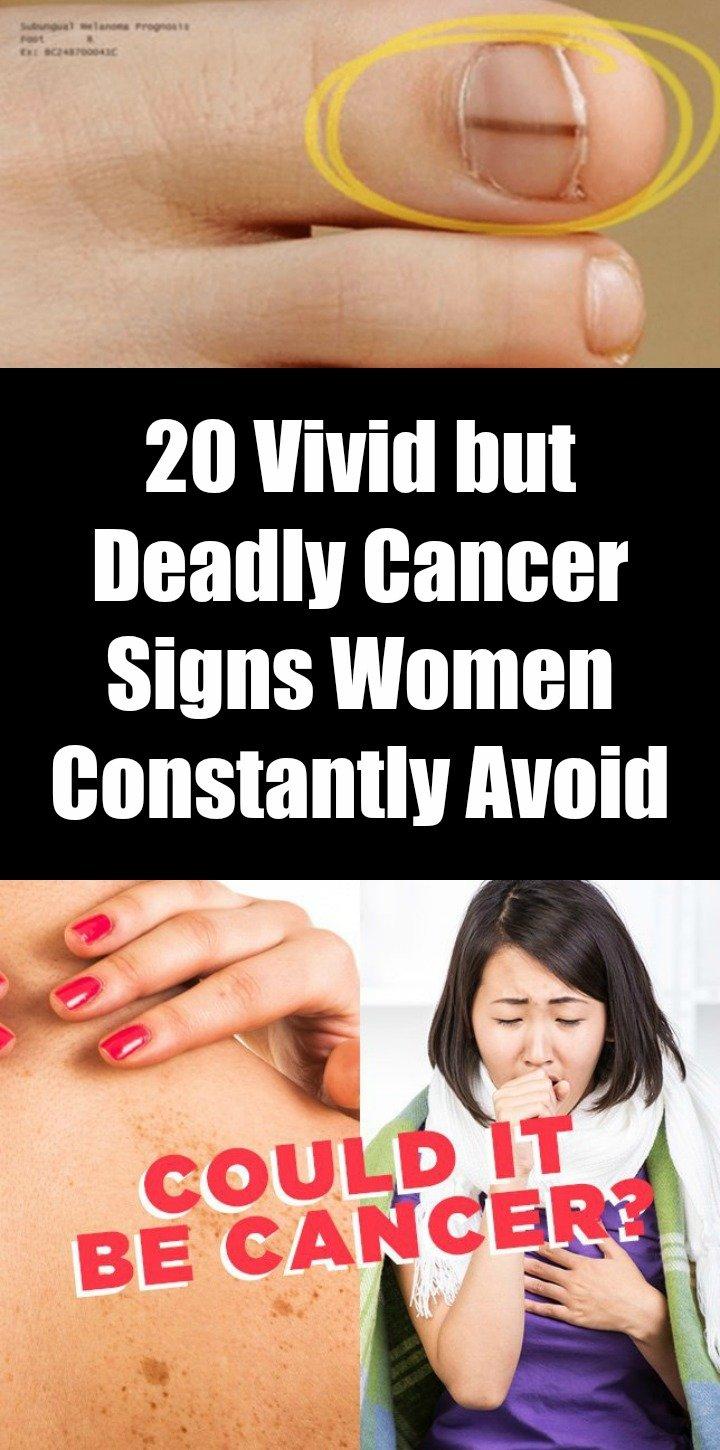 Professionals carefully observe all of these deadly cancer symptoms. Please make sure you go and check them with your doctor. Don't bring early conclusions. These signs are here to make you swallow your pride and face your fears.
Understood?
Your health should be your primary objective.
Now, let's see what these deadly cancer signs are and why you need to check them out:
Sign No.1: Back Pain and Lower Back Pain
Even though this symptom leads to liver cancer, sometimes it could lead to breast cancer since you are going to feel pressure in the ribs and chest.
Sign No.2: Changed Nails
Whitish or pale nails lead to liver cancer while blackish dots on the nails could be a symptom of a skin cancer. On top of that, nail curving might be a sign of lung cancer.
Sign No.3: Swollen Face
Many patients with a lung cancer had the same symptom, a swollen face.
Sign No.4: Sore/Skin Lumps
It might a sign of skin cancer or basal cell melanoma.
Sign No.5: Red/Swollen/Sore Breasts
Breast cancer.
Sign No.6: Nipple Changes
One of the most common symptoms of a breast cancer.
Sign No.7: Painful and Strange Period
This often indicates uterus cancer.
Sign No.8: Short Breath/Wheezing
The most "respected" sign of a lung cancer.
Sign No.9: Chronic Cough/Chest Pain
Lung cancer, tumors, and leukemia.
Sign No.10: Fevers and Infections
Constant fevers and infections could be a sign of leukemia.
Sign No.11: Swelling in Lymph Nodes, groin, armpits, and neck.
These are often categorized as cancer symptoms.
Sign No.12: Difficulty Swallowing
The issue might lead to throat cancer.
Sign No.13: Bruises and Bleedings that Doesn't Stop
This is a sign of leukemia, as well.
Sign No.14: Constant Fatigue/Weakness
It's probably nothing you should worry about, but there is a slight chance you have cancer growing in there.
Sign No.15: Abdominal Fat and Bloating
Unexpected weight gain and bloating are early signs of Ovarian Cancer.
Sign No.16: Low Appetite
Many patients that report low appetite than usual came out with an ovary cancer.
Sign No.17: Pelvic Pain
Due to enlargement of the spleen, this is a sign of a leukemia
Sign No.18: Upset Stomach
Colorectal Cancer.
Sign No.19: Bloody Stool/Rectal Bleeding
Another sign of Colorectal cancer.
Sign No.20: Unexplained Weight Loss
Unusual weight loss might indicate both digestive organ and rectal cancer.
Don't forget to share these Deadly Cancer Signs most women ignore with all of your friends. They need the warning.
Source: The Health Awareness