Are you thinking about launching an e-store so that you can make profits on your DIY crafts? How about setting up a blog so that more people can learn about your hobbies or thoughts. In any case, users prefer visually attractive sites. It means that design matters. It means that you'll need some good typography fonts to start your website. From the free templates to any taste to the premium font packs, the sites below have it all for users interested in developing their online platforms.
FontM
As for the number of fonts, you may find it quite modest, but many other features place this site among the leaders. Except for the wonderful free templates, it's possible to find premium themes for an affordable price here. You won't get lost as all templates are accurately and logically split into separate categories so that it will not be a problem to select the one that fits your website's needs. This service offers handy links that make it possible to purchase what a user wants.
Google Fonts
The average Click-Through Rate of CTAs is 4.23 percent, so the font you choose for it matters. Just like many other tools and services from Google, this one became rather popular among internet users. It currently has more than 800 awesome ideas. One can search the necessary templates by category. For instance, it can be monospaced fonts or sans serif. You can download any of the fonts you like. They are all open-source.
DaFont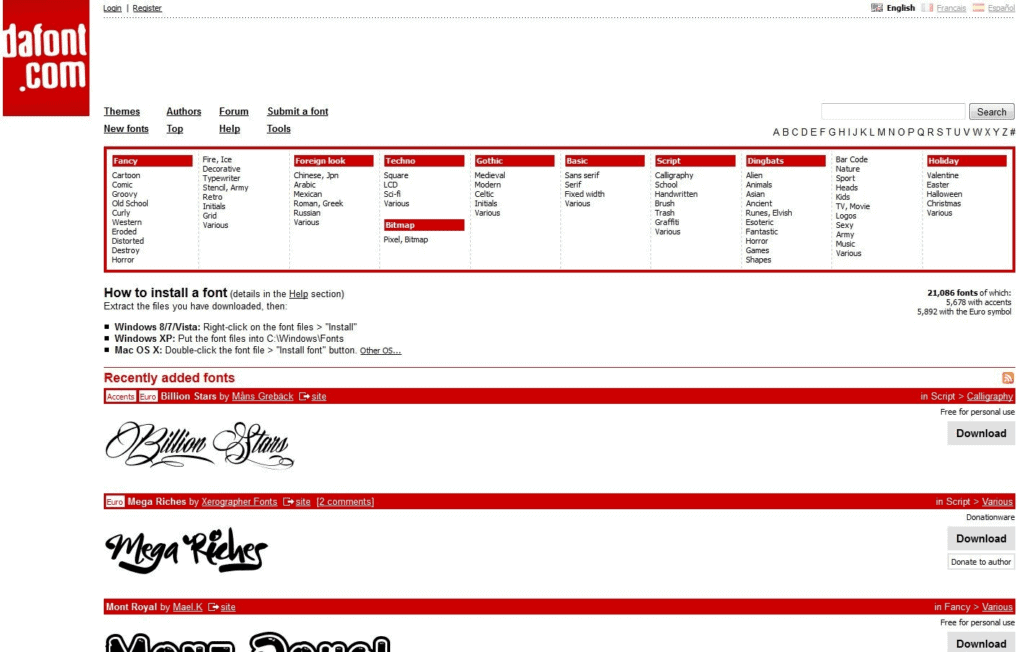 On this site, users can filter all templates by alphabetical order, authors, demand, or genre. Though there are plenty of free fonts, most of them do not really look professional, so they mostly suit blogs. At the same time, DaFont has many gaming themes. Gamers would love the Pac-Man-style theme.
FontBundles
It is enough to register at this service to be able to download exciting fonts for your future website. You can get the complete bundles to mix or choose a single template for your project. You'll never face the same themes as the local admins and authors upload new items regularly. Some premium fonts turn free once per week, so do not miss them! FontBundles offer licensed works. Choose premium fonts sometimes as well to highlight your CTA – personalized CTAs perform 202% better than main CTAs. 
Fontasy
It is a huge archive of more than 1,000 templates that you can get at no charge. If you simply love some items, do not forget to contact their authors in case you wish to use them for commercial purposes. The main features of this platform include a satisfying browsing experience and a wide range of styles.
Behance
Headings and tags matter, so carefully select platforms with free fonts. This service is more serious than those listed above. Why? Well, the world's top recognized designers come here to place and sell their works. Sure, you can find some free themes as well. You can pick templates randomly or study portfolios of specific authors. If you are about to work on a graphic design project, this service will do.
Font Squirrel
Source
This site guarantees that the majority of published works possess commercial licenses. None of the images was stolen. If you want, you may look up the license for any font that you like. The local Webfont Generator allows crafting personal templates with ease.
1001 Free Fonts
As you may guess, this website features 1001 free fonts. However, this number can vary as new items are added from time to time while the older ones are removed. 64 categories for any taste are present, and you can quickly search by author.
Dribbble
User Interface (UI) designers would appreciate this service for many outstanding features. On the whole, it may remind you of Behance. Medium and premium templates are available, so it's better to specify that you are interested in free options. The site focuses on serif and script fonts.
Neogrey
This platform belongs to one specific man known as Ivan Filipov. It's a well-known web designer who started his career as a junior graphic designer and has reached incredible heights since then. Mostly, this platform offers multiple-colored vector templates that catch the eye.
FontSpace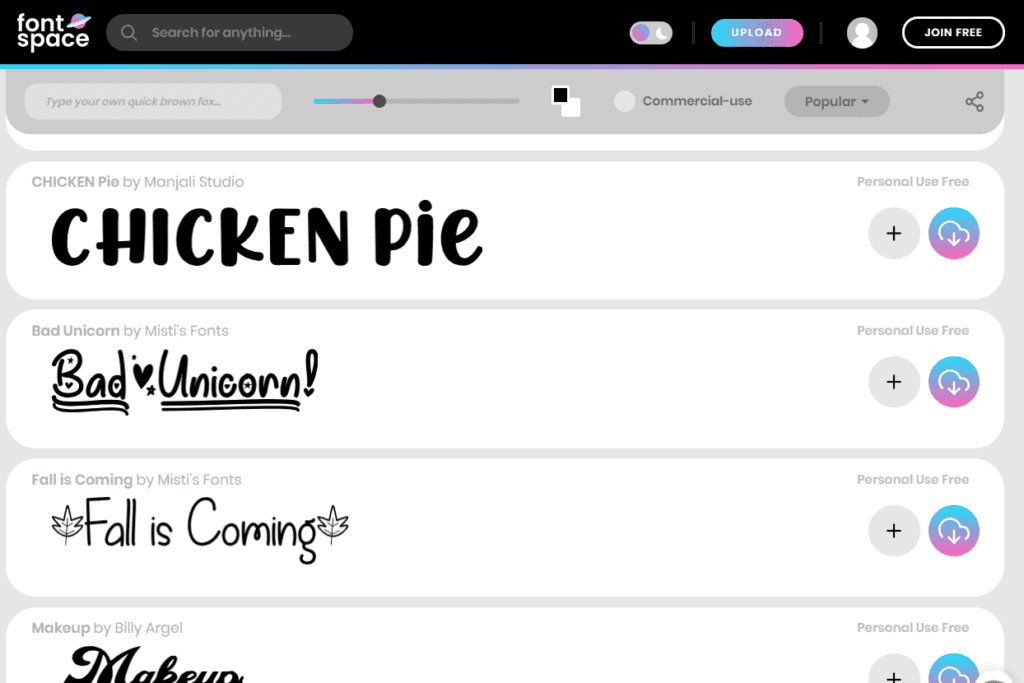 You can find more than 32,000 free templates here! More than 2,000 authors have registered and published their works so far. More than 745,000 users are using this service. It is enough to hover over a font when you browse to check the license and some other details. Add the top fonts to the collection of your favorites.
Urban Fonts
If you want your site's text to look cool, think about surfing this website. It is rather simple to use. Urbanfonts offers an opportunity to quickly pick templates based on a category, popularity, or date of publication if you want to be among the first ones.
This website is a free place where you can craft templates to your own taste. The local editor is very easy to use. New templates are added on a daily basis. This platform is simple in usage, and you can enjoy it on both Mac and Windows.