Bathrooms are packed with products and items that we use every day, but very often the bathrooms are the smallest room in the whole house, making storing and organizing that space much harder.
To help you in your bathroom bothers we offer you some smart DIY storage solutions.
Want more inspiration for your bathroom? Check out these Luxury Vancouver properties
These tips below are especially useful if you are looking to prepare your home for sale. Storage units and organized closets really helps selling your home faster in the housing market as it will clean and declutter and increase your home value. Prep your home for home buyers today!
Real estate agents can better market unique homes like this because they add value for prospective buyers. The storage space tips for your bathroom below will add a house sparkle by dazzling guests.
If you need more inspiration, please see these vancouver properties in Canada by Richard Morrison.
Bathroom Shelf System And Planter Stand From A Single Pallet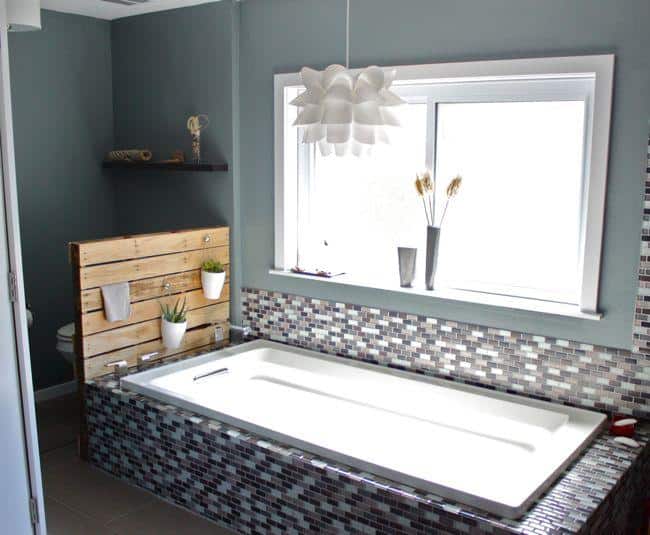 Bathrooms with bathtubs always have some free space at the sides of the bathtub.
That's a completely unused space that you can easily fill if you know how.
This DIY is simple yet has plenty of uses and it takes almost no skills to create.
Just add a pallet at the side of your bathtub and you get endless storage possibilities by hanging different containers and you can even use it as a bathroom planter stand.
Cabinet Door Storage Bin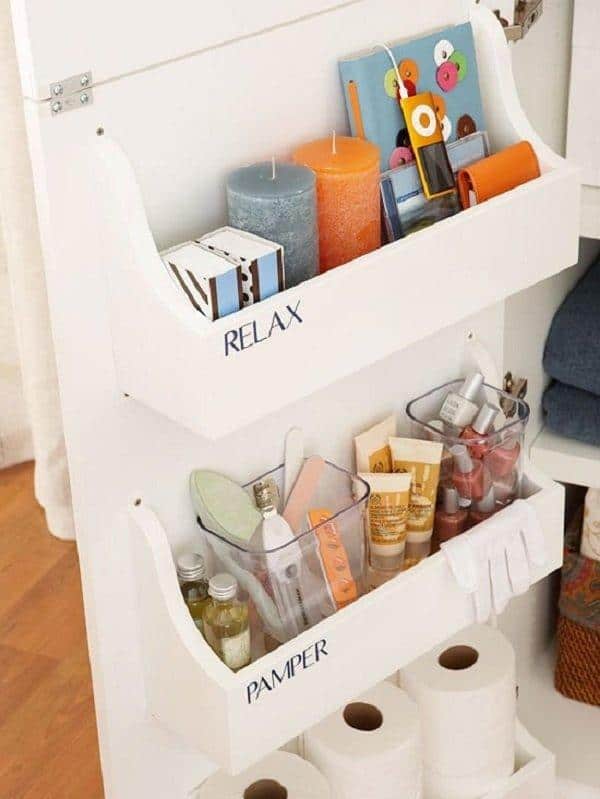 Having shelves or bins to store your stuff that will be reachable, yet hidden is something that everyone wants for their bathroom.
Storage bins on the inside of the closet door are the most common but can cost a lot more than you might like.
Now you can turn your old cabinet into one with additional storage bins and you won't even have to buy a new cabinet.
Wicker Basket Towel Holder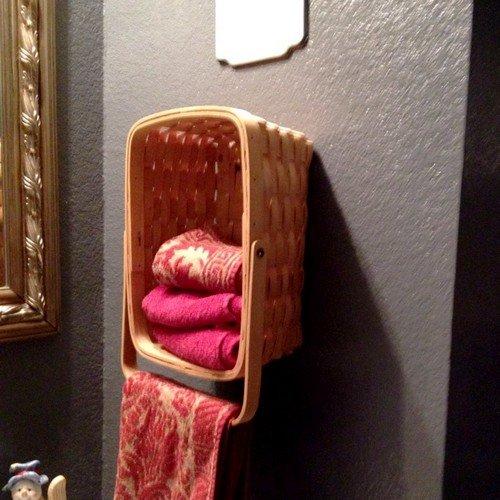 After a long how shower you need a towel at hand to dry off.
Perhaps you're missing something that will put your clean fluffy towels at hand's length from your shower.
Because of the tiles on the walls you might not be able to put something more than a simple hook which is good for one towel, but if you want a bit more, try making this wicker basket towel holder.
Just hang your basket n the wall and you get extra towel storage space instantly.
Floating Shelves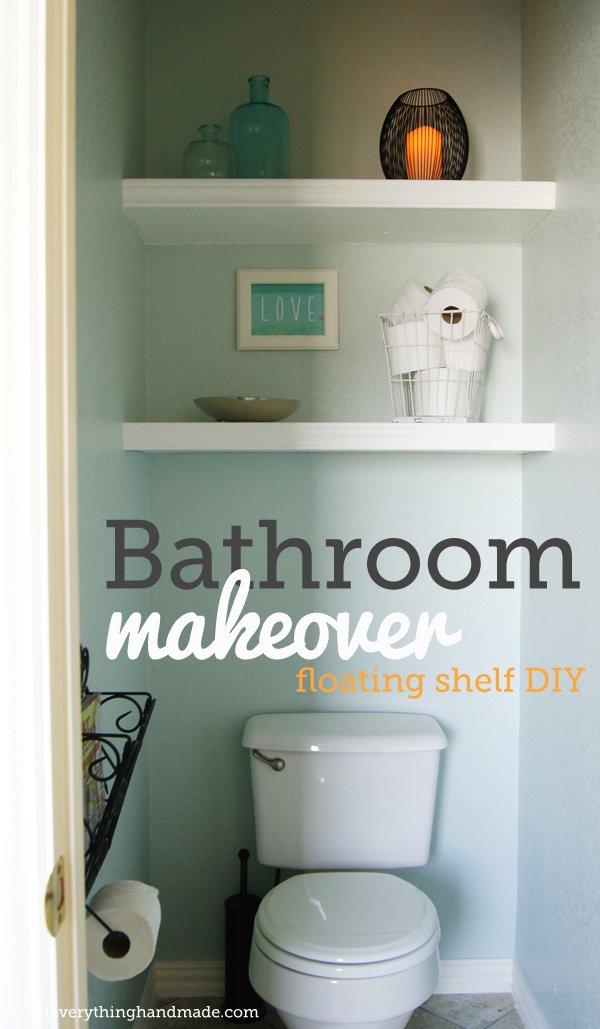 When you have a narrow space large enough to fit only a toilet seat and not much else, the bathroom storage problem only gets bigger.
And when you run out of floor space it's time to move your gaze up, because you will always find some free wall space and the easiest way to fill it is with shelves.
There are various models of shelves that you can buy, but since the length between the two walls is small, some floating shelves will be the best way to completely utilize the free space and here is how you can make some yourself.
Toilet Paper Storage
Nothing is worse than being left with an empty toilet paper roll, but you simply don't have a clean place to keep an extra one around your toilet seat.
Then make one.
Here is a lovely tutorial for making a toilet paper storage area over your toilet seat large enough to hold three rolls.
It is not only functional, but it also looks nice and you will never be without toilet paper again.
Mason Jar Organizer
A bathroom sink is always crowded with toothbrushes, hand soap, make u, combs and plenty of other items for personal grooming that you use every day and in front of the mirror.
Instead of wasting time when you can't afford it looking for a specific thing among the mess, get all those stuff organized with only a board, some hooks and a few mason jars.
Hang as any mason jars as you might need and your bathroom sink will not be free from clutter and always neatly organized.
Under-the-Sink Hair Tool Storage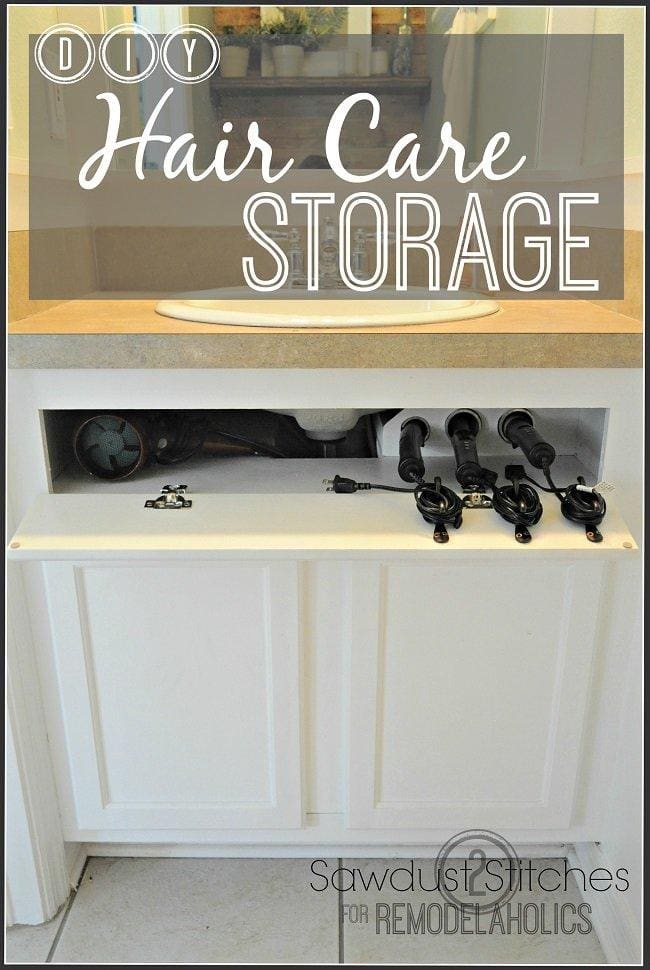 Bathroom cabinets do offer storage space, but they also create the illusion that everything is neat and tidy until you open its door.
The space under the sink is usually not very well used, since most of it is covered up and left empty, as the false doors right under the sink.
With a bit of effort and creativity, you can turn those unused spaces into perfect storage areas for various electrical devices you might use.
Clothes Drying Rack
Every bathroom needs a drying rack, if not for anything else then for hanging the wet towels you use after taking a shower.
However, those can be quite big and might not fit into a smaller bathroom.
Fortunately, there are models that can be folded and stashed away until they are needed, but those are usually kept outside the bathroom, so you'll have to carry your folding rack in and out of the bathroom.
Save yourself a lot of trouble and make this foldable mounted drying rack that doesn't take up any space and will always be where you need it.
Bathroom Mirror Storage Case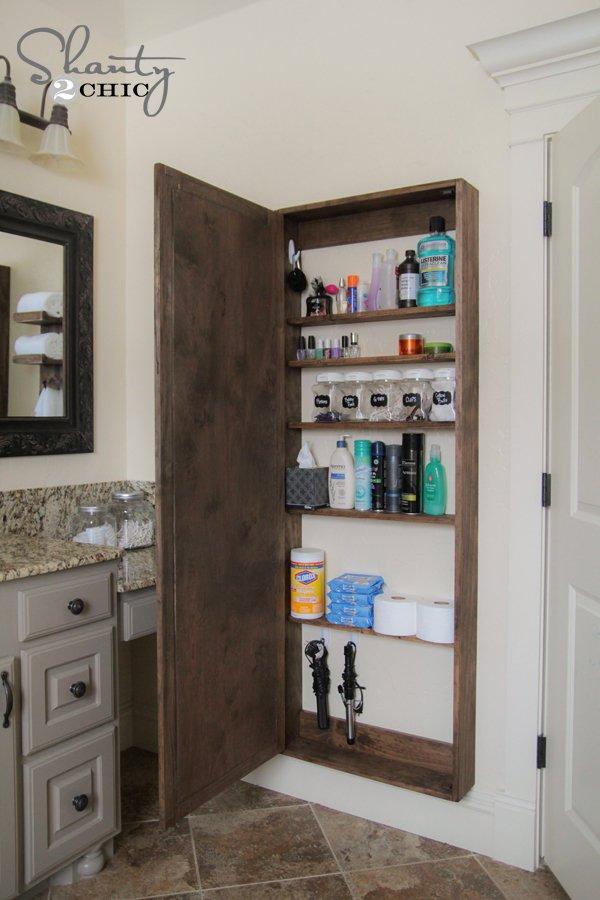 What is better than having a whole wall of storage shelves in your bathroom?
A full length mirror in front of them. Having a large storage case in your bathroom will solve many problems you may have regarding on where to put all your beauty products and other items and since you'll already be making a storage case, just add a large mirror to the door.
That way you will always get a complete image of how good you look without having to run out of the bathroom to the full-length mirror in your home.
Tin Can Towel And Toilet Paper Roll Storage Ideas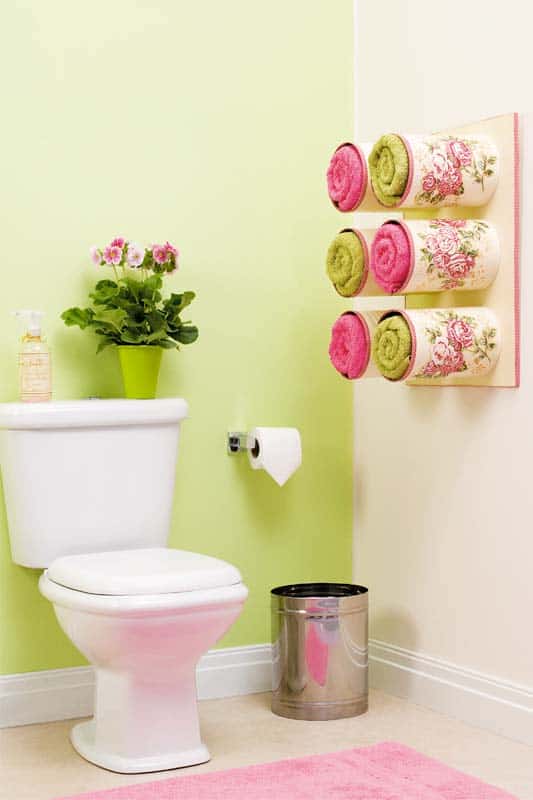 We've already given you some ideas on how you can store towels and toilet paper rolls in your small bathroom, but you might feel that making them is a bit out of your skill range.
Well, you don't think that about these storage ideas.
All you'll need here are some tin cans and a MDF board for making a towel wall holder or a bit of ribbon for toilet paper holder.
The projects are absolutely adorable and leave you plenty of room for your creative input.
Clever Bathroom Storage Tips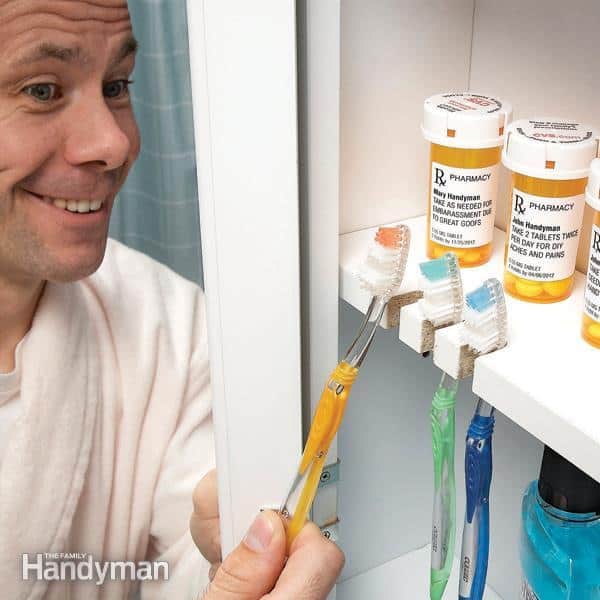 In the end, the trick to a well-organized bathroom depends on how resourceful you are.
Sometimes the simplest things can make a great difference.
Just take a look at some of these storage tips, like using a magnetic strip for small metal items like bobby pins or tweezers; or cutting notches in your cabinet shelves for storing your toothbrushes and even fastening PVC pipes for holding curling irons and cords on the cabinet door.
All that and more will make a great difference in improving the tidiness in your bathroom.