Having birds in your garden brings the garden to life and makes it even more beautiful.
Make sure your garden is visited by the winged singers on hot summer days by making some fabulous bird baths from old and recycled materials.
Metal Stand Bird Bath

A bird bath is not that hard to make and you can use anything you can think of.
Here is one such example.
If you happen to have a large shallow plate and a metal stand, plant stand or just the skeleton legs from an old side table, whatever object that can hold said plate, then you can have a bird bath like this one.
Salvaged Sink Bird Bath
When you're renovating the kitchen or the bathroom, don't throw away the sink.
It is one item that can be reused in many ways and turning it into a birdbath is one of them.
Many people may be apprehensive about putting a sink in the backyard, but with the proper embellishments, it makes a pretty awesome bird bath.
Handprint Flower Pot Bird Bath
Here is a nice project that you can do with your kids and that will make a lovely gift or memento.
With just a few flower pots, some glue, and a lot of paint and fun, you can make this lovely bird bath with one distinguishing, once-in-a-lifetime, irreplaceable feature: the handprint of your child at a certain age. Simply priceless.
CD Mosaic Bird Bath
Here is a nice way to bring back some of the beauty of that old, damaged bird bath and to finally get rid of those old, damaged CDs in a creative and useful way.
Just brake or cut the CD in various geometrical shapes and with a bit of patience and some grout you can have one amazingly colorful mosaic bird bath.
Stalked Rocks Bird Bath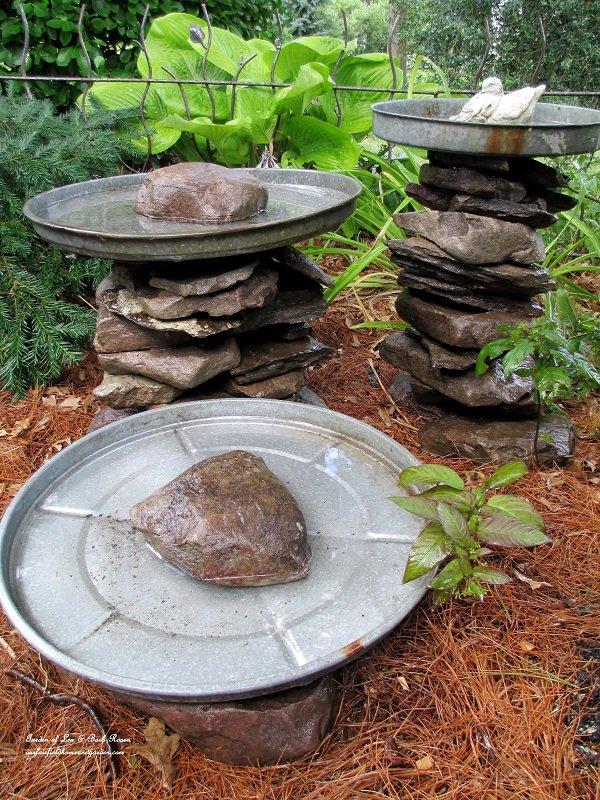 Not all people are crafty, but you need absolutely no crafting skills for this project.
It is literally the simplest bird bath that you will ever find, yet one that will blend perfectly with your garden's landscape.
You simply build a stack of flat rocks and on top, you put a trash can lid or something else that will serve as the bowl for the water.
That's all there is to it and you can make as many as you want, if you have enough rocks.
Versatile Glass Bid Bath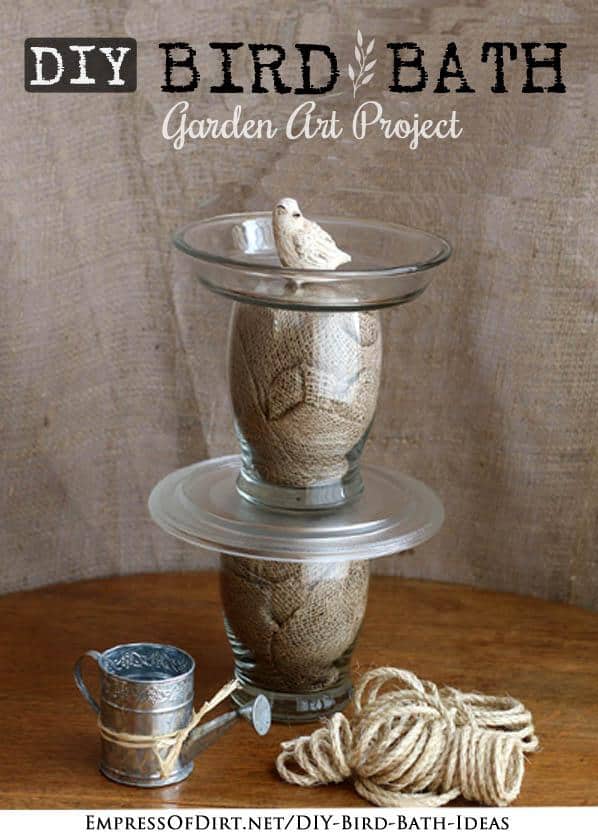 Sometimes seeing the same things in your yard day in and day out can get a bit boring, but you endure it because it can be expensive to constantly change the garden decorations.
Those who quickly get bored will love this glassware bird bath. It can be transformed into a new bird bath with ordinary items and in just a few minutes, by simply filling the transparent glasses with different objects.
Leaf Bird Bath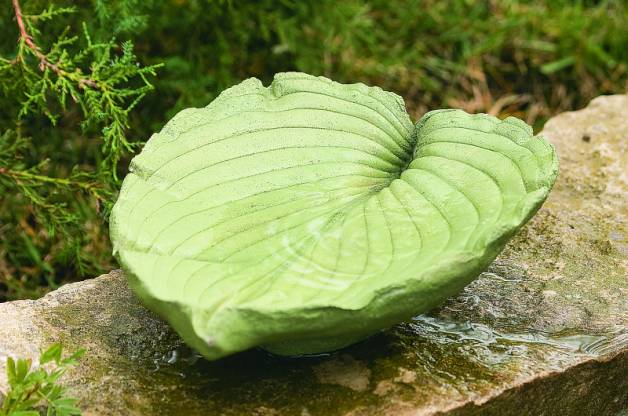 With this tutorial you will get one unique bird bath, shaped like a real leaf, but it may pose a challenge for beginner crafters.
The stone leaf is done with a technique called sand casting, which requires patience, a steady hand and perhaps even some trial and error to get those leaf veins to truly pop.
But, in the end, you won't regret the effort you've put into making this green bird bath.
Teapot Bird Bath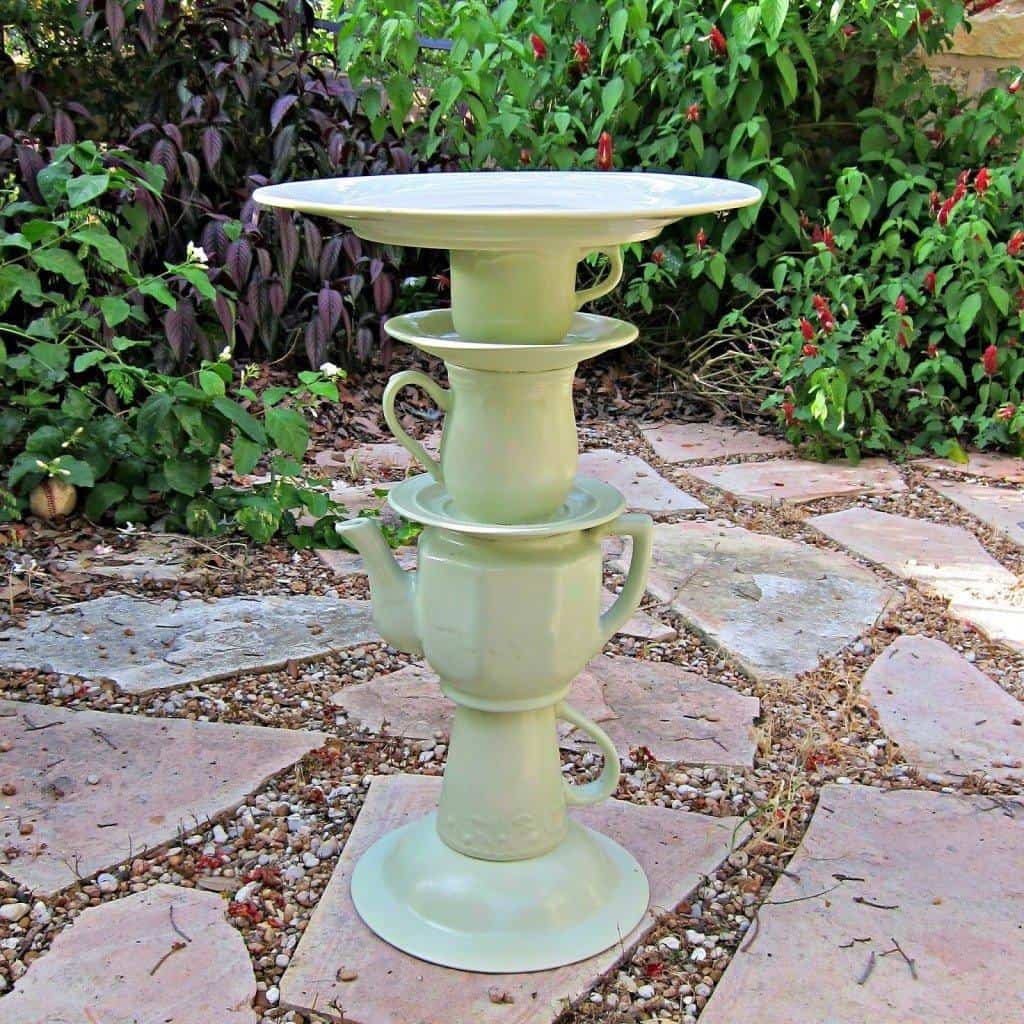 A fun and perhaps a bit whimsical bird bath that might remind you of something you might find at the Mad Hater's tea party.
At first it might seem strange to place a bunch of teapots and cups in your backyard, but once everything is all done, you will wonder why haven't you thought of making it before.
Hanging Bird Bath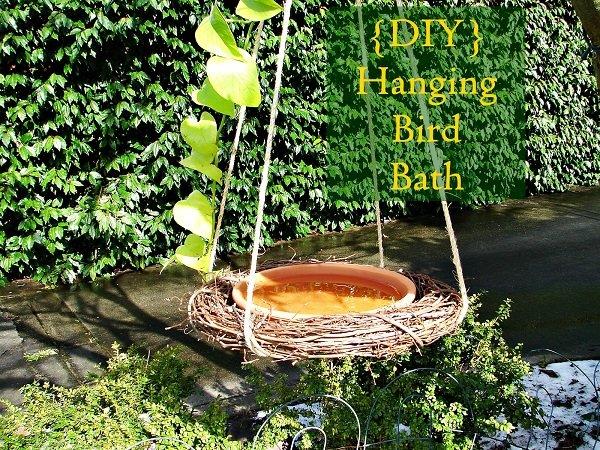 Looking for a clever and creative way to add a bird bath to your crowded garden?
How about making it somewhere where it won't take up any space, yet will still provide a decorative and functional element, like hanging from the tree?
It is a simple enough project but will make a great impact on your garden, especially when bird bath looks like a bird's nest.
Bird Bath From Sticks
You would like to have a bird bath, but it simply isn't in your budget. But a free bird bath is something you can afford.
You just need to be resourceful and a bit creative and you'll see that there are bird baths all around you waiting to be created.
This bird bath is a clear example, where you use only four reasonably thick sticks and a shallow bowl placed atop them.
Pot Planter Bird Bath
What is better than having a vertical planter and a bird bath in your garden?
A bird bath planter. Despite its look, this serene and colorful bird bath planter is not that difficult to make.
You simply drill holes at the bottom of each pot and stack them a bit tilted on a rebar that you've previously pounded deep in the ground.
Then you finish the tower with a shallow bowl and you plant your favorite flower in the pots.
Easy and elegant.