Willow Smith debuted her waist-length faux locs on Saturday while attending the Sixth Annual NYX Professional Makeup FACE Awards in downtown Los Angeles.
The 16-year-old seemed comfortable in her own unique style. The 'Whip my Hair' singer wore a wolf T-shirt, black leather motorcycle jacket, ripped capri blue jeans, and classic Converse high-tops.
The daughter of Will and Jada finished off her eccentric, androgynous look by wearing a turquoise choker. The teen had asymmetrical red-and-yellow accents painted on her face.
Willow later showed off her singing skills as she performed a few of the songs she had written and produced while onstage at the Shrine Auditorium.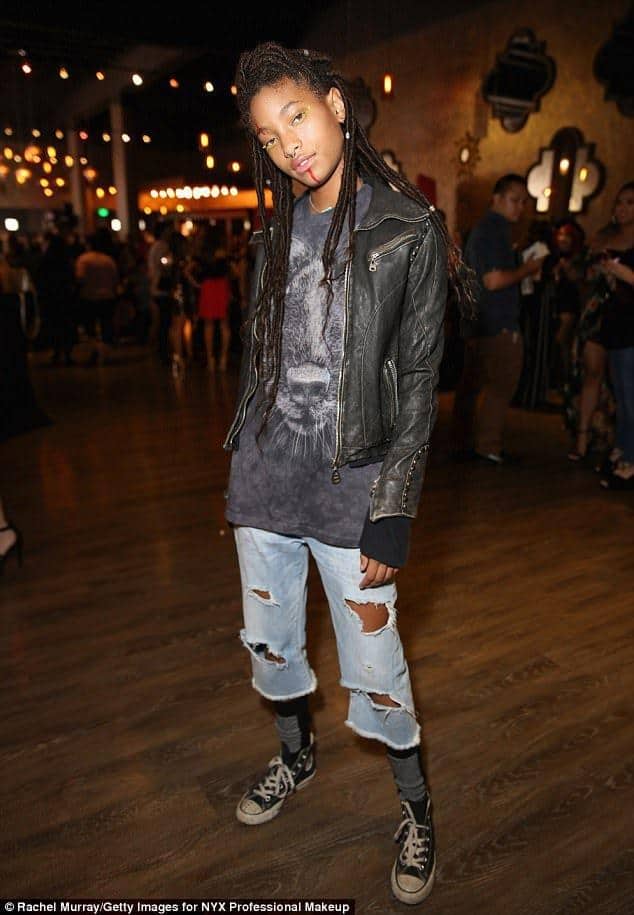 Smith – who boasts 12.8M social media followers – later shared an Instagram video of her show captioned: '<2night>.'
The self proclaimed feminist will next headline the Girl Cult Festival happening Sunday at 10pm at Hollywood's Fonda Theatre.
Willow explained on Girl Cult's Instagram account on Saturday.  
'I want to be a part of Girl Cult because I feel as though a safe space for the feminine energy to be adulated and to be looked at as a unique and powerful force is so important because, you know, there's so much hatred going on in this world,' she told her fans.
https://www.instagram.com/p/BYADTgAAIfn/
'And I strongly believe that the all-encompassing, nurturing energy of the feminine is what we need and is what is going to push this change in paradigm up the most.
'And I'm just so grateful to be apart of it and so grateful to be able to have this opportunity and I just want everyone to feel love and to feel joy because that is why we're here, and um, just so grateful.'