What was the last time you had a healthy baked salsa chicken that tasted so good, and you wanted to eat your fingers?
I can eat chicken three times a day every day. I love it. That's why I know how to cook it in a million ways.
Plus, it ready in 20 minutes or maybe less. You just need to make the right marinade, and you are ready to go.
This baked salsa chicken is something you've been searching for a long time. If you have a special lunch tomorrow, this is the thing you should do.
I wanted to do something different for lunch tomorrow, and I found it.
My kids will be delighted by the invention. My husband doesn't love chicken that much. He is more of a seafood guy. However, this will change his mind.
Are you ready for the recipe?
Let me show you how it looks when it's done first.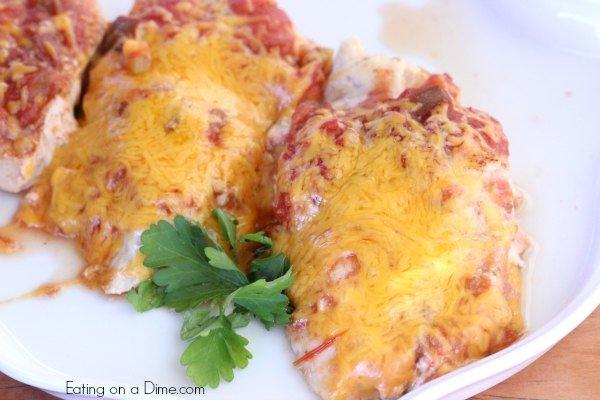 Ingredients:
3 Chicken Breasts
½ Package taco seasoning
1 cup salsa
1 cup shredded cheese
Instructions:
Preheat the oven to 190C
Take a 9×13 baking pan and spray it with non-stick cooking spray
Cut the chicken breasts lengthwise to get six thin chicken breasts.
Place the chicken in a single layer in the baking dish
Sprinkle the taco seasoning evenly on the chicken
Pour salsa over them
Bake for 20-30 minutes until the juices go away
Sprinkle the shredded cheese on top and cook for additional 2-3 minutes until the cheese melts.
Enjoy the mouthful of tastes.
Don't forget to share this with all of your friends. They want some tasty chicken, as well.
Source: Eating on a Dime