The son of the late singer Natalie Cole has died. He was just 39.
Robert Yancy was tragically found dead inside his San Fernando Valley apartment on Monday by a friend.
Yancy's friend was concerned that he had not heard from the young man for a few days. Yancy's death comes 20 months after the loss of his legendary mother in December of 2015.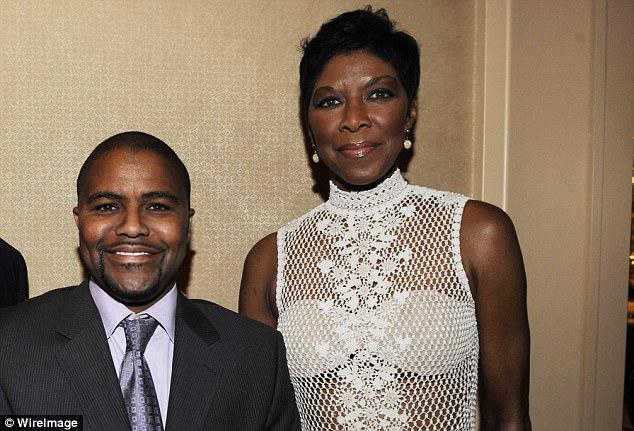 Robert was also the grandson of the iconic jazz singer Nat King Cole. 
Robert was and accomplished drummer in his own right who worked in the music industry. He is survived by his aunts, Cole's twin sisters Casey and Timolin. 
Natalie's former back-up singer Anita Anderson shared the sad news on Twitter Tuesday morning, writing: 'WE HAVE LOST ANOTHER GREAT YOUNG SOUL TOO SOON!! ROBERT ADAM YANCY, NATALIE COLE' S ONLY SURVIVING SON AND ACCOMPLISHED DRUMMER HAS DIED!! '
She later added: 'REST IN PEACE As YOU JOURNEY HOME WITH MOM & DAD! AND KNOW YOU'RE ALWAYS IN OUR HEARTS SON!! LOVE YOU AND MISS YOU ALREADY!!!' 
TMZ reports that Robert's death was the result of a heart attack. This also caused the death of his father Marvin back in 1985 at the age of 34. 
Marvin was a member of the R&B group the Independents when he met Natalie Cole.
After leaving the band in 1975, he produced Cole's albums and helped her create the biggest songs of her career. They divorced in 1980. 
Natalie's death was determined to be the result of congestive heart failure. The singer had a well documented battle with drug addiction throughout her life.
But family members claim Robert was not using drugs at the time of his death and had never abused any illicit substances during his life. 
Robert seemed to be a happy, positive, God fearing man during his life.
In a Thanksgiving post from 2013 that he shared on Facebook, Robert wrote:
'Happy Thanksgiving to everyone! How I thank God for for waking me up this morning to see another thanksgiving!'
'As we are soon coming to the close of another year, let us be grateful for the things he has done this year!!! but let us also not forget the less fortunate.
'Keep them close to your heart! To all my friends and family and everyone around the world, I love all of you very much!'
'This is the day that The Lord had truly made! Let us Rejoice and be Exceedingly Glad in it!!'
Robert will likely be laid to rest alongside his mother, grandparents, aunt Cookie and uncle Kelly at the family plot located in Forest Lawn Memorial Park.