Every woman deserves to feel and look sexy – regardless of body type or ability. 
Ro'Yale, also known as 'Da Queen of Curves', is on a mission to prove to the world that sexy doesn't have a size limit.
Ro'Yale began pole dancing after a temporary split from her husband. But after just a few lessons, she realised she had found her calling.
Her pole instructor, and the CEO of dance studio 'Vertical Joes', Fiya Starta, says she knew Ro'Yale had talent straightaway. 
When Ro'Yale suggested that the studio should start offering pole dancing classes specifically for plus-size women, Fiya Starta whole heartedly agreed. 
She then offered Ro'Yale a job leading the classes herself.
'I remember getting that email when I was offered a position as an instructor, I just remember screaming,' says Ro'Yale.
'I was very excited, I was actually shocked.'
'They saw that I was passionate about wanting to bring something different to the studio that they didn't already have.'
Fiya Starta explained that she was immediately impressed by Ro'Yale's skills and felt she would be an asset to her company.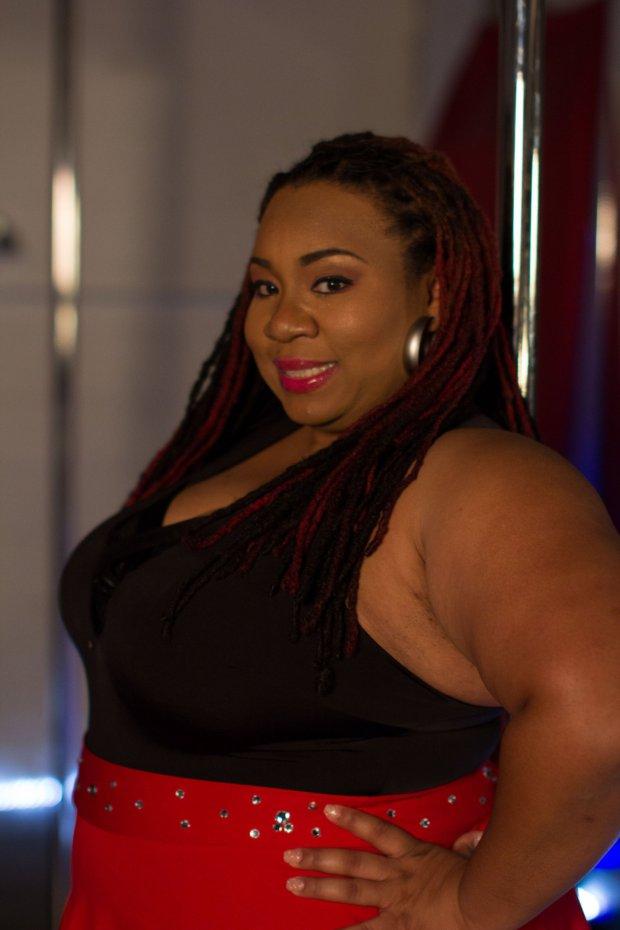 'She was actually a client at Vertical Joes, she came in to do classes and she was one of those magnetic clients, so I was instantly drawn to her,' says Fiya Starta.
'When we first met her she was kinda like in a shell, she was always very concerned about clothes, always covering up, she was always pulling her shirt down, pulling her shorts down.'
'It's like "girl, let them thighs hang out, let that arse hang out – you gotta use them!"
'We've seen such a transition and it's a beautiful thing!'
Ro'Yale accepted the job offer and alongside Fiya Starta created 'Vertically Voluptuous' – a pole dancing class tailored for plus-size women.
'Before I stated pole dancing I thought it was gonna be super easy, that we were gonna come in and swing around,' says Ro'Yale.
'I didn't realise that it took a lot of strength and it took a lot of control of your body.
'I decided to give it a go because I was coming across a major milestone, I was turning 30. I had a recent separation from my husband and I didn't really know who I was anymore, so I wanted to do something fun.'
'My view of pole dancing before I started performing, was mostly something that people that are strippers did, but I came to find out that the women I was taking classes from were everyday women – they were doctors, they were professionals.'
The class was an instant hit. 
'When we put that information out into the streets, it was just an overflow of love,' says Fiya Starta.
'The curvy girls definitely wanted to learn from another curvy woman, someone they could relate to, someone who had the same body type, someone who could say they went through the same struggles.'
'When I tell you, she is sexy in a way that no-one can teach her.'
'It just comes from inside her. She always takes any pole trick and she adds her own personal style to it. And that's what I like about her, some things can't be taught, some things you just have and she has it!'
But unfortunately Ro'Yale's husband isn't a massive fan of his wife's newfound passion. 
He admits he is uncomfortable with his wife 'being out there like that in front of other people.' He also believes there are 'negatives' that come with Ro'Yale's growing confidence.
'When Ro'Yale first told me about her pole dancing, the first thing I thought was that she has went over to the dark side,' says Ro'Yale's husband, Rahiem. 'It was pretty bad.'
"She has become, I would say, more confident but there's negatives that come with confidence.
Raheim even went as far as to say he finds his wife's pole dancing completely distasteful.
'Confidence leads to being more outspoken in a way you shouldn't be, meaning she's vulgar.'
However one of Ro'Yale's students, Bridgett, says she's become stronger and more physically able thanks to her classes.
'I just feel so much better about myself,' says Bridgett. 'Pole dancing makes me feel powerful.
'Even if we aren't feeling the sexiest everybody else is uplifting and helps us really feel as though we can, and that's essentially what Ro'Yale stands for – truly woman empowerment.'
Ro'Yale says despite her husband's vocal dislike of her pole dancing she still has more goals in mind.
She instead takes confidence from within and from those that she teaches.
She hopes to continue to inspire other plus-size women to love their bodies and try pole dancing for themselves.
'My specific goals as a pole dancer are to compete more on the competition scene,' says Ro'Yale, 'to represent the curvier girls and hopefully that will inspire other ladies to pole and get into competitions also.'