Hands up, who still loves Disney? Many of us grown ups still watch films like The Little Mermaid and Beauty And The Beast because of our little ones.
I'll admit it's nice now and again to watch Frozen with my kid, but after a while the songs can get a tad annoying!
But a 21-year-old Disney enthusiast has showed no signs of getting sick of the magical world just yet. 
Emily Simpson has spent a staggering $15,000 on Disney memorabilia in the space of just three years.
Like many of us Emily first fell in love with Disney as a toddler.
She spent her entire childhood watching the films and has been to Disneyland Paris three times.
Emily's bedroom at her parent's home in Camberley, Surrey, is packed with over 5,000 items of her favorite Disney characters.
Her huge collection includes clothing, handbags, bedding, stationary, jewellery and 1,000 cuddly toys.
Emily also has a number of Disney tattoos.
Emily funds her obsession by working as a children's play centre supervisor. She said: 'My friends think I'm crazy for my Disney obsession but I can't help it. I love everything about it.'
She added: 'Nothing makes me happier than coming home every day and admiring my Disney-filled room.'
Despite a long love affair with Disney, Emily only began collecting items in 2014 when she turned 18.
She explained: 'I've always loved everything Disney but the merchandise used to be quite difficult to find in the shops.'
'That all started to change a few years ago and now, I find Disney themed clothes and accessories everywhere I go.'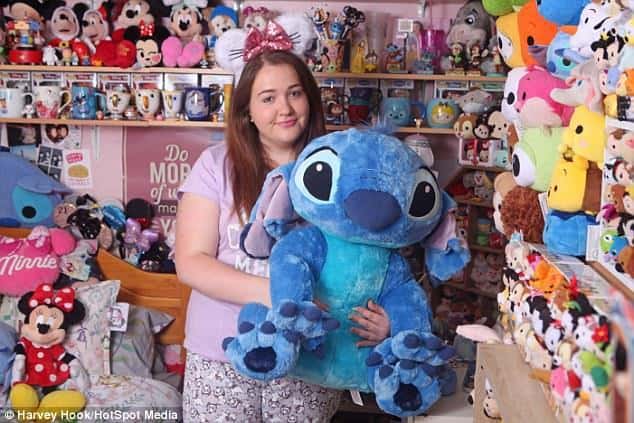 Emily's impressive collection includes a Disney-themed Pandora bracelet worth $1,000 and a $200 Disney Polaroid camera.
'I've worked full time since I finished school and I'm very good at saving for my Disney items,' she said. 'I'd say they're worth every penny!'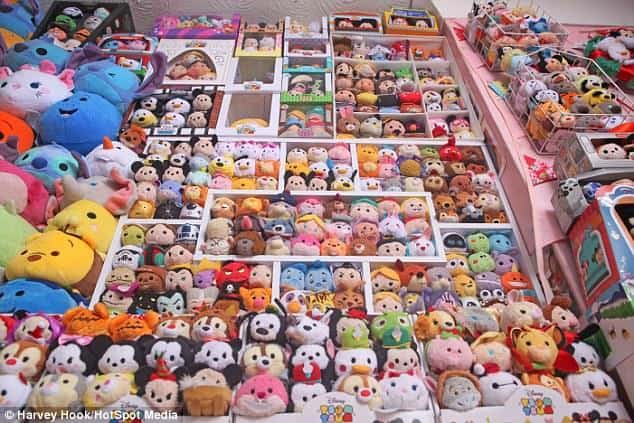 Emily spends her spare time searching the internet for specific Disney pieces.
She says: 'I'm very easy to buy for on special occasions. If I receive anything Disney themed I'm thrilled.'
'For Christmas in 2015 my parents gave me a pug called Lilo named after a character in my favourite Disney film, Lilo & Stitch.'
'I love dressing Lilo up in little Stitch costumes, she looks so cute,' she gushed. 
The Disney devotee also has large Disney themed tattoos. Her arm sees a Beauty and the Beast rose and an image of the Disney castle.
Emily added: 'I love my Disney tattoos and I can't wait to get some more.'
'I'd love to get Marie the cat from Aristocats next. Tattoos are a way of expressing yourself and I couldn't think of anything more perfect to suit me.'
This year Emily has visited Disneyland in Paris three times with her boyfriend, Jak Banks, 23, an assistant manager of a coffee shop.
She said: 'Jak isn't bothered by my Disney addiction at all. He really enjoys coming to Disney Land with me.
'Every time I go, I always come back with more merchandise to add to my collection.'
'The last time I went in June, I came back with a $70 Cogsworth clock from Beauty and the Beast and a giant Stitch plushy worth $70.'
'I can't wait to go back again in October for the Halloween celebrations and again at Christmas.'
It is Emily deep wish to extend her collection when she has a house of her own in the future.
She says: 'I can't wait to fill my own house with Disney items. I always see cute Disney crockery and homeware in the shops and it gets me really excited.'
Emily hopes that her passion for Disney will land her a dream job at Disneyland.
She said: 'I'd absolutely love to work at Disney as a photographer. I couldn't think of anything more amazing than being able to capture people enjoying the magic of Disney.'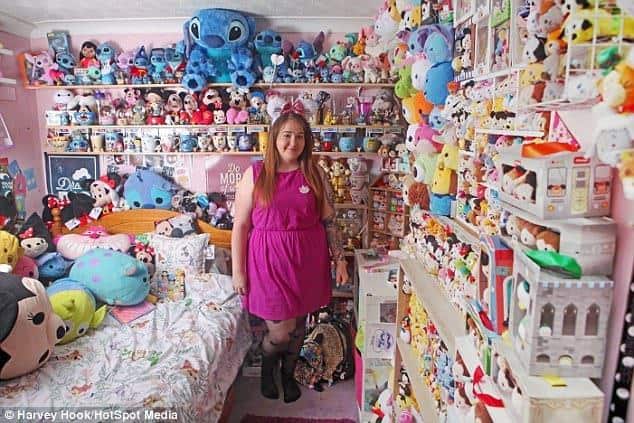 'I know some people will think I'm crazy, but it makes me so happy and I don't think there's anything wrong with it. I'm a big kid at heart.
'Who wouldn't want to be a part of that magical world?'