Like every loving parent, Whitney Meyer is equally proud of her girls.
But when she tells strangers that her baby daughters are twins, they never quite believe her.
That's because Kalani and Jarani Dean were born with different skin colors – making them biracial twins. 
Whitney, 25, is Caucasian and her boyfriend Thomas Dean is African-American.
Baby Jarani has taken her father's darker complexion, while little Kalani has inherited her mother's lighter complexion. 
Whitney says she was completely floored when she saw her daughters, born in April 2016, for the first time. 
'I asked the doctor why Kalani's skin was so white!' Whitney told US Weekly. 
'I couldn't figure out why she looked so different her sister.' 
Kalani and Jarani are fraternal twins. This means that the babies developed from two different eggs that were each fertilized by a separate sperm cell.  
There is a 1 in 500 chance that interracial couples expecting twins will have children with different skin colors, according to the BBC.  
The beautiful babies have turned into mini celebrities in their hometown of Quincy, Illinois. 
'No one believes they're twins,' Whitney says. 
'When we go out in public, people will start looking at them because I dress them identical and I can tell they're confused.'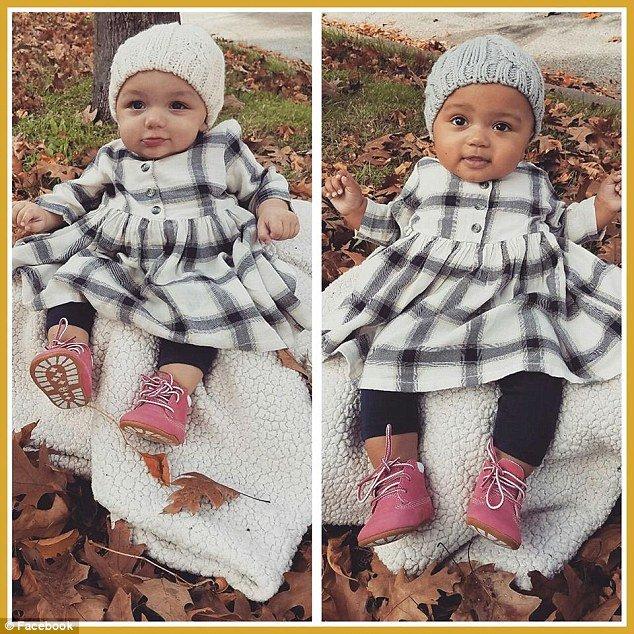 While the couple are enchanted by their gorgeous baby twins, they also mourn the loss of another.
Whitney and Thomas lost their two-year-old son, Pravyn, in a drowning accident two years ago. The parents say Jarani – their darker skinned twin – looks identical to her late brother. 
'They are my miracle babies,' Whitney said of her twins. 'J looks exactly like her brother did.' 
'When I look at pictures of J, I see Pravyn.'  They pair also have an 7-year-old older brother. 
But the couple have revealed that their baby twins personalities couldn't be more different. 
'Kalani is our loud child,' Whitney laughs. 'She is crawling everywhere and going nonstop.' 
'J doesn't like to move. She just wants to be held, and she loves to eat.'  
The girls big brother Talan, 7, adores them and reads to his sisters every night.
"He's the best big brother," Meyer says of her son, who is Caucasian and has a different father. "He doesn't see any difference in the girls, he's totally colorblind.
"People in this country could learn a lot from my son. He's so innocent, he doesn't understand racial tensions, because to him it doesn't matter, as it shouldn't matter to anyone else."